Happy Sunday night from What I'm Hearing, and welcome to 2023 for those who took real vacations. If you avoided news over the holidays, Kevin McCarthy lost more Speaker votes than Diane Warren has lost Oscars, WWE's Vince McMahon engineered a takeover of a company he already controls, and Avatar 2 is "surprising" people by performing very similarly to the first Avatar. Also, Samuel L. Jackson liked a bunch of hardcore porn videos on Twitter until his fans informed him that his likes are public.
As always, if this email was forwarded to you, join the WIH community by clicking here. New year, new you!
Discussed in this issue: Jeff Shell, Helen Hoehne, Tim Cook, Steven Spielberg, Adam Aron, Ryan Murphy, Kelly Bush Novak, Todd Boehly, Michael Rapino, Jim Cameron, and YOUR wildest 2023 predictions.
But first…
Who Won the Week: Jason Blum and James Wan
Apparently 2023 will not be the year that horror dies at the box office, with the producing partners' creepy doll movie Megan (I refuse to replace the e with a 3) leveraging viral marketing for $30.2 million domestic on a $12 million budget. The most interesting stat, per Universal: 44 percent of the audience was under 25, the demo that supposedly hates theaters. Maybe they just need more fun movies they want to see with friends.

Runner up: David Zaslav. Don't look now but the Warner Bros. Discovery stock is up 18.7 percent since Jan. 3. My Puck colleague Bill Cohan has more here on some possible reasons for the Zaz-bounce.
Thursday Thoughts (Sunday edition)…
WWE's banker brawl: Vince McMahon's surprise return to WWE to facilitate sale talks has opened the floodgates of bankers and lawyers looking to cash in on a multi-billion-dollar deal that could close quickly, thanks to pending TV rights negotiations. CNBC reported that WWE has engaged JP Morgan, and the bank will likely end up involved, I'm told. But McMahon, as controlling shareholder—he's got 40 percent of the stock and 80 percent of the vote—will get to run the process. I'd bet on a media boutique bank like LionTree or Raine or Moelis taking the lead here.
Bonus: I'm discussing the WWE sale and the likely suitors with Bloomberg's Lucas Shaw on tomorrow's The Town. Subscribe here.
Friendliest flop of the year: You'd think the knives would be out for Damien Chazelle at Paramount after his $80 million Babylon failed spectacularly in the U.S. over the holidays. But the fact that film chief Brian Robbins can pin this one on predecessor Jim Gianopulos after a year of watching Jim G's greenlights become hits seems to have taken the edge off. Robbins has been surprisingly robust in his support for the 189-minute hard-R opus, and he signed Chazelle to a first-look deal weeks before the release, even though Paramount execs expected a pricey flop.
Dept. of Be Careful What You Wish For: CAA's Bryan Lourd, fresh from stealing client Charlize Theron from Ari Emanuel, is now caught in the middle of a sticky situation. Theron was not a fan of her Old Guard director, Gina Prince-Bythewood, to the point where Prince-Bythewood didn't return for the sequel (she's a producer instead). Now Theron is said to have refused to attend a recent early screening of Netflix's Old Guard 2, directed by Victoria Mahoney, if Prince-Bythewood was invited. It's apparently very awkward and CAA's got all three parties here. (CAA declined to comment; a Netflix rep says the screening was rescheduled because its executives were out of town.)
Sony hack emails are back!: A few weeks ago I noted that the WikiLeaks archive of old Sony Pictures emails had vanished from the internet. But a tipster informed me today that the trove has mysteriously returned, including that creepy Spider-Man/donkey drawing. So search away here, if that's your thing.
Your Monday reading: The New Yorker's big profile of Netflix TV chief Bela Bajaria drops at 3 a.m. tomorrow (link here). It's embargoed, but I'm betting a few "chardonnay" jokes will be shared around town this week.
"It seems unsustainable to me, like a big Ponzi scheme." –Jim Cameron, when asked on The Business whether he follows the streaming wars.

Now to the big story of awards season…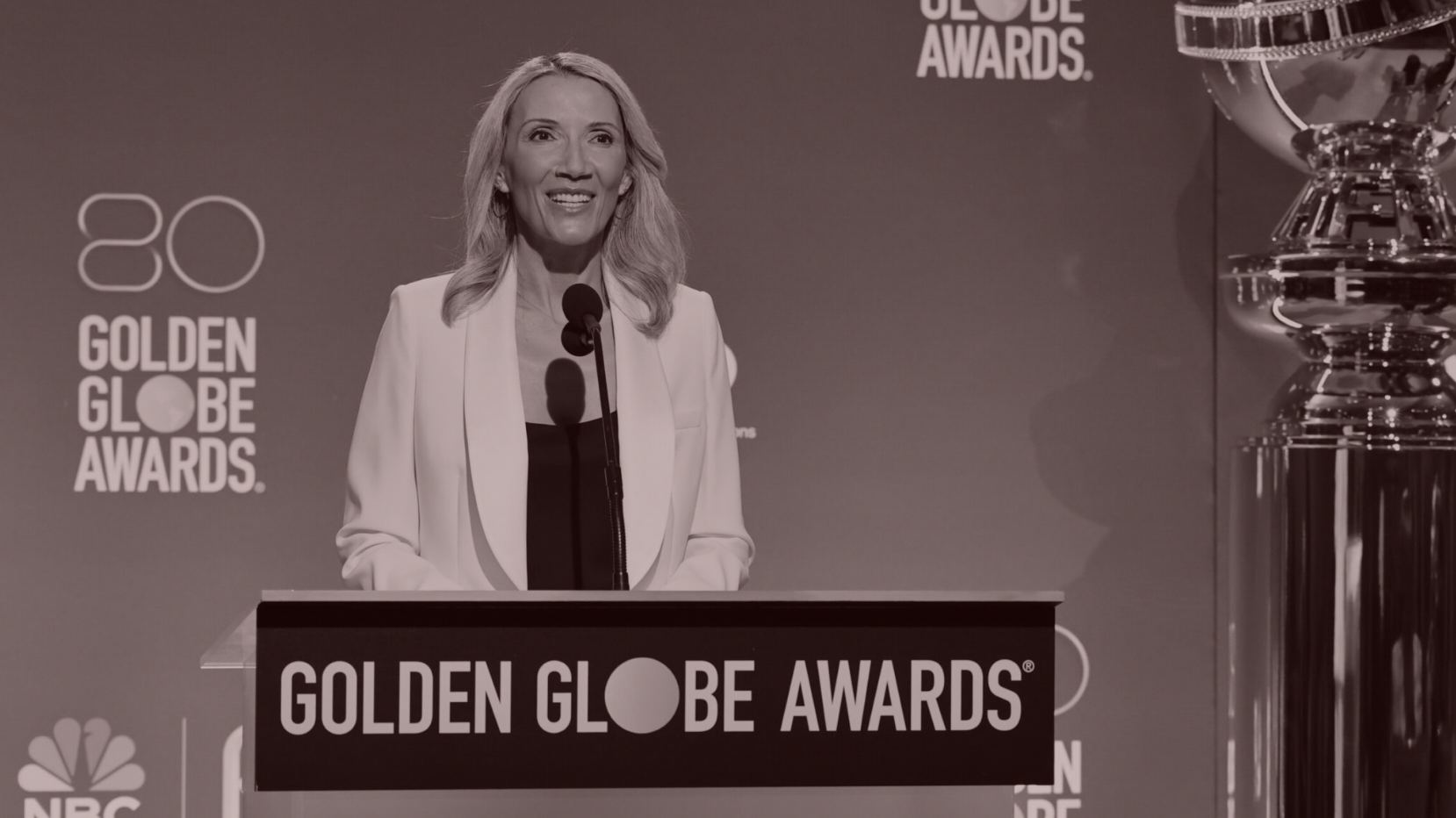 Welcome to the Do-or-Die Golden Globes
NBC's stripped-down red carpet is being assembled and all those security blockades are going up in Century City, but Globes owner Todd Boehly and H.F.P.A. president Helen Hoehne can't be quite sure whether this is a swan song, an audition for another suitor, or the beginning of a very different chapter.
Inside NBCUniversal, there's a quiet understanding that Tuesday's Golden Globe Awards telecast will almost certainly be NBC's last. The network isn't exactly pretending the Globes don't exist; after the one-year banishment, it has been heavily promoting the return of Hollywood's so-called "biggest party," during football, on Today, and via its digital outlets. And I'm told a big contingent of NBCU executives, including C.E.O. Jeff Shell, entertainment networks chair Frances Berwick, NBC chief Susan Rovner, and Peacock's Kelly Campbell, will all make the mid-week slog in the rain to the Beverly Hilton. But barring some strategy shift or an unexpected ratings spike, this will be the end of an off-and-on relationship that dates back to the 1950s. Pour out a little Moët.

Shell isn't exactly sad, of course. He actually pulled off a minor business miracle, leveraging the publicist-led outrage over the Hollywood Foreign Press Association's lack of Black members and longstanding ethical issues to escape an onerous contract signed in 2018, right before the bottom fell out of everything except the NFL on linear television. As I discussed back in September, that deal paid the H.F.P.A. and Globes producer Dick Clark Productions more than $60 million annually, a sum growing larger each year, and it wasn't set to end until 2027. That's for three hours of television once a year, and when the NFL added an extra week of games, the Globes' early-January perch suddenly became a conflict with Sunday Night Football, the highest-rated show on TV.
A MESSAGE FROM OUR SPONSOR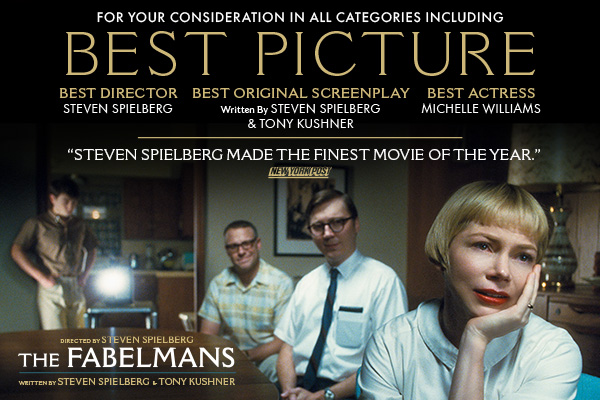 "Movies are dreams you never forget." Steven Spielberg's The Fabelmans is a coming-of-age story about a young man's discovery of a shattering family secret and an exploration of the power of movies to help us see the truth about each other and ourselves. The Fabelmans is now nominated for 11 Critics Choice Film Awards including Best Picture and 5 Golden Globe Awards including Best Motion Picture – Drama. The American Film Institute and the National Board of Review have both named it one of the year's best films. And Time Magazine has selected The Fabelmans as the best film of 2022.

So cutting bait with a one-off compromise on a non-sports Tuesday would have been a great option for NBC even if the Globes and their various controversies hadn't turned into a gigantic time-suck with diminishing advertising returns. Ad demand for the show is indeed down this year, I'm told, but several factors are in play, including the overall market troubles, the shift to mid-week, and the fact that NBC couldn't sell the Globes at its upfront in May because it wasn't decided until September that there would even be a Globes show to sell.

So now here we are, Hollywood has decided the Globes can return, the stripped-down red carpet is being assembled in the hotel driveway, and all those security blockades are going up in Century City. But the Globes' billionaire owner Todd Boehly and H.F.P.A. president Helen Hoehne can't be quite sure whether this is a swan song or simply an audition for CBS, Netflix, Amazon, or another suitor. After all the H.F.P.A. reforms—the code of conduct; the 21 diverse new members; the 103 new non-member voters, the switch to for-profit status and $75,000 member salaries (meaning the crazy ones can now be fired, like employees)—it doesn't seem as if the militant talent publicists will be a problem.

It's kinda hilarious that Kelly Bush Novak, the leader of a publicity firm with nearly all-white management who nonetheless made diversifying the H.F.P.A. (and raising her own profile in the process) her chief concern, is now offering flowery support after 18 months of trying to kill the organization. "We see commendable and seismic progress," she told the A.P. And Kelly's not alone. The loudest P.R. critics—Amanda Lundberg, Cindi Berger, and Marcel Pariseau, among them—have mostly gone quiet, no doubt aware of how badly some of their clients need a promotional platform for their movies and shows. The politics are different, but they're essentially the Hollywood equivalent of far-right Republicans who held up the Speaker of the House vote. After months of public grandstanding, the publicists got concessions like a smaller, segregated red carpet, and the end of H.F.P.A. selfies and press conferences they don't control, and have subsequently changed their votes from "opposed" to "present," allowing the blockade to drop and the show to go on.

As a result, D.C.P. has actually assembled a decent show. The honorees, Eddie Murphy and Ryan Murphy, feel like OK gets. And it seems like most of the nominees will show, as will top executives from the studios, Netflix, Amazon and Apple (though no Tim Cook, sadly; I'm betting he won't ever be back after that amazing Ricky Gervais "sweatshops in China" joke at the 2020 show). Brad Pitt will be there, I'm told, as will Steven Spielberg, the kind of figure that others take their cues from. The host (Jerrod Carmichael) and presenters (Quentin Tarantino is probably the biggest non-nominee name) are noticeably down a notch from the star power the Globes typically assembled, but not a total disaster. At one point, after being turned down by everyone from Chris Rock to Jamie Foxx to Tina and Amy (twice), someone told me the Globes were considering Wayne Brady to host and I almost believed it. (It wasn't true.)

The room will be smaller and the studio afterparties non-existent—not exactly Hollywood's "party of the year," though the truth is the actual stars have bailed on those parties for off-site agency events for years now—save for an event bizarrely co-hosted by Billboard. That's Boehly and Jay Penske deploying one of their trade media brands without having to inject Variety, Hollywood Reporter or their other more Globes-appropriate brands into the controversy. (Pre-scandal, THR produced the official Globes after-show, and I appeared on that.)

In fact, a lot of the awards-season media, socialites, and hangers-on that typically attend the Globes won't be there this year. (It really was the world's greatest people-watching event, especially when playing my favorite awards show game, Date…or Daughter?.) Some of that is due to the publicist demands and Covid protocols, but several members of the Critics Choice Association, another dubious journalist/awards body with a show that has been trying to supplant the Globes, have complained that they are being excluded. (A rep for the show denied this.) And several media outlets that were used to getting a specific allotment of tickets were surprised when the Globes invited individual journalists instead, essentially screening out some who had written critically about the H.F.P.A. Not a great look for an organization of journalists. (And I say that as someone who has written critically about the Globes but was invited to attend.)

Anyway, the only thing that really matters now to Boehly and Hoehne is finding a new home for the Globes. Despite the troubles, it's still a great brand, and the funny thing—and a challenge for show producer Jesse Collins—is that most viewers still have no idea about any of the controversies, which was evidenced by the strong social sentiment around last year's sad, untelevised ceremony. But it's not exactly a booming market for awards telecasts. SAG-AFTRA still hasn't announced a home for the SAG Awards after it became a victim of the Warner Bros. Discovery bloodletting last year. And the Oscars has its own issues, well-chronicled in this space. It's pretty clear a lot of these shows won't survive much longer in their current forms.
Boehly told the L.A. Times in December that he wants to reinvent the show and create "events around the world under the Golden Globes brand." That means at film festivals, cultural events, and both a TV and streaming presence. Would that work? Who knows; the holy grail is still figuring out what a compelling awards show looks like in digital media. With some tweaks, the Globes could be an interesting play for a Netflix or Amazon, both of which are streaming more live events and want to build global advertising businesses around shows that feel urgent. If Netflix picked up the Globes, maybe Ted Sarandos could even convince his buds Gervais and Rock to co-host. (The usual disclosure: I worked for Boehly when he was the controlling owner of THR.)

In this way, Boehly's D.C.P., which owns several awards shows and live events and almost nothing else, is a fascinating company to watch because it is facing the realities of linear TV's demise perhaps more acutely than any other in Hollywood. Boehly, having extricated D.C.P. from its ill-conceived combination with scripted production house MRC, now wants to reimagine the Globes because he has to, as all non-sports events producers must, and all of the recent changes, from the H.F.P.A. upheaval to severing the NBC relationship, stem from the realization of that fraught future.

It's a challenge the Academy also faces with the Oscars, of course. But the Academy in its current form seems unwilling to make the tough moves to adapt its show, with too many constituencies to satisfy and such lofty artistic illusions of self-importance among its many members. The Globes—always a crass, money-making operation, run by kooky outsiders and literally saved from oblivion by Dick Clark—occupies a much smaller universe, as both a creative and business endeavor, accountable only to the market for its product. After all the scandal and machinations of the past 18 months, having a crass, money-making billionaire in Boehly as its owner may end up being the reason why the Globes survive.
The next few days should determine whether Endeavor C.E.O. Ari Emanuel has to take action against his UFC chief Dana White after footage emerged of a violent altercation with his wife. If TBS airs its planned UFC reality show after a one-week delay, I'd bet other partners follow its lead. After all, this isn't the first White controversy. He was caught using an anti-gay slur, and he hired an NFL player who was accused of domestic violence. His apologies to fans have quelled scandals before. [Front Office Sports]

C-SPAN's peek this week at how the U.S. House of Representatives actually runs prompted Brian Stelter to make a good argument that "journalists, not government employees, should control the cameras all year round." [Boston Globe]

Facepalm of the week: Geoff Morrell, the P.R. guy who famously gave bad advice to former Disney C.E.O. Bob Chapek, has landed with Teneo, a company whose entire function is to give advice to C.E.O.s. [Axois]

The 2022 most-watched telecast list is in and—brace yourself—football is big. The NFL accounted for a crazy-sounding 82 of those broadcasts and college football surged, while the NBA, MLB and NHL failed to make the list, as did any scripted program for the second year in a row. [Sports Business Journal]

Related: Amazon's Thursday Night Football averaged 9.6 million viewers, down 41 percent from 16.2 million viewers last year on Fox and NFL Network. But the media age (47) is the youngest in a decade. [Twitter]

The Yellowstone prequel 1923 is costing "up to $22 million for each of the eight episodes," which led to the decision to shoot eight more (for $17 million each) in the spring and amortize costs. [WSJ]

I'll click on any article headlined "Ticketmaster's Dark History," and you should too. [Prospect]

Add "Russian oligarch Dmitry Rybolovlev played a role in the funding" to the list of whisper campaigns against Top Gun: Maverick winning best picture. [LAT]

Disney princess dolls are back at Mattel, part of C.E.O. Ynon Kreiz's turnaround plan that will culminate with the once-unthinkable: Childless couples paying to see a Barbie movie this summer. [WSJ]

Netflix is among the worst of California companies side-stepping the new salary disclosure law by posting ridiculously broad pay ranges. What happened to sunshining? [Bloomberg]
My 23 predictions, predictions, predicaments and preoccupations of 2023 sparked a bunch of readers to send me their own predictions for the year. A sampling of fun ones:

"Every movie and show will have a dance sequence because that's apparently the only way to promote it on TikTok."

"If AMC cancels all their shows, does it cease to be a real network?? We may find out."

"Next earnings for Paramount will be brutal. (R.I.P. cable.) If that stock drops any more, all hell could break loose there."

"Adam Aron will be investigated for securities fraud?"

"It will be amusing to see [Live Nation C.E.O.] Michael Rapino hauled before Congress to explain why he did Taylor Swift dirty."

"This time next year we will still be talking about who Jen Salke might find to run MGM. Lol you think I'm joking…"

"Ryan Murphy doesn't land at Disney."

"With all the talk about Netflix crashing this past year and the come-down from the massive overall deals, one deal that I'm fascinated by and haven't heard anyone speak about is the ole boys from Game of Thrones. Netflix gives [Benioff and Weiss] $200 million and so far the output has been non-existent. I'm super intrigued by The Three-Body Problem and saw that it's in post, but if that doesn't soar, that deal has to be the biggest disaster yet for Netflix and their supersonic overall deals."

"The economic downturn and soft ad market will lead to an unforeseen implosion of the podcasting ecosystem."

"Iger gets through the year without naming a successor and extends another year."
Rejoice, Cocaine Bear has joined the Quorum early film tracking chart, and the Stallone-free Creed III is looking strong…
Have a great week,
Matt

Got a question, comment, complaint, or an extra ticket to tomorrow's National Championship game? Email me at Matt@puck.news or call/text me at 310-804-3198.
FOUR STORIES WE'RE TALKING ABOUT
Boebert's Aggression
Will Boebert and Gaetz's Ukraine grandstanding ironically backfire in ruby red states?
JULIA IOFFE

The Big Short
Back when S.B.F. was the toast of the town, Marc Cohodes smelled something funky.
WILLIAM D. COHAN

Need help? Review our FAQs page or contact us for assistance. For brand partnerships, email ads@puck.news.
Puck is published by Heat Media LLC. 227 W 17th St New York, NY 10011.