Netflix's decision in November to release more "ratings" data has sparked a big question: Will others follow? I'm not an oracle, but if I were overseeing a streaming platform with, say, 50 million or so customers (roughly the size of both NBCUniversal's Peacock and ViacomCBS' Paramount+), there's no obvious win in disclosing that kind of comprehensive information.
That's why many companies have instead relied on nonspecific data anecdotes—boasts, really. "Most-viewed launch weekend by an adult-skewing animated comedy!" "Top Spanish-language drama series in non-Spanish dominated territories!" That kind of thing. While not explicitly revealing exactly how many people watched Godzilla vs Kong, for example, these boasts can serve as jumping off points for analysis.
Beyond P.R., what does the bragging actually say about streaming success in 2021? How about failures? And the tougher question: What's actually working? Here are four key takeaways.
---
Apple, Billie Eilish, and 'Referral Value'
Apple doesn't release much data about its original series. That's what makes the rare reveal even more intriguing. In March, for instance, Apple disclosed that its Billie Eilish documentary, Billie Eilish: A Little Blurry Between Worlds, was its biggest hit among young subscribers. Naturally, this left questions about who these subscribers are, and how many of them there happen to be. Meanwhile, Apple also said that the doc delivered a "record-breaking 33 percent new viewers to the service."
We don't know what this means number-wise either, but we do know that Apple TV+, the sole carrier of the documentary about an in-demand artist (Eilish has 41x the average demand of talent in the U.S.) led to an increase in demand for other Apple TV+ originals that same week in March. I call this "referral value." Both Dickinson and Ted Lasso saw a demand spike, jumping 6x and 14x the average demand of shows globally in the week after the Eilish doc premiered. Viewership for Apple TV+ likely increased overall. (All proprietary data cited in this column, including the charts, comes from Parrot Analytics, where I work.)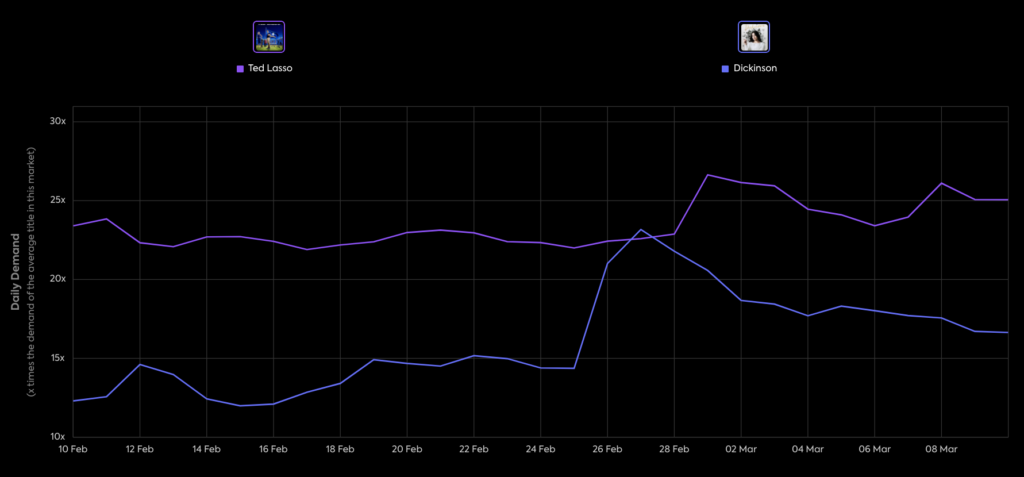 So Eillish's documentary brought in more new viewers to Apple TV+ than ever before—even if, and I cannot say this enough, we don't know exactly what that means in the context of AppleTV+'s subscriber base. By February, Apple TV+ users were still a drop in the streaming ocean. Apple extended its free trial period in October 2020, just a few months after Bloomberg reported that only 5 million customers—or half of the reported 10 million customer base that Apple TV+ had amassed at the time—were actively using the service. Outside of a few series, like Ted Lasso, The Morning Show, and Defending Jacob, Apple titles just weren't entering the cultural zeitgeist, which usually helps propel usage and subscriber growth. By November 2020, one year into Apple TV+, more than half of its subscribers were in the 18-34 age group, but usage was overwhelmingly older, according to an analysis from Television Business International.
But the Eilish doc managed to engage the core audience that Apple TV+ was trying to reach, focusing on an artist at the center of the zeitgeist. Plus, debuting the doc just a couple of months after the launch of Apple One (Apple's services bundle that combines apps like Apple TV+, Apple Music, Apple Arcade, and Apple Fitness+) helped integrate viewers into the wider Apple ecosystem. Finish the Eilish documentary, listen to Eilish on Apple Music, and read an in-depth profile of Eilish on Apple News+, you get the idea.
So the doc was core to onboarding younger customers—a group that spends more time on their Apple devices (like iPhones and iPads)—and acting as a discovery portal for other Apple TV+ originals. Big win here, even if the doc cost a reported $25 million.
---
FX on Hulu Is The Boost Disney Needed
More than 1 billion hours of FX programming have been watched on Hulu since early 2020, when the "FX on Hulu" branding launched, owner Disney said in early December. With catalog titles and acclaimed new series, FX has made Hulu more appealing to customers—something the service needs as subscription prices increase and competition grows.
Consider that in Q2, demand for Hulu originals declined despite new episodes of The Handmaid's Tale, which is still one of Hulu's most in-demand shows. During a week in late September, however, "FX on Hulu" exclusive shows helped Hulu score 40 percent of the top in-demand shows in the U.S.: Reservation Dogs and Y: The Last Man (both FX originals) joined Nine Perfect Strangers and Only Murders in the Building (both Hulu originals).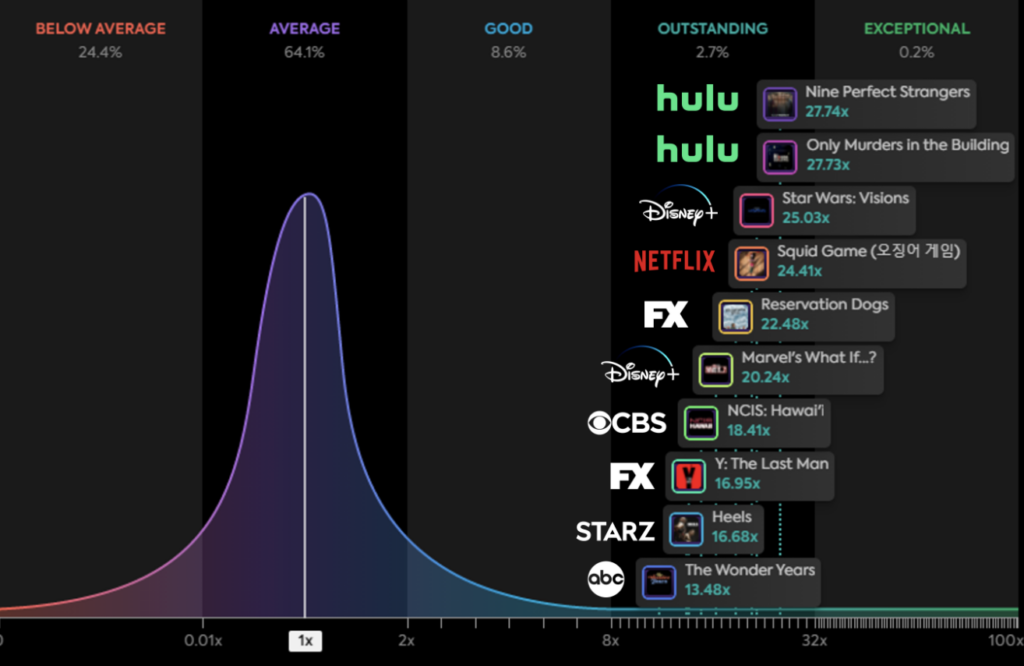 Hulu without ads is the third most expensive general entertainment streaming platform, right behind HBO Max and Netflix. But unlike HBO Max, which has HBO built in, and Netflix, which still leads in overall demand for original series, Hulu has struggled to be part of the cultural conversation. Adding FX changed that, and justifies recent price increases. In April, Hulu boasted the third lowest churn rate of the major streamers (5.2 percent), coming in just behind Disney (4.3 percent).
FX is clearly helping Hulu. But Hulu is also helping FX. Take FX comedies like Dave and What We Do in the Shadows. Both shows saw jumps in viewership upon being available on Hulu. Dave's first season averaged nearly 8 million viewers per episode, FX C.E.O. John Landgraf said in September. That put the program in line with broadcast series like NCIS (9.48 million average viewers), The Equalizer (8.79 million), FBI (7.83 million), and Chicago Med (7.3 million), according to data collected by SpoilerTV in June. What We Do in the Shadows saw a 54 percent spike in viewership between the first and second season.
This year has seen so much talk about branding, with lingering questions like: Does it still matter that an HBO series is perceived as an HBO series if people are watching it on HBO Max? Or, similarly: Does it matter if FX series are conflated as Hulu originals? But the early data suggests that branding distinguishes premium content, and it adds perceived value to a general entertainment platform, which can help separate a contender from the rest of the pack. For Hulu, it's a great, virtuous cycle: New FX-branded titles bring in swaths of viewers, while exclusive licensed programming (which isn't likely to disappear to another service) keeps customers streaming.
---
HBO Max's Big Bet Paid Off (for HBO Max)
"Did it work?" That's the question most people ask when discussing WarnerMedia's decision to debut all new movies in 2021 on HBO Max on the same day as theaters. And understandably so. Below are some of the points that WarnerMedia made in referencing the 16 movies released this way:
"Mortal Kombat had a larger viewing audience than any other film or show on HBO Max since launch"
"The Suicide Squad emerged as the second most viewed film over an opening weekend on HBO Max since we began day-and-date releases with theaters"
"The Many Saints of Newark finished last weekend as the top performing film title on HBO Max—netting more than triple the audience of the next most viewed title"
On one end of this debate is a necessary conversation about box office cannibalization. Yes, simulcasting on HBO Max put a dent in domestic box office revenue. And massive payouts were needed to appease angry talent. But, for the sake of this column, the bigger question is whether the move worked for HBO Max. And the answer is yes, it definitely did.
Consider that between Q2 2020 and Q2 2021, HBO Max saw the second-highest subscriber growth of the major streaming players in the U.S., jumping 72 percent, according to Antenna Analytics. The only service with a higher growth rate (81 percent) was Paramount+, which launched in early March. In the first half of 2021, HBO Max also boasted the highest share of subscriber additions compared to all other major U.S. players. That number has slowed in Q3, but the bigger question is how many of those subscribers HBO Max is keeping.
Big, well-marketed movies are likely to bring in new subscribers (and re-engage those who are at risk of cancelling), but the strategy only works if churn rates are relatively low. HBO Max had a churn rate of about 5 percent as of June, according to Antenna, just below the industry average of 6 to 7 percent. If the goal of the one-year experiment was to bring in as many subscribers as possible while the theatrical business was in flux, then leveraging the movies paid off.
---
The Takeaway: More (But Not Comprehensive) Clarity
The fun of working in the industry during this transformative moment is that everyone is trying to figure out what exactly the data means. Take HBO Max. Success is defined not only by how well a movie does over the course of 3, 7, or 28 days, but also the longer tail that it creates. For instance, how many other HBO Max/HBO series did that movie lead a viewer to discover? How many of those subscribers stayed on the platform for longer than a month? Three months? Six months? Did a movie like In The Heights underperform in total viewership, but actually suceed by bringing in a different audience from other Warner Bros. movies on HBO Max?
Consumption is one part of understanding why a title is valuable to a streaming service. But it's not the whole puzzle. As companies become more transparent—I can't believe I'm saying this, but thanks to Netflix for coming through with some insights, years after original content premiered on the platform—recognizing the long-term value of titles will become a little easier. And that's probably the best way to summarize the Streaming Wars in 2021: Things became just a little bit, just the slightest little bit, clearer.
Julia Alexander, a contributor to Puck, is a senior strategy analyst at Parrot Analytics, a global analytics firm that measures cross platform demand for content, where she analyzes trends and shifts in streaming entertainment. Prior to joining Parrot Analytics, she was a reporter at The Verge, Polygon, and IGN.