Bad news for cinephiles: Red Notice, the critically panned art-heist caper in which Ryan Reynolds appears with Dwayne Johnson, Gal Gadot and a bunch of C.G.I. cityscapes, is poised to overtake Sandra Bullock's Bird Box as the most watched original film in the history of Netflix.
That's interesting, and speaks to the persistent gap between elite consensus and popular appeal in the streaming age. But the more surprising data point, and something we wouldn't have known had Netflix not recently begun releasing weekly Top 10 lists based on an "hours consumed" metric, is how Red Notice helped 6 Underground, another Ryan Reynolds Netflix original from 2019, net another 3.6 million household streams in the week following Red Notice's release—or 7.77 million hours of "engagement."
As a streaming video analyst, I spent the Thanksgiving week luxuriating in months' worth of new Netflix data. (While the service only started publishing its new lists last week, data beginning at the end of June was included.) There's still a lot that Netflix isn't revealing—we don't know how many people watched 6 Underground in Egypt, for instance, although we do know it appeared in the country's Top 10 list not long after Red Notice—but there is enough to better explain the decisions Netflix makes, from renewals to casting choices and more. For that reason, it's valuable.
Below are the four most enlightening trends I found:
1. South Korea Has Become a Global Content Engine
Squid Game gets all the attention, and rightly so, but what about Hometown Cha-Cha-Cha? The rom-com show, the top broadcast series in South Korea when it debuted this summer, is a massive hit for Netflix. Cha-Cha-Cha has remained a Top 10 non-English TV series globally for 12 weeks—longer than Squid Game—and has amassed 258.5 million hours viewed during that time.
Yes, Squid Game probably helped Cha-Cha-Cha, as the algorithm likely recommended other popular Korean series, but Cha-Cha-Cha was already a hit in markets like Japan, Saudi Arabia, Singapore, India, Vietnam, and Qatar. By the week of Nov. 1, it was charting all over Latin America. A week later, it was trending in Morocco.
This isn't a one-off event, either. Korean shows routinely dominate Netflix's Top 10 Non-English Global lists. Most recently, Hellbound, a dark thriller from the director of Train to Busan, dethroned Squid Game as the most-watched title globally, including among English content. Hellbound saw 43.48 million hours viewed. It was the No. 1 title for the week in Jamaica, Martinique, Nigeria, Hong Kong, Korea, Indonesia, and trending Top 10 in dozens more.
This is crucial knowledge for Netflix. Co-C.E.O. Ted Sarandos has invested heavily in Korean content, reportedly spending more than $500 million in 2021 alone, up from $700 million between 2015 and 2020, according to CNBC.
The Asia Pacific region (APAC) is Netflix's biggest growth sector. In Q2 alone, APAC accounted for roughly two-thirds of Netflix's total new subscribers. At a time when some are concerned about a subscriber slowdown, continued APAC growth is a big priority. If that content also travels globally, all the better. It helps justify the local spend, distinguishes Netflix from its competition, and helps to retain customers in places like the U.S. and Brazil, where churn rates are higher. All, I should add, for less than the cost of a typical high-caliber U.S. series with American actors.
2. Sorry, Disney, Netflix's Kiddie Content Is Working
I couldn't help but think of one show when Netflix announced its new lists: CoComelon. The animated nursery rhyme series is at the heart of the $3 billion sale of its studio, Moonbug Entertainment, to Kevin Mayer and Tom Staggs' new Blackstone-backed company. And it appeared on Netflix's Top 10 English Global list seven times between June 15 and Nov. 21, with the third and fourth seasons garnering a combined 84.8 million hours so far, based on the information Netflix has supplied.
In the U.S. alone, CoComelon seasons 1-3 stayed in the Top 10 for months. By Oct. 10, season 3 appeared on the list for a whopping 13 weeks—longer than any other show during the entire period Netflix's data covers. Considering each season is only three 55-minute long episodes—and there are more on YouTube for free—that's pretty good.
No wonder Disney C.E.O. Bob Chapek recently mentioned pre-school series as a priority. There's a new children's show on the Netflix global chart nearly every week, and kids content trends on individual country Top 10s for much longer periods than other shows.
Take the week of Oct. 4. Two very important shows appear on the Global Top 10 English list: Paw Patrol's sixth season (from ViacomCBS) and Scaredy Cats, a Netflix original. Paw Patrol saw 19.1 million hours consumed, while Scaredy Cats crept in with 12.5 million hours. Scaredy Cats mostly played in Europe when it first debuted. Paw Patrol, one of the most in-demand children's series, popped off in Europe, Africa, Asia, and Latin America.
Notably, Paw Patrol is not available in the U.S., where the Nickelodeon show streams exclusively on Paramount+. So all of its consumption came from Netflix's international territories. In the U.K. and Germany, Paw Patrol has trended in the Top 10 list for five weeks. In Luxembourg, it has appeared for four weeks. Internationally, Paw Patrol helps make Netflix a necessity for parents—much like CoComelon has done in America.
On the film side, movies like Vivo, Wish Dragon, and My Little Pony stayed on the Global Top 10 English list for up to six weeks at a time. Vivo, which showcases Cuban culture and music by Lin-Manuel Miranda, chalked up 110.7 million hours during its six week run on the Top 10 list. Disney+ might be home to 90 years of animated classics, but Netflix is clearly becoming a home for children's favorite movies. And kids are watching their favorites over and over.
There's a reason Sarandos has said he wants six original animated films per year. Kids content is sticky, and parents rely on it, helping Netflix reduce churn. We always assumed this, but Netflix's new data proves it.
3. Movie Stars Matter in Surprising Ways
Netflix's TV Top 10 lists are dominated by originals, including multiple seasons of the same show whenever a new season debuts, like with You and Money Heist. But its film lists contain quite a few licensed titles. That's not surprising; many of the licensed movies benefited from theatrical runs and major marketing campaigns. What does surprise me about the film lists, however, is the enduring power of movie stars.
Consider Dwayne Johnson. I mentioned that Ryan Reynolds' 6 Underground crept back into the global top 10 this week thanks to Red Notice. Johnson's Central Intelligence and Jumanji: The Next Level also charted. Neither was added to Netflix in November, meaning that it's likely people who watched Red Notice were recommended other Johnson movies or sought them out. The movie star halo is real for Netflix.
Netflix film chief Scott Stuber recently said he wants to make bigger, better movies that remain in the zeitgeist for longer than a week. Stuber and his team can use data in that effort, discerning a more complete picture of a star's value by how much "engagement" they generate, and casting accordingly. Understanding demand for talent, in conjunction with consumption and search patterns from customers, and applying that data to potential new projects, can help predict what audiences may want next.
4. Binge Mode Might Be Overrated
Finally, I really wanted to see if the data reveals whether weekly episode drops can work well for Netflix, or if the binge model the company pioneered still works better for its audience.
I decided to compare Arcane, Netflix's new show based on Riot Games' popular League of Legends, which released a batch of three episodes each week throughout November, to Locke & Key, a second season adaptation of Joe Hill's beloved graphic novel, where all episodes dropped at once.
If we look at total hours consumed between the shows*, the first two episodes of Locke & Key's second season slightly outpaced Arcane, coming in at 92 million hours globally vs. 72.6 million. When it comes to demand, however—a measurement of what audiences are seeking out, talking about, and creating "cultural zeitgeist" moments around—Locke & Key pales in comparison to Arcane. The below chart from my firm, Parrot Analytics, which studies cross-platform demand for all content, demonstrates that Arcane is skyrocketing three weeks after premiering, while Locke & Key is quickly diminishing.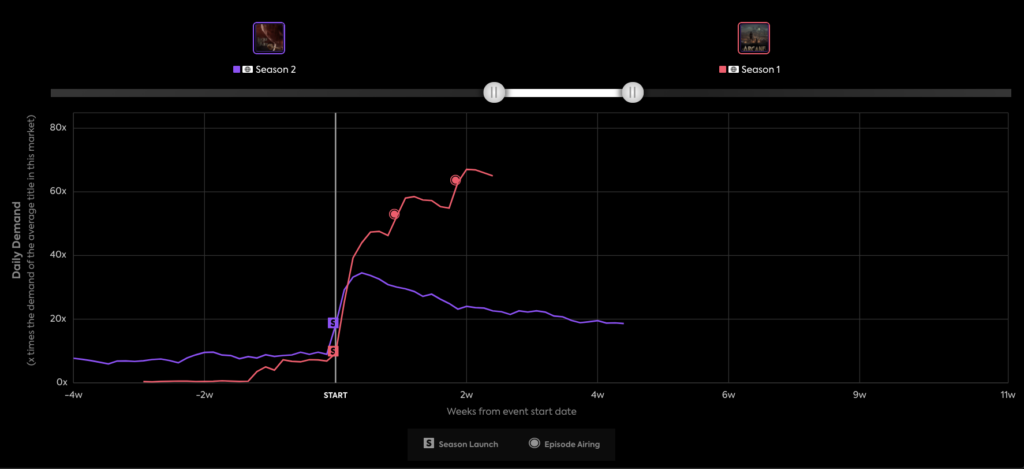 More importantly, demand increases with each new episode, creating new peaks every week. Arcane has steadily seen its overall demand increase to 35x the demand of all other shows globally over the last 30 days. This puts it in the top 0.2 percent of all series globally. Locke & Key, despite being in its first season, which will inevitably lead to the series' second season being consumed more, has 23.8x the demand of all series globally, a position that roughly 2.7 percent of all series globally achieve.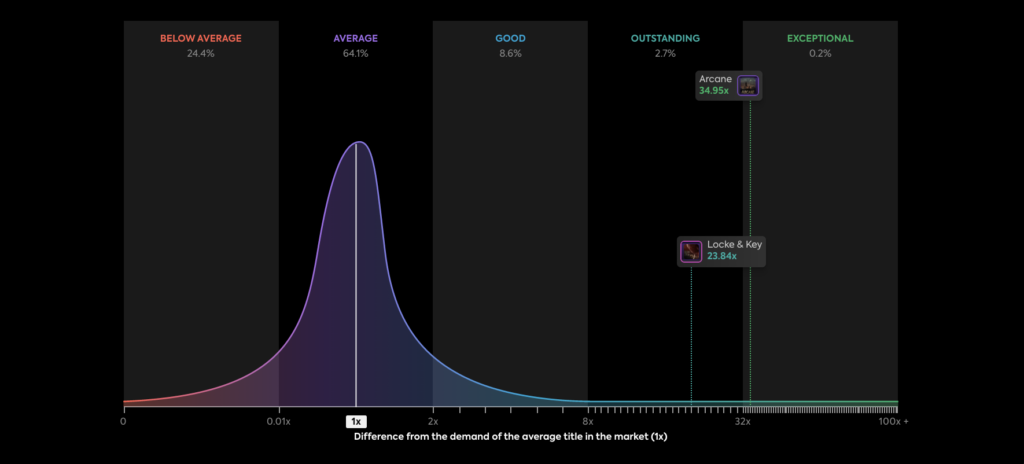 If we just examine the total hours consumed, Arcane and Locke & Key are in relatively similar positions, but it's the information we don't have that's key. While Locke & Key was helped by its well-received first season, Arcane arrived at just the right time (the biggest League of Legends tournament came to an end), and it has a massive built-in fan base. Locke & Key remained on the Top 10 list for another two weeks, and Arcane looks poised for a similar track.
Arcane could provide proof that dropping episodes over a month or two helps retain Netflix subscribers or bring in new subs each week. (After all, the question at the heart of the list is how valuable each title is to Netflix, which can't be answered on consumption alone). Locke & Key might keep subscribers entertained for a week or two, but they'll move onto something else — and that could be off Netflix. Arcane, which is continuing to build an audience and buzz, becomes a reason to open Netflix once a week and not cancel.
Why is all this important? I'm hopeful that as the Netflix data evolves, we'll be able to better compare, analyze, and predict what the service will do next. Understanding consumption patterns helps the industry, and general fans, better understand why a show did or didn't get renewed; why reality hits like The Circle are being spun-off in so many countries; and, inevitably, why a Red Notice 2 will almost certainly happen.
Julia Alexander is a senior strategy analyst at Parrot Analytics, a global analytics firm that measures cross platform demand for content, where she analyzes trends and shifts in streaming entertainment. Prior to joining Parrot Analytics, she was a reporter at The Verge, Polygon, and IGN.
*It's difficult to determine total household views by looking at total hours consumed because we can't differentiate key details, like how many views are rewatches. Plus, with new series like Arcane, it's difficult to compare total audience to other series that have received a full 28-day viewership measurement (this is the window of time Netflix often uses to tout household views). This makes 1:1 comparisons between shows extremely difficult to ascertain from just the Netflix data alone.