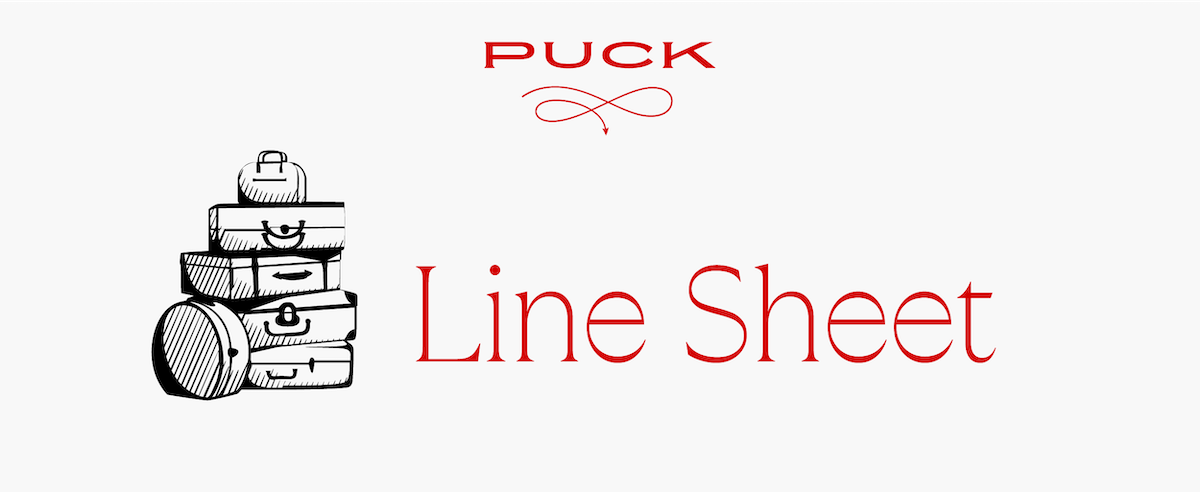 Hi, and welcome back to another New York Fashion Week edition of Line Sheet. I gotta say, I'm downright overwhelmed, and very flattered, by all the nice things you've said to my face at the shows, at dinner, on the street. Behind my back, who knows! (But I will find out!)
I have witnessed so much these past few days—from the elaborate PDA of Jeff Bezos and Lauren Sanchez (front row at Staud), to the snoozeist PETA fashion show crash of all time. (Really, you're gonna go after Coach for using recycled leather? Nobody cares.)
Today, along with fun intel and observations, I've got some juicy tidbits from the bowels of the human resources department. With that said, I could have written five times what I've put forth to you here, so if I'm missing something good, hit reply. I'll have another dispatch from the front lines on Thursday, where I'll be covering Michael Kors, Tory Burch, and the best of the rest.
Mentioned in this issue: Sarah Burton, Bernard Arnault, Ozempic, Alexandre Arnault, Anish Melwani, inflation, Chioma Nnadi, François-Henri Pinault, Zendaya, The Pool Room, Zoë Kravitz, Malala Yousafzai, IMG, Oprah Winfrey, Raf Simons, J. Lo, Peter Do, Voss water, Ralph Rucci, Italo Zucchelli, Kazumi Yanai, Cate Holstein, Nina Khosla, Andy Weissman, Chris Burch, The Plaza, Sarah Staudinger, and many more.
Question of the week: Why is Sarah Burton leaving McQueen? As you've likely heard by now, the one-time right hand to Lee Alexander McQueen is leaving the brand 13 years after she stepped into the creative director role when he died, and 26 years after she joined the business. September's show in Paris will be her last.

What happened? Well, when you've been doing a job for nearly 30 years, maybe it's time to take a break. (See Fabio Zambernardi and Prada.)

From what I know, McQueen is far from a blockbuster—leather goods have never been as strong as any brand of that level would like—but it has performed well under Burton. Although I did hear her departure was sudden. As for who might be in the running to succeed her, my educated guess is that they haven't decided yet. It's a tremendous responsibility, given the weight of McQueen's work in the fashion canon, his untimely death by suicide, and the careful work Burton did to burnish his legacy. Peter Copping, currently in the couture studio at Balenciaga, could be a choice. But I'm just thinking out loud here.

Second question of the week: It's Chioma, right? Right. Right! Everyone is saying that London-native Nnadi, currently the editor of Vogue.com, will be named "head of editorial content" for the international markets any day now, and that British Vogue deputy editor Sarah Harris, the other top candidate—who also happens to currently be on maternity leave—bowed out of the running to (sort of) replace Edward Enninful at some point or another. Everyone here is great, of course, but this is the latest sign of the great downward trend of print media wherein a legendary or quasi-legendary (or just overpaid) person leaves for greater economic pastures only to be replaced by a much more junior successor while everyone smiles and pretends not to notice.
Third question: Ozempic or anorexic? Who's on it, who's not, who knows? All I'm sure of is that skinny is in, and everyone is desperate to out everyone else. Someone even asked me if my husband was taking "the shot" because of a photo I posted recently on Instagram where I suppose he looked thinner than usual. Please, this man's business is called The New Consumer: if he was anywhere near semaglutide, he'd be documenting it in real time. (We're still about willpower, or lack thereof, in this household. At least until there's a Type 2 diagnosis.) Anyway, I'm not going to expose anyone's prescribed drug use in this safe space, but if you are on Ozempic and you're a fashion writer, you should do something on it. As Nora Ephron said, everything is copy.
A MESSAGE FROM ILIA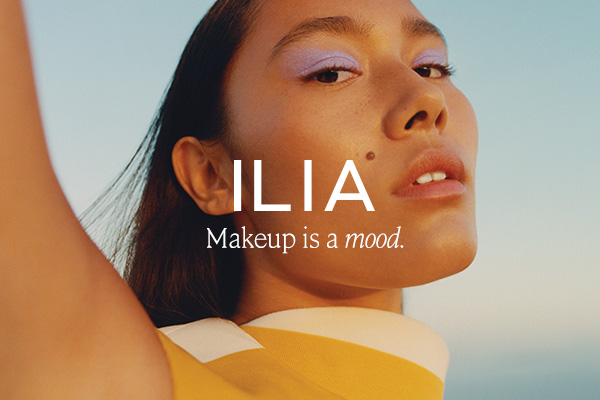 We believe in skin that looks like skin—and radiance that comes naturally. That skincare and makeup are one. That clean beauty is where it all collides—with conscious, carefully-selected ingredients, and no compromises.   

Protect and revive your skin with innovative, multi-tasking SPF formulas, plus shop our latest launches at ILIAbeauty.com. 

Exclusive: 15% off your first purchase with code LINESHEET.
LVMH H.R.: A New Line Sheet Public Service
Last week, I heard from the most reliable of well-placed sources that Anish Melwani, chairman and C.E.O. of LVMH in North America, was potentially on his way out for a new opportunity, and was heading to Paris imminently—possibly to break the news, negotiate, get a counter, etcetera. "I know for a fact that he has another job," this person said. But when I contacted LVMH for comment, several spokespeople denied that there was any truth to the information, calling it "fake news." (Prior to joining LVMH in 2016, Melwani was at McKinsey for 16 years, where Alexandre Arnault was once his intern.)

Look, this person wasn't lying about what they were told. "Perhaps he'll use that trip to resign or negotiate a new role within the group," they added. I followed up with some people in the world of executive recruiting, who had also heard that Melwani was interviewing. (Look, that isn't a crime: The Spencer Stuarts and Russell Reynolds of the world make their money by constantly engaging top executives with other opportunities.) Anyway, their hunch was Richemont. And remember, even if Melwani were to leave LVMH, there's a chance he has a non-compete agreement as long as two years (though this is why lawyers were created).

In this case, I believe it's just a matter of information being shared with me way, way before it's typically leaked to the press, if it's disseminated at all. Whatever the real deal, it's worth keeping an eye on movement within the company. Melwani's been around for a time of tremendous growth for LVMH in the U.S.—the Covid bump (a combination of boredom and stimulus checks), the ginormous acquisition of Tiffany, etcetera. While regional C.E.O.s of individual brands report into Paris, not to him, he's involved in a bunch of different things, and played an integral role in the plan to build a Cheval Blanc hotel on Rodeo Drive in Beverly Hills, which got derailed by shortsighted yokels.

It's also a transitional moment for the company. On Friday, Bloomberg reported that LVMH Chairman and C.E.O. Bernard Arnault bought $230 million worth of shares of the company as the stock continues to dip, down 14 percent since July on weaker performances both in the U.S. and China. (The industry thought that as American consumers slowed their roll, China would pick up the slack. Hasn't happened.) The buyback, which happened a few days after the earnings report, is a message to the market that they're getting a deal right now on LVMH stock. Given the trajectory of the industry over the past two decades, that's probably true, but there's also no denying this is going to be a tricky time for an industry that relies on consumers' insatiable appetite for spending money. I'm sure you've also read that Novo Nordisk, which makes hunger-killer Ozempic, has overtaken LVMH as the largest company in Europe. Don't forget, it can help curb other addictions, too… like shopping.
There's plenty of speculation going around about who from the François-Henri Pinault camp will end up at CAA. I heard whispers that Susan Chokachi, the Gucci veteran who recently left the company, may be headed there, but that appears to be wishful thinking. Here's why I think this rumor is going around: Chokachi is far from an unknown quantity in Los Angeles, where she's been based for years, overseeing everything from Gucci's sponsorship of the LACMA gala to celebrity deals. She's already embedded in the Hollywood machine. But alas, I hear it's not happening. Who knows what the future holds?

As for what people are saying about the tie up: Some are convinced that LVMH and other major players are going to penalize CAA moving forward. Are they going to want to give a CAA client money if it means essentially dropping a few pennies in Pinault's piggy bank? As I mentioned in my Puck partner Matt Belloni's newsletter last week, I asked some people in Paris—people who control the budgets for advertising at luxury brands—about the acquisition. Interestingly, they sort of brushed it off with a so-what attitude. Underneath, though, it is viewed by some as an overt power play, which is much more American than French.

However, I'm still adamant that everyone is going to want to play nice. There are no exclusivity terms in the deal, and it's in nobody's best interest to box anyone out. If a CAA client is the best fit for an LVMH brand (Zendaya, for instance, is currently signed with Louis Vuitton), then LVMH is going to do what is going to make them the most money. I'm sure there will be plenty to observe at Kering's Caring for Women dinner on Tuesday night at the Pool Room. Co-chairs Zoë Kravitz, Olivia Wilde, and Salma Hayek (Pinault's wife) are all represented by CAA, while Malala Yousafzai and Oprah Winfrey are with UTA and WME, respectively.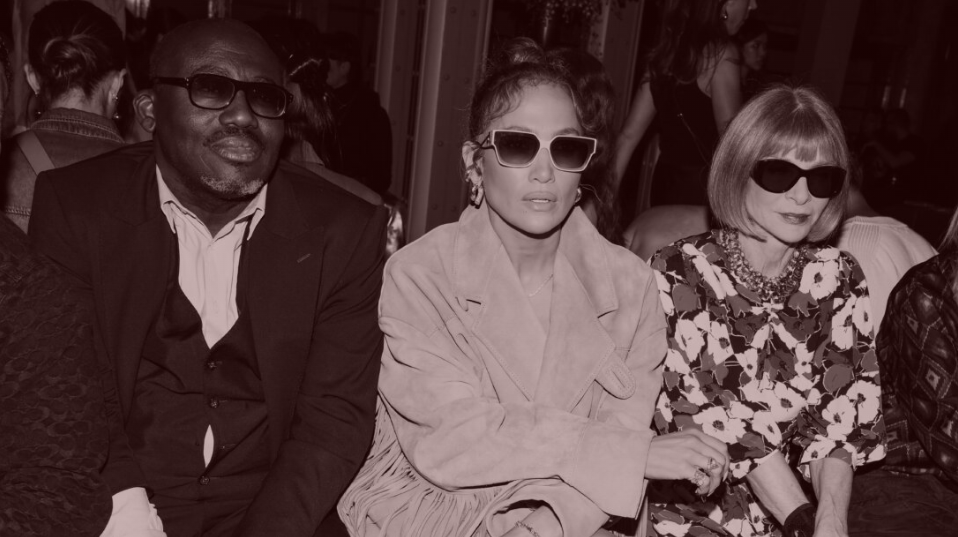 September Issues
My latest notes on the romp through fashion's busiest week—the moguls, financiers, canoodling billionaires, shows, designers, and theater of it all.
At the Coach dinner on Thursday night at the New York Public Library, a friend asked me if I thought that brands would still be staging fashion shows in 30 years. Yes, I said, if the world doesn't blow up before that: Fashion always finds an excuse.

His question, though, was reasonable. We all know runway shows are no longer a tool of the trade. Coach's sales are now something like 90 percent direct: buyers don't buy it, editors are obliged to cover the brand largely because it's a name people know and because it's an advertiser. For Coach, the biggest brand in the Tapestry portfolio, the show—a display of oversized leather blazers and pointy-toe jelly flats embossed all over with Cs, with J.Lo in the front row—is a customer acquisition cost.

Could they do it another way? Perhaps. But it's part of the formula devised by creative director Stuart Vevers, who moved to the U.S. 10 years ago for the job. He's a well-liked, commercially-minded leader, who has managed, whether you've taken to it or not, to give Coach an identity that rises above off-price and discounting strategies that drive the business. I wouldn't be surprised if Tapestry uses Coach as the template for each of the brands in its growing portfolio, which is set to include Michael Kors, Versace, and Jimmy Choo, once the acquisition of Capri is completed by the end of the year.

Is that a good idea? Seems very private equity, and there's plenty of skepticism around it. Of course, the skeptics were out at Helmut Lang, too. Now designed by young talent Peter Do, misalignments abound at this company. Looking around as I pounded a bottle of Voss water before the show, the audience told me everything I needed to know. Regarded designers Ralph Rucci and Italo Zucchelli (he of Calvin Klein menswear fame) came out to support Do, but the Seventh Avenue garmentos were there, too, not to mention Kazumi Yanai, the Fast Retailing heir. The Uniqlo owner bought Helmut Lang in 2006, and has never quite known what to do with it, other than debate selling it. Where does it belong? Dormant, I'd argue. Helmut Lang is ground zero for so much of today's fashion, and the particulars of Lang's exit from the industry—at his peak of influence, to pursue fine art—means its perfection is preserved in a way that normally doesn't happen. There is virtually nothing Do, who started working on the collection four months ago, could have done to have succeeded. Especially since Raf Simons' debut at Calvin Klein in February 2017 was such a sharp homage. (Funny, since Klein was accused of copying Lang late in his career.)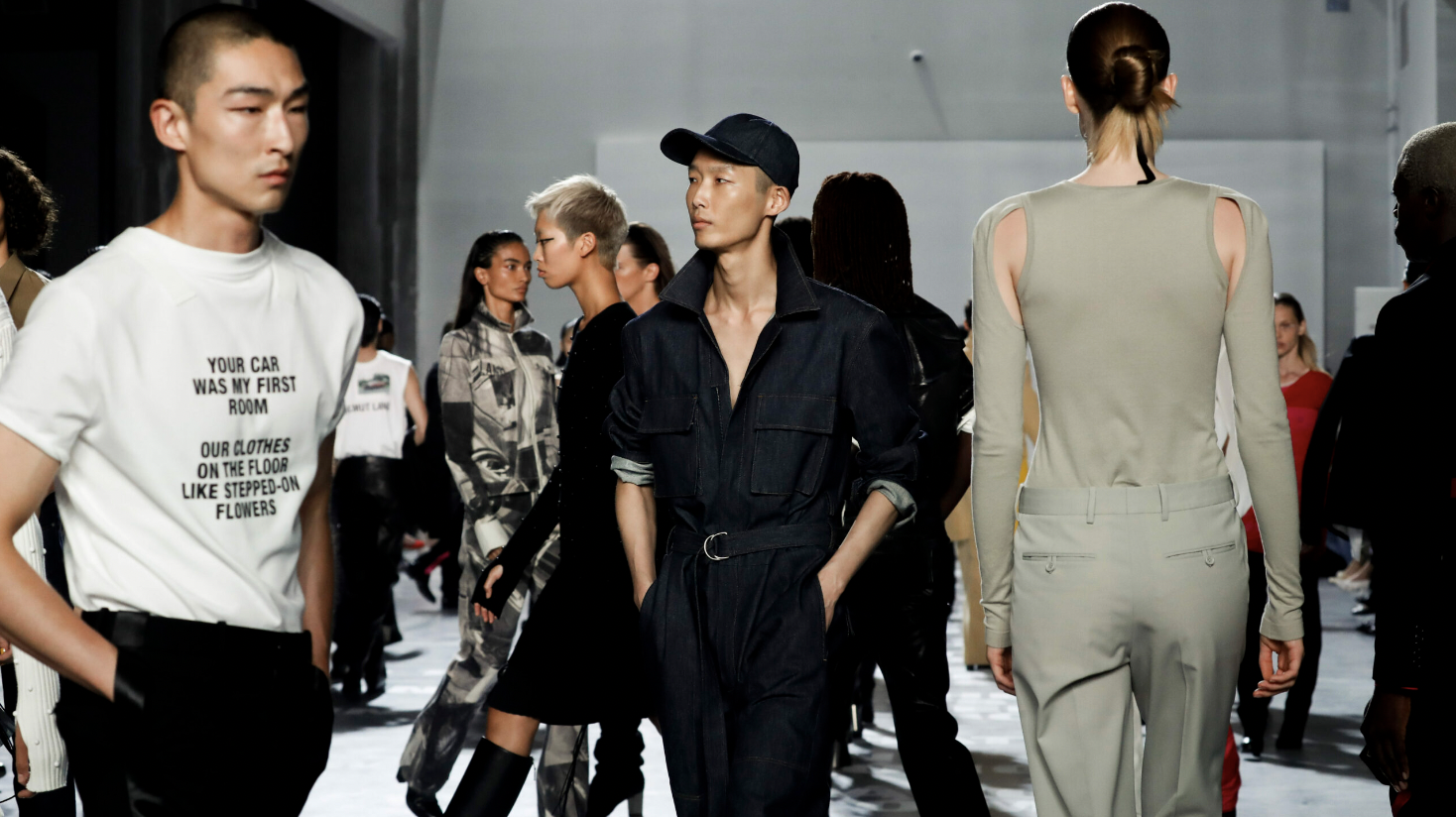 Do seemed to be looking at Lang directly, but also at Simons' interpretation. I thought the pants were good, but it just wasn't enough. I like Peter: I think he's talented and thoughtful, and he's young. Plus, every creative choice someone like him makes is so scrutinized now. But my question for a while has been, is his work limited by being in New York, or is he limited by his capabilities? He shows his namesake collection in Paris in two weeks. It may give us a better indication.

Commercially, this season of Helmut Lang may sell better than it ever has for Fast Retailing. Walking out of the show, I asked a store owner if she planned on buying the collection, and she seemed keen on the blazers and jeans, which are reasonably priced. (Reasonable, in this case, means between $300 and $600.) And then, a shop-and-copy master (who worked for a big specialty retailer for decades and still consults for many of them) sent me a diatribe about how old Helmut is informing the look on the street right now. He really liked Do's take, and seemed to like Proenza Schouler's even more.
"Art and Commerce": (Mainly Commerce)
Those two! Backstage at Proenza, designers Jack McCollough and Lazaro Hernandez said that they don't do well with the "scrum" interview, where journalists ask designers questions like, "What's your inspiration?" or "What fabric did you use on that dress?" I'd say they're better at it than most (low bar on both sides). Really, though, the clothes did all the requisite talking this season. It was a good looking, unfussy collection of high V-neck sweaters, low-slung pants, and basketweave gowns. (An ultra polished, super slick version of what the Shopping Newsletter Ladies are already wearing, like sheer red tights, as one of them pointed out.)

Their soundbite was about "art and commerce," and these designers, maybe more than any in New York, have struggled with balancing the two. I haven't checked in on their business since I did a big story on their ups and downs in February 2022, but it feels like they've regained a good amount of confidence during the past two years. I hope that's reflected in the numbers.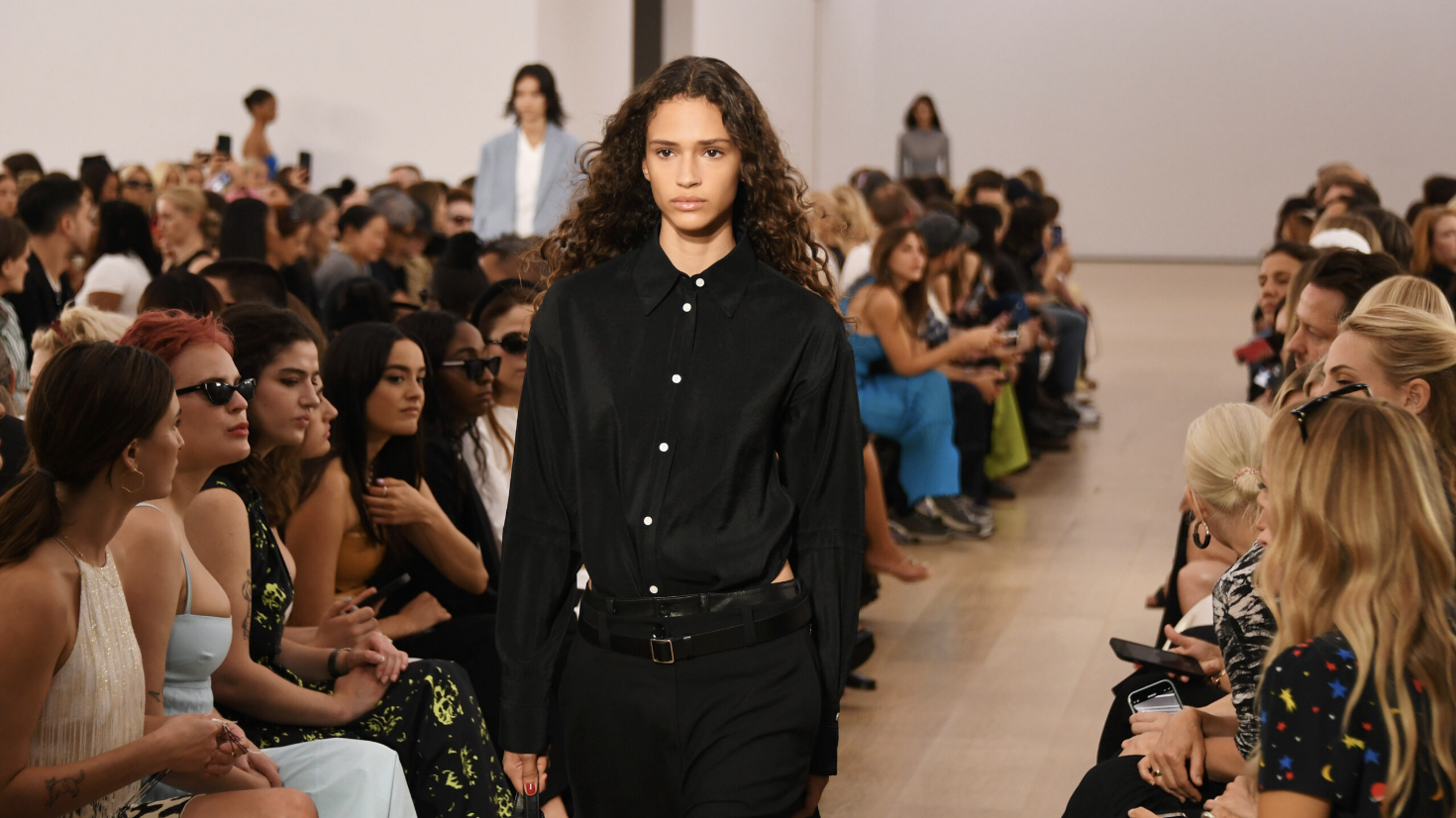 Proenza's current investor is Mudrick Capital, a hedge fund, so they'll certainly be looking for an exit at some point soon. But this is par for the course: Proenza already went through the private equity ringer, years ago. Now, it's Khaite's turn. The Cate Holstein-designed label is now under the watch of Stripes, one of the few investment firms that regularly takes bets on fashion. Backstage at that show, I asked Holstein how the money has empowered her: I expected her to mention supply chain upgrades or more freedom with show budgets. (The Park Avenue Armory staging wasn't extravagant, but it definitely felt like an upgrade from previous seasons.)

Instead, she reminded me that she doesn't have to be the C.E.O. anymore. (That title goes to Brigitte Kleine, who helped build Tory Burch before joining Stripes as an operating partner in 2016.) It's interesting to see who likes Khaite in fashion circles and who doesn't. Many fashion journalists and editors feel a distance from it. I asked a friend if he had any inkling as to why. He said, They hate success. (Another guess: they don't understand money.)

To understand Khaite, you've got to view it like a merchant. (I liked the pin-tucked gazar dresses; they reminded me of this Marc Jacobs look from his Spring 1998 collection.) Holstein is very much in touch with what women with money want to wear. When I saw Yael Aflalo, founder of Reformation—another Stripes investment, which turned out very well for everyone involved—sitting front row at the show, I thought, Yep, that's right. Aflalo, who made a fortune with the backing and support of Stripes, is now Holstein's target audience.
For years, investors have backed away from fashion because it's such a tough business to get right. But now the power players are recognizing just how lucrative luxury can be, thanks to the success of LVMH and Kering, and I suspect we're going to see an influx of new money flowing into the space. One person recently likened LVMH to me as a private equity firm with 40 percent carry rather than 20 percent carry. Not a bad deal.

At Fforme, I was introduced to Union Square Ventures' Andy Weissman, who was there to support Nina Khosla, daughter of Vinod Khosla (of Silicon Valley's Khosla Ventures) and co-founder of the Paul Helbers-designed label. Nina Khosla just hired Joey Laurenti to be the brand's C.E.O.

What a choice, given that Laurenti was the co-founder and C.E.O. of Sies Marjan, another label designed by an incredibly talented European and backed by wealth made far away from the industry. (In that case, Nancy Marks, wife of the famous investor Howard Marks.) As you may remember, Sies Marjan ceased operations during the pandemic—for the usual reasons—and I'm sure Laurenti learned plenty from that experience that he will apply to this.

I could also see Nancy Marks, famously a client of Ralph Rucci's before buying his label, firing him, and re-imagining it under Sander Lak as Sies Marjan, being a Fforme client. The Paris-based Helbers, whose résumé includes Louis Vuitton and The Row, is a world-class designer, and there is a whiff of Rucci in the silhouettes he clearly puts a lot of work into defining. The question, of course, is whether the world needs more sculptural clothes made with very expensive materials. If Fforme can become the American version of Arts & Sciences (the Japanese label every minimalist adores) then I think it has a fighting chance to differentiate. The styling of those clothes needs work, though, in order to communicate how special they are.
Chris Burch is one of the few fashion financiers who made his fortune there, and he's still in it. Last night at Staud, which he backs, designer Sarah Staudinger staged a throwback to '90s runway shows, constructing an elevated runway in the Grand Ballroom at the Plaza Hotel. (No one really does elevated runways anymore, other than Sergio Hudson, who showed earlier in the evening. Everyone just walks on the ground now.) Styled by Danielle Goldberg, whose sister, Arielle Charnas, was in the audience—and has been out and about all week—it was an obvious homage to Isaac Mizrahi and that candy-colored ball gown look he helped make so famous, with the models smiling and vogue-ing in an unserious way.

While Staud is on the precipice of becoming a huge-ass business (close to $100 million in annual sales), this was all about the show, especially the front row, populated with friends of Staudinger and her husband, WME C.E.O. Ari Emmanuel. There was no Larry David sighting this time, but Jeff Bezos and Lauren Sanchez were there, seated front and center, not far from Jeffrey Deitch and Annabelle Dexter Jones, Rachel Sennott, Jeremy O'Harris, Justin Bartha (!), and company men like WME president Mark Shapiro. (Was he on social media duty or something? He seemed to be documenting every second of this show with his iPhone.) There were woots every time a model twirled.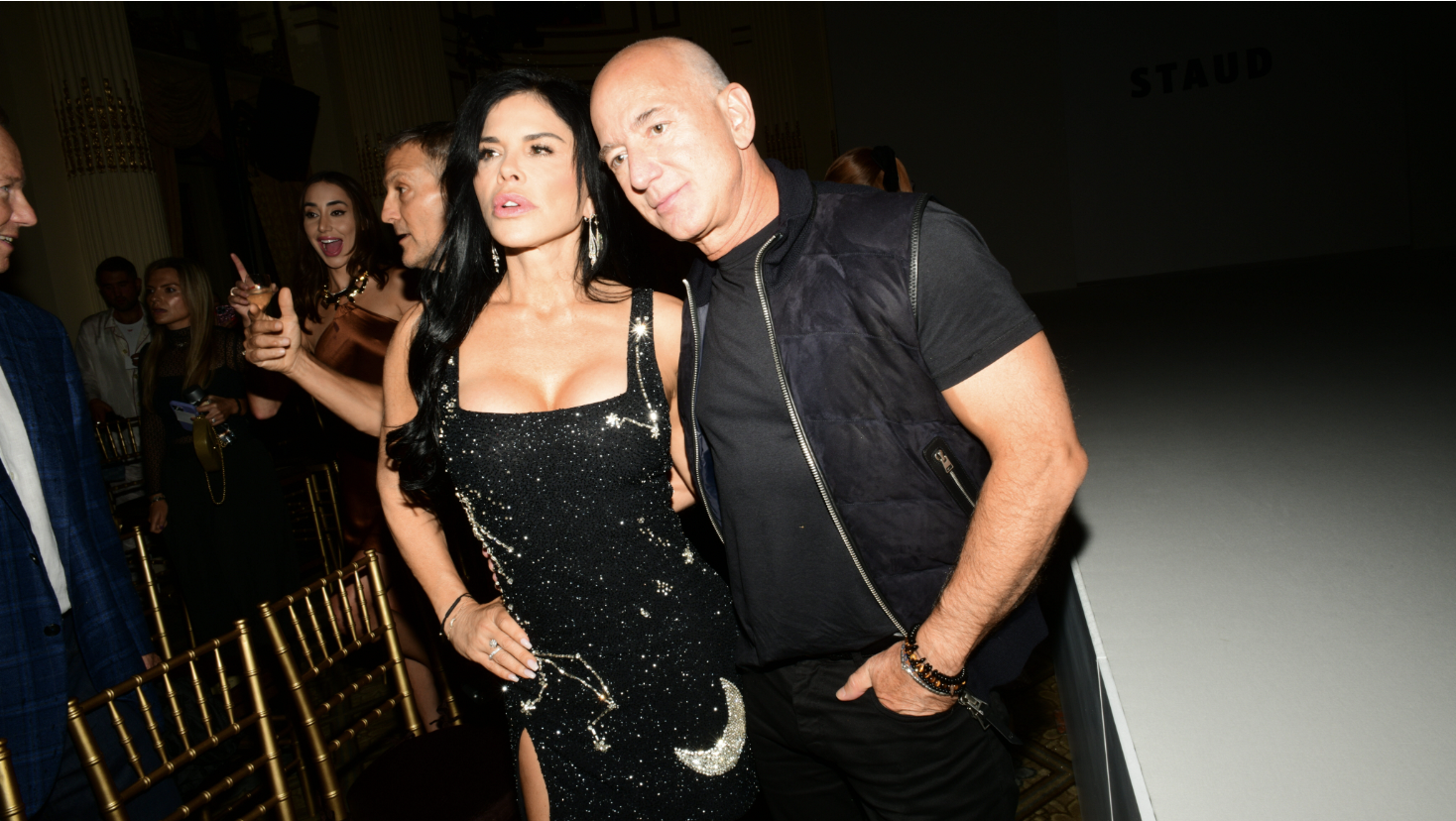 Front row curation is an essential element of what makes a good fashion show, and Staud's assemblage was rivaled only by Area, who welcomed Mary J. Blige and her green exotic leather Hermès to the Williamsburg Savings Bank. There, it was much about what they were wearing as who they were; the Piotrek Panszczyk-designed label, known for its couture-inspired, intentionally outrageous creations, has a robust private client business, and made more than $10 million in revenue in 2022, according to a BoF report. It's gala garb for progressives. On the runway, Panszczyk made the unexpected choices we expect from him, such as inserting fossil-like lacquered pieces into gowns and coats. (Show me one review of this show that won't include a Flintstones reference.) I normally really admire his work, but this time it felt a little too unfinished and conceptually disorganized for me to totally get behind it.

I can't judge a show like Staud against Area or Proenza or Helmut Lang. But was it a satisfying experience? Absolutely. And will those ball gown skirts sell? Sure.

Who else is making money this week? Mike Eckhaus and Zoe Latta designs have a ton of commercial potential, and they want people to see that they're good at cutting clothes. So they staged this show not in a raw space in East Williamsburg or a schoolyard on the Lower East Side, but at a green-marbled office building in Midtown. Brilliant. Also, they've been doing great denim of the Helmut Lang variety for years. Calvin Klein, hire these two.

What really works in American fashion is consistency. I'm usually pretty bored by Ulla Johnson's shows, but on Sunday morning I couldn't help feeling dazzled by her three-dimensional florals and dizzying zig-zag knits. (Made me think she'd be a great designer for Missoni, but that brand needs help, and she's too smart to take on some impossible post like that.) Each season, nothing really changes, and yet she is good enough to keep people hooked. We talk a lot about "the next Ralph Lauren," or that "there will never be another Ralph Lauren," but in many ways, I don't think anyone of her generation is as clear about their identity.

And that brings me to the man himself, who showed in the Brooklyn Navy Yards on Friday night, in a venue constructed to mimic the RL Ranch in Colorado, with the models drowning in denim and gold and piles of jewel-toned jewels. I used to get all huffy about Ralph Lauren shows because they don't budge one bit forward. Maybe I've softened, but I not only don't care about that any more, I don't think they should. Lauren is really like Lagerfeld of America, and his ideas hold up. The revolution will come when it's time.
Emilia Petrarca, one of my all-time favorite fashion writers (and an excellent reporter, too) has launched a newsletter. You should subscribe because it's definitely not like anything else you're getting right now. [Shop Rat]

I was interviewed by Interview's Taylore Scarabelli. A real pleasure! [Interview]

Is the US Open a more successful fashion event than New York Fashion Week itself? You decide. [Instagram]

A Magazine Curated By editor-in-chief Dan Thawley is leaving the pub after 14 years. What a run. [Instagram]

Great cover! [The Gentlewoman]

A food quarterly called Family Style, with contributors including Stefano Tonchi, Emilia, Sophia Roe, and a bunch of other people you know, is launching soon. (The editor and founder is Joshua Glass, and he has a few very well known advertising sales execs advising him on it.) [WWD]

Adrian Cheng has at least looked at investing in or buying 1017 Alyx 9SM, according to this report. [WWD]

And finally… I forgot to thank the one-and-only Max Stein at Brigade Talent for all the work he did on our dinner with Fashionphile last week. He doesn't care that I didn't mention him, but I do.

And finally, finally… my use of a Vogue World umbrella in the rain on Sunday was not an endorsement! Also, I left it in a cab. Have fun in London.

And finally, finally, finally… I know you wanted me to take a cheap shot at Fforme for starting 45 minutes past the hour because we were waiting for a couple Very Important editors who were coming from Spring Studios. Here's my response: This happens to the best of us, including me, who was once an hour late to a lunch at Le Bernardin with Tadashi Yanai because it started at 11:30 a.m. and I put 12:30 p.m. in my calendar. (In my defense, who starts a seated lunch at 11:30? I'm sorry for the thousandth time, Mr. Yanai.) Also, Spring Studios is the worst. Attention, IMG: please stop doing shows there. Traffic is terrible, it's hard to get in and out. Bring back the Bryan Park tents!!! Or Milk Studios!!
Okay, that's it, bye,
Lauren
FOUR STORIES WE'RE TALKING ABOUT

Need help? Review our FAQs
page or contact
us for assistance. For brand partnerships, email ads@puck.news.
You received this email because you signed up to receive emails from Puck, or as part of your Puck account associated with . To stop receiving this newsletter and/or manage all your email preferences, click here.
Puck is published by Heat Media LLC. 227 W 17th St New York, NY 10011.