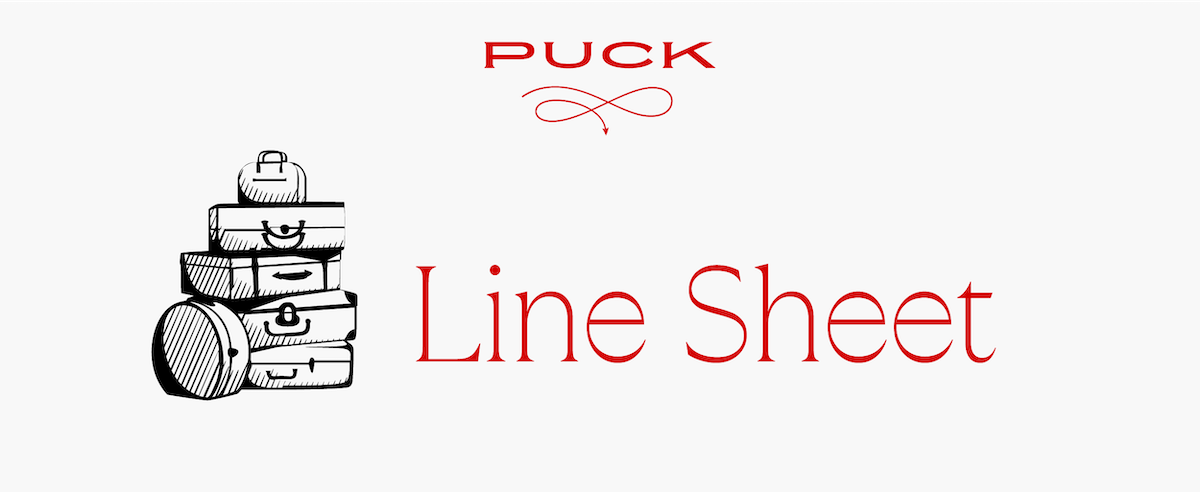 Welcome back to Line Sheet—I hope those of you in the U.S. had a nice, labor-free Monday. To my friends abroad: Happy September. We're back!!!!
Looking forward to seeing many of you over the next few weeks. (Maybe at the J.Crew party tonight? Gonna try!) My dance card in New York is essentially full, but if you want to hang out one-on-one in Milan or Paris, let me know.
Before the deluge of Fashion Month coverage begins, I've got some news on the future of Barneys New York (involving a couple magazine-world blasts from the past), a crucial update on the state of our humanity, and, perhaps most importantly, an interview with Marisa Meltzer, author of Glossy: Ambition, Beauty, and the Inside Story of Emily Weiss's Glossier, which is out next week. During the past 10 years, there isn't a startup founder I've bet on more heavily (at least in my mind) than Weiss, and I know how obsessed many of you were with Glossier. Send me your thoughts after you zip through the book, like I did.
Also mentioned in this issue: Kirsten Green, Kara Studzinski, James Jebbia, Steve Jobs, Nasty Gal, Nick Axelrod, Burning Man, Morgan Von Steen, Taylor Swift, Jamie Salter, Robbie Myers, Jim Moore and Simon Doonan, Audrey Gelman, (Tyler Haney) and an incredible photo of Giorgio Armani.
But first…
Milan Musical Chairs: Can we talk about what's happening in Milano right now? Last week, it was announced that Susan Chokachi was out at Gucci after 25 years, and Alessio (Vannetti, but there's only one Alessio in My World) was in as "chief brand officer": a new title with a new remit under new creative director Sabato De Sarno.

Then, over the weekend, WWD and BoF reported that over at Prada, Alessio's old stomping ground, designer Fabio Zambernardi (who's been with the company since, um, 1981) is stepping down from his role. There was a report in BoF that the company, which appointed seasoned Italian executive ​​Andrea Guerra as C.E.O. earlier this year, is trying to keep the door open for Zambernardi to come back by arranging a year-long sabbatical before he makes his final decision. However, I was told that he is officially separating from the business to work on personal projects, although he is welcome back anytime he wishes: they love him, he is part of the fabric of Prada, etcetera.

I've also heard that Zambernardi has been ready to leave for a while. I mean, he has been there for longer than I've been alive (by a hair). And there have been tremendous changes at Prada during the past couple of years as the company organizes itself to compete more forcibly against the big groups: there was the appointment of Raf Simons as co-creative director—a jolt to the system, no matter how necessary it was and successful it has been—and the appointment of Guerra. It seems that Guerra—the C.E.O. of Luxottica for a decade, the C.E.O. of LVMH's hotel and hospitality division for a spell, and the former executive chairman of Eataly—will prepare Lorenzo Bertelli (Miuccia Prada and Patrizio Bertelli's son), who is still in his mid-30s, to eventually claim the top job.
The more you know…: It's fun to joke about Ozempic and how much money all of you are spending to fit into a sample size, saggy rear be damned. But I'm being totally serious when I say that we have to remember that this drug is also saving lives and has the potential to transform society. Just follow the money: Novo Nordisk, the Danish pharmaceutical giant that makes the weight-loss drug semaglutide, sold under the names Ozempic and Wegovy, is currently vying for the title of Most Valuable Company in Europe (by market capitalization) with LVMH.

On Friday, Novo Nordisk bumped our friends over at Avenue Montaigne out of the top spot, albeit temporarily. (At the end of the European trading today, Novo Nordisk was valued at $427 billion, while LVMH, which has taken a hit this summer because of shitty sales in the U.S. and a slower-than-expected uptick in China, had an enterprise value of $414 billion, with a $386 billion market cap.)

As one dork pointed out on Twitter, the highest-valued companies in Europe are currently LVMH, Novo Nordisk, ASML (which manufactures machines that are used to make computer chips), L'Oreal, and Hermès. One of these things is not like the other… sort of? Fundamentally, our culture is driven by consumption, and the wealthier people in our culture are the ones consuming the most. Simple.
And now for a feel good resurrection story, both for fashion and the glossy print trade…
Zombie Barneys Is Coming to Miami
Authentic Brands Group C.E.O. Jamie Salter has been going on for years about how fallen luxury emporium Barneys New York, whose intellectual property he purchased in 2019 for $270 million​, would return in bricks-and-mortar form. In 2021, through its retail partner Saks Fifth Avenue, ABG launched Barneys at Saks, a special section at the latter's New York City flagship, populated with indie labels. (I assume most, if not all, of you know this, but at its peak, Barneys was the store that sold the best brands first, making or breaking careers.) Some of the other Saks' locations, in Greenwich and Beverly Hills, for instance, got Barneys sections too.

Now, though, it seems that ABG is broadening its ambitions. The new venture will kick off at Art Basel Miami this December with a party at Nobu Miami Beach—the old Barneys is surely rolling over in its grave—as well a pop-up shop, produced in collaboration with Greenwich-based custom publisher Noble, which does the magazine for Nobu and is slated to launch one for McLaren, too. (I reached out to ABG and Noble, who weren't able to share more information.)

It's no surprise that Barneys will launch its own magazine, with contributions from former Elle E.I.C. Robbie Myers, who will serve as editor-in-large. Former GQ creative director Jim Moore and Simon Doonan, a humorist and the store's longtime creative director and mascot, have also been approached. Custom publishers traditionally make bank, and this one is run by Kara Studzinski, a former freelance editor at Ralph Lauren, Barneys, and several magazines, including Elle. Studizinski is the E.I.C. and Robb Report alum Edward Cortese is the publisher.

It will be fun for the Line Sheet audience to see what they cook up. What I don't understand is how this luxe proposition dovetails with the Barneys New York x Forever 21 collaboration that'll be shown to editors and influencers this week. Moreover, as much as I miss the old Barneys, I think what I miss more is the idea of the old Barneys—that store's heyday was long past when it filed for bankruptcy, and I can't imagine a scenario where this satisfies any of that longing. I'm not sure anyone would have been able to resurrect Barneys, or any other discontinued store, because the good ones are so reflective of their time. (It would be hard to relaunch Colette or Opening Ceremony, too, even if the founders were involved.) Whenever you try to get the gang back together, in pretty much any form, it's never as good, even in the rare occurrences when it looks successful on paper. And, as is always the case in such reunions—especially this one—it's a money job.

Salter has positioned ABG as a different sort of licensing firm: one that is thoughtful about the distressed brands it acquires, and one that aims to monetize the value of those fading brands respectfully, rather than juicing them for all their worth until they are dried-up nothings. The handling of Barneys shows that, no matter the good intentions, the model always doesn't work that way and the upscale chop shop strategy is more of a talking point than a reality. But let them prove me wrong. I love Robbie!

And now for the Glossier treatment…
My first interaction with Emily Weiss was via email, around 2010 (maybe the beginning of 2011). I didn't watch The Hills—I gave up on reality TV after The Real World: Las Vegas—but I knew of Emily through fashion. (At the time, she was assisting a stylist named Elissa Santisi, known for wearing good trousers.) I heard Emily was launching some sort of beauty news blog—independent, but more polished than the rest. I want to say that she already had an office at 611 Broadway—one of those shabby-if-serviceable buildings in Soho, on the corner of Houston & Broadway, where the grown children of billionaires would enter to meet with Basil Walter about redoing their five story townhouses—just a couple of floors down from Breaking Media and Fashionista.com, which I was editing at the time.

Fashionista was a teeny site with a teeny budget, and I was desperate to hire a graphic design intern to zhuzh it up, so I posted an advertisement in our job listings section. I didn't get many bites, but I did get an email from Emily Weiss, introducing herself, and asking if I wouldn't mind passing along any discarded resumes. She, too, was in need of a graphic design intern for her new, yet-to-be-launched website. Perhaps this says as much about me as it says about Emily, but I sort of couldn't believe she had the gall to send an email like that. Fashionista classifieds were something like $50 a pop, she could have posted in stealth mode, and what would she see in my rejects that I hadn't?

I don't believe I forwarded her any applications, because from what I remember we got, like, two. But I never forgot that email. Emily was so successful in her early years of entrepreneurship because she wasn't afraid to ask—whether she was wrangling a celebrity for Into the Gloss's most popular feature, Top Shelf, or convincing advertisers like Lancôme to buy website banners pre-launch, or raising more than $266 million in funding for Glossier, the beauty line she launched in 2014, with products conceived and formulated based on reader feedback. That gall might have been her greatest asset, and the reason she makes for such a compelling protagonist in the journalist Marisa Meltzer's new book, Glossy: Ambition, Beauty, and the Inside Story of Emily Weiss's Glossier.

It's hard to overstate how influential Glossier has been in the marketing of consumer goods over the past decade, and how obsessed the fashion industry, in particular, was with Emily and her enterprise, which rode the direct-to-consumer wave to a $1 billion valuation, only to belatedly realize that distribution in multi-brand stores were essential to scale a beauty brand. After too much money was spent on tech and the (beauty) product began to languish, Weiss stepped down as C.E.O. in May of 2022 to make room for former Nike exec Kyle Leahy. Now the business, which launched in Sephora in February 2023, is back on the up.

Glossy tells a great business story, which Marisa and I get into in our conversation, but it's also the story of a captivating, yet fairly unknowable, person. Also, like a lot of the people I write about who are journalists, Marisa and I are friends, but I am gaining nothing from saying that I really enjoyed this book. As a reporter, reading a book that you are close to can be aggravating, jealousy-inducing, or worse, feel like work. But with Glossy, it was fun seeing people I've known for years, like Forerunner Ventures' Kirsten Green, Into the Gloss co-founder Nick Axelrod (now at UTA Ventures), or Emily's former assistant, Morgan Von Steen, characterized in a light that only Marisa could conjure. Our interview was edited for clarity and condensed for your convenience.
Lauren Sherman: What made you want to write a book about Glossier and Emily Weiss?
Marisa Meltzer: Mid-pandemic, I was thinking about projects, and obsessed with the power of the beauty industry. By some estimates, it was a $500 billion industry projected to go to $800 billion worldwide. I did the most cursory Googling of what other industries were around that size, and it was the video game industry, semiconductors, etcetera. And I thought, this is a source of so much wealth and power, but it hasn't really been discussed—because it's more or less targeted to women.
I wanted to do a book that was Hoop Dreams –style—following different people in phases of their beauty careers. But once I was working on it, I quickly realized that Glossier was always the main thread. And that should really be the story. I began to realize that the story of not just the beauty industry, but also direct-to-consumer businesses and venture capital, and the so-called Girlboss movement, and what we consider beautiful and Millennial pink—all of these things that were really like emblematic of the last 10 to 15 years of consumer culture—could be told through Glossier.
I've talked to a couple people who are in the book, who have opinions about it. And one thing that they mentioned is that you interviewed them before it was announced that the book was going to be about Glossier specifically, which upset them. They felt like you had deceived them. When did you tell people the book was changing, and how did you manage that?
I definitely sent follow up emails to some people who I wanted to have another conversation with, and explained to Emily and the Glossier team, but I didn't send emails to every single person I had already interviewed, because I didn't need to interview them again. There was a big piece in Business of Fashion when the cover and name of the book was revealed. It was out there, and if someone wanted to talk to me about it, I was there. Also, it's not really my practice to go back to people to tell them the title of the book that I'm writing has changed. But I also felt like there was no deception. There was no hiding it. And all these people had my contact information.
So, exactly why did you pivot to Emily? What is it about her and Glossier?
The company personifies this era. And this was more or less [Weiss'] first real job, opening Into the Gloss and starting in Glossier, and then it became this, literally, billion dollar company, which is remarkable. Also, there is this current culture of books about startups and founders that tend to either really villainize them, as with WeWork or Theranos—and Bad Blood is about an actual criminal—or the books done in close collaboration, like Shoe Dog or the Steve Jobs book. What interested me was that the story of Glossier is somewhere in between, and it's definitely not criminal, but it's also a story of a company that made missteps. It was in this sweet spot of a lot of people knowing about it, but plenty of people not recognizing it as this significant business venture.
I was looking back at my own clips when I was reading your book, and I only wrote a few stories about Glossier over the years, but I referenced it constantly because every fashion brand was totally obsessed with it. Can you pinpoint exactly what it was about their approach?
The drop approach [announcing just one or a few new items, flooding the world with marketing, then rinse and repeat just a few weeks later] was really new in beauty. I remember the first time that I saw the initial Glossier line. I was expecting a much larger, traditional, range of beauty products, an entire routine from cleansing to sunscreen. Instead it was a balm, a spray, and a tinted moisturizer. Now, that seems pretty normal. But at the time, it felt very novel. Their first product developer, Alexis Page, was smart in identifying the need for a kind of Millennial version of Clinique: something that could be your introduction to skincare that was easy, affordable, but still felt cool and for you.
Aesthetically, it was clean and crisp, but also felt fun. It ran in parallel to the rise of Instagram, and it photographed really well. And then they had the backing of Into the Gloss, which they crowdsourced ideas from. And built-in fans, since there was a culty excitement about the site and the people who worked there.
You write about many people who live rent free in my head, like venture capitalist Kirsten Green, whose investments I've been covering for years. It was fun for me to see someone else's view of her. I'm curious to know your feelings about the V.C. community, because it's such a big part of the Glossier narrative. How did Glossier fit into the hype machine?
I had a certain intimacy with it because one of my first extremely short-lived jobs out of college was working for Addison Wesley Longman, the trade publisher, the last hold out on Sand Hill Road before it eventually moved to San Francisco. I've spent quite a bit of time on Sand Hill Road and had a physical understanding of this unassuming suburban boulevard, with low-slung midcentury office buildings, filled with these companies staffed with men, making these huge financial bets. That was a section where I just had so much empathy for Emily and her team trying to raise money, which is a choice, but it seemed really quite devastating and hard, and probably affected the way that Emily had to kind of show up in the world.
She was cool and notable by New York standards, but in the world of venture capital, she's dealing with people who were taking her samples and being like, "Cool, I'll give it to my wife." She eventually raised a lot of money, but the way she was dismissed by many investors in the early days was dispiriting. I have a certain amount of cynicism about who gets funding and the way it works.
Jenn Hyman from Rent the Runway also talks about hearing the "Let me go home and ask my wife" line.
It just makes me think, [the V.C.s] are bad at their job. It's part of why Barbie is considered such an extreme thing, or a Taylor Swift concert. Men, and I mean largely white, cis men, think male culture is just culture. God forbid that they have to think about something that is not squarely targeted at them. That they can't possibly try a moisturizer.
I just had this conversation with some colleagues of mine who said they don't wear moisturizer, and I thought, jeez, you go on TV all the time, you should wear moisturizer.
I don't know what to tell you, you're gonna look like Leatherface.
One thing that has always bothered me when reporting on these companies: the lack of responsibility that venture capitalists take when something goes awry. They give these 24-year-old women and men a bunch of money at too-high valuations and then expect them to be C.E.O.s. It was often a vicious cycle. Glossier, unlike Nasty Gal, never imploded, but there were fuck ups. How did it avoid that crash-and-burn trajectory?
They were releasing products that were big hits, like Boy Brow. But they also spent a great deal of money and a great deal of time trying to develop a game-changing app that never saw the light of day. And they launched this Play line of color cosmetics, and instead of just having it be Glossier products or a seasonal collection, they decided to make it a sub-brand. I always think about our friend Claire, who used to joke, What are the V.C.s taking from us today? V.C.s will give you things, and the V.C.s will take things away.
On the tech thing. I feel like a big lesson to all brands should be: you're never going to be a tech leader. I see this with so many companies where they spend all this money and hire all these engineers, and then they realize, Oh, there's an app that does this really well, it's called Shopify.
Glossier took pride in creating their own tech for things like point-of-sale and checkout, and perhaps the big irony is that recently, they moved over to Shopify. That is a huge lesson to learn, and also, there's a certain grandiosity to wanting to be more than a beauty company. What does that mean about internalized misogyny? But when you're raising money around tech people, there's hubris involved. Being a beauty company that also created a game changing shoppable beauty app, that transformed how we buy things, would make it all feel bigger.
The Girlboss Era, Revisited
One of the most powerful chapters in this book is the Girlboss chapter, where you lay out the whole phenomenon. Comparing that with the current cultural dominance of Beyoncé-Barbie-Taylor Swift: both are commercialized displays of feminism. But this summer's movement feels less forced. How do you think the two are linked?

Both are about buying into something to show your solidarity and support of girlhood. The Girlboss movement was elevating people who weren't already famous: Emily Weiss, [The Wing's] Audrey Gelman, Tyler Haney from Outdoor Voices. It was a way for them to be talked about that didn't involve their personal lives, or their favorite lipstick color, or something like that. With Barbie, Beyoncé, and Taylor Swift, it's a clear transaction, but it's also a more communal experience. They're giving a performance and you're adding to it by making Taylor Swift friendship bracelets, or dressing up to see Barbie or Beyoncé.

Of all those people you mentioned, Emily does still stand out to me. Why?

You were never going to see her making any kind of public misstep or posting something reckless on social media, which is part of why she's a bit of a cipher. It was hard to know who she really was or what she really thought. She worked really hard—that was always her personal brand from the moment she appeared on The Hills and that's what, universally, everyone says about her. She put in the time. Maybe some of those other Girlbosses stumbled into fame and were lumped in with this female business moment, but their aspirations were maybe smaller or different. The real difference is that Emily Weiss wanted to be a household name, a Steve Jobs or Phil Knight figure.

What do you think happens to Glossier and Emily now?

Glossier is reintroducing itself—or introducing itself. They were, until February, totally direct-to-consumer. The only way to get the products were if you ordered them online or to go to one of their stores or pop ups, which is limiting. There is a huge audience which is going to be introduced to Glossier via in-store Sephora experience. They're also reintroducing themselves as a grown up company helmed by seasoned industry professionals with business degrees and knowledge of supply chain and all the nitty gritty that involves running a growing company.

And then for Emily, she was born with ambition. And as someone who has also always been ambitious, I feel like ambition doesn't extinguish itself. It's hard to lose ambition. And so I would be very surprised if she doesn't do something else, or isn't already laying the groundwork for something else.

This was a request from a friend: If this book gets optioned and made into a movie, who do you think should play Emily?

Zendaya has the perfect determination mixed with unknowability. I've interviewed her and felt it in person. But it would be hard, because part of the narrative of Glossier is around their cluelessness about race and skin shades, so a colorblind casting would be complicated. I would love to see Jennifer Lawrence. Julia Garner has a certain ability to be tightly wound that would translate well.
I had lunch on Thursday with a friend who knows the world of Supreme pretty well, just as all those Tremaine Emory posts were dropping. The particulars of the Emory situation aside, he made an astute observation about the culture of Supreme: Founder James Jebbia may believe he's ready to loosen the creative reins, but in some ways, he's a lot like Ralph Lauren. His identity and the brand's identity are too inextricably linked to really ever let go… at least not until there's a forced break. If you work at Supreme or you've worked at Supreme, I'd be curious to know if you agree.
What I'm Reading and Listening to…
On Saturday night, Giorgio Armani staged a fabulous haute couture show in the eastern part of Venice. Then, he hosted a cocktail party where Róisín Murphy performed and Mark Ronson DJed. The 700 guests included Sophia Loren and dozens of other celebrities—some of whom were also in town for another kind of fashion show, the Venice Film Festival's red carpet. Finally, while promoting the event—the latest installment in a series of off-calendar shows—the company sent around a photo of Mr. Armani, expertly tanned and clad in the usual navy garb, leaning on his yacht as the sun set. I might frame it? [Inbox]

I hope everyone is okay and all, but Burning Man, you're the worst. [Twitter]

Amanda Mull explains why Bass Pro Shops are so awesome. [The Atlantic]

A deep dive pod on the state of activewear, featuring mini reviews on Vuori (valued at $4 billion, LMAO), District Vision, Satisfy Running, On, Tracksmith (a favorite even though it's too preppy for me personally), Bandit, and more. [A Thing or Two With Claire and Erica]

Dana Thomas on the rehabilitation of John Galliano. [The Style Files]

Why is everyone selling their old stuff via Instagram? [GQ]

Designer Anya Hindmarch is joining the U.K. government's Board of Trade, which advises on, well, trade policy. [Sky News]

Under Armour just named John Varvatos chief designer officer. Super weird, yes, but I guess Varvatos knows how to sell to guys, and it trend agnostic. (People like Marc Maron buy head-to-toe looks there.) [WWD]

Congrats to Dryce Lahssan, who was named creative director of Pellat-Finet, the cashmere brand that was bought by Zadig & Voltaire founder Thierry Gillier in 2019. [WWD]

My hot take on this Sofia Coppola profile: Buying Carhartt jeans immediately. [Financial Times]

Happy birthday to Brunello Cucinelli and congrats to Patrick Dempsey's stylist. And to Martha Stewart. Just for being there and looking great. [Vogue]
Until Thursday,
Lauren
FOUR STORIES WE'RE TALKING ABOUT
Summer Strike Finale
Fran's whereabouts, the studios' strategy, and more.
MATTHEW BELLONI & JONATHAN HANDEL

Need help? Review our FAQs
page or contact
us for assistance. For brand partnerships, email ads@puck.news.
You received this email because you signed up to receive emails from Puck, or as part of your Puck account associated with . To stop receiving this newsletter and/or manage all your email preferences, click here.
Puck is published by Heat Media LLC. 227 W 17th St New York, NY 10011.