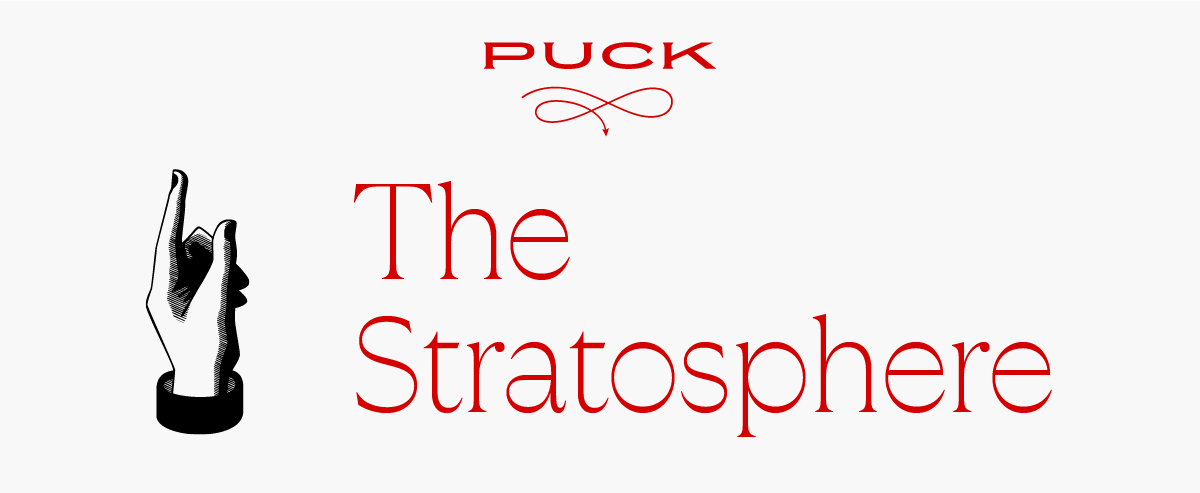 Tonight, a look at the new toast of Silicon Valley—Ron DeSantis.
It's no surprise that Corporate America is not praying for a second Trump administration. But DeSantis is using his Florida reelection run to consolidate his financial support from the tech industry, money that DeSantis could likely roll over to a presidential run in just a few months' time.
A reminder to folks new to Puck that this private email is only one part of a broader media company. If you enjoy this reporting, you may also enjoy Bill Cohan's columns on Elon Musk and Wall Street (sign up here), Dylan Byers on Silicon Valley's jousting with the media industry (sign up here) or Julia Ioffe on the future of Europe (sign up here.)
Reply to this email with a thought or two—it goes straight to my inbox.
Teddy
A great fiction about the 2024 election season is that it hasn't yet begun: Gavin Newsom is already running ads softly positioning his national profile in ways that would help if Joe Biden decides, after the midterms, that his advanced age relegates him to a single term. The putative Republican field, as my Puck colleague Tara Palmeri noted yesterday, is hyper-populated: Donald Trump is tempting regulators at the F.E.C., saying aloud that he has already made his decision and that an announcement is forthcoming. Meanwhile, Ron DeSantis, despite the obstacle of a reelection this fall, is wooing the sort of big-money contributors one needs to mount a Trump challenge. This week, he traveled to Utah to fundraise from some locals but also some of the country's wealthiest people who spend their summers in and around Deer Valley.

Silicon Valley is already listening to these entreaties and beginning to place bets, and DeSantis unmistakably has the mojo. While most NorCal leaders are liberal, of course, there still exists a sizable pot of somewhat disrespected conservative money. It may not rival what's available in Florida, say, or Texas, but it is growing in size and influence. The heavy hitters on the scene are also no longer aristocrats like San Francisco socialite Dede Wilsey, but shrewd tech billionaires who are reshaping California politics, sometimes from Florida and Texas. And almost all of the heavy-hitters in tech worth paying attention to are singing DeSantis's praises.

There's Elon Musk, who has (probably unseriously) floated spending as much as $25 million on a super PAC supporting centrists, and has said that DeSantis would waltz into the Oval against Biden and that Trump should "sail into the sunset." Then there's Joe Lonsdale, the venture capitalist and Palantir co-founder, who has sent $50,000 toward the Florida governor's reelection. "He's one of the few people who I really respect and I could really see as someone I'd be strongly behind," Lonsdale told me recently when I asked about '24. Last year, he hosted DeSantis for a private dinner in Austin, where he moved during the pandemic. The two remain in touch. "If you want to support something publicly, no one in our world—on the tech side—wants to have to deal with the Trump stuff in this environment," he continued. "I think people are pretty exhausted by that."

Then there are all the tech people who have chosen to relocate to Florida over Texas and have gotten to know DeSantis personally. Many of them, it seems, could be counted on to pump up his cash position: Miami investors like Keith Rabois, who has spread millions on G.O.P. congressional and Senate races this cycle, and David Blumberg, a longtime supporter of Kevin McCarthy and Trump ("I'll support the Republican nominee," is all Blumberg would say.) I wonder whether a mainstreamified DeSantis candidacy would even reactivate the squishy establishment mainstays, like power V.C. Marc Andreessen or former Cisco chief John Chambers.

It should be no surprise that these G.O.P. business leaders, who were never crazy about Trump, are eager to move on to a viable alternative. And DeSantis is someone concrete to rally around—you get the feeling that he will be competitive, financially at least, and therefore somewhat credible if he decides to run. That's in part because DeSantis has taken advantage of an election law that allowed him to raise over $100 million for his gubernatorial reelection, much of which he is reportedly planning to eventually transfer to a federal super PAC account, something that is of debatable legality but likely doable given the F.E.C.'s feckless campaign-finance enforcement. Most of this gubernatorial support comes, predictably, from his home-state donors, which these days includes plenty of snowbirds from Wall Street and Silicon Valley, but he's also collected big checks like $5 million from Chicago's Ken Griffin of Citadel, and last month, a staggering $10 million check from Las Vegas aerospace entrepreneur Robert Bigelow.

Under the auspices of that governor's race, DeSantis has traveled the country over the last year and deepened his relationship with the party's biggest donors, including in tech. Last summer, he toasted with some Californians summering in Tahoe for a blowout event alongside another potential 2024'er, Tom Cotton, just over the Nevada border in Incline Village (aka Income Village). Last fall, he headed to San Francisco (which he just called a "dumpster fire") for private events including one in the city's ritzy Pacific Heights hosted by David Sacks, the much-buzzed about political fundraiser in G.O.P. circles who would end up spending $70,000 on his reelection bid. And even Casey DeSantis—the governor's wife and basically the only strategist he consistently listens to, per my Puck partner Tina Nguyen—came out to the Bay Area earlier this year for some fundraising, a source told me.

DeSantis has also been careful about building relationships with the industry's very top players. Peter Thiel and DeSantis are not exactly close, but the two have gotten to know each other in recent years. DeSantis dined with Thiel at a small-group dinner about two years ago, according to a person familiar with the get-together. Meanwhile, I'm told Musk and DeSantis have also broken bread within the last year, a relationship perhaps consummated the other week when DeSantis tried to joke, in response to Elon claiming to be a DeSantis fan, that he "welcomed support from African Americans." (Musk is South African and very white.) Compare that to how Trump is handling Silicon Valley's most prominent newfound conservative: One conservative tech figure suggested that Trump's caustic swipes at Elon this month could persuade his legion of fans to move away from Trump, and toward Ron.
This is not to say Trump, who has an unrivaled small-dollar operation, is totally outgunned here. One Silicon Valley Republican bundler said that in the last couple of days, as stories began to circulate about an imminent Trump announcement, he heard from "several high-tech executives that want to open up their homes to host him." Really? "They've been asking me when Trump is coming back… It took me ten minutes to confirm maybe three locations in California."

I suppose I could craft a short list. I'm most curious about the Trumpiest of the G.O.P. tech donors, the Silicon Valley types who are true Trump loyalists—people like Web 1.0 iconoclast Scott McNealy, who under much cloak-and-dagger hosted Trump at his home for his sole Silicon Valley fundraiser in 2019, or Oculus and Anduril founder Palmer Luckey, who is tied into Trump world via his brother-in-law, Matt Gaetz, and hosted Trump just a few weeks before Election Day in SoCal.

Luckey didn't return queries, but McNealy told me that his loyalty for now lies with Trump, with whom he talks "every now and then" and not with DeSantis, whom he has never spoken to. "I would like to see a Trump/DeSantis ticket. Trump hands the mantle after four years to Ron," McNealy said. "Would be helpful to [DeSantis] to learn the D.C. ropes for four years and to help [Trump] interview the new administration."

But more than anyone else, questions surround two people who have not gotten on the DeSantis train: Thiel, who despite being a de facto Miami resident these days and has dined with him, still hasn't donated a cent to DeSantis's reelection; and Oracle founder Larry Ellison, who seems to be throwing in his lot with Tim Scott, who is using the $25 million he has taken in from the King of Lanai to air ads this summer on behalf of other Senate candidates. "If you want to see the political winds, it's going to be Thiel and Ellison on Trump vs. DeSantis," one G.O.P. operative close to Silicon Valley donors told me the other day. Both, of course, have reasons to be loyal to Trump—and one Trump world operative hoped to me that big GOP donors in general would be loath to cross him. "You're going to see some hesitancy from those folks, because even though DeSantis is who most donors and sophisticated people prefer, they know that Trump is better positioned to win the primary. People don't want to piss Trump off."

Also working to Trump's advantage is that when G.O.P. fundraisers trade notes on DeSantis, they almost all bring up that he could still very much improve his game. The governor has a budding reputation, approaching legend status, for being dismissive of donors and the gladhanding that is the basic blocking-and-tackling of politics. Some Republicans, to be sure, find this endearing in a drain-the-swamp kind of way. Others find it incredibly foolish. Well-known in G.O.P. circles by this point is an incident in which DeSantis simply didn't show up for an event held in his honor.

Other Republicans have marveled at his aloofness, or stiffness, and his inability to do small-talk, or, sometimes, to talk too much. One fundraiser summarized an event where, "DeSantis goes into how he runs a campaign better than consultants … Meanwhile, you're sitting around with N.F.L. owners who pay quarterbacks millions and millions of dollars because they're the best in the industry." For all the fascination that the party's big contributors have for DeSantis right now, one Republican operative close to these donors noted wryly that, "the fascination is going one way."
FOUR STORIES WE'RE TALKING ABOUT
Casey Bloys's Payday
A short note on the HBO exec elevated above the chopping block.
MATTHEW BELLONI

Zaslav's Superlawyer
Daniel Petrocelli's next slate of cases could determine the future of Hollywood itself.
ERIQ GARDNER
You received this message because you signed up to receive emails from Puck

Was this email forwarded to you?

Sign up for Puck here

Interested in exploring our newsletter offerings?

Manage your preferences

Puck is published by Heat Media LLC

64 Bank Street

New York, NY 10014

For support, just reply to this e-mail

For brand partnerships, email ads@puck.news