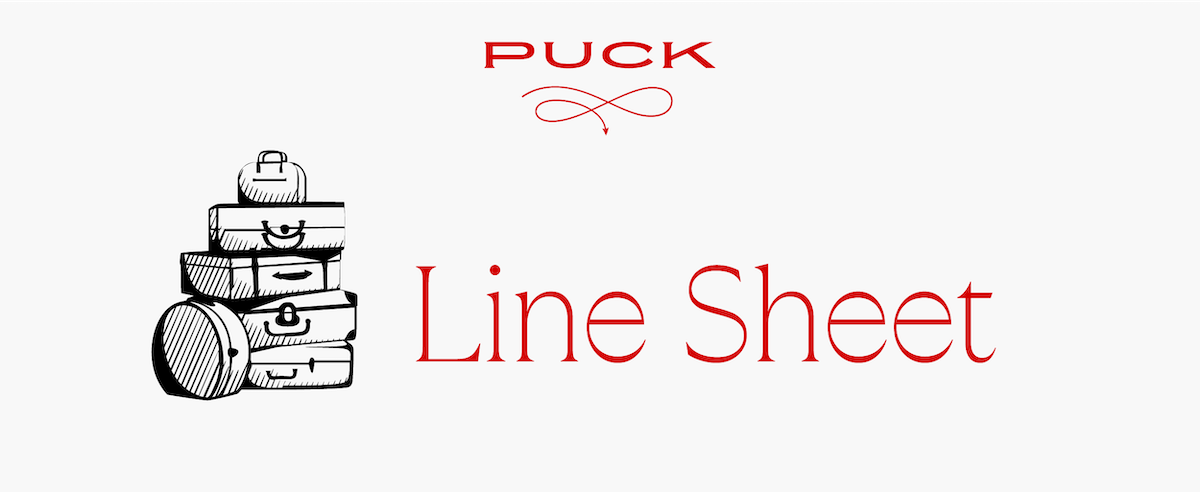 Hi there, welcome back to Line Sheet, and greetings from Los Angeles, which has finally earned its place as the fifth fashion capital of the world. Last week, Chanel staged a runway show on the Paramount lot (where most of the action these days is occurring outside the gates, on the picket line), retail raged (Nili Lotan, the bigger-than-you-think New York brand, opened on Friday on that coveted strip of Sycamore next to Just One Eye), and Loewe once again got away with throwing a party after 9 p.m. (for its resort-y Paula's Ibiza sub-line) at James Goldstein's fab house on Friday night.

Thank you so much for being here—we're now in paywall mode (you can afford it), and my gift to you, friend, is an issue absolutely jammed with intelligence on the LVMH-Tiffany cultural clash, a butchered attempt at a so-called LVMH of the U.S., Refinery 29 speculation, Victoria Secret questions and so much more!

As always, feel free to send any comments, complaints and suggestions my way. For instance, how do you want me to cover fashion weeks? I have my own ideas, but your feedback is essential.

Mentioned in this issue: Matt Scanlan, Arielle Charnas, Les Wexner, Jeffrey Epstein, Kim Kardashian, Chris Rupp, Simone Oliver, Nancy Dubuc, Bryan Goldberg, Jay Penske, Alexandre Arnault, Michael Kors, Ruba Abu-Nimah, Bernard Arnault, Nick Tershay, and more.

Before we get to my main piece on LVMH and Tiffany, a U.S.-based D.T.C. scandale…
Naadam Yankees: An American Luxury Roll-Up That Wasn't
People in America love to say that they're creating the LVMH of the U.S. anytime they put two or more brands under one holding company, no matter how far-fetched the comparison. Matt Scanlan, the C.E.O. of suspiciously cheap cashmere brand Naadam, which launched as a direct-to-consumer business in 2013, used that exact formulation just last year in an interview with industry publisher Glossy when describing his portfolio that included Naadam, Something Navy, and Thakoon. Alas, now it seems as though Scanlan's efforts—backed by Hong Kong billionaire Silas Chou, famous for his strategic investments in Michael Kors and Tommy Hilfiger, among others—are in peril.

Arielle Charnas, the most influence-y of influencers behind the clothing brand Something Navy, which Scanlan runs, seemingly abandoned the project—at least for now. There hadn't been anything posted for four weeks on the brand's Instagram account until Mother's Day, when an image of a mom and daughter popped up. Hmmm… and the store on Melrose Place has apparently shut down. Thakoon, another Scanlan-owned label, is no longer designed by its namesake, Thakoon Panichgul, according to a report in BoF. That Instagram account has been dormant for 18 weeks, and the e-commerce site is gone.

Scanlan, who has raised tens of millions of dollars for this venture, is in poor standing with several business partners. This includes not only suppliers (as detailed in a Business Insider story), but also external agencies. He was also threatened with litigation. (Perhaps that's why they love to call him "Scamlan" on Reddit.) Scanlan is now on his way out as C.E.O., according to one source with direct knowledge, which could change things. I reached out to Scanlan for comment and did not hear back.

More on this soon (if you're interested?), but I think it's fair to say this won't be the American LVMH everyone is hoping for.

Now for some news and insights on a more historic scandal-soaked brand…
Is Victoria's Secret Ready for (Streaming) Prime Time?
I'm writing a book about Victoria's Secret, which will probably come out some time next year, so obviously any news that emerges around the topic, Jeffrey Epstein-related or not, is of interest. Last week, the company unveiled more details about the return of its infamous runway show in a story with Vogue's Nicole Phelps, author of the 2018 interview that effectively got former C.M.O. Ed Razek fired.

This time around, the fashion show will come in the form of a feature-length documentary, to be streamed this fall on a confirmed, but yet-to-be announced platform. Finding distribution has been a challenge for the company in the past. Victoria's Secret and CBS cut ties in 2018 amid the bat-circling around network C.E.O. Les Moonves and his own #MeToo conundrum, but failed to find a streamer partner (both HBO and Netflix passed, according to one source). They ended up signing with ABC, where the show ran that year. However, the three-year deal with ABC was canceled in 2019 amid revelations of C.E.O. Les Wexner's ties to Epstein, general bad behavior from executives like Razek, and growing distaste for the cheesy, sexed-up execution that made the company so famous in the first place. The show was then discontinued.

Over the past three years, Victoria's Secret has attempted to overhaul its image to better reflect what consumers supposedly want today: people of different races, sizes, genders, and ethnicities expressing their sexuality in a way that doesn't make anyone feel uncomfortable. (They even launched a sub-brand called Happy Nation, billed as a "judgment-free" line for tweens… which has since been absorbed into Pink, the original kid-sister label.)

My honest assessment is that these attempts to be good are genuine, but ineffective. In co-writing this book, I've tried really hard to avoid presentism: the idea of applying current cultural norms to the past. I've spent a lot of time learning about how Victoria's Secret was built and by whom, and I've realized that it achieved its success because it made women feel something. Retrospectively, much of the imagery and marketing was misogynistic, and there were plenty of bad actors in the room. But there were also a lot of women who believed they were empowering their peers by giving them an opportunity to wear nice underwear.

Victoria's Secret still has a chokehold on the market, of course, especially in the U.S. After all, it's damn hard to make a bra: there are like a gazillion parts, especially when it comes to underwire styles, which are back in fashion again. However, the company's market share—which increased a tad in 2022—is imperiled. Skims, the Kim Kardashian-vehicle, as well as venture-backed startup Parade, have done a better job reflecting what is actually sexy now, and they're getting more attention from younger generations. VS's 40 or 50-year-old customer isn't going anywhere, but keeping that younger person engaged isn't easy. Chris Rupp, the company's chief customer officer, who joined from West Coast grocery chain Albertsons about a year ago, is going to give it her best shot.

As one former Victoria's Secret executive said to me recently, brands of this generation need to fall far in order to rise back up again. We're likely looking at a long, steady decline—which could take a decade-plus, as it did for The Gap. So why would any streamer want to air this? It's not that the association will be damaging—I'm sure this sponcon will be politically correct. But I'm just not sure people care enough about Victoria's Secret anymore to tune in.

Before we finally get to my big LVMH-Tiffany story, let's round things out with a mini media saga…
How Refinery 29 Fell Off the Map
Everyone's talking about how a group of investors, including Fortress Investment Group and Soros Fund Management, are buying Vice Media out of bankruptcy (the Chapter 11 kind, not Chapter 7) for $225 million, a fraction of the $5.7 billion valuation the company received in 2017. (Disclosure: TPG, an investor in Puck, was an investor in Vice.) But nobody's talking about what might happen to Refinery29, the once-buzzy lifestyle media entity it bought in 2019 for $400 million to help fix its female problem.

Vice, for all the obvious reasons, skewed very male. Refinery29, founded in 2005 by Christene Barberich, Philippe von Borries, and Justin Stefano (who is apparently still owed more than $500,000, according to the bankruptcy filing), was a trailblazer not only in terms of the kinds of stories it published (on everything from miscarriages to money problems), but also how those stories were packaged. I remember a stretch of time in the mid-2010s when the Refinery29 newsletters were best in class, from the open rate-winning subject lines to the expertly selected thumbnail images.

By the time Vice scooped it up, Refinery had developed a reputation for thoughtful reporting on subjects that weren't always taken so seriously in traditional media. It also managed to build a brand large enough to convincingly stage live events and sell products at places like Amazon and Target. By then, though, the legacy publications had copied Refinery29's strategy, and it was going to need to differentiate itself even further not only to keep readers interested, but advertisers, too, as the scale era subsided on the web.

The problem was that it all sort of devolved over the next few years. Barberich exited in June of 2020 amid the workplace cancel culture apotheosis. By the time global editor-in-chief Simone Oliver left, in July 2022, Refinery had lost altitude: it just wasn't publishing internet-y, conversation-starting stories at the same rate as its heyday (like this 2018 story about what to do if you have to file for bankruptcy). Apparently, Refinery went from generating about $100 million a year to less than half of that, according to Axios' Sara Fischer. (A third of that was from its pretty popular event, 29Rooms, which was canceled during the pandemic.)

While some parts of Vice, including Vice News and the production arm of the business, are profitable, according to my own sourcing, Refinery has been in decline since the pandemic, failing to benefit from the rebound that most publishers experienced in 2022 when advertisers started spending again. Someone with knowledge of Refinery's current finances told me that the company is currently technically profitable but has been reinvesting and deploying content more strategically. (While overall content production was cut by 80 percent, the site's traffic has dropped about 50 percent since its peak.)

According to people who would know, one of the big challenges for Refinery was that Vice didn't really think through how they would evolve the brand once they bought it. One executive mentioned former C.E.O. Nancy Dubuc's background in linear advertising, and felt that the team wasn't iterative enough on the digital side. Refinery was supposed to round out the Vice portfolio, but the portfolio never gelled cohesively in the first place.

I see this happen quite a lot in media and fashion, when a holding company acquires a non-collinear brand or when a publisher buys a title outside their normal purview or revenue mix. As one industry executive said to me, fashion publishing (like all of publishing!) is really, really tough right now, and if your editor and publisher (or whatever those positions are called within your organization these days) don't have good chemistry—an ability to push each other to get results—it's never going to work.

Will Refinery survive what Vice is billing as business-as-usual, or at least as usual as it gets when you've filed for Chapter 11? (And what about ID, its storied London fashion magazine?) Vice's top brass have been adamant that the company will continue running as it has been—while paying employees and vendors on time—which would seem to include bolstering Refinery, seen internally as a pretty valuable asset. The brand's Instagram numbers were up 8 percent in 2022, TikTok is growing, and, last year, they also launched a show on Twitch. Chief operating officer Cory Haik, who joined Vice in 2019, is said to be focused not only on preserving what's left of Refinery, but also growing and developing it. But it's unclear what that really looks like in an era where lots of publications have great newsletters with pretty good reporting and stage jazzy events.

From the outside, a low-dollar flip to another media company seems very possible. I could see someone like Bryan Goldberg, who has built Bustle Digital Group out of faded treasures, being interested in it (although it may not be different enough from what he already owns) or maybe even Jay Penske, whose recent 20 percent stake in Vox Media suggests he is extending his footprint into consumer categories. Regardless, it feels like time to pour one out for the Refinery29 that was. It taught an entire generation of magazine people how to write on the internet.

Okay, now for the main event…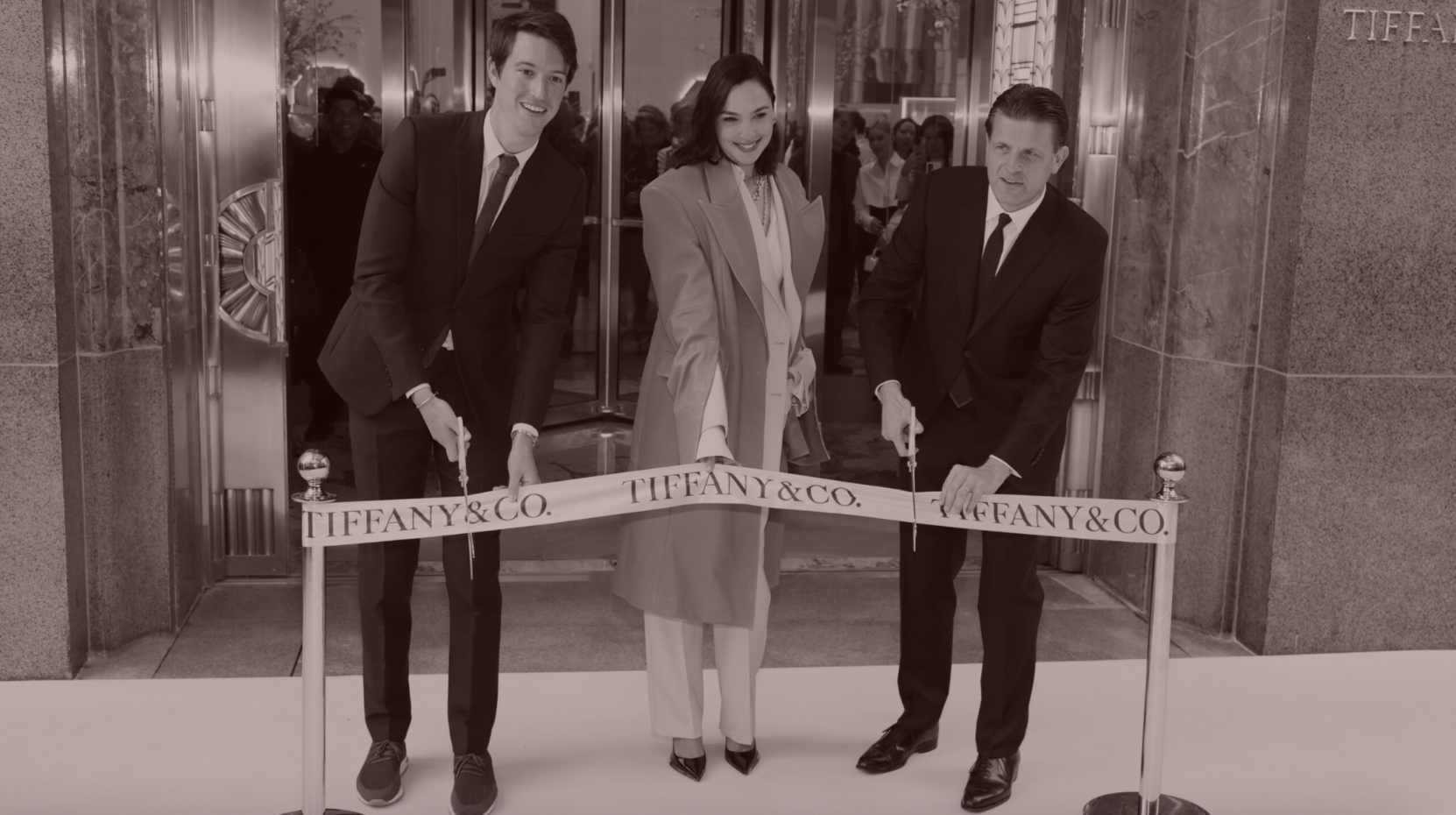 Scenes from the Tiffany-LVMH Marriage
Inside the rift between an Arnault heir and his top marketer, plus the Nike and Basquiat and Beyoncé of it all, as America's greatest luxury brand merges into France's biggest company.
Like any corporatized, cliquey industry run by people whose basic human needs are easily met, fashion loves to create drama where there isn't any—or only just a little. Sometimes, though, the drama is real—at least real enough to give you a little bit of insight into what is actually going on.

To me, the widely known but never publicly acknowledged rift between Tiffany vice president of product and communication, Alexandre Arnault, and former executive creative director Ruba Abu-Nimah, says something interesting about the integration of Tiffany, one of America's only true luxury brands, into LVMH, the biggest luxury conglomerate in the world.

In the beginning, of course, the tensions were the predictable result of absorbing a very large business—for which LVMH paid $16 billion—into a vastly larger one. LVMH, with a current market cap of $480 billion, has owned American companies before, with poor-to-mixed results. It still runs Marc Jacobs, which has had its ups and downs and is on fair footing, but it divested from both Michael Kors and Donna Karan, two other (albeit more mid-market) icons of American design that it never managed to make work. Michael Kors took his company public, and became a billionaire, nearly a decade after LVMH sold off its stake.

That's not to say that LVMH hasn't been fantastically successful in the American market. It certainly operates a lot of stores in the U.S.—including direct retail, as well as hundreds of Sephora locations—but Tiffany is a different beast. This is a 186-year-old purveyor of fine jewelry, as important to American popular culture as Dior is to the French, and there are deep differences in how these corporations operate.

The Wall Street Journal's Susan Kapner did a great job of capturing the culture clash in the early days, citing an "unsanctioned memo" sent around the office by Tiffany staffers, stuffed with generalizations about how things were going to be different. "French people share more negative feedback," the memo said. "Expect less warm and fuzzy: 'amazing', 'fabulous' and excessively positive comments are not the norm." More recently, employees were told that they were not allowed to visit the newly renovated flagship store until June, I'm told, although this is common practice at a big corporation. (However, corporate employees in New York and New York City were invited to take private tours.)

Such cultural challenges were certainly expected, and LVMH will get better at employing Americans at the corporate level as the years pass—Tiffany is also a training ground if LVMH ends up acquiring more businesses here, such as The Estée Lauder Companies. At this juncture, however, I'm more interested in its marketing of the Tiffany brand since the acquisition, and what LVMH's methods say about the future of the group.
The Alexandre-Abu-Nimah Tiff
Let's start with the Beyoncé and Jay-Z advertisement, born out of the couple's previous relationship with LVMH, which holds a 50 percent stake in Ace of Spades, Jay-Z's Champagne brand. They're also personal friends of Alexandre Arnault, one of the five Arnault children, who joined Tiffany from Rimowa, the German luggage-maker that the group acquired in 2016. At Rimowa, Alexandre posted many wins, not only by streamlining the operations and increasing production, but also through a series of collaborations with the likes of Off-White and Supreme that established the luggage maker as the go-to brand for first-class passengers and those upgrading to business via points, alike. Of the three eldest Arnault children—Antoine is currently the C.E.O. of Berluti, Delphine the C.E.O. of Dior—Alexandre is the most American. He uses startup language and invited the Knowles-Carters to his wedding.

But his campaign with the Carters, launched in August 2021, just eight months after LVMH officially acquired Tiffany, was hardly received rapturously. "What is Tiffany selling here? What story is it trying to tell?" the Washington Post critic-at-large Robin Givhan asked. "This Tiffany campaign promotes everything except the merchandise that the stores actually sell." The Basquiat featured in the campaign now sits in Tiffany's newly renovated Fifth Avenue flagship.

Behind the scenes, there were questions about the campaign's cold, arms-length approach—and not only among the longtime Tiffany executives. Newer entrants who had been hired in the midst of the integration, like Abu-Nimah, distanced themselves from the project.

Abu-Nimah, who arrived in March 2021, is a well-regarded art director, best known for her years at Bobbi Brown. She's also a central figure in the streetwear-sneaker universe—she starred in an Aimé Leon Dore x New Balance advertisement in 2020—emerging in recent years as a name worth boldface-ing. Not everyone respects her approach, however. "As a creative director, you're meant to support the star," one former colleague said. "Ruba wants to be the star." And yet in the case of Tiffany, of course, Arnault is the star—and she made her disapproval of many of his decisions known outside of the business pretty quickly, including her dislike of the Basquiat campaign.

Abu-Nimah was, according to multiple sources, more intimately involved in another commercial campaign that launched just a month earlier—"Not Your Mother's Tiffany"—which also received backlash for its rejection of the company's traditional, stodgy style. But it at least signaled a future embracing the modernist side of the brand. (Things like swervy Elsa Peretti cuffs and Paloma Picasso X earrings are eternally fashionable.)

Over the course of the next year and a half, Arnault worked to shake Tiffany's fusty style by selling NFTs and launching a collaboration with Supreme. However, the two biggest projects were the renovation of the flagship, which hadn't been more than polished since the 1940s, and a collaboration with Nike, undoubtedly inspired by the success of Dior's Air Jordan launch in 2020.

The Nike project was an indisputable commercial success: the line sold out, and is the most successful Air Force 1 collaboration ever, with 1.5 million "reservations" for the shoe made online. The silver accessories, like a shoehorn, sold out in three hours. But it didn't sit well with much of the serious sneaker community, who spent hours online nitpicking the release, especially the color of the shoe. "When it comes to [Air Force 1], you need a white AF1. It's hard to fuck up," one sneaker industry insider told me. "But make it black, and you're fucking with an icon."

By the time Arnault cut the ribbon at 727 5th Avenue on the morning of April 26th, Abu-Nimah was long gone, announcing her exit from the business just days after the launch of the Nike partnership. I reached out to Abu-Nimah to discuss her time at Tiffany, as well as her departure, but didn't receive a response. According to people familiar with the circumstances, her exit was planned prior to the Nike launch, and really, it's clear that this was Arnault's show all along. He may not be the operating guy day-to-day (that honor goes to longtime LVMH executive and current Tiffany C.E.O. Anthony Ledru), but the success of the reinvention will be greatly credited to him, as will any failure.
In many ways, Arnault has followed the LVMH marketing playbook instituted by his father, Bernard Arnault, and his father's deputies, like Mark Ritson, a former consumer packaged goods marketing executive who worked at LVMH from 2002 to 2015 as the group's "in-house professor," advising on strategy and process.

LVMH is best at brand management, especially brands with heritage. (It has yet to successfully build a brand from scratch.) As the company has grown, and those processes have streamlined, the approach has become less nuanced, and more uniform. For the bigger brands, Peter Marino is increasingly the go-to retail architect. (Arnault liked Marino because he did Chanel, one of the few brands he'll never get the chance to buy.) They all rely on collaborations, often with the same set of co-conspirators, to create buzz.

You could liken luxury to the car business. Under the hood, not much is different, but people choose a certain car because they feel an affinity to the brand: whether they remember it from their childhood, or they like the paint job, or they prefer the logo. Some people gravitate toward Celine, others toward Louis Vuitton. Many buy from all. And for now, that formula is working. While the company doesn't break out sales for individual brands, it did reveal that 2022 was a record year for Tiffany, and that sales of high jewelry—i.e., not silver, and not engagement rings—doubled. That's good news, because the more expensive a piece of jewelry is, the higher the margins.

However, walking through that Marino designed flagship—with renovations mounting to an estimated $500 million to $1 billion in total, and the Daniel Arsham art and the "stained-glass windows" reflecting digital displays of Central Park—I wondered: who was it all for? Tourists, yes. A big focus for LVMH, and this brand in particular, is China's growing middle class, and American upper middle class consumers who might have not been comfortable purchasing from the luxury segment in the past.

But will this LVMH playbook make customers, here or abroad, want Tiffany more than they did before? "It looks like the inside of a Dubai mall," one journalist joked to me. An earnest accessories editor, free of snark, worried that the jewelry, crowded into cases, was not given the stage it deserved. A Tiffany executive might argue the opposite: that the jewelry is center stage, with plenty of room for private shopping appointments and browsing alike, and that Marino took special care to use materials and build-outs that enhanced each tiny piece. I'd say the rooms dedicated to certain lines are thoughtful, but that you do notice everything other than the jewelry first.

You certainly can't compare it to the Cartier mansion down the street, with its elegant wood paneling and old-money vibe. (One notable detail: engraving at Cartier is complementary, while Tiffany charges for it.) Cartier is where young women are going to buy Tank Francaise watches and Trinity rings—Tiffany may never attract that sort of customer again.

And that may be okay. As luxury labels become as ubiquitous as toothpaste brands, they're going to lose some of that core audience. In some ways, everything about the new Tiffany comes back to those Nike sneakers: It's not an if-you-know-you-know brand. And really, it never was. It certainly isn't going to be under the watch of LVMH. But that doesn't mean it won't sell.
Interesting tidbit about Kering C.E.O. François-Henri Pinault's interest in acquiring TPG's stake in CAA from my Puck partner Matt Belloni's newsletter last week. Pinault also owns Christie's through his holding company, Groupe Artémis, and has investments in a bunch of different luxury industry-adjacent businesses, from Farfetch to ByteDance. [What I'm Hearing]

More on the confluence of Hollywood and luxury: Dior has reportedly re-upped Johnny Depp's Sauvage fragrance deal for $20 million. Might seem crazy given the state of his affairs, but Sauvage is one of the most successful fragrances ever, and a lot of that success is credited to Depp. (His fans are a "Release the Snyder Cut" level of intense.) [Variety]

The one-and-only Naomi Fry on the one-and-only Philipp Plein…with a nice mention of me and Puck. Does it get better? [The New Yorker]

Chelsea Manning showed up at the insane(ly great) Chloe Sevigny closet sale in New York City. Credit to Liana Satenstein for orchestrating this. [Daily Mail]

The WSJ. magazine editor job was posted, with a salary starting at $140,000. (Union exempt, because you're a boss.) This is why fashion journalists leave for P.R. or brand-marketing roles. [Dow Jones]

Happy 3rd birthday to Blackbird Spyplane, which sometimes drives me crazy but is also a great fashion magazine. [BBSP]

For ages, fashion C.E.O.s typically came from the finance side. Today, marketing executives are rising up, especially those with merchandising experience, too. (There is a merchandising crisis in our industry, did you know?) [WWD]

A conversation between Omar Apollo and Willy Chavarria worth your time. Thanks to Vogue Runway senior fashion news editor Laia Garcia for bringing it to my attention. [T]

I forgot last week to mention this roundup of great fashion podcasts, including one that I used to host. [NY Times]

I don't think it's necessarily a bad thing that Supreme isn't selling out like it once did, but good on Jacob Gallagher for acknowledging that its place in the culture is changing. [WSJ]

In other Supreme-related news, creative director Tremaine Emory revealed that he is recovering from an aneurysm suffered late last year, which kept him hospitalized for two months. [Started from the Bottom via Complex]

The family behind Estée Lauder is pushing back on those Nelson Peltz rumors with an internal memo. [WWD]

And finally…
The Feedback: What You're Saying About Line Sheet
"This whole Ozempic thing is crazy. Taking meds for no reason other than vanity, gambling with your short and long-term health, not to mention causing a shortage for those who actually need it to survive. It's tempting to say 'only in America' but I am sure half of Parisian high society is already on it too. After the DE&I and body positivity movements, the pendulum seems to be swinging back hard to ultra-white, ultra-young and ultra-thin in fashion. Runways this year have been s-k-i-n-n-y. Fashion has learnt nothing." –A feisty, very important European strategist

"Ok another good one. Let me know what you think of the sporty pants for $900" –A talent agent contemplating her first High Sport purchase

"Would truly read even if 5x longer." –A smart publicist (who says fashion people don't read?)

"Lauren—just love reading you 'off the leash'! Something the industry so pointedly needs—blah blah, I know everyone is saying this to you, because it's so blatantly obvious but very few have been bold enough to prick the golden bubble." –A chief brand officer

"From a marketing perspective, I think [Simon Porte Jacquemus] definitely won the Met Gala challenge: not only did he charm everyone walking down the red carpet on Monday but also kept the momentum up by sharing that beautifully curated video, which explains, in a humble way that feels so relatable, his connection to Karl. I thought the video was particularly smart as it also materializes the idea of haute couture as a dream and an inspiration." –A journalist-turned marketer

"40-something gay men also loved Structure. Just FYI." –A crisis comms killer
Until Next Week,
Lauren
FOUR STORIES WE'RE TALKING ABOUT
A.I.'s Art Heist
A moral playbook for Hollywood's A.I. future.
BARATUNDE THURSTON

DGA ex Machina
Can a DGA deal bring an end to the writers' strike?
JONATHAN HANDEL

Need help? Review our FAQs
page or contact
us for assistance. For brand partnerships, email ads@puck.news.
Puck is published by Heat Media LLC. 227 W 17th St New York, NY 10011.