Hello, and welcome back to Tomorrow Will Be Worse!
On Tuesday, I brought you into the thought process of House Speaker Nancy Pelosi and why she decided to buck the White House's counsel and visit Taiwan. ("She wanted to stick it to China," said a source familiar with her thinking.) In large part, though, it's because she sees Taiwan as being on the frontlines in the battle between democracy and authoritarianism.
Today, I want to bring you the work of the marvelous Tina Nguyen and back home to our own shores, where the battle for democracy is no less intense. Tuesday was a busy day of Republican primaries, including in the battleground states of Arizona and Michigan. From reading more mainstream political coverage this summer, I've come away with the sense that Donald Trump's record of endorsements isn't adding up to much—nor is his hold on the Republican Party. Based on that reading, I've been exhaling a little bit, thinking that maybe the crazy tide is ebbing a bit.
And then I read Tina's column this week. Turns out, it's time to reach for my trusty brown hyperventilation bag, because it looks like the candidates embracing election denialism most fiercely are the ones doing the best in Republican primaries. (Yet again, though, I'm puzzled why they don't think these elections weren't stolen…) Tina really has her finger on the pulse of the far right and the fact that they are still dominant in the Republican Party heading into the midterms—midterms that the G.O.P. is set to dominate in House races—is kind of terrifying, especially as the Biden administration tries to push its message of fighting for democracy (abroad).
I hope you found this dispatch as illuminating and bracing as I did. Tina always delivers.
Julia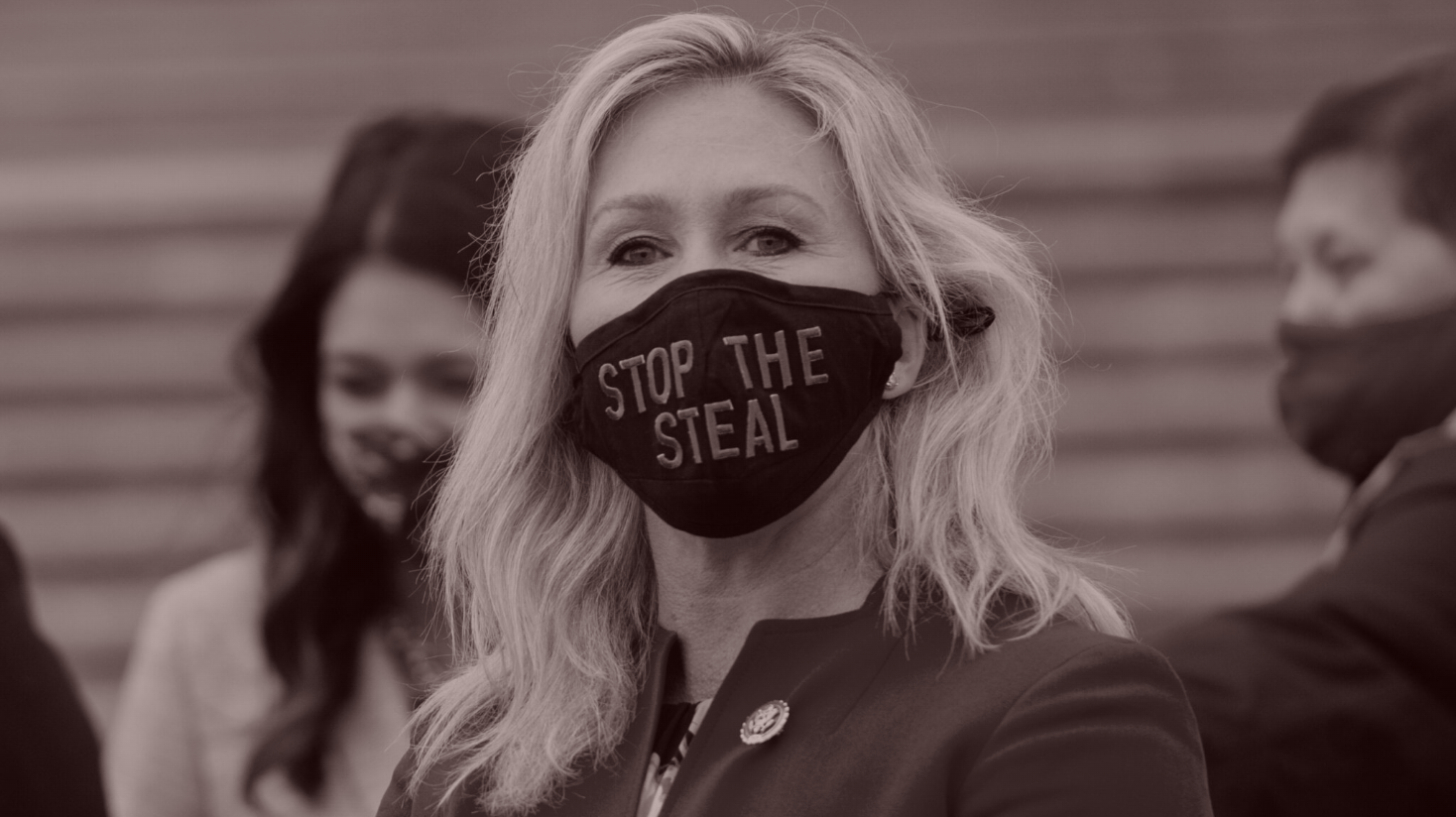 Trump's '22 Plans Run Through the 2020 Truthers
Tuesday's primaries make clear that election denialism is becoming an increasingly critical voting issue on the right, and one that will impact the midterms, '24 presidential primary, and possibly the general.
Whether Donald Trump's election denialism is a winning general election message for Republicans is a looming question that won't be answered until November, when midterm voters will decide which party they'd rather see control Congress. But one thing is certain after Tuesday night's batch of primaries: election denialism sure can win Republican primaries. "It's very clear that the people who show up on election day are MAGA voters and the grassroots voters," said one MAGA consultant. "And the grassroots belongs to Donald Trump."

It was, in the end, a very good night for Trump's attempts to relitigate the 2020 election. In Arizona, his entire slate of statewide endorsees—Kari Lake for governor, Blake Masters for Senate, Mark Finchem for secretary of state, all of whom made election skepticism a cornerstone of their platforms—all won their races. (Lake, who initially appeared to be trailing the Mike Pence-endorsed Karrin Taylor Robson, has since pulled ahead by about 2 points.) In Michigan, John Gibbs, a former Trump administration official who has stated outright that Joe Biden lost the election, beat Peter Meijer, the maverick one-term congressman who voted to impeach Trump for his role on Jan. 6th.

The jury is still out in states like Washington, where two House Republicans who also voted for impeachment—Jaime Herrera Beutler and Dan Newhouse—are currently on track to defeat their pro-Trump challengers in the state's 3rd and 4th districts, respectively. Trump's intentionally confusing Missouri Senate endorsement, in which he simply threw his support behind "Eric"—leaving it up to voters to decipher whether he meant Eric Schmitt (who won) or Eric Greitens (who lost)—is its own category of weirdness. But Arizona is the battleground that G.O.P. insiders are watching most closely, for a number of reasons.

First, it's a politically-in-flux purple state with a Republican governor that swung from Trump to Biden while electing two Democratic senators (if you count Kyrsten Sinema). Second, of all the states grappling with the toxic politics of election denialism, Arizona has had the worst of it. Ever since Fox News called Arizona for Biden, long before any other network did, Maricopa County has become ground zero for election conspiracy theories and their wackiest proponents: Wendy Rogers, the Arizona state senator who is also a member of the Oathkeepers; Rep. Paul Gosar, the Congressman who's shown up at QAnon talk shows and white nationalist conferences; and Arizona Republican Party chairwoman Kelli Ward, also a celebrity within MAGA world for her opposition to certifying Biden's win in 2020. (Ron Watkins, the 8kun founder suspected to be behind QAnon, even ran for Congress in the 2nd District, though he got less than 4 percent of the vote.) With this landscape, it's no wonder Trump might sweep the board.

Michigan, too, was a major focus of Trump's attempts to contest the 2020 election results, and it showed in Gibbs's decisive victory over Meijer. Moderate Republicans have blamed Democrats for cynically boosting Gibbs, who they perceive to be the less electable candidate, but as one pro-Trump political consultant observed to me, it wasn't Democratic cash that put Gibbs, an inveterate election denier, over the top. "If that's what they needed to tell themselves to go to sleep at night, that's okay. But at the end of the day, John Gibbs was gonna beat Peter Meijer, regardless if that money was spent or not," the consultant told me, pointing to Gibbs's nearly 4-point margin: "It wasn't even a close race."

The trend I'm noting: Trump's diehard election fraud candidates seem to be more successful in primaries than his revenge-tour, screw the establishment candidates. The former have dominated races in states where the Stop the Steal movement found its best purchase in the grassroots base: Pennsylvania, for instance, famously yielded Doug Mastriano, the gubernatorial nominee who literally attended the Jan. 6th protest at the Capitol; Nevada saw Jim Marchant win the Secretary of State primary and Adam Laxalt the Senate primary. Wisconsin will soon face its own test when a Trump-backed candidate will challenge GOP Assembly speaker Robin Vos, whom Trump directly attacked for refusing to decertify the 2020 election results. The latter, on the other hand, can be hit-or-miss: Trump critic Nancy Mace survived her challenge from Trump-backed Katie Arrington, and the "dark MAGA" enfant terrible Madison Cawthorn lost to the establishment, scandal-free Chuck Edwards.

While Georgia's Brad Raffensperger and Brian Kemp stand out as exceptions to the rule (both men had withstood intense MAGA pressure to declare the election results in Trump's favor, and both won their primaries handily), they'd enjoyed significant advantages as incumbents in office, and more importantly, stood against candidates whose candidacies scarcely registered in the national and MAGA press. (David Perdue, who challenged Kemp, barely lifted a finger himself.) Imagine what would have happened if they'd run against people who cared about election fraud.
Looking back, it's remarkable how far the G.O.P.'s most radical members have migrated from the outskirts of respectability to the white hot center of the new party establishment. Indeed, it was only last year that representatives for Trump would neither confirm nor deny claims made by Marjorie Taylor Greene, then a freshman congresswoman, that she had received a supportive call from the former president and planned to visit him at Mar-a-Lago. At the time, Greene was considered a massive political liability—a far-right kook who has promoted every conspiracy theory from Pizzagate to QAnon, including that the Sandy Hook school shooting was staged and that the 9/11 attacks were fake. Shortly after she was elected to Congress, she was stripped of her committee assignments, despite renouncing those past beliefs. ("I want to tell you 9/11 absolutely happened," she said. "I do not believe that it's fake.")

Flash forward a year and change later, and Greene has shot straight into Trump's inner circle: she's been a fixture at his rallies, a guest at Mar-a-Lago, and, most recently, a prized guest at last weekend's LIV Golf Tournament. Photographers at the Bedminster event captured Greene alongside Trump and Tucker Carlson, laughing together in a tent near the tee box. At one point, onlookers began chanting "Let's go, Brandon" as Greene, Trump, and Carlson smiled and waved.

Greene remains radioactive with more establishment Republicans. But her proximity to Trump, and popularity with the grassroots, speaks to the true source of power and influence within the party these days. Over the past several days, she's even been playing up questions about whether she'd serve as Trump's vice president, supplanting the woebegone Mike Pence in an increasingly inevitable 2024 race. "If he were to ask me, of course I would be honored," she told Real America's Voice at last week's Turning Point USA summit, where I saw an attendee carrying a life-size cardboard cutout of her likeness.

It's highly unlikely that Trump would actually invite her onto the ticket, people close to both parties told me, but it does speak to her stature within the MAGA wing of the party, and her relationship with the former president, that the question is in the air. Two G.O.P. consultants in the MAGA space told me that Greene and Trump speak regularly on the phone, and that she's a major draw at rallies. "I think it's because she actually represents the heart of the base," said one. "She speaks for the forgotten men and women. She doesn't mince words."
FOUR STORIES WE'RE TALKING ABOUT
Licht's G.O.P. Overtures
A few months into his tenure, Licht is trying to convince Republicans not to boycott CNN.
DYLAN BYERS

Nancy's Napa Bacchanal
On the coming Pelosi-sized hole in Dems' fundraising and Thiel's G.O.P. shadow project.
TEDDY SCHLEIFER

Pelosi's Cold War
Notes on the speaker's Taipei visit and the paradox waylaying the Griner negotiations.
JULIA IOFFE

The Plepler Riddle
Black Bird might be the breakout show of the summer, so why is it so hard to find?
JULIA ALEXANDER
You received this message because you signed up to receive emails from Puck

Was this email forwarded to you?

Sign up for Puck here

Interested in exploring our newsletter offerings?

Manage your preferences

Puck is published by Heat Media LLC

227 W 17th St

New York, NY 10011

For support, just reply to this e-mail

For brand partnerships, email ads@puck.news