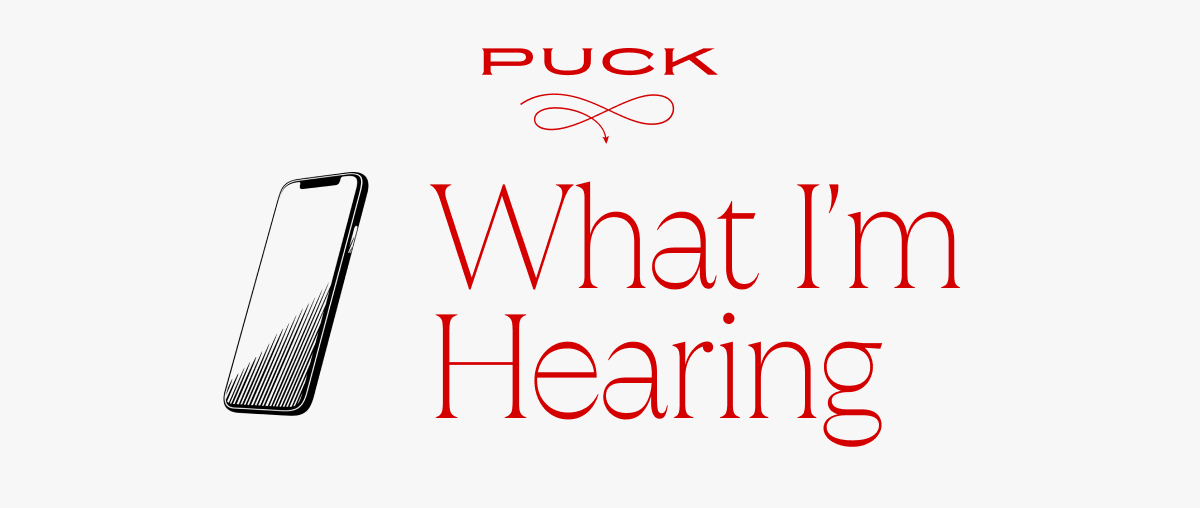 Welcome back to What I'm Hearing, checking out for the holiday weekend with little sign of any movement in the strike talks. FYI, Sunday's issue will arrive on Monday.Let's begin…
Amazon wins Hemsworth bidding war—wait, what?: Amazon emerged victorious in a film auction this week, agreeing to pay about $90 million for Crime 101, an adaptation of a Don Winslow novel from Working Title. (Netflix actually offered more money, and execs there thought they won the project, but Amazon's new film chief Courtenay Valenti dangled a theatrical release, and Netflix was asking for script revisions.) The question is whether SAG-AFTRA will take a look at this project because it was sold by CAA with clients Chris Hemsworth and Pedro Pascal attached to star. How, many are asking, is there any urgency to end the strikes when CAA can still sell movie packages with big stars?CAA sources argue that this is a straight rights deal with Working Title, another client, which is not covered by union strike rules. The actors have been attached since before the strike, and there are no deals in place for them. Indeed, Hemsworth might not end up doing the movie, per one source. But that begs the question: Why is Valenti agreeing to pay such a high price if not to secure a thriller with the star of Extraction? CAA certainly sold her on a major streaming star. The optics aren't great here.
Speaking of Amazon, a new name!: Congrats to the 50 brand consultants who were probably hired to rebrand the combination of Amazon Studios and MGM, the $8.5 billion film/TV library that C.E.O. Andy Jassy definitely doesn't regret buying. I'm told the new name, expected to be rolled out in September, is… drum roll… Amazon MGM Studios. Amazing work, everyone. (Amazon P.R. rep Tammy Golihew didn't return my call.)
This week in Scooter Braun: Kudos to TMZ for finally breaking its 15-year dependence on Scooter Braun for scoops about his clients, and admitting today—nearly two weeks after I first reported it—that Ariana Grande is among the clients cutting ties with both Braun and Hybe. Meanwhile, as Braun is telling friends he's never been happier, he's not speaking to Allison Kaye, his longtime partner and manager at SB Projects.
Max plays the fake transparency game: A big welcome to the Top 10 lists on Max, which manage to be even more opaque than the Netflix charts. Max is counting two minutes of viewing as a "view"—even Netflix has dropped that game—and is including in its daily chart only shows that have released a new episode within the past six weeks, or movies that debuted in the past two months. I suspect that's because Friends and The Big Bang Theory might top the chart every day.
Box office over/under: Sony's Equalizer 3 is tracking to about $40 million for the 4-day weekend, which seems high given Denzel's previous installment (with him promoting it) opened in July to $36 million for the 3 day. And Sony doesn't have five weeks of previews to tack on, like with Gran Turismo. So I'll take the under.
More than three months ago, my buddy Adam Aron, the C.E.O. of AMC Theatres and former winner of the coveted What I'm Hearing "Villain of the Year" honor, got a call from a friend who also happened to know Scott Swift. Per sources, this mutual friend informed Aron that Mr. Swift, the father of Taylor Swift, had a "crazy idea" and wanted to chat. It seemed the Swifts had been disappointed in their discussions with a couple Hollywood studios about distributing a planned concert film of Taylor's current tour show. Might Aron be interested in bypassing those studios and putting Taylor Swift: The Eras Tour directly in theaters?Uh… A Taylor Swift concert film? Exclusively in cinemas just months after the first North American leg of her tour grossed a record $1.4 billion, according to Pollstar, and at a time when traditional studio movies are being bumped to 2024 amid the SAG-AFTRA strike? And without the traditional studio distributor middleman? AMC and the other chains have done concert stunts in the past, of course, and in 2021, AMC exclusively played a Chance the Rapper movie, but the world's biggest music star teaming with the world's biggest theater company on a film that could play for months is as close to a no-brainer as exists in entertainment. And for Aron, it was a gift at a time when his company has been teetering on the brink of bankruptcy. (AMC declined to comment; Team Swift's publicist, Tree Paine, did not respond.)
Sure, doing a deal with Swift might anger AMC's Hollywood partners, especially since those studios were also interested in the project. But, Aron likely reasoned, the studios didn't exactly care about AMC or the other theater chains when they sent movie after movie to their streaming services during Covid, pushing Cineworld and Alamo Drafthouse into Chapter 11 and others to the brink. Or when Universal and the others used Covid as an excuse to shatter traditional theatrical windows and put movies on PVOD services after only a brief window in theaters. They shared a slice of revenue, but no love lost there.Plus, the Swifts didn't actually need a Hollywood studio. What do modern movie studios do, anyway? They produce the product (often with partners), but since the Swifts had hired director Sam Wrench and paid for this movie themselves (it actually cost between $10 million and $20 million, I'm told, and was shot during her recent L.A. stop), they didn't need production help. The studios market—increasingly their core competency—but Swift, with a couple social media posts to her 365 million followers, is her own best marketing machine. And the studios distribute; meaning they actually secure and deliver the movie to theaters. On that front, AMC could coordinate its own theaters and then hire a small, independent sub-distributor, Variance Films, to book Regal, Cinemark, and eventually the other chains, as is planned.So, according to sources, Aron personally negotiated the ensuing term sheet directly with Scott and Andrea Swift (Taylor's mom) over the course of several weeks. No talent agency, no lawyers until papering was required. The deal, according to two sources, provides that 43 percent of the gross stays with the theaters, and 57 percent will be shared by the Swifts and AMC as the distributor. (Variance is sub-distributing on a fee-for-service basis.) The split between the Swifts and the distributor isn't known, but I'm guessing the family will take the lion's share.

That's actually a less favorable deal for the Swifts than I would have guessed. Disney, by comparison, can take as much as 70 percent of opening weekend box office on big Marvel movies, and Taylor certainly had Marvel-style leverage here. She probably could have extracted better overall economics from a traditional distributor. The exclusive theatrical window for The Eras Tour is big, too, especially for today's marketplace. Theaters that play the Taylor movie must agree to carry it for a minimum of 4 weeks, I'm told, and to show trailers in advance, but they can play it for as many as 26 weeks without worrying that the terms will change. After 13 weeks, the Swifts are free to put it on streaming—those rights are still available—but the focus is on the theatrical window, and neither Netflix, which bought Swift's Miss Americana nor Disney+, which carried Folklore: The Long Pond Studio Sessions, has engaged on this film. AMC and the other theaters take all of the concession revenue, including whatever Eras Tour commemorative popcorn buckets and souvenir cups they come up with. AMC and Cinemark have already ordered 4 million Taylor posters to give away for free to fans, and a small offering of paid merch is planned.

The Swifts will make a fortune, of course, but they're actually leaving money on the table, and that's on purpose. According to sources close to the deal, the priority was to event-ize the experience, to replicate a Swift concert environment—hopefully the teen girl I sat next to at the L.A. show who brought her own microphone will treat her entire theater to her talents—and to make the Eras tour accessible to as many fans as possible, particularly those who either didn't live near the U.S. tour stops or couldn't afford the ridiculous ticket prices. Hence the $19.89 adult ticket price, more than some moviegoers typically pay, but artificially low for certain markets like L.A. and New York; it's also a Swift album title, and yes, that's precious and annoying. Premium large format screens weren't even included in this deal until a couple weeks ago, after Scott Swift was convinced the higher PLF prices were standard and justified.

The resulting arrangement, cloaked in secrecy—only five theater circuits were told in advance—was announced this morning, as all Swift news is revealed, via Taylor's social feeds. And it led to a wild day of pre-sales that will likely end with a record-breaking $30 million in tickets sold by AMC, Cinemark, and Regal. Just for some context, AMC's previous first day pre-sale record holder is Avengers: Endgame with $16 million. Pretty amazing. I checked out the AMC Century City website for opening weekend tickets and the evening shows offered only front row seats. I'm a Swift fan, but I don't need to see her that close.
So, why are the studios so annoyed by this? Yes, the deal essentially turns AMC into an exhibitor and a distributor, sending a message to Hollywood that, just like the streamers, the theater chains can also go directly to consumers, at least for certain kinds of films. The deal also alerts other music stars that they don't need a frumpy old studio and their onerous distribution fees to bring their shows to their fans. Studios guard release dates zealously, but now AMC is saying: Beware, we're gonna acquire movies ourselves and drop them on your dates with no notice or consultation.When one studio was discussing the film with the Swifts, the presumption was that this might be a 2025 release, something to drop in theaters after the tour ran its course. But the Swifts recognized that putting the tour in theaters now would capitalize on the fan fervor without cannibalizing tour sales. So it dropped today without warning to the studios, and that's scary to them. Indeed, AMC is already talking about what other major artists might want a Taylor-style deal. Beyoncé, your move.For that reason, Universal is understandably extra-pissed. Its biggest customer swooped in and took a movie it had been talking about distributing and then plopped it on Oct. 13, the same date as its biggest fall movie, The Exorcist: Believer. By mid-day, Exorcist had moved a week earlier, with its producer, Jason Blum, then forced to tweet, "#TaylorWins." Lionsgate's Ordinary Angels will likely move too. Maybe the burgeoning "Exorswift" social media phenomenon might have taken off, but Universal spent $400 million on Exorcist rights, and the studio is not gonna bet on the Barbenheimer meme lightning striking twice. Now, Exorcist at least has a week to itself—and hey, maybe the social activity will still fuel both movies.

I don't want to overstate the importance of this deal. It's an interesting arrangement and a possible template for additional revenue streams for theaters, although not an entirely new one. Big picture, AMC is still pretty screwed, especially if the pipeline of Hollywood movies slows amid the strikes, as expected, right when it was trying to emerge from Covid. The company is carrying $9.5 billion in debt, and even in a best-case scenario, box office will almost certainly be down between 15 and 20 percent from 2019.

Under Aron, AMC has avoided bankruptcy only because it became a meme stock phenomenon during the depths of the pandemic. He is almost certainly gonna need to raise more money to keep it afloat, although a recent court ruling in his battle with the "Ape" shareholders will allow him to do so. The market, knowing the realities, pushed the AMC stock down today despite the Swift news.

But getting directly into business with Taylor Swift on a project that would have been attractive for a traditional studio, even with the one-sided revenue split, is certainly a positive development. Maybe it's a one-off stunt, or maybe Aron can turn it into "a new line of business," as he touted in a press release. Just like the silver mine he bought, and the popcorn retail business he launched, it's part of the semi-desperate attempt to diversify a movie theater company for the coming era of fewer movie theaters.
See you Sunday,
MattGot a question, comment, complaint, or a friendship bracelet to share? Email me at Matt@puck.news or call/text me at 310-804-3198.
FOUR STORIES WE'RE TALKING ABOUT
Vivek & Bake
How Ramaswamy disrupted the G.O.P. primary.
TINA NGUYEN

Need help? Review our FAQs
page or contact
us for assistance. For brand partnerships, email ads@puck.news.
You received this email because you signed up to receive emails from Puck, or as part of your Puck account associated with . To stop receiving this newsletter and/or manage all your email preferences, click here.
Puck is published by Heat Media LLC. 227 W 17th St New York, NY 10011.