Yes, it's only been a few days since David Zaslav unified his Warner Bros. Discovery empire, and infinite questions abound regarding who will get laid off, who will get layered, which couch cushions will unearth those $3 billion in synergies, and how Zaslav will manage the tens of billions in debt, especially as interest rates go up, all while spitting out $14 billion in EBITDA. But if Zaslav's job comes down to optimizing his new company's resources and managing the affiliated costs most efficiently, his outlook will likely follow from the relatively straightforward task of producing the most sought-after content and consolidating the distribution.
The present and future of entertainment is streaming, after all, and streaming is a superscale game. Netflix, Disney, WBD, Comcast, and Paramount Global currently control 70 percent of the audience demand (what consumers actually want to watch) for all TV content in the United States, according to Parrot Analytics, where I work. Competition is obviously tightening, which is increasing the COGS, and the success of the debt-strapped WBD depends, in part, on Zaslav elevating the inevitably unified platform from No. 3 to compete more vigorously with Netflix and Disney.
How can he do that? Sure, there's a lot of financial engineering and legal work, but there are also a few key content-specific strategies, largely rooted in data. And while Zaz is a vest-loving, talent-first leader on the outside, he's a data guy on the inside, molded by the Jack Welch school of ruthless cost management, an instinct that has long made him cable blood brothers of WBD's largest shareholder, John Malone.
Herewith, three key pillars that could determine whether WBD becomes the next Disney or another Peacock.
---
1. CNN+ Needs to Learn From ESPN+
​​​Before Discovery offers everything on a unified DiscoBro's HBO Max+ streaming platform (feel free to use this name, team), the company will likely offer a bundled version of all three services—HBO Max, Discovery+, and CNN+. This will provide Zaz with more extensive data on what customers are interested in signing up for, and more data on potential engagement across all platforms. It will also help determine pricing strategy, and allow the company to quickly identify what isn't working.
During the Jeff Zucker era, CNN was an ascendant force that could largely do what it liked, in part due the notion that the news is the news—important, unpredictable, etc. Meanwhile, it seems like CNN+ was conceived and built without totally appreciating the larger picture of the HBO Max ecosystem, and now the far larger ecosystem of the WBD content hemisphere. As CNN+'s soft early numbers suggest, the product isn't a standalone; like ESPN+, it's likely to become a tile within a future WBD superapp. 
Indeed, CNN+ and ESPN+ have a lot in common. CNN and ESPN are both cable native brands, and they power their parentco's declining, but still material, linear businesses. Likewise, CNN+ and ESPN+ aren't actually offering the cable product with a goodie bag of bonus content. This isn't CNN or ESPN and then some. It's CNN and ESPN but without some core attributes. ESPN+ has become a helpful shoulder play for the motherbrand, and also, if not more importantly, it has become a hugely valuable add-on to Disney's larger bundled offering.
​​Disney is probably only a few years ahead of WBD in its ambitions. Many industry insiders assume that it will eventually leverage all its I.P. in one place, especially if it buys out all of Hulu. But in the meantime, it's running a similar bundle package to what many envision Zaslav will put together. And ESPN+ has been a key, if less obvious, linchpin. For instance, Disney's streaming assets cost $22 per month, in total, if purchased separately—Disney+ is $8, Hulu (ad-supported) is $7, as is ESPN+.
But the Disney bundle offers all three for $14 a month, effectively giving away either Hulu or ESPN+ for free. In 2019, ESPN+ grew from 1.4 to 3.5 million subscribers. In Q1 2020, the first quarter that ESPN+ was included in the Disney+ bundle, ESPN+'s subscribers nearly doubled to 6.6 million, or just under 90 percent in growth. Hulu saw consistent growth before, during, and after the Disney bundle, suggesting that its catalog of entertainment and heightened focus on originals was building at a steady rate. ​​Bundle subscribers are also less likely to cancel their subscriptions, a point which Disney C.E.O. Bob Chapek has reiterated.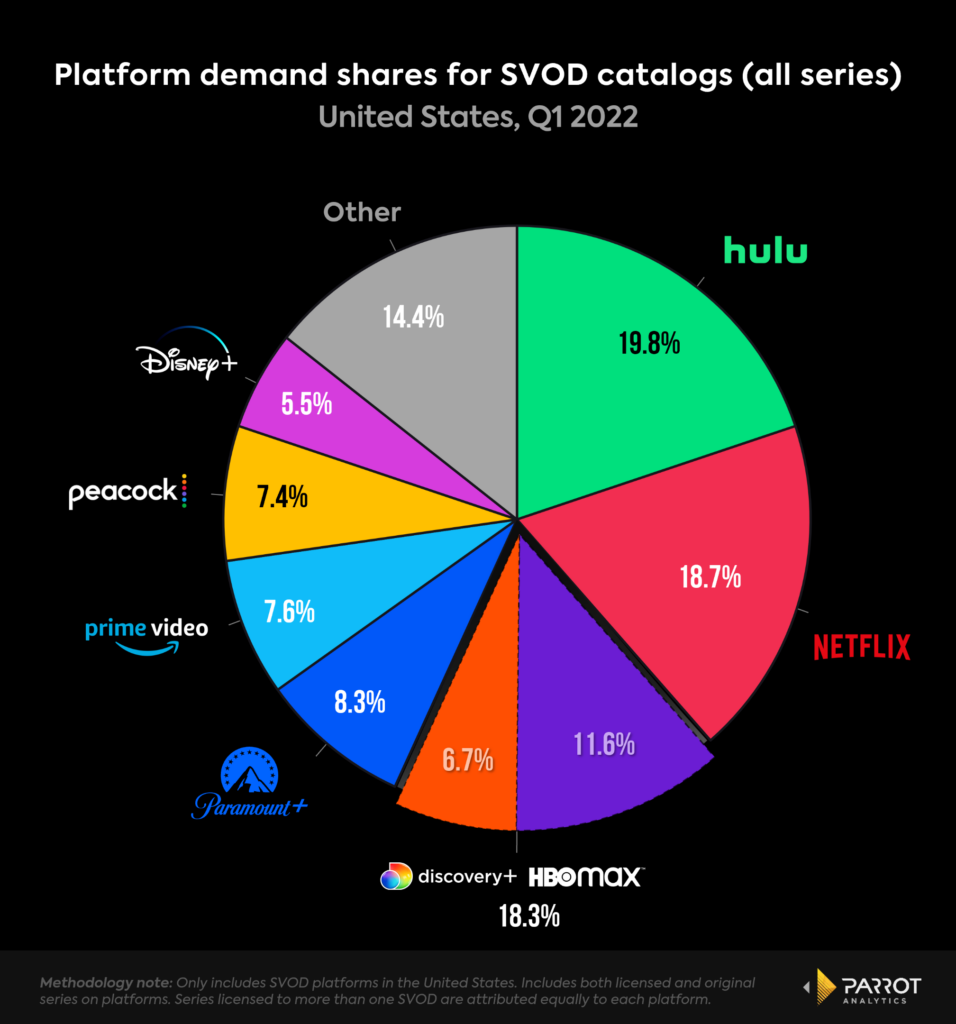 ​​ESPN+ is the most niche offering in the Disney bundle. Giving ESPN+ away for free was the best way to bring hesitant customers in, increase usage, and potentially help secure more favorable advertisement deals and sports rights while elevating the perceived value of the product in the meantime. CNN+ can do the same. CNN+ doesn't have all of HBO and then some, nor does it have tens of thousands of hours of people's favorite reality TV programming. It doesn't even have CNN. It could be a valuable product when it comes to infotainment, which is seeing a consistent increase in demand. But…isn't that what Discovery's various channels already do very well? CNN has its own pool of world class, celebrated talent, but while people may love Anderson Cooper's anchoring… do they really want a parenting show from the guy who they turn to for coverage of global events? 
​​CNN is a vital part of the Warner Bros. Discovery portfolio, but it makes sense to consider making CNN+ as an additive, freebie component of a bundle that encourages subscribers to check out some live programming and a selection of documentaries or infotainment-style shows. It increases consumption and introduces a plethora of subscribers to new content and, perhaps most importantly, it scales CNN+'s subscriber base on paper, which matters to Wall Street. It also incorporates CNN into the Warner Bros. Discovery ecosystem, and implicitly makes engagement the new hero metric, a pivot away from the ratings obsessions of the Zucker era.
---
2. The Tile Strategy
​​During a recent episode of The Town, my Puck colleague Matt Belloni's podcast, now former Warner Media C.E.O. Jason Kilar confessed that he always envisioned the afore-obsessed-about CNN+ to become a tile on HBO Max. Similar to how Disney+ looks, a tile system allows different content verticals — like HBO and CNN+ in this case — to exist within one app but have their own dedicated sections to neatly compartmentalize thousands of shows and films.
Basically, if subscribers wanted to watch an Anthony Bourdain special, they could do so by switching over to CNN+, all within the same app. Again, Disney+ subscribers in parts of Europe and Canada will understand this if they use the Star offering. 
​​A tile strategy encourages subscribers to stay on the app longer. This is hypothetically true both in session time (the amount of time someone actually spends on HBO Max in one sitting) and retention, which leads to a higher lifetime value (or LTV, the lifeblood of any subscriber business). The hardest part of starting a streaming service is getting someone to pay; the second most difficult thing is getting them to open the app every day or every other day. Tile systems increase the perceived value of a service because it allows for further discovery of new content, and suggests there's more to find just one click away. 
The tiling strategy is a microcosm of one of Zaslav's most ambitious challenges. On one level, he's integrating two enormous companies with thousands of employees, legal obligations, and public market expectations. He's also integrating the content they make—their tiles. Kilar's point about tiles only works if the tile is free (or included within the original price point customers agree to). If the tile isn't free, it becomes an annoying add-on, like Pay-Per-View or, even worse, in-app purchases. 
​​There are two ways around this. When customers are signing up for HBO Max, they can select a plan that includes CNN+, Discovery+, or both. This opens the tiles to those customers who can experience each streaming service all in one place and without the bloated, overwhelming feeling of everything on one home page. Since customers know what they're signing up for at the start, the value is what they expect. Sprinklings of content from each vertical can appear as promotional items to encourage customers to upgrade, but there isn't any confusion. And, if customers don't want CNN+, the tile simply won't be available to them. They can choose to add it later on, but it doesn't feel like an extra section they don't have access to every time the app is opened.
The question is how many people are going to sign up for HBO Max and choose CNN+ as an additional offering when it's not free? If the goal is to incorporate all of these services into one offering, that leaves CNN+ out. Alternatively, Warner Bros. Discovery can take the information collected after 10 months and decide on a price point for a unified platform that is likely to cause the least amount of churn based on the data collected. The tiles then separate these into different segments, alongside a curated homepage based on algorithmic and curated recommendations, to create a better streaming experience, but there isn't any public, upfront, additional costs. 
---
3. Can Harry Potter Become Star Wars?
​​Harry Potter is a multi-billion dollar franchise whose original eight films brought in nearly $8 billion. WarnerMedia's stake in the Harry Potter franchise gives the company the ability to expand upon, rebuild, and shape future stories. The franchise, which currently exists in the Fantastic Beasts and Where to Find Them film series, should be on par with the Marvel and DC cinematic universes. 
​​There are, of course, some minor complications. The franchise's new star, Ezra Miller, was arrested for disorderly conduct and harassment that led to internal conversations about Miller's involvement in future Warner Bros. projects. ​​Author J.K. Rowling, who still maintains full creative control over the franchise, has faced numerous controversies over statements made about trans women and trans men. And Johnny Depp, who was originally cast in Fantastic Beasts, is currently involved in a libel trial. Meanwhile, the new I.P. has underperformed. The Crimes of Grindelwald saw a 20 percent decrease in box office revenue and received a "B+" CinemaScore, down from the "A" that the original Fantastic Beasts earned. 
​​Optimizing the Wizarding World needs to be a huge priority for Zaslav, and whomever Zaslav brings in to run the Warner Bros. unit following Ann Sarnoff's exit. ​​Perhaps the biggest question is what does the Harry Potter universe look like on HBO Max—and, more importantly, why doesn't it exist yet? Drama and action/adventure make up a combined 38.4 percent of all demand on HBO Max. Harry Potter arguably has the same currency as Marvel and DC, but HBO Max doesn't yet have a major Harry Potter series, two years into its cycle. Part of this may have to do with the complicated rights issues (Rowling still maintains full creative control over the franchise), part of it may have to do with timing (remember, HBO Max launched during the pandemic), and part of it may have to do with creative struggles.
But Disney+ has aired six Marvel Shows and four new Star Wars series (two live-action, two animated) since Disney+ launched. HBO Max has a Harry Potter reunion special (meh), and a trivia show (why?), but nothing that feels invigorating to the multi-billion dollar franchise that WarnerMedia oversees. Zaslav has made clear that HBO and HBO Max chief Casey Bloys will rightly have a high chair in his court, and this could get straightened out quickly.​​
​​When the Discovery-WarnerMedia merger was first announced, Zaslav relentlessly mentioned the power of I.P. as a core reason that he was interested in WarnerMedia. The unit's vast library was perfectly complementary to Discovery, which is mostly reality and documentary programming. When it comes to reality programming, few can compete with Discovery's power. When it comes to high profile, beloved mega franchises, there are very few companies who can compete in that space. Warner Bros. is one of Disney's biggest competitors, but it's all about finding new ways to continue building on fans' love and adoration to become a must-have. And that all starts with Harry.
The good thing about our current streaming moment is that while we can't predict the future per se, it isn't taking too long to see who stands to be a real competitor in the space. WarnerMedia proved itself in 2021. It'll be up to Zaslav and his team to prove the combined offering can soar even higher in 2022, 2023, and beyond.
Julia Alexander is a senior strategy analyst at Parrot Analytics, a global analytics firm that measures cross platform demand for content, where she analyzes trends and shifts in streaming entertainment. Prior to joining Parrot Analytics, she was a reporter at The Verge, Polygon, and IGN.