Netflix lost 970,000 subscribers and Wall Street cheered. That's the crux of every headline that has followed the company's not-as-spooky-as-feared earnings report from Tuesday, one encapsulated by co-C.E.O. Reed Hastings' pitiable "less bad" verdict. But that superficial narrative belies a more fascinating story occurring on a more granular level. Netflix lost 1.3 million subscribers during the quarter in the U.S. and Canada (UCAN). This is the second quarter in a row of substantial subscriber loss in Netflix's most penetrated, highest revenue per user and substantial market.
For years, Netflix bulls have argued that the company's long-term growth will come from overseas, and they tend to dismiss domestic churn as a sort of to-be-anticipated outcome while they focus on other data points. For instance, Netflix did gain more than 1 million subscribers in its Asia Pacific region this quarter, which essentially abnegated its losses in the States and Canada.
But while that might be an encouraging metric, it's not an apples-to-apples comparison from an average-revenue-per-user (ARPU) perspective. Netflix effectively traded 1.3 million subscribers generating $15.50 a month in UCAN for 1.1 million subscribers generating about $8.60 a month in APAC. The UCAN numbers aren't merely important because of their ARPU potential; their trendlines are also harbingers of how Netflix can expect to perform in territories that haven't yet endured the sort of subscription saturation that we're seeing here.
---
Damn the TAM
For years, Netflix projected 60-90 million paying customers in the U.S. The actual number, however, has hovered at around 74 million for the past year. Subscriber additions in the region have remained relatively flat or slightly negative for some time now, with declines in UCAN during three of the past five quarters. Now, on one hand, you could argue that Netflix introduced price hikes during the same time period. But, on the other hand, content investment ramped up. Netflix was pumping tens of billions of dollars into films with A-list casts from star directors, and more TV series than audiences could ever dream of, but it wasn't growing anymore in a key market.
There's a good chance that this 74 million subscriber count represents Netflix's peak for pure, ad-free subscribers in the region. And yet that doesn't necessarily mean that streaming's total addressable domestic market is smaller than anticipated. Even as Netflix's subscriber base struggles in the U.S., other streamers are seeing continued growth. Paramount+, HBO Max, and even services like Peacock are seeing growth in the U.S. each quarter. This also doesn't necessarily mean that Netflix's domestic revenue growth is tapped out. The advertising tier, now coming in early 2023, is an obvious attempt to generate additional revenue and reach audience cohorts that weren't interested otherwise.
Introducing ads as subscriber growth slows, especially in Latin America and UCAN, is a silent acknowledgement that Netflix is missing out on subscribers and plateauing in key regions. It's also a signal that Netflix will fail to generate additional revenue without an ad-supported tier, and continue to lose subscribers. Hastings clearly has less optimism about being able to pull in new ones at the highest price point of all streaming services.
The UCAN trends are also perhaps the most honest look at how Netflix's business fares when there's true competition from other streaming services. As Disney, Warner Bros. Discovery, Paramount, and NBCUniversal continue to expand into new countries, subscriber growth should rise at a noticeable rate. This makes sense. Each new expansion opens up a customer base. There are still Disney-loving customers in parts of the world where Disney+ hasn't launched.
Netflix, which long benefited from its visionary, category-defining head start in the U.S., has enjoyed a largely competition-free environment in much of the world. Not only is that phase over, but Netflix doesn't have any other meaningful countries to expand into. Netflix, for the most part, already operates in all the countries that it wants to operate in. And while there are certainly opportunities to grow its subscriber base in different key countries, like India, it doesn't have the ability to land and expand. It can only expand, and that's entirely based on demand for programming.
In my job at Parrot Analytics, I constantly study the relationship between consumer demand for content on various platforms and how that translates into performance. If content is king, and audiences determine the value of said content by choosing where to subscribe, then demand for content at the perceived fair price point is one way to study a platform's health. Netflix's demand has steadily declined over the last few quarters, save for notable exceptions like Stranger Things' exceptional performance, while its competitors have steadily increased.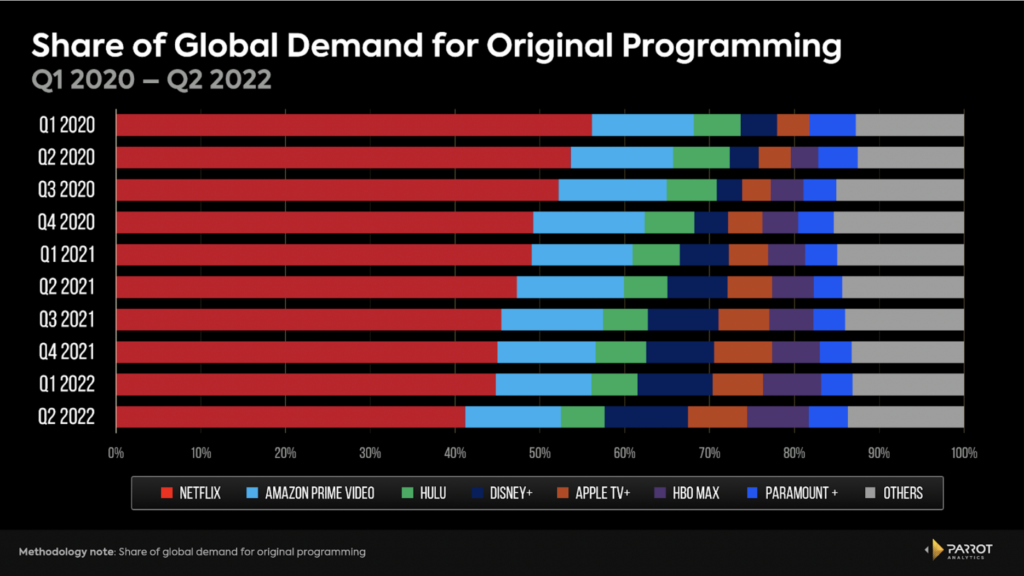 On a certain level, this is logical. New competition comes in, people decide they prefer one service over another, subscribers churn. Indeed, Antenna, another research firm that follows streaming platforms, recently noted that Netflix's churn rate is growing exponentially. In April, for example, 23 percent of Netflix customers in the U.S. who signed up for the service canceled by the end of the month. That's particularly notable, considering Netflix has traditionally maintained the lowest churn rate of all streamers. On the other hand, if UCAN is the most mature market, with high streaming penetration rates and flourishing competition, what might the UCAN performance say for other regions when competition increases and more households adopt streaming?
Netflix's value proposition when it was the only option is different from its value proposition when it's one of many options. The story those numbers tell right now is that unless Netflix looks to more traditional offerings, like cheaper ad-supported tiers, its strongest market will stand still, at best, and continue to weaken, at worst. The existential question is whether Hastings can eventually expect some version of that pattern to take hold globally.