Shana Tova! I'm Eriq Gardner.
Welcome back to The Rainmaker, my private newsletter focused on the legal maneuvering inside Hollywood, Silicon Valley, Washington, and Wall Street.

Think you know the full story about Johnny Depp v. Amber Heard? This week, I've got some new information about the tensions inside her camp. Who, exactly, is funding the actress's legal defense? Also in tonight's email: a coming consent decree for Disney, why Scientology will be featured in an upcoming rape case, and the famous rapper going to court over an implication of penis enlargement surgery. Plus, a lot more!

But first…
Last week, I wrote about a trial in D.C. that asked jurors to decide whether an elaborate undercover investigative effort by Project Veritas during the 2016 election amounted to legitimate journalism or political spying. Following a five-day proceeding, a nine-person jury found that James O'Keefe's outfit was out of bounds. The toughest decision, from the looks of the jurors' notes to the judge, appears to have been figuring out the amount of compensatory damages to award. In the end, they went with $120,000, a sum that fell short of the $1 million demanded but nevertheless sends a clear message (and holds the possibility of additional punitive damages to come). Indeed, this punishment is probably in that zone where both sides continue to fight on appeal out of sheer principle without sweating the financial stakes. If this initial round rendered a judgment on Project Veritas's activities, the next stage could provide real legal precedent to keep other journalists in line.
Keep an eye out next month for some sort of announcement between California and The Walt Disney Company on the issue of sexual harassment. The state's civil rights agency has been pursuing Disney over a festering situation on the set of "Criminal Minds," where a director of photography was allegedly verbally and physically inappropriate towards male staffers for years. The California agency aimed to use this instance of an alleged hostile workplace to obtain wide-ranging injunctive relief that it hoped would prevent future misconduct. Now, the parties have reported to the judge that they've reached a settlement, intriguingly stylized as a proposed consent decree. Meaning there could be some ongoing obligations like corrective policies or training. This should be detailed soon. Disney didn't respond to a request for information.
Next month, Oscar winner Paul Haggis goes to trial over Haleigh Breest's claim that he sexually assaulted her a decade ago. The judge has decided to allow him to present evidence that the Church of Scientology has plotted to discredit him, a vocal critic, by orchestrating allegations from women. I must profess to be surprised by this development as Haggis seemingly lacks evidence directly tying Scientology to Breest. Nevertheless, the judge thinks he should be able to attempt to establish a motive for the publicist's alleged fabrication. Here's one data point that Haggis shared in recent court papers: The "Crash" director says in 2016, he had a secret contract with HBO for a series on Scientology founder L. Ron Hubbard. But Haggis says a "double agent"—someone who left the Church only to later return—tricked him into divulging information about his project. Thus, Scientology allegedly came to learn about what Haggis had in development. A few months later, Breest's lawsuit arrived, and HBO dropped the show.
Have you heard about that lawsuit from Curtis "50 Cent" Jackson? If not, here's the complaint, and damn, it's wild. According to the rapper, he took a photo with someone whom he thought was a fan, only for the image to begin popping up on social media accounts for Angela Kogan and her plastic surgery business. Then, on August 17, The Shade Room, a Black culture news site, juxtaposed that same photo with an image of a faceless male obtaining a penile enhancement procedure for an article discussing the rise of plastic surgery for men. Shade Room reported that Jackson was a Kogan client. That naturally set him off—although, perhaps tellingly, he's not suing for defamation, but rather for false endorsement and misappropriating his likeness. My bet is Jackson falls short. I thought that even before seeing a statement from Kogan's lawyer insisting that Jackson did use her services.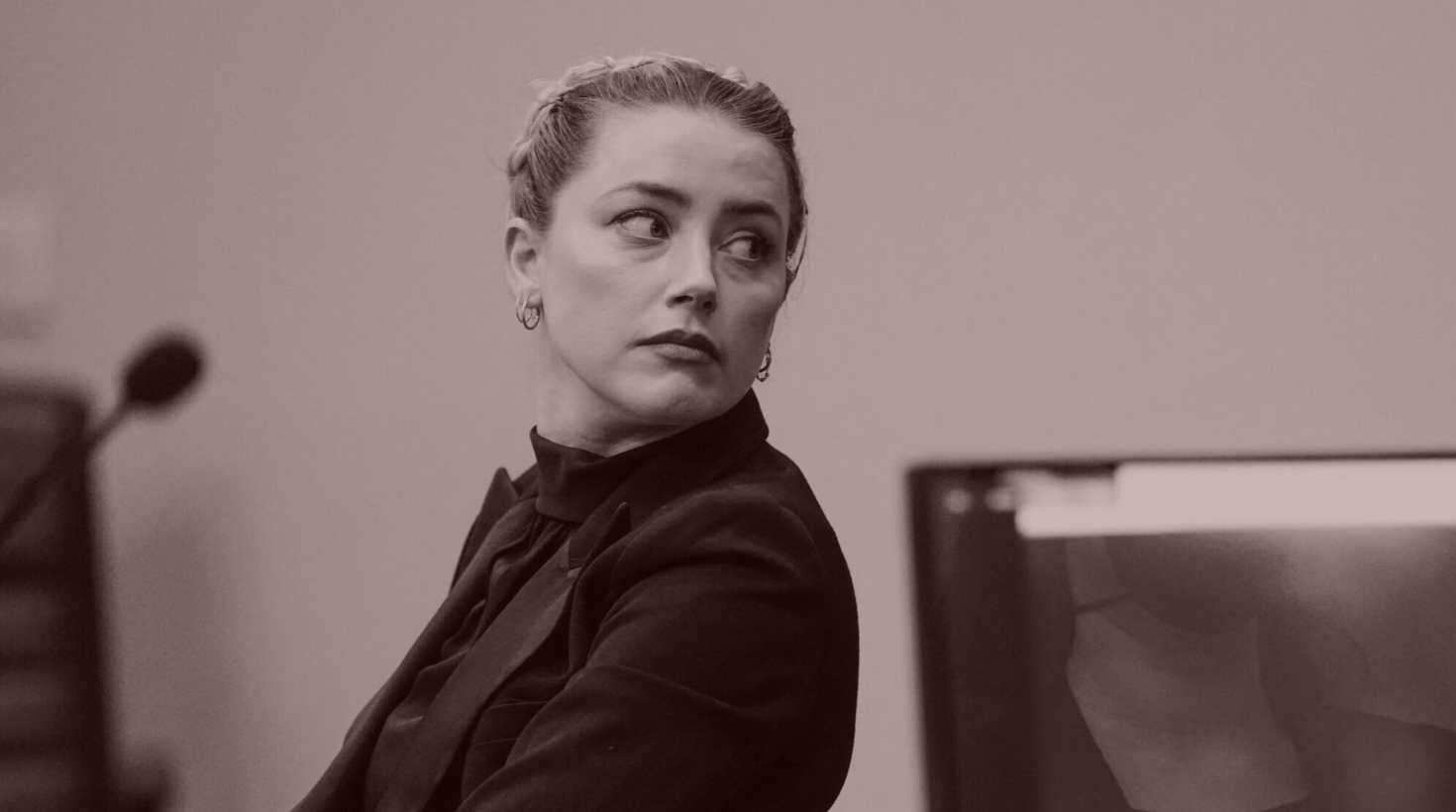 Inside Amber Heard's Next Legal Nightmare
While she appeals the $10 million she has been ordered to pay Johnny Depp, Heard faces yet another courtroom drama over who's on the hook for her astronomical legal bills. At the center of the $15 million dispute is a secret power struggle among some of the country's most elite lawyers over who actually represented her, anyway.
This week, Fox's Tubi streaming service will premiere Hot Take: The Depp/Heard Trial, a reenactment of last summer's heavily-watched Johnny Depp–Amber Heard spectacle. Even by B-movie standards, this is a pretty rushed and exploitative feat—especially because the story isn't over. For real insight into what went wrong for Heard, skip this sure-to-be-awful TV adaptation and wait for the next trial. Yes, less than four months after the conclusion of the Depp-Heard showdown, we're headed for yet another round of litigation—one that promises to reveal even more of the jockeying and power plays inside Heard's camp.

As a refresher, Depp sued Heard in 2019, two years after their marriage ended, over a Washington Post op-ed in which she identified herself as a "public figure representing domestic abuse." It took three years for this case to get to trial, and in that time, Heard switched her legal team multiple times. At first, the defense was led by Eric George, a well-connected Los Angeles-based litigator who is quite adept at handling celebrity complications (a Mel Gibson custody fight, a secret Kim Kardashian engagement, etc.), but ended up being not quite a perfect match. Then came Roberta Kaplan, who had successfully fought for same-sex marriage at the Supreme Court and co-founded the Time's Up Legal Defense Fund (and more recently ran into criticism for helping then-governor Andrew Cuomo attempt to discredit an accuser). Her involvement suggested Heard's legal defense might become a pro-feminist cause, but after a few procedural pre-trial losses, she was out too. Finally, her defense rested with Elaine Bredehoft, who has a decent reputation locally but—let's be honest—came to the big trial with a questionable strategy (i.e. contesting the he-said, she-said particulars of who was nastiest during the marriage instead of focusing the jurors on what was actually written by Heard), and seemed overwhelmed by basic tasks like leading direct examination without getting interrupted every three seconds by Depp attorney Camille Vasquez.

Of course, there was more to the story behind all those pre-trial shakeups, which may soon become public thanks to a secondary legal drama between two insurance companies that have been secretly fighting over Heard's sizable legal bill. After all, many forms of homeowner's insurance will cover certain legal expenses—but only up to a certain point. And Heard's expenses were truly astronomical, surpassing $8 million before the six-week trial even began. Heard has since brought on two more top lawyers (David L. Axelrod and Jay Ward Brown of Ballard Spahr) to handle her appeal. This could easily become a $15 million bill of horrors when all is said and done, potentially dwarfing the $10 million or so that Heard has already been ordered to fork over to Depp.
So who's paying? Well, that's the $15 million question.

In July 2021, Travelers Commercial Insurance Company sued New York Marine General Insurance Company and demanded reimbursement for half of what it had paid to defend a mutual client. Heard wasn't identified as the insured in these court papers—which largely explains why this dispute has stayed under the radar until now. Travelers had issued a homeowners policy to Heard while New York Marine had issued a commercial general liability policy. Both covered "personal injury" including "libel." Even though the policy limits are modest—$500,000 in liability for Travelers, $1 million for New York Marine—the key is that these insurers have a duty to defend Heard, which means they'll also pick up additional costs for defense lawyers.

Travelers believed that Heard had a right to choose her own lawyers (and agreed to pay $290 per hour for partner work), but New York Marine—citing obscure Virginia law and believing this was a "fairly straight forward case" where local counsel would do just fine—didn't. Instead, New York Marine sent its own (presumably cheaper) set of lawyers to Heard's side and believed its obligations satisfied. A judge initially agreed.

Soon, however, the dispute between the two insurers entered into more explosive territory. Travelers doubted whether New York Marine's appointed lawyers—Timothy McEvoy and Sean Patrick Roche—actually provided an "adequate defense" or merely "piggy-backed" on the work of Kaplan and Bredehoft. In turn, New York Marine alleged that Travelers had "unclean hands" because McEvoy and Roche, who expected at one point to act as lead attorneys for Heard, had been frozen out of participating in the case, including strategy discussions and court hearings. The insurer has collected communications as evidence, including an email from Roche in July 2020 stating, "We offered to help along the way but a kitchen can only handle so many cooks. Kaplan seemed to be operating with the approval of Amber, and a lawyer power struggle did not seem to benefit Amber."

In November 2021, Heard cut ties with Kaplan, but the working atmosphere didn't improve for McEvoy and Roche. So they withdrew too. Three months later, New York Marine made its one and only contribution to Travelers for Heard's lawyers—$621,693, which represents half of three-months legal work (and demonstrates the astonishing burn rate in the Depp case). New York Marine is now demanding that money back.

Most of the past and present lawyers on Heard's team have been subpoenaed, and more than 100,000 documents have been collected in preparation for a possible trial between the insurers about the adequacy of Heard's representation. All this figures to become a headache for Heard, who recently hired yet another lawyer, Kirk Pasich, to deal with this escalating insurance situation.

Meanwhile, the verdict in Depp v. Heard has created a whole new mess. In July, New York Marine filed a fresh lawsuit against the actress. The company is looking to escape contributing to the $10.35 million judgment under a California law that prevents an insurer from covering willful acts. (That's ironic: Not only did the claims specialist at New York Marine once opine to a colleague that a jury verdict favoring Depp was "slim to nil," but the insurer had previously relied on Virginia law—not California law—in insisting it needn't fund Heard's choice of counsel.) The media noticed this suit, although what reporters didn't realize is that Travelers, not New York Marine, has been funding the bulk of Heard's defense to date.

As for Travelers, as I mentioned, there's a $500,000 cap for liability and although the insurer hasn't yet sued Heard like its rival has, it initially advised Heard that it wouldn't have any obligation to pay an award if Depp were to prove a knowingly false statement on her part. So if the judgment survives appeal, she'll likely have to shoulder it herself.

A decision is coming soon on whether to consolidate these insurance matters. It's expected among some insiders that Heard will seek a stay while the appeal plays out. In other words, she'll be seeking to minimize this distraction. Nevertheless, there's a reckoning that looms over what's probably one of the most expensive libel cases in American history.
Don't underestimate Byron Allen. A few years ago, the cable TV mini-mogul went all the way to the Supreme Court in a case over whether Comcast had violated a racial discrimination law by refusing to license his small channels devoted to topics including criminal justice, cars and pets. The opinion established bias standards, and he settled. Now, he's just overcome a motion to dismiss in a case against McDonald's over the chain's refusal to advertise with him. According to the complaint, McDonald's sees Allen's company—which now owns The Weather Channel—as an African-American media company and thus requires it to go through its African-American advertising agency and not compete for its "general market" ad dollars. U.S. District Court Judge Fernando Olguin sees enough to advance this case to discovery. Here's the ruling.
FOUR STORIES WE'RE TALKING ABOUT
CAA Hunger Games
Amid an industry shakeup, big-name agents are audition for their own jobs.
MATTHEW BELLONI

The Tapper Equation
Jon and Peter discuss Jake Tapper's ascent in CNN's Licht era.
PETER HAMBY & JON KELLY

NFL Prime
Matt and John Ourand discuss Amazon's impressive start as the NFL's exclusive TNF streamer.
MATTHEW BELLONI
You received this message because you signed up to receive emails from Puck

Was this email forwarded to you?

Sign up for Puck here

Interested in exploring our newsletter offerings?

Manage your preferences

Puck is published by Heat Media LLC

227 W 17th St

New York, NY 10011

For support, just reply to this e-mail

For brand partnerships, email ads@puck.news