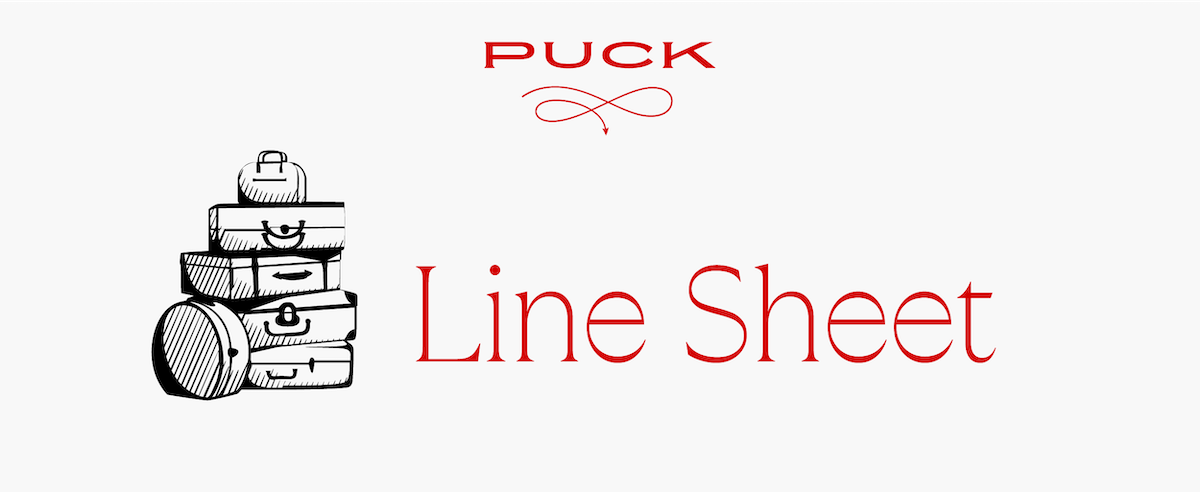 Hello, and welcome back to a very special issue of Line Sheet. By the time this lands in your inbox, I'll be heading to Gracie Mansion for the mayor's New York Fashion Week kickoff cocktail party. (Trains willing—I'm firmly anti-cab these days, even in this weather.) Then it's off to Coach's show and dinner at the New York Public Library, a celebration of creative director Stuart Vevers' 10-year job anniversary. (Yup, he's been there for that long. We're old.)
My trip to New York has already been a whirlwind, starting on Tuesday night with the private dinner I co-hosted with Fashionphile founder and President Sarah Davis. As all our Puck dinners go, the conversation was off the record, so I can't tell you anything. What I can say is thank you to Sarah and the Fashionphile team for making it great, and to the very smart, opinionated people who joined the conversation from Versace, Christie's, Loewe, Altuzarra, Bergdorf Goodman, Tomorrow, and elsewhere. (I heard that at least one deal was done at the end of the table.)
If you're interested in putting something like this together, please email our V.P. of brand partnerships, Alex Bigler, at alexandra@puck.news. And with that, I'll send a final thanks to Alex and the rest of the Puck team, including Eric Van Gelder (our integrated marketing director), Fritz (not my son, our concierge), and everyone who kindly obliged my extensive menu tweaks. (Fashion people eat, I swear.)
I've got a Halloween candy-sized pile of news and notes for you today—including some Richemont goodies, a Hearst reorganization, and, finally, IT'S ALL HAPPENING for Pinault and CAA.
Mentioned in this action-packed issue: François-Henri Pinault, Kate Lewis, Libby Wadle, the best fashion week parties, Nikki Ogunnaike, Debi Chirichella, Anna Wintour, Nina Garcia, Steven Meisel, Maya Jama, Richemont's farm team, Boet Brinkgreve, Jenna Lyons, The Row, Lisa Howard, Karl Templer, and many more…
But first, some breaking news…
After months of speculation and anticipation, it is time: Groupe Artémis, the Pinault family office, has agreed to buy a majority stake in Creative Artists Agency, the blue-chip Hollywood talent representation firm. Terms of the deal were not disclosed, no surprise there, but the rumored valuation, as reported by my Puck partner Matt Belloni, was something like $7 billion. Congrats to CAA, Mr. Pinault, and the agency's lead investor, TPG (also an investor in Puck) for bringing it home. (Well, almost: it's set to close by the end of the year.)

I guess deals do still get done at Sun Valley? Allen & Company served as the financial advisor to CAA, and while there had been interest on the Artémis side for some time, it seems that things really picked up after Kering C.E.O. François-Henri Pinault attended the firm's annual schmoozy conference in Idaho this summer. Then the real work began.

As for the aftermath: It's no surprise that CAA partners Bryan Lourd, Kevin Huvane, and Richard Lovett are sticking around, with Lourd, a fashion industry favorite, assuming the C.E.O. role.

You can read a deeper analysis on why Pinault wanted CAA in this previous Line Sheet issue, and I also recommend Powerhouse: The Untold Story of Hollywood's Creative Artists Agency, by James Andrew Miller, if you really want to get the terroir.

But here's what you need to know today, with a special note from Matt to explain CAA and Lourd's current role in the Hollywood machine:
There's a reason I've started calling Bryan the "mayor of Hollywood." He's clearly positioned himself as the leader of that company over his two fellow Young Turks (now the Getting Old Turks) Kevin Huvane and Richard Lovett. Lourd's got top clients in all areas (he recently stole Charlize Theron away from Ari Emanuel and just signed the animation mega-producer Chris Meledandri, hot off Super Mario Bros.); he's still signing like a monster; and he's been front and center in the big Hollywood dustups, like Scarlett Johansson's pay fight with Disney, the uproar over sending movies direct to streaming, and walking the SAG-AFTRA picket lines. The reason Lourd is now C.E.O. is because he was already pretty much acting like one. —Matt Belloni
Of course, the bigger concern within the fashion industry is whether CAA clients are now going to prioritize Kering brands, and vice versa, for sponsorship deals and other projects. (Remember that Saint Laurent is now producing movies, one of which premiered at Cannes in May.) The press release uses the phrase "strategic investor" to categorize Groupe Artémis, which, along with meaning that this isn't another flip situation, indicates that there will be an effort to work together.
But, as we all know, it's not in the best interest of either party to get too cozy. LVMH—which owns Dior, Celine, Louis Vuitton, etcetera—is way, way bigger than Kering. Chanel's business alone, for example, is almost as big as Kering. So Bryan Lourd still needs to play nice with LVMH. And Kering also needs to keep IMG, WME, and UTA in its good graces, because it's clear CAA doesn't have a monopoly on talent.
What CAA does have is a stronghold on sports representation, of personal interest to Pinault, who owns a football team.
Now a quick update from everyone's favorite Line Sheet vertical: print media!
Everyone over at Hearst is talking about a significant reorganization. In May, the company announced that it was taking notes from Vox Media and creating three content clusters—fashion and luxury, lifestyle, and enthusiast and wellness—and hiring general managers to oversee each group. (They hired Brian Madden for the third, but have yet to fill the first two roles.)

The new thing is that the editors in chief will now report to their general manager, adding a layer underneath Kate Lewis, the company's chief content officer. (They still have a "dotted line" to Lewis, as it was described to me.)

Whatever the dotted line, Hearst C.E.O. Debi Chirichella and Chief Revenue Officer Lisa Howard have a morale problem in editorial after laying off 41 people in July. Not sure if this GM strategy will fix that. My sense is that most of the E.I.C.s would prefer to continue to report to Lewis, who they understand. But, alas, layering the top editors is just the latest indication of where they stand in the pecking order of both Hearst and the broader industry. Being an editor-in-chief used to be a dream job that connoted suites at George V, eight-figure clothing allowances, flights on the Concorde, and prime tables in the Pool Room. All that's left of that, and only for the seasoned editors, is a room at a nice hotel. And be sure to watch that service bill.

On the sales side, reporting lines haven't changed for the most part, I'm told, as that part of the business was "reorganized" to an extent with the exit of Carol Smith, an incredibly well-liked sales exec, in February. Smith was known for working hard to develop strong relationships with editors (with Robbie Myers at Elle when it was owned by Hachette, then later with Glenda Bailey at Harper's Bazaar and Nina Garcia at Elle, after it was bought by Hearst), and she famously pulled Bazaar, which had been losing money for years, into the black. Smith had quite a bit of success selling Bazaar and Elle together—Samira Nasr's Bazaar brings the prestige, and advertisers love Garcia—and Town & Country thrived as well. (I hear it's the most profitable magazine in the building next to Good Housekeeping.)

Wait, more print media goss!…
A long, slow clap for that Linda Evangelista cover of WSJ. magazine, shot by Steven Meisel and styled by Karl Templer, pegged to the release of a Phaidon book composed of… Meisel's photographs of Evangelista. It's digital only, which is a shame for the 43 people who still "collect" magazines. But, no matter, you can buy the book, and it validates everything wrong about that September Vogue global issue.

Meisel, who doesn't work with American Vogue, actually shot British TV host Maya Jama for the August issue of the U.K. version. I'd never heard of Jama because I don't watch Love Island, but I bought the issue for the plane ride to New York because she looked so gorgeous. She could have very well just been… just a model! Speaking of, I got a peek at the first two episodes of the new Apple TV+ docuseries Super Models—more on that soon—which very much emphasizes the role of star photographers (including Meisel, Peter Lindbergh, and Arthur Elgort) in the transcendence of Evangelista and her cohort (Naomi Campbell, Cindy Crawford, Christy Turlington).

As for WSJ., the Evangelista cover seems to be the last remnants of the Kristina O'Neill-Magnus Berger era. A nice way to go out.

Former print people (with long-held grudges!), here's some more kibble!…
In the department of complaints: Anna Wintour, never one to stick around a fashion show, is hightailing it from New York to London to oversee Vogue World, which takes over Drury Lane on September 14. Makes sense, but I'm told multiple brands are stressed because they felt obliged to present their collections to her early—some three or four days ahead of when their looks would typically be ready, which is not easy for people shipping samples from Italy, in particular.

Wintour is the de facto leader of the American fashion industry, and several people, who would never say it to her face, were frustrated that she's not staying for the whole of New York Fashion Week, which has struggled with an image problem for several years now. My read: Wintour is also the de facto face of the global fashion industry, and while support from her and Vogue still mean something, maybe just tell her you're not ready and you'll see her next year? I promise you, she will not be mad. But this is coming from a person who's never had to comply with fashion's arbitrary rules.

Okay, now on to some industry news…
Johann Rupert might feel lightyears behind Bernard Arnault and François-Henri Pinault in the conglomerate race, but he's still incredibly driven. So it's not entirely shocking that Richemont—which owns Cartier, Van Cleef & Arpels, as well as Alaïa and Chloé—announced yesterday that the company has hired a guy named Boet Brinkgreve to be the C.E.O. of a newly created beauty and fragrance "lab" (a.k.a. division). It's been whispered to me that the arrival of Brinkgreve—an ingredients guy from Dsm-firmenich (a feeder for more than a few Richemont execs)—came as a surprise to some of the brand-level execs. But it's not a crazy idea: There is a big opportunity in owned beauty beyond licensing deals, as evidenced by what Kering and Hermès have been up to these past few years. And having an exec dedicated to growing the overall beauty business, either through new projects or licensing, fundamentally makes sense.

Right now, many of Richemont's brands have fragrance deals, but it wouldn't be out of the question to see a Chloé or Cartier beauty line in the future. Owning it directly is more work, but potentially a bigger upside.

Rupert doesn't typically hire brand people for these roles—he's the brand person—which also explains why he didn't go for former Estée Lauder exec John Demsey or someone of that ilk. The question, as always, is: Does Richemont really have the infrastructure to develop a division like this, the way Hermès has developed beauty? All of these conglomerate guys have had the most success building on something that already has a good foundation. With Rupert, in particular, investors want him to focus on hard luxury. Brinkgreve will have to show he can add real value, and fast, to Richemont for this move to make sense.

And finally, my first dispatch from NYFW…
I didn't make it to the J.Crew 40th anniversary party on Tuesday night because of another engagement, although several people tried their darndest. "They have seating, I know how you love that," was the pitch, but in the end there just wasn't time.

I'm not a big party person, and I don't care about The Strokes, despite growing up in New York during indie sleaze. But I was a little sad not to witness campaign star Diane Keaton posing for photos in her turtleneck (super sweaty weather be damned), and former creative director Jenna Lyons dancing in her midriff with girlfriend Cass Bird. It will probably be the quote-unquote coolest party of the week—that we know about. Credit goes to C.E.O. Libby Wadle, who has put together a team (including designers Brendon Babenzien and Olympia Gayot) that has a better sense than most of how to grab the attention of coastal elites. (Who, by the way, you need to attract first in order to reach the masses—it's that trickle-down marketing effect.)

I tell you this because J.Crew isn't really a Fashion Week brand. (TPG, an investor in Puck, is also an owner of J.Crew. Jeez, I really thought my investor disclosures were done when I left BoF!) Sure, they've done various presentations over the years, but the runway is primarily for the high end of the market. And that creates a tension: Most of the interesting things happening in U.S. fashion over the past decade haven't happened at the high-end. In the 2000s, the U.S. backed a whole generation of young designers aiming to compete with the European brands—Proenza Schouler, Alexander Wang, Band of Outsiders—but as it became clear that the model was faulty, fewer labels emerged with hopes of being the next Marc Jacobs (who sold his company to LVMH in 1997 and designed Louis Vuitton's women's collection for 16 years).

Amid this dissolution of the American fashion industry as we knew it, the point of New York Fashion Week became more nebulous. "Serious" brands like The Row, Proenza Schouler, Altuzarra, and Thom Browne started showing in Paris—some stayed, others returned—and brands with a lot of money, like Ralph Lauren, started showing whenever it was clever.

This week, though, feels not like a return to form, but something a tad more modern. Peter Do, recently installed at the Fast Retailing-owned, endlessly referenced Helmut Lang, is opening. Ralph Lauren is back, showing on Friday night, and Luar (Raul Lopez), the talented upstart who takes cues from Tom Ford and Michael Kors' Celine era, will end things on Wednesday. For young designers, it's as big of a struggle as ever to get a show off the ground. Gone are the days of M.A.C. at Milk Studios, and Made Fashion Week, which eased costs and logistical challenges. Sponsorships still exist, but they aren't always as lucrative as they seem when taxes and other strings get attached.

Here's a little proof point: One producer told me that renting chairs in New York for backstage can cost $3,000 or $4,000, whereas it's more like $700 in Paris. Designers who show in Paris—the Americans this season include Vacquera, The Row, and Do, for his own collection—also get the support of Fédération de la Haute Couture et de la Mode, which is linked directly with the French government and can help organize affordable, sometimes free, venues in schoolyards and other public spaces. America's trade org, the Council of Fashion Designers of America, god bless them, does what it can to nudge New York City, but it doesn't have the power to move molehills, let alone mountains.

A few weeks back, I got a call from a publicist who was sitting with a crew of young, noteworthy designers, frustrated by the state of the schedule, the costs, etcetera. Would I want to do a story? Yes, put me in touch, I said.

I did end up talking to one designer and one producer. Who knows where the others went. (Call me!) But the gist was this: It's tough to show at New York Fashion Week if you don't have money, and there is certainly a sentiment that the CFDA and IMG, which owns NYFW and puts on a lot of the shows, could do more to foster young talent. Then again, that's capitalism.

Last night, at a dinner on the rooftop of Nine Orchard to celebrate Nikki Ogunnaike's appointment as editor in chief of Marie Claire, I looked around the room and thought, American fashion really has changed. Not only because Nikki is a young Black woman editing a magazine, or that the faces in the crowd were genuinely diverse. All of that is true. But it was also diverse in terms of who in fashion came out to support Nikki: execs and creatives from J.Crew, Hermès, Burberry, influencers, high-power publicists, indie designers. Earlier in the day, Rachel Comey showed butter-yellow denim suits and hot shorts in her signature foam jacquard, and all the big editors and journalists were there; not only because the 20-plus-year-old indie brand is worthy of coverage, but also because they wear her clothes, and sometimes it's nice to shop the show.

The point being: I don't think New York Fashion Week will ever be what it once was. Will Bode ever show here? Probably not. But there's no other place in the world where a mass brand like J.Crew would have a party and interesting people would turn up.
Victoria's Secret threw a party at the Manhattan Center last night to preview the brand's new doc, set to stream on Amazon later this month. (Just to reiterate, there is no return of the fashion show. There is a documentary that is a "reimagining" of the fashion show. We will find out more when it airs.)

The big reveal of the evening was that the wings are back. (They had been "retired" with the Angels in 2021.) The internet currently likes to post individual web pages for each celebrity look, rather than show you a gallery, so there's not one main source I can direct you to, but here is Doja Cat in a t-back. [Teen Vogue]

What Ozempic is doing to the economy of Denmark. [The Dial]

Queen Gia Kuan gets the profile treatment. [Vanity Fair]

Hodinkee cut a fifth of its workforce as demand for second-hand watches falls. [Bloomberg]

Paper magazine has new owners, and a new editor-in-chief in Justin Moran. [WWD]

Sky High Farm's workwear arm collaborated with i-D editor-in-chief Alastair McKimm, Euphoria costume designer Heidi Bivens, and Harper's Bazaar E.I.C. Samira Nasr. Nice [i-D]

Blackstock & Weber founder Chris Echevarria is now working with Sperry. Congrats! [Hypebeast]

And finally… Sending love to everyone on that crazy mass email sent out by a bot claiming to be associated with Gucci. Especially our friends in the P.R. department.
Until Monday,
Lauren
FOUR STORIES WE'RE TALKING ABOUT

Need help? Review our FAQs
page or contact
us for assistance. For brand partnerships, email ads@puck.news.
You received this email because you signed up to receive emails from Puck, or as part of your Puck account associated with . To stop receiving this newsletter and/or manage all your email preferences, click here.
Puck is published by Heat Media LLC. 227 W 17th St New York, NY 10011.