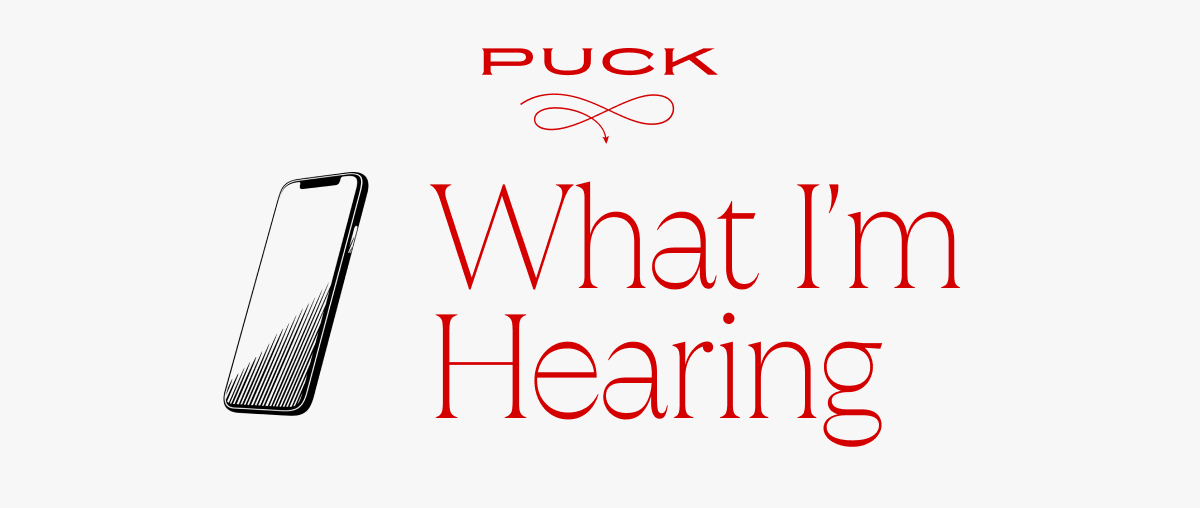 Welcome back to What I'm Hearing, with a few shorter items tonight. Before we start, Jonathan Handel sends in this labor nugget:
As SAG-AFTRA talks are continuing and ratification ballots for the WGA deal are due back tomorrow, reports of an imminent actors strike against the video game industry are premature. Despite the recent strike authorization vote, I've learned that further talks are being scheduled.
Programming note: I'm taping a live episode of The Town with Lucas Shaw on Thursday at the Bloomberg media conference. Come see us! This week, Lucas and I surveyed the post-strike landscape for writers; Taylor Lorenz explained why YouTube has failed with scripted shows; and JB Perrette revealed the path to sports on Max (more below). Subscribe here and here.

Was this email forwarded to you? Click here to become a Puck member.

Discussed in this issue: Bryan Lourd, Taylor Swift, David Zaslav, Peter Chernin, Judd Apatow, Thomas Tull, Reese Witherspoon, Steven Mnuchin, Beyoncé, David Nevins, Ron Meyer, Kevin Huvane, James Murdoch… and Drew Carey's Bob's Big Boy tab.

But first…
Who Won the Week: Adam Aron (!)
Hard to believe that AMC's "Ape" C.E.O. now has exclusive movies from Taylor Swift and Beyoncé, with Swift's Oct. 13 release tracking for a $100 million to $120 million domestic opening. This may not stave off bankruptcy, but it's a better strategy than launching a simian-themed wine.

Runner up: Thomas Tull — He's back! A big return welcome to the prickly billionaire who tortured Warner Bros. executives for 15 years, then offloaded his Legendary Pictures to the Chinese for...
Can't see the full story?

You're receiving the free version of What I'm Hearing at . For full access to Puck, and to each of my colleagues, you can
subscribe here.
FOUR STORIES WE'RE TALKING ABOUT

Need help? Review our FAQs
page or contact
us for assistance. For brand partnerships, email ads@puck.news.
You received this email because you signed up to receive emails from Puck, or as part of your Puck account associated with . To stop receiving this newsletter and/or manage all your email preferences, click here.
Puck is published by Heat Media LLC. 227 W 17th St New York, NY 10011.