Discussed in this issue: Ken Auletta, the Weinsteins, Modi Wiczyk, Harrison Ford, Adam Stotsky, Ken Sunshine, Amber Heard, Jeffrey Katzenberg, Barbara Schneeweiss, Roman Abramovich, and a guy who's NOT running for president.
But first…
Who Won the Week: The Duffers
Long overdue: The Stranger Things Season 4 numbers are insane: the show now holds three of Nielsen's top five streaming weeks ever, and the creators just announced a spinoff series and stage play.

And a bit of awards show news…
Todd Boehly's Latest Golden Globes Move
There's been another turn in the saga of the Golden Globes. The show's longtime producer, Dick Clark Productions (renamed MRC Live & Alternative just 10 months ago), is being sold by its current owner, the film and television producer MRC, I'm told. And the buyer is Eldridge, the prolific holding company of Todd Boehly, who is a big investor in MRC and happens to be the interim C.E.O. of the Hollywood Foreign Press Association, which hands out the Globes. A term sheet is signed, so it's close to a done deal. MRC and Eldridge declined to comment.

This is interesting for a couple reasons: First, MRC's offloading of the former Dick Clark assets, following its 2020 spinoff of The Hollywood Reporter and Billboard into a joint venture operated by Penske Media, effectively unwinds the 2018 creation of Valence Media, a roll-up of Boehly's media assets (minus A24) under Modi Wiczyk and Asif Satchu, who later branded it all MRC. (Disclosure: I worked at Hollywood Reporter until 2020.) Putting awards shows and New Year's Rockin' Eve together with publishing brands and a film and scripted TV company didn't work, according to insiders, especially with an expensive layer of management on top of it all.

Before forming Valence, Boehly got China's Wanda Group to agree to spend $1 billion on DCP in 2017, but the company later walked away from the deal. Given the recent decline in awards show viewership, DCP likely is not worth anywhere near that number (if it ever was), but Boehly apparently believes it's more valuable without the rest of MRC tacked on. Eldridge is still an investor in MRC, I'm told, but Boehly will be reducing his stake.

Second, this adds another wrinkle to the ongoing Globes saga as NBC debates whether to bring the show back amid the publicist-led boycott. The show's producer will now be firmly under the control of the H.F.P.A.'s leader, who is seeking to remake the organization, although Boehly is hoping to exit that post before the end of the year. He's currently spending a lot of time on Chelsea FC, the Premier League soccer team he bought in May from sanctioned billionaire Roman Abramovich. And Adam Stotsky, the former E! executive brought on last year to run the Dick Clark assets for MRC, is expected to stay on. Of course, it would make sense for Stotsky's first move to be restoring the Dick Clark name.
"Ummm… No thank you."
–Jon Stewart, on Twitter, apparently responding to a Politico column asserting that he's "exactly the person the Democrats need" to run for president in 2024.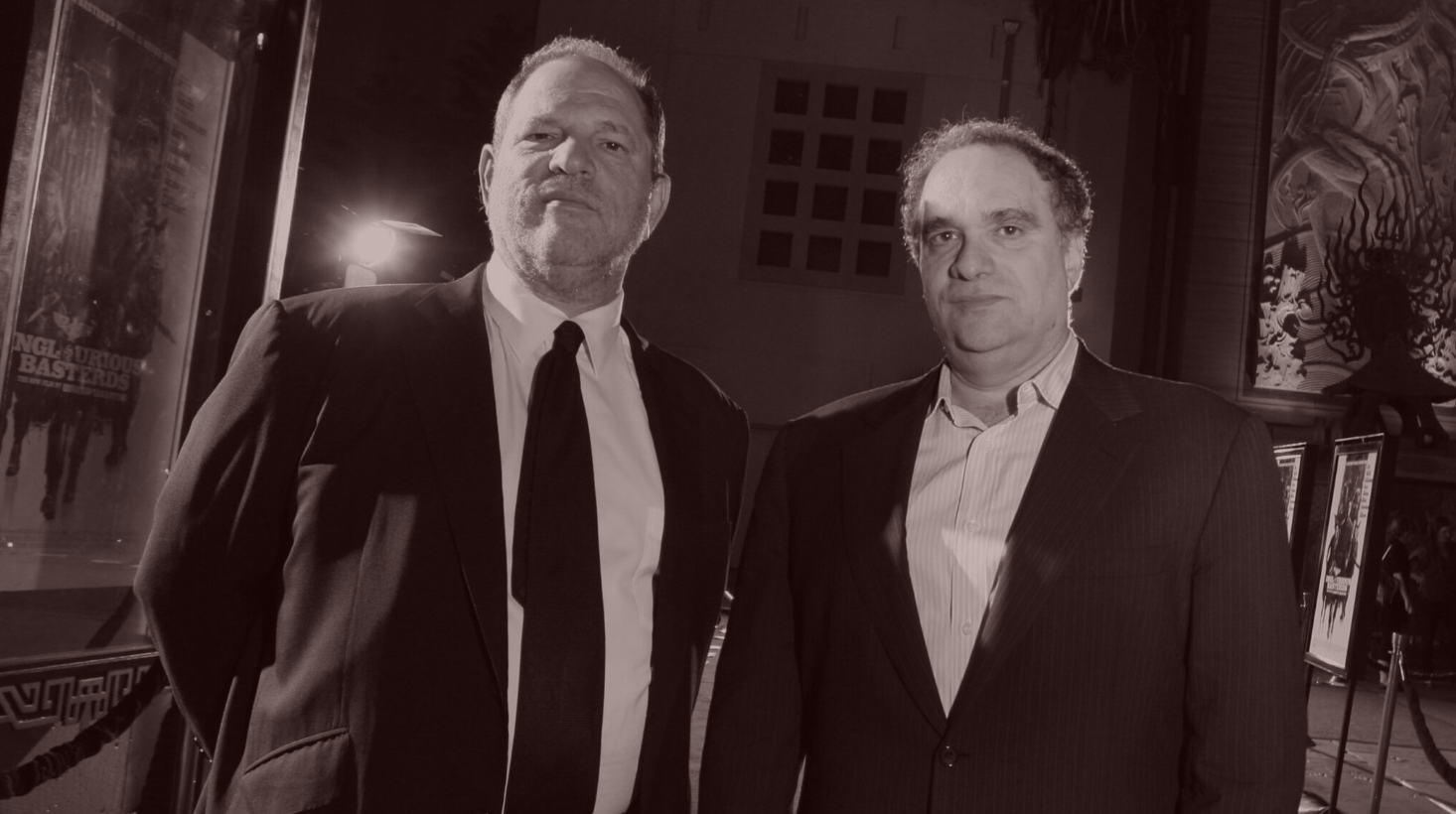 Harvey's Biographer Tells All
In advance of his new book, Ken Auletta discusses Weinstein's origins and depravity, whether he got a fair trial, who enabled what behavior, and how the convicted mogul/rapist changed Hollywood forever.
The moment I heard that Ken Auletta was attending every day of the Harvey Weinstein rape trial for a book on the mogul, I started looking forward to Hollywood Ending: Harvey Weinstein and the Culture of Silence (out July 12). Ken, the longtime New Yorker writer, conducted several hundred interviews, including dozens of chats with Bob Weinstein, former Miramax and Weinstein Co. employees, and longtime advisors, like Joe Ravitch, Bert Fields and David Boies. And he exchanged emails with Harvey himself from prison. The result is the opposite of She Said or Catch and Kill, which both read like detective stories. Auletta tells the Harvey story from the inside, naming names of the enablers, and revealing Hollywood's "architecture of collusion" along the way. I interviewed Ken and followed up with a couple emails; an edited version of our conversation is below.
Matt Belloni: You wrote a famous profile of Harvey for The New Yorker in 2002 that exposed a lot of abusive behavior but didn't go into sexual depravity. I know when I saw the initial Times story in 2017, I felt guilt at not having exposed Weinstein earlier. Did you write this book in part because you also weren't able to expose him previously?
Ken Auletta: Yes. But guilt is not the overwhelming emotion I felt. In 2002… the women wouldn't talk to me, so how do you publish it? It's the same problem you had at Hollywood Reporter. When the Times stories came out [in 2017], and the Ronan Farrow stories, my overwhelming emotion was pleasure. It was applause.
You sat through every moment of Harvey's trial and appeal, and you described in detail some of the more controversial moments, like the witnesses allowed to testify, and juror No. 11, who was challenged and remained. Do you think Harvey got a fair trial?
I thought Weinstein had a strong appeal, particularly after I watched the five female justices aggressively question the prosecutor at the hearing. Judge Burke did make some decisions that were questionable: His 23-year sentence was much sterner than sentences he handed out in previous rape cases; his decision to allow juror No. 11, and not further probe the book she was soon to publish, and his decision to allow three Molineux witnesses were controversial.
Given what we saw in both Bill Cosby trials and the decision by Weinstein's judge to allow other women to talk about the pattern of behavior, that seems to be the most effective strategy in getting juries to convict these #MeToo offenders. Do you agree?
Yes and no. The Harvey appeal was based on the fact that Molineux witnesses should not be allowed because they were not part of the indictment. But I would argue that the most powerful thing to convict Harvey was that the prosecution explained to the jury [why] the women who were abused by Harvey nevertheless kept in touch with him—and, in some cases, continued to have sexual relationships with him. The prosecution very successfully overcame that obstacle.
A lot of the book is about who knew what, and when, and who should have known, and who had documents in front of them that showed what was going on. I know a lot of these people, and I winced when reading some of this stuff.
I tell this story about a woman who was hired by Harvey. She left an agent position on the west coast to come to work at Miramax, and the day before she's to start, four coworkers ask her to have a drink. Over drinks, they say to her, "Hillary, don't come to work here." And she said "Why?" They said, "'Cause you're an attractive woman. Harvey will abuse you sexually. He will assault you. Don't come to work here." And she didn't. But these were four people; one worked in H.R.; one was a Harvey assistant; two were executives in the company. If they knew, how many other people who worked for Harvey knew?
That gets to the Bob question. I actually did the first interview with Bob right after Harvey was exposed, and he was crying, very emotional. Everyone asked me afterward whether I believed him when he said he didn't know the extent of Harvey's behavior. I remember saying that I believed he believed he didn't know, but that the evidence was so overwhelming that he almost certainly should have known, if he didn't explicitly. Now, you reveal further evidence that Bob either did know, or he 100 percent should have.
Well, Bob claims he didn't know, and I have no reason to challenge him. But clearly he should have known. Go back to 1998, when Rowena Chiu and Zelda Perkins first challenged Harvey for sexual misbehavior. They later signed an NDA, but Harvey had to pay them almost $500,000 to silence them. As I'm doing the piece for the New Yorker, I'm saying, if I could find out that Miramax or Disney paid the almost $500,000, then I can get the story without the women's testimony.
Harvey asked for a summit meeting with me and David Remnick, the editor of the New Yorker. I say, "Harvey, I need to see the canceled checks for how this almost $500,000 was paid." The next day, he came back to the same meeting room at Condé Nast with Bob. And they slid across the table two canceled checks from Bob. Personal checks. And I asked Bob, "Why did you pay the money to silence these women?" And he said, "Because Harvey came to me and said, 'These women were blackmailing me. And they would ruin my marriage and my three young girls, and I believed him.'"
And Harvey later tried to go around Bob and get him ousted from the company!
I have the tape of that June 2, 2015, conference call with members of the board, where Harvey literally is screaming at them. "Get rid of my brother Bob! You gotta fire him! He's responsible for the losses we face!" Actually, Harvey was responsible for those losses, but it's one of the most extraordinary things I've ever heard.
I've been getting texts from people asking, "Hey, am I in the Ken Auletta book?" The stink of Harvey Weinstein is still pretty prevalent. And reading the book, you see people's real role in all this. Steve Hutensky, Meryl Poster, Barbara Schneeweiss, many more. Ken Sunshine, the publicist, is a perfect example. I didn't know that Ken was so active in sliming the Italian model in the press.
There's a lot of people like Ken Sunshine, who, interestingly, I've known for years, but he refused to do an interview with me. He said he would, but then he ducked my phone calls and emails. So I look forward to the time when I run into him on the street, and he will say, "You were unfair to me," and I'll say, "Oh, up yours, buddy."
How close do you think The Weinstein Co. secretly got to bankruptcy before it was saved by Inglourious Basterds in 2009?
Basterds was really important, as was The Crying Game [for Miramax in 1992]. Before he sold to Disney in '93, Miramax was in real trouble. Crying Game was a great success in terms of the business, but also in recruiting two bidders for Miramax: Disney, which succeeded, and Ted Turner.
I learned a lot in the book about that uncomfortable Disney marriage.
Michael Eisner couldn't stand Harvey, nor could Peter Murphy, his chief strategist. They wanted to get rid of him and attack him. But they kept their mouths shut because they knew that Harvey had the press on his side. And they worried, is there a company if there's no Harvey?
How much do you think Disney knew about Harvey's personal behavior? That's always been an open question.
I pressed them on that, and they said they knew nothing about it. And in fact, a senior Disney executive told me that he had them go through everything and ask: Is there something we missed here? And he came back at me and said, we missed nothing.
Is that true? I'm telling you what they say. I can't prove them [wrong]. But I can assert that they should have known. A lot of people should have known. It was so blatant.
People were joking about it on stage at the Oscars!
That's right.
Back in the '90s, when Perkins and Chiu first made accusations, Harvey said something scary and fascinating: "I sometimes don't know when it's consensual." Do you believe that he believes this?
You're asking an incredibly important and mysterious question here. I can't climb into his mind and I don't wanna play psychobabble on a question like that. One, it is very possible that Harvey thought it was a fair trade. The women wanted something from me and I wanted something from them, it was just a transaction. It is also possible that he's in total denial, that this never happened. It's also possible, which I actually do think is true, that he is a sociopath.
There are three key ingredients: One is lack of guilt. I don't think Harvey had any guilt. Two is lack of empathy, and Harvey had no empathy for the women he was dealing with. And the third is you're a narcissist, and Harvey clearly was a narcissist. Now, you can have those three ingredients and not be a sociopath. But if you have those and you abuse more than 100 women, ipso facto, I think you are a sociopath.
Harvey's 70 years old. His appeal failed. He's got another looming trial in L.A. Do you believe that he will spend the rest of his life in prison?
I believe that. His lawyers said they don't believe Harvey would live out a long sentence. He's in terrible physical shape. He has stenosis, which is why he is in a wheelchair. He takes shots in his eyes for macular degeneration. He has high cholesterol, a stent in his heart. He has severe diabetes. He takes 20 pills a day. I always sat in the fourth row on the aisle seat, so I could always have a clear line at Harvey throughout the trial. He's in miserable shape. He would fall asleep in the trial. His face is all scarred and lined, and scraggly beard, and collar rolled up. He's not Hollywood Harvey.
Bonus: 13 Crazy Tidbits From Hollywood Ending
1. Harvey was fired from his college newspaper for receiving under-the-table payments in exchange for writing glowing restaurant reviews.

2. The Weinstein Co. had a script for assistants if Harvey's wife Georgina Chapman called: "Be sensitive (How are you? Anything urgent? Can I tell him you called?) but be a gatekeeper (He's in a meeting)".

3. At lunch at the Lambs Club with Ben Branfman, his polished criminal lawyer, Harvey attacked his hamburger and fries so violently, a ketchup-slathered fry fell inside his open dress shirt, creating what looked like bloodstains. "Harvey, you're ruining your shirt," Branfman said.

4. After Saving Private Ryan lost the best picture Oscar to Shakespeare in Love, Steven Spielberg left the Governors Ball the moment he heard Harvey was headed over to say hello.

5. John Connelly, the Premiere writer who first learned that Harvey had raped a former assistant at the Venice Film Festival, got a $500,000 deal with Miramax's Talk Books for a book about Bill Clinton that never happened.

6. Between 1993 and 2003, the Weinstein brothers received total Miramax compensation of $297 million, including the purchase price, according to internal Disney docs.

7. Producer Scott Rudin sent Harvey 27 cartons of cigarettes as a gift because the making of The Hours was so horrible.

8. Martin Scorsese had mirrors installed on his video monitors so he could see Harvey coming up during the problematic shoot of Gangs of New York.

9. Harvey passed on buying Marvel Entertainment when it was available for peanuts. "He said 'Marvel's a flash in the pan,'" according to banker Joe Ravitch.

10. Between 2010 and 2017, The Weinstein Co. spent $200,000 on suites at the Greenwich Hotel.

11. There were two funerals for the Weinsteins' mother, Miriam: one for family and one for celebrities. "It was super weird," remembered Meryl Poster.

12. When the Weinstein Co. went bankrupt in 2017, David Boies' and Bert Fields' law firms were both owed about $10 million.

13. Disney insurance was actually paying for Harvey's defense in the 2020 rape trial because the claims dated back to 2004. But when Lucia Evans was dropped as an accuser from the case—at the request of Harvey's own lawyers—the insurance was cut off. "A storm of curses spat from Harvey's mouth when he learned," Auletta writes.
Thor 4 did totally fine this weekend, with $143 domestic ($302 million worldwide), beating Thor 3—though that's below the $150 million tracking, so I correctly took the under. [Forbes]

Alex Sherman breaks down Disney's Hulu limbo, including the fact that non-Disney children's programming lives on Hulu, not Disney+ (as if any consumer can tell the difference). [CNBC]

What does the Angelina Jolie–Brad Pitt divorce have to do with Vladimir Putin? Eriq Gardner helpfully connects the dots. [Puck]

Jeffrey Katzenberg explains why he's giving money to Liz Cheney and promoting her to "anybody and everybody that will listen to me, with any party affiliation." [NY Times]

As I reported a few months ago, Amber Heard had litigation insurance with New York Marine and Travelers, the former of which is now suing her over the verdict, claiming her "willful" act of defaming Johnny Depp negates coverage. [LA Times]

Peter Chernin raising $800 million from Providence and Apollo is either the last gasp of Hollywood's free-money days or a sign that, even heading into a recession, there's money for companies with solid track records. [Bloomberg]

Remember when Netflix was growing so fast it wanted to buy the Paramount lot? Now it's putting space in Burbank up for sub-lease. [Real Deal]
In response to Monday's estimate of Tom Cruise's backend payday for Top Gun: Maverick, I got an interesting alternate analysis from a top executive, who has modeled similar movies. He thinks Cruise's cut could sail into the nine-digits. Check it out:
For my Top Gun: Maverick projections, I used a gross budget of $185 million, less $35 million for soft money, for a net budget of $150 million, which seems reasonable. I also went with $75 million domestic marketing, and $65 million international marketing. No idea how real either of those numbers are, but they're in line with what we've seen for studio movies with production budgets in this range.
Obviously, Cruise's backend take will totally depend on his profit definition and position in the "waterfall" (two slightly different ideas). If you assume he has an old-timey "first-dollar gross" definition and it's essentially the same calculation and position as, say, a studio's distribution fee, then at 10 percent he's already approaching $120 million in projected profit participation. If the film ends up at $1.3 billion, split 50/50 domestic/international, this definition will end up at $140 million, even with zero from China.
However, if instead of the above first-dollar gross definition Cruise has something closer to Skydance's co-financier definition, where Paramount gets to recoup its marketing and releasing costs off the top, then the numbers are very different—even if Paramount doesn't take a distribution fee ahead of Cruise's calculation. Our model in that case pencils out to $74 million so far for Cruise, and the $1.3 billion assumption, above, nets out to $87 million for him.
I'm always somewhat shocked at the impact marketing spend and where you sit in the waterfall has on profitability. In this Cruise example, it's a difference of roughly $50 million ($140 million vs about $90 million). And that's the difference between two AWESOME definitions; imagine how little Jennifer Connelly's net position (I'm assuming) would generate.
Separately, I bet Skydance's financier position sits behind not only the studio's marketing, but also a reasonable distribution fee. If David Ellison is in for 25 percent of the net budget, and Paramount's distribution fee is 10 percent, his $37.5 million investment has already yielded $155 million, for a return of over 300 percent. And if it gets to $1.3 billion per the above, he's looking at a $182 million return (recoupment plus $145 million), for an ROI of over 385 percent. And that doesn't include Skydance's producing fees and backend as a company. Not too shabby.
Back to Cruise: All things considered, I think the $80 million to $90 million range your sources suggested is way low. Assuming the relatively low up-front fee you've cited is correct, and given how integral he is to the movie, I bet his backend position and definition is extraordinarily generous by post-Great Recession standards. (CAA had enough leverage to get him approval over the release pattern in the first place; we can assume they used it to maximize his compensation as well.) If that's true, he's almost certainly going to end up considerably north of $125 million, and has a good shot at clearing $150 million.
And if that's true…wouldn't that make him the highest paid actor on a single film in the history of the movie business? The giant action stars (including Cruise himself) who used to get $20 million against 20 percent of first dollar gross might have had a bigger cut of their movies, but none of those grossed anywhere near $1 billion. On this list of all-time top grossing movies, the only actors I can think of who might have had such a rich backend on a single film are Johnny Depp on Pirates 4 and 5 and Harrison Ford on the most recent Indiana Jones movie. Think I'm missing someone?
Have a great week,
Matt

Got a question, comment, complaint, or want me to read your new book? Email me at Matt@puck.news or call/text me at 310-804-3198.
FOUR STORIES WE'RE TALKING ABOUT
The Musk Reckoning
Now that Elon's walked from the Twitter deal, Wall Street is calculcating the collateral damage.
WILLIAM D. COHAN

WaPo's Next Chapter
What does Shipley's anointment tell us about The Post's future?
TARA PALMERI

The Thomas Hivemind
Are Ginni Thomas' Facebook posts telegraphing her husband's internal monologue?
TINA NGUYEN
You received this message because you signed up to receive emails from Puck

Was this email forwarded to you?

Sign up for Puck here

Interested in exploring our newsletter offerings?

Manage your preferences

Puck is published by Heat Media LLC

64 Bank Street

New York, NY 10014

For support, just reply to this e-mail

For brand partnerships, email ads@puck.news