Welcome back to What I'm Hearing, coming at you from hot and humid L.A. We've reached the point of this strike-addled August where actors and writers are praying for early-morning picket duty, and the moguls are praying their friends and relatives don't post pictures on their yachts.
Today it's a notebook dump, all-Thursday Thoughts edition of WIH. As always, if you've been forwarded this email, become a Puck member here.
Let's begin…
A MESSAGE FROM OUR SPONSOR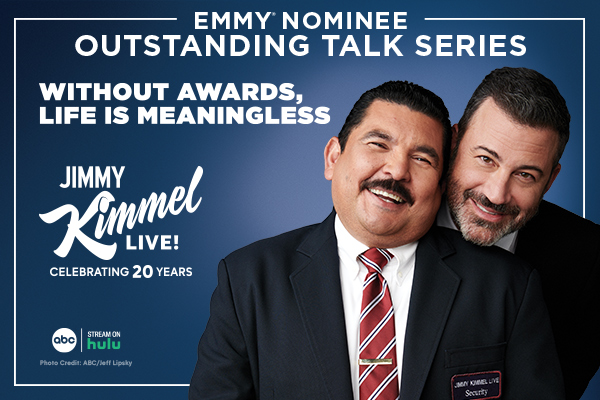 Jimmy Kimmel Live!" is America's longest running late night talk show host and is now celebrating 20 hilarious years on ABC. The series is Emmy nominated for Outstanding Talk Series, and episodes are available to stream on Hulu. Visit ABC.com for more information.
3 big questions for the Writers Guild meeting: I'm told the AMPTP is planning to put a revised offer/response to the WGA proposals on the table at tomorrow's official sit-down with guild leadership. (The AMPTP declined to comment.) That leads to 3 major questions (with a hat tip to Puck contributor Jonathan Handel):
Will the studio proposal address mini-rooms, a success-based metric for streaming residuals, and A.I.? Those have emerged as the Big 3 wedge issues, and the WGA leadership has said they won't do a deal unless each is addressed. I'm told this new proposal will be different from what's been discussed previously, but how different?
Will the WGA continue to push new demands? Studio-side negotiators felt like the guild was moving the goalposts in last Friday's meeting-before-the-meeting, making new health insurance asks and...
Can't see the full story?

You're receiving the free version of What I'm Hearing at . For full access to Puck, and to each of my colleagues, you can
subscribe here.
FOUR STORIES WE'RE TALKING ABOUT
Larry's Largesse
Inspecting an eight-figure anti-Trump infusion.
TEDDY SCHLEIFER

Need help? Review our FAQs
page or contact
us for assistance. For brand partnerships, email ads@puck.news.
You received this email because you signed up to receive emails from Puck, or as part of your Puck account associated with . To stop receiving this newsletter and/or manage all your email preferences, click here.
Puck is published by Heat Media LLC. 227 W 17th St New York, NY 10011.