Happy Memorial Day, and welcome back to the short work week.
We've got a packed issue today, with a few contributor treats and updates on stories we've been following. Let's dive in…
Discussed in this issue: Shari Redstone, Ted Sarandos, Jesse Armstrong, the Duffers, Barry Diller, Tom Quinn, Maureen Dowd, Amber Heard, David Ellison, Harvey Weinstein, Weird Al, and the worst Succession episode.
But first…
Who Won the Week (Top Gun Edition)
Tom Cruise is too obvious, we covered producer David Ellison's coming windfall on Thursday, and Jerry Bruckheimer, at 78, is probably not going to be as active on the inevitable Top Gun Cinematic Universe, so let's go with a more behind-the-scenes player: Marc Weinstock, Paramount's head of worldwide marketing and distribution, for what the film veterans I surveyed called an especially excellent marketing campaign. (He and the P.R. team should win the week just for preventing Cruise from fielding any Scientology or Suri questions on his global tour.) It's pretty nuts that a movie can open this big:

$156 million domestic (4 day)
$126 million international (3 day)

With these domestic demos…

55 percent over age 35
38 percent over 45
18 percent over 55

Runners up: Ruben Östlund, the Swedish director who, with the social satire Triangle of Sadness, has now won two Palme d'Ors at Cannes in five years, and Tom Quinn, whose Neon has held U.S. rights to the past three Cannes winners (last year's Titane and 2019's Parasite). Quinn told me yesterday he never attends the awards ceremony: "Why break a tradition. It works."

Second runners up: Kate Bush and Weird Al Yankovic, for earning the coveted Stranger Things endorsement in the new season.
"I hope so. I mean, I think so."
-Ted Sarandos, the Netflix co-C.E.O., when asked by Maureen Dowd whether, given the company's stock dive, he should survive its infamous "Keeper Test" and remain in his job.

A little more on that Sarandos piece…
SPONSORED BY SHOWTIME

In the weeks since the Great Netflix Correction, Ted Sarandos has taken it on the chin from the business media that fawned over Netflix for a decade. Still, it's a bit surprising that he so quickly ran to Maureen Dowd for his more than 4,500 word quasi-mea culpa. Maybe it helped? I surveyed a bunch of savvy media experts and got wildly different responses.

"Smart choice," one veteran texted me. "Better for him to be on his front foot," said another. "Was time to stop taking shit," said yet another. "He covers a lot of territory here," one said, meaning that when Ted is asked in the months ahead about Dave Chappelle or the advertising pivot or even the fate of lieutenants Scott Stuber and Bela Bajaria, he can now point to this piece, which sort of backs them ("I would say we are always reaching for the highest performance," co-C.E.O. ReedHastings says, "but our content is not why the current slowdown is happening") while leaving room for personnel changes if needed.

But I keep thinking about the transparent strategy at play here, and the sentiment from other savvy observers was that this was all a bit much, and way too soon, especially during what should be a heads-down, focus-on-the-content moment for an embattled company. And the fact that Sarandos is even discussing in The New York Times whether he can pass his own ridiculous "Keeper Test" is already a loss. This piece, to me, is a fascinating window on the Netflix psyche: An overcompensation by innovative executives that are not used to bad press, care very deeply about their positioning among peers (and the elites that read the Times), and seem to be relying on a crisis P.R. handbook:

1. Place this with Dowd, a respected Pulitzer-winner at the Paper of Record, but an industry outsider, writing not for the news or business sections but for the humanizing Sunday Styles, who will ask good questions yet won't quote Netflix's more fiery critics or push Ted on the tougher issues.

2. Recruit five separate Netflix talents to say nice things. Jason Bateman, Guillermo Del Toro, Maggie Gyllenhaal, Jerry SeinfeldandShonda Rhimes? Good lord.

3. Preach humility and contrition, but stay the course and do not apologize for the spending strategy or the company's 70 percent market cap contraction. Instead, position Netflix as a victim of its own disruption and huge growth: "We could have been much more questioning of the success and saying, 'Are you sure?'"

4. Make sure there's the usual Barry Diller quote trashing legacy studios and elevating Netflix and Sarandos as the second coming: "If there is still a Hollywood, he is it."

5. Double-down on defending the anti-trans jokes from Dave Chappelle and now Ricky Gervais, weaving it into a larger message about your commitment to free speech and progressive politics amid the narrative that Netflix is now "anti-woke": "It used to be a very liberal issue, so it's an interesting time that we live in."

6. Most important, include as strong an endorsement as possible from the company's founder, without telegraphing to shareholders that changes won't be made if they demand them. Cue Hastings: "Ted has passed the Keeper Tests for the last 22 years." The big picture, he said, is that Netflix "is continuing to have some of the most popular shows in America and around the world. We can always pick it up and, you know, we want to do that."

Because I was curious, I asked media analyst Michael Nathanson, a Netflix bear, what he would have liked to ask Sarandos in that interview. His response: "I'd ask him why do they think their movie strategy is a good use of capital? I'd ask them if making all titles available to binge makes sense? Or will that change? Are they fighting in too many countries? What is happening with their library content, how is that spending over the years working out in terms of repeat viewing?"

Now on to an update on a truly bizarre story…
Harvey's 'Autobiography' Is Actually Super-Creepy Fanfiction
On Thursday, I noted the odd appearance of a Harvey Weinstein "autobiography" for sale on Amazon and questioned whether it might be a parody. Turns out, it's way worse. I ordered the 203-page Harvey Weinstein: My Story and skimmed it this weekend, and I'm sorry to report, it's basically serial rapist fanfiction that likely has no connection to the actual Weinstein.

I don't want to get too into the details, but after a graphic recounting of his first sexual encounter as a pre-teen, with a "cat lady" neighbor named Mabel, the book is basically a raunchy defense of Harvey's behavior and one demeaning celebrity "conquest" after another, like the old Penthouse letters but with Weinstein as the cocky narrator. Cate Blanchett, Madonna, Kate Beckinsale, JuliannaMargulies, Lupita Nyong'o, Brit Marling, Sophie Dix, and many more actresses, all subjected to anecdotes told in the kind of graphic detail that should make their defamation lawyers salivate.

Who would publish this and why? That would be Dennis Sobin, who says his Prisons Foundation is behind more than 1,000 tomes by convicted criminals. Sobin claims in the introduction that the Weinstein manuscript came from two inmates at the Twin Towers facility in California where Weinstein is being held. They claimed they had befriended Harvey in prison and "Weinstein had related his story to them over a period of several months." Okay…

Harvey's team disputed that, of course, and they got the book taken off Amazon this weekend. Alan Jackson, one of his lawyers, told me today it's "a cheap, salacious, and fabricated work of fiction." Will Harvey sue? "Mr. Weinstein is currently considering all his legal options, which will be swift and pointed," Jackson told me.

Sobin is defiant. He told me in an email that he stands by the authenticity of the manuscript, though he won't vouch for the truth of the statements in it. "Amazon considers Harvey Weinstein's life to be pornographic and it will not allow us to offer his book on Amazon," he emailed me. "Therefore, thanks to the generosity of Prison Foundation donors, we are offering the book without charge on our website."

I won't link to the site, but I'm pretty sure lawyers for Weinstein and the dozens of actresses can find it pretty easily.
ADVERTISEMENT
SHOWTIME® presents YELLOWJACKETS, starring Melanie Lynskey (2022 Critics Choice Award winner for her role as Shauna), Tawny Cypress, Christina Ricci and Juliette Lewis. In this drama series, which The Hollywood Reporter calls "Easily the best from an entire year in television", wildly talented high school girls' soccer players descend into savage clans after their plane crashes in the remote northern wilderness. Twenty-five years later, they discover that what began in the wild is far from over.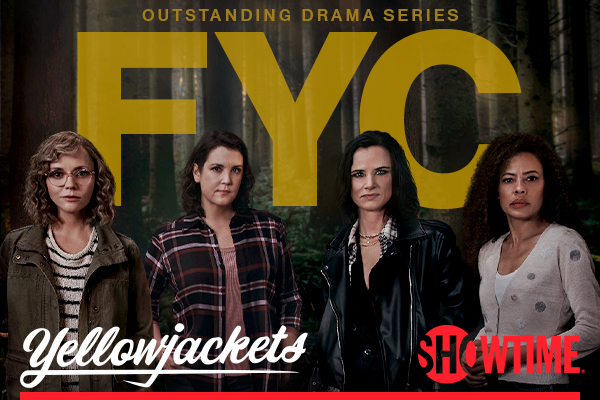 YELLOWJACKETS is now streaming on SHOWTIME

Today, as Netflix's biggest show returns for the first half of its fourth season, Puck contributor and data analyst Julia Alexander goes inside the numbers (with charts!) and asks…
Can Stranger Things Save Netflix From Its New Self?
Netflix is experiencing something of an identity crisis. Once the undisputed leader in streaming video, the company is now facing the prospect of slowing growth, heightened competition, high debt, a low hit rate, and a dreary narrative both in Hollywood and on Wall Street. Competitors are offering more premium content and cheaper plans. Meanwhile, subscribers are looking to trim their monthly budgets as the economy slows and prices rise. Not for nothing has Netflix's stock price plummeted more than 70 percent since last fall.

Look, people have written a lot about Netflix lately—its future, its mistakes, and where it can cut costs. I recently learned, for instance, that Netflix has a shuttle plane to ship employees back and forth between Los Angeles and Los Gatos. Is that a bit grand in the Zoom era? But I'm not going to get into all that. Instead, I want to discuss the impact of one show: Stranger Things.
The Depp-Heard trial is now with the jury, so my colleague Eriq Gardner, who has been following this dispute for years now, is breaking down the possible outcomes. He's also got an update coming on the fight between Kevin Spacey and a Variety reporter that I detailed a few months ago. If you're not signed up for his newsletter, The Rainmaker, you should be! [Puck]

Paramount used the Top Gun: Maverick opening to try to reverse the perception that the company is desperate to be acquired, putting owner Shari Redstone and C.E.O. Bob Bakish on the phone with Ben Mullin for a story about the wisdom of "going it alone." [NYT]

Speaking of victory laps, TGM producer David Ellison talks to Kara Swisher about his missteps around the hiring of Disney's John Lasseter and how his politics differ from dad Larry (who isn't an election denier, David insists), and Lucas Shaw about the future of Skydance. [Sway] [Bloomberg]

More Maverick: Tencent lost out on a windfall by giving up its 12.5 percent stake in the movie amid concerns that the Chinese government wouldn't like the pro-America message. [WSJ]

More more Maverick: A look at how the Pentagon and CIA have influenced more than 2,500 films and TV episodes. And how they keep the changes secret. [LA Times]

Shocker: Live Nation sucked away government relief aid meant for small venue owners. [WaPo]

Silver Lake's Egon Durban won't be kicked off the Twitter board despite shareholders wanting him out because he's on six other boards. He says he'll reduce that by one, but I'm betting BFF Ari Emanuel won't let him bail on Endeavor. [CNBC]

Speaking of Ari, pick your roundup of his St. Tropez wedding photos. Larry David officiated, of course, and attendees included former Endeavor board member Elon Musk, treasured clients Mark Wahlberg, Tyler Perry, Duffy, and Emily Ratajkowski (well, her husband is a client), and David Zaslav, dressed in black for some reason. Looks like a nice event, and good for them, so I don't agree with music analyst Bob Lefsetz, who is not a fan of the spectacle. [TMZ, People, Page Six, Lefsetz Letter]

I've got a holiday treat today. In advance of Emmy voting in June, we're going deep on one of the frontrunners with James Andrew Miller. As you probably know, Jim wrote Tinderbox, the great HBO book, and is, like me, a big fan of Succession. Here's the first half of his dissection, and I'll run the second part on Thursday…
The Insider's Definitive Hierarchy of Succession Episodes
Memorial Day weekend is traditionally a time for television academy voters to take serious note of candidates for the Emmy ballots they'll be returning in mid-to-late June, and the contest has grown more complicated as the number of shows and networks multiplies. But it's more than safe to say that after a Covid break, Succession will be back in contention this year and is arguably HBO's best chance for a best drama series statue.

More than 15 years ago, after HBO wrestled the "prestige drama" banner away from the broadcast networks—a feat brought off with such wonders as The Sopranos, Six Feet Under, and The Wire—expectations of infallibility became downright problematic. Sure, there would be more hits, like Big Love, Boardwalk Empire, True Blood, Deadwood, Westworld, and the mightiest of them all, Game of Thrones, but that left precious margin for error—as witnessed with the likes of John from Cincinnati, Luck, Vinyl, and numerous others. HBO covets celebrated dramas not only for the luster that accrues around its brand, but also the very survival of its pipeline. As Game of Thrones began rounding third, HBO made discovering its next breakout hour the network's top programming priority.

Mission accomplished. After three noisy seasons, Succession has proved itself an awards juggernaut and a glittering crowd-pleaser (if not a ratings powerhouse), reflecting its wide and deep excellence in writing, directing, music, casting, and editing—even if some wardrobe choices amount to a parade of horribles. (Hey, you can't have everything.)

Succession creator Jesse Armstrong and his multinational, genre-diverse writers' room won the drama series Emmy in 2020, defeating impressive nominees like The Crown, The Handmaid's Tale, Killing Eve, Better Call Saul, The Mandalorian, Ozark, and Stranger Things. In doing so, they managed not only to avoid the dreaded sophomore slump with a season ripe with mighty storylines, stellar dialogue, and resonant performances, but become the first show in 22 years to win its first best drama statuette in its second go-round. Succession's third tour of duty, which aired last fall, met resistance from some viewers who didn't believe it measured up to the innovation of the first two. Nevertheless, the show demonstrated sufficient strength to be a serious contender this year, if not the inescapable favorite.

As we know, no TV series is perfect; character inconsistencies, stunts that compromise quality, inaccuracies, or attempts at humor for humor's sake can tarnish a show's gleam. But of the 29 Succession episodes aired thus far, a big batch deserve ratings of "Grade-A"—an enviable ratio that complicates the task of ranking them. With that in mind, let's climb aboard the fun-ride inherent in a no-win situation and rank these babies. Episodes 29 through 16 are below, and the top 15 will run in this space on Thursday…

29. "The Disruption" (Season 3, Episode 3)

Where Kendall gets publicly drubbed by both Shiv and a late-night comedy host, and the F.B.I. raids Waystar.

Warning: Succession will sometimes mute personal growth and twist Kendall's (Jeremy Strong), Shiv's (Sarah Snook), and even Roman's (Kiernan Culkin) core competencies to suit narrative aims. Exhibit A: Stewy (Arian Moayed) and Sandy (Larry Pine) were often in the driver's seat for Kendall's season-one betrayals of his father, Logan (Brian Cox), but at the end of season two, Kendall's astounding power play—pinning the cruise scandal directly on Logan at a press conference—was a truly impressive solo act. Kendall was smart, mature, media-savvy, and looked like a leader. And let's not forget the "D.C. episode," where Kendall hit the delete key on Senator Eavis (Eric Bogosian) with extreme prejudice, something no one else, including Logan, managed to do.

Which raises the question: What on earth happened to Kendall Roy between seasons two and three? Why the retrograde motion? In this episode, the series' weakest, he's shriveled into a singular embarrassment, replete with good-tweet-bad-tweet partying, offering himself not to CNBC but a lowbrow comedy show, and returning to Waystar's offices with little game plan.Kendall's battles with his family—and certainly with Logan—would be far more prodigious if we saw him operating at his best rather than his lamest.

28. "Mass in Time of War" (Season 3, Episode 2)

Where Shiv is offered the Waystar presidency and Kendall works with his new legal team.
It's all about Tom Cruise and Top Gun: Maverick today, in response to my Thursday column on the financials behind the movie. Some examples…
"In revealing Cruise's compensation package and the 'rarity' of his gross participation, you seem to be suggesting that he is not worth it. Obviously, he is. Paramount should be paying him 20 against 20." –An executive
"Paramount needs to fix this windowing situation. 120 days is just not reasonable in today's environment, I don't care how big a star Tom is. He's got two wildly over-budget Mission Impossible movies up next, just work out a compromise for all three that gets them on Par+ after 60 or even 90 days. No-brainer." –Another executive
"You overlooked another reason the industry is rooting for Top Gun: It's going to be used as evidence that Hollywood should return to making movies for old men solely about white male heroes." –A journalist
"I was born in 1985. I love Tom Cruise. But I am so sick and tired of boomers and their fucking movies. The original Top Gun is a triumph of youth culture. This new one is all about elevating the old. When can we have something new?" –A filmmaker
Have a great week,
Matt
Got a question, comment, complaint, or thoughts on Miles Teller's Top Gun mustache? Email me at Matt@puck.news or call/text me at 310-804-3198.
ADVERTISEMENT

FOUR STORIES WE'RE TALKING ABOUT
First Lichts
Can new CNN chief Christ Licht fill Zucker's newsroom void while managing a team of remnant Zuckerites?
DYLAN BYERS

Elon's Choice
Musck's new financing plan, restructured to protect Tesla, will require friends to share the risk.
WILLIAM D. COHAN

Florida's Flamethrower
DeSantis is exhibiting all the MAGA magniloquence that Trump seeded in 2015-6.
TINA NGUYEN

McConnell's Migrane
The G.O.P. minority leader has seen it all—and he's facing the election season ride of his career.
TARA PALMERI
You received this message because you signed up to receive emails from Puck

Was this email forwarded to you?

Sign up for Puck here

Interested in exploring our newsletter offerings?

Manage your preferences

Puck is published by Heat Media LLC

64 Bank Street

New York, NY 10014

For support, just reply to this e-mail

For brand partnerships, email ads@puck.news