The unique brand value and quintessence of HBO has, until quite recently, always been as much about what it doesn't offer as what it does. For decades, Richard Plepler preserved the pay-TV service as a highly curated jewel box: a bespoke powerhouse for ambitious programming. It didn't necessarily matter that Succession wasn't a red-state ratings bonanza, or that its lauded documentaries seemed to pick up more Emmys than viewers. Part of the network's identity was wrapped up in its auteur-friendly disposition, and blatant hand-waving at vulgar consumerism. (Plus, Game of Thrones already had that mainstream audience covered.)
But the media landscape was shifting as streaming devoured the cable market. In 2018, AT&T completed its acquisition of HBO's parent company, TimeWarner, and vowed to significantly increase content production to compete with Netflix. HBO Max, the awkward stepchild of the Dallas-New York-Hollywood marriage, would combine prestige dramas like Six Feet Under with The Big Bang Theory in one middlebrow package.
The cultural tensions were foretold in a reportedly prickly town hall meeting in New York, shortly after the $85.4 billion deal closed, as Plepler sparred onstage with his soon-to-be boss, AT&T executive John Stankey. "We need hours a day … not hours a month," Stankey told employees. "We've got to make money at the end of the day, right?"
We already do that, Plepler shot back. "Yes, you do," Stankey replied. "Just not enough." Plepler, exhausted by the Texas country club machers who constituted this new regime, resigned a few months later. And Stankey soon realized that AT&T had made a terrible mistake, compounded by an endless D.O.J. hold-up, in getting into the content business. Last summer, shortly after taking over as C.E.O., he initiated another multi-billion dollar deal to spin off the Warner media assets into a combination with Discovery.
But Stankey and Co. weren't wrong that HBO needed to scale, and that it could do so without sacrificing quality or losing its highbrow appeal. The latest data reveal that HBO Max has dramatically expanded its audience, to 73.8 million subscribers, up from 38 million paying subscribers last year. Meanwhile, amid the coronavirus pandemic, outgoing WarnerMedia C.E.O. Jason Kilar delivered concrete proof that ending first-run theater exclusivity and placing movies on-demand could juice growth.
In the span of several months, HBO Max has transformed itself from a second-tier player into a credible challenger for on-demand dollars. The "streaming wars" are only just beginning, as Netflix's disappointing earnings report and muted subscriber forecasts emphasized just this week. But understanding why a service like HBO Max has multiplied while others are still trying to get off the ground is crucial for any executive, director, programmer, or investor looking to avoid getting squashed in the coming years. Here's how it happened.
---
1. A Younger, More Female Audience
In August 2020, just a few months after Kilar took the reins of WarnerMedia as C.E.O., he made a few key personnel decisions—including appointing Casey Bloys, HBO Max chief, as overseer of both HBO and HBO Max operations. The idea was simple: Bloys, who proved countless times over the years at HBO that he could create the type of recap-worthy hit that defined the network (including Succession and Watchmen, to name two recent examples), would now need to prove that his talent for greenlighting critically-acclaimed shows could also translate to a demographic that HBO had trouble courting in the past: young women.
That strategy began paying dividends in 2021, as HBO Max finally began offering light dramas, young-adult series and animation, in addition to its traditional prestige fare. Not surprisingly, that new programming also caught on with a slightly different audience. A quick snapshot of the most in-demand current HBO and HBO Max series proves just how vital HBO Max original programming was to the platform's breakthrough year. (The chart below showcases the 10 most in-demand HBO and HBO Max series that either premiered or aired new seasons between January 1st and December 31st 2021.)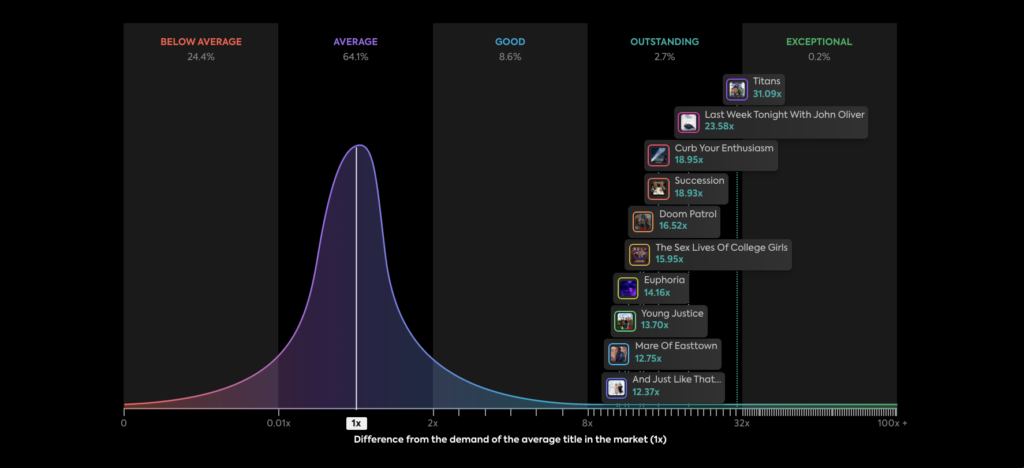 Half of the most in-demand shows are HBO Max originals (Titans, Doom Patrol, The Sex Lives of College Girls, Young Justice, and And Just Like That…). While that number slightly changes if DC comics content is removed, the effect is still the same—HBO Max managed to reach a younger, more female demographic.
Not every HBO Max original series became an instant hit, but shows including Hacks, And Just Like That…, Flight Attendant, Gossip Girl, Sex Lives of College Girls, and Raising Wolves proved that HBO Max could create a highly talked-about series. And since these shows are not aimed at the traditional HBO audience, they're much more valuable to HBO Max than they would be on a platform like, say, Netflix, where shows like Sex Lives of College Girls already exist, and where that audience already lives. For HBO Max, these shows became subscriber acquisition magnets—opening up the HBO Max brand to an untapped audience.
When combined with the overall HBO library, and access to new HBO series—plus all those new Warner Bros. films and children's content—the value perception of HBO Max suddenly changed, and the $15 price tag that may have been a turnoff for some became a value point.
---
2. Tech That Doesn't Suck
As more people checked out HBO Max in 2021, they discovered the app seemed to, well, suck. Playback control issues, weird subtitle formatting, low buffering speeds, and the inability to actually load titles all became as closely associated with HBO Max as its original series.
We talk a lot about the attention economy in streaming; the platform that commands the most attention is most likely to pull ahead in subscribers. What we don't talk about nearly enough is how good or bad technology can impact discovery, engagement, and affection for a platform. Inevitably, if those areas start to decline, attention wavers and the service becomes a burden rather than a necessity. Content may be great, but the experience has to match it.
Bad technology affects content discovery and turns away customers. So WarnerMedia's HBO Max team decided to rebuild the entire app (which will continue through early 2022). It's still not perfect—I freaked out when neither the Succession season finale nor the Euphoria premiere would load—but the technology is improving, according to third party reports.
---
3. Owning Three Days a Week
HBO Max is now the second-biggest subscription service in the U.S., so let's compare it to the reigning champ, Netflix. While Netflix delivered more original series in 2021 than HBO Max growth in demand (interest and attention paid to series that very often translates into consumption) for HBO and HBO Max originals outpaced Netflix throughout the year. Or, to put it another way: people seriously took notice of HBO Max originals this year, and that growth is continuing right into 2022.
For a generation, HBO has been known as the viewing of Sunday nights. But with Warner Bros. movies often debuting on Fridays, HBO Max took attention from competitors three days a week in 2021, sparking conversation that convinced new customers (or lapsed old ones) to pay up. And the more time spent on a platform, the higher chance of discovery of other titles, creating a virtuous cycle of discover for those originals.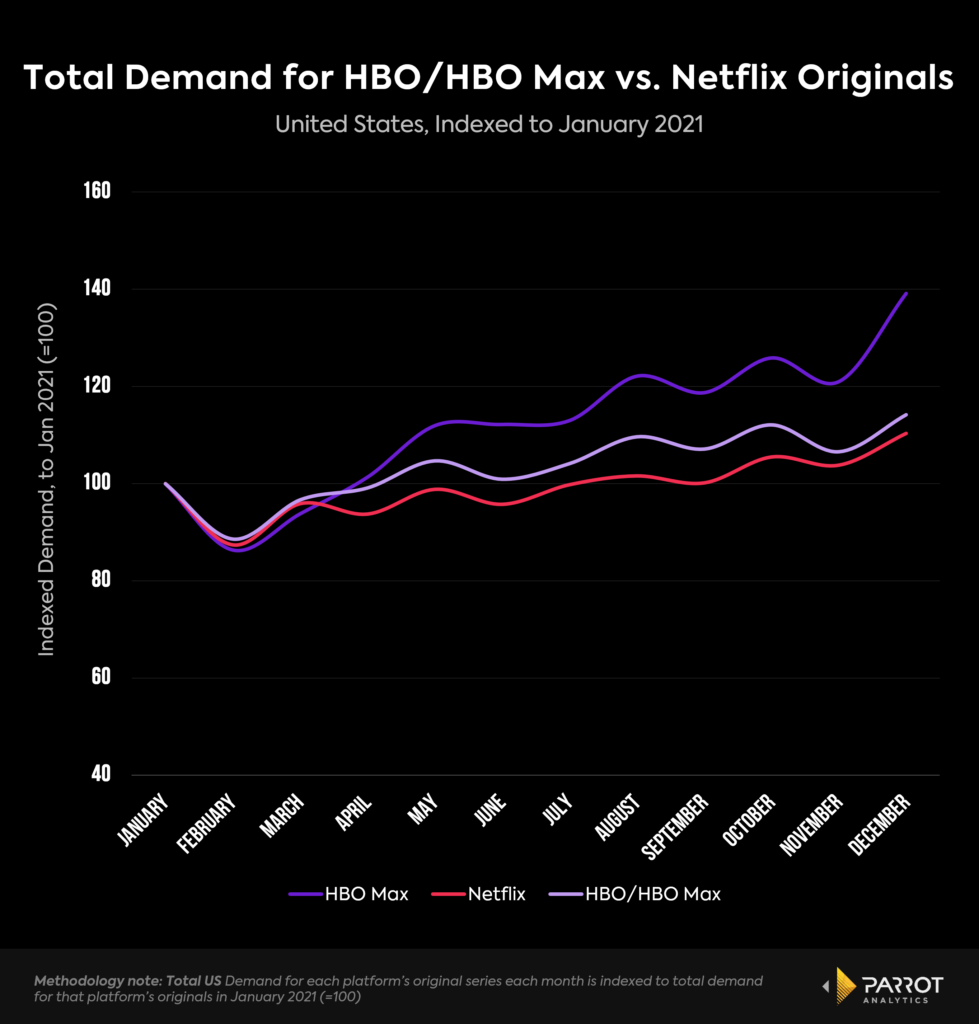 I believe part of that growth in demand comes from HBO Max's cyclical programming strategy, in contrast to Netflix's conveyer belt. On Netflix, there are so many new releases that everything bleeds together. Its Top 10 lists help people discover what is popular—think Squid Game or Netflix's film side, which does treat Friday like a new release day—but HBO Max experiments with its programming schedule.
Some shows are weekly, some series drop all episodes at once, and some are a hybrid. In turn, this often gives early adopters and latecomers the ability to discover a new show together, increasing overall demand for a title. Station Eleven, for instance, saw its demand increase with each new episode—what began as a show that had pretty good awareness and interest from viewers has translated into one that enjoys outstanding levels of demand.
Similar to how Disney+ turned Wednesdays into a day subscribers know there will be a new episode of a Star Wars or Marvel series, HBO Max now has Thursdays as a day of discovery. This isn't a new strategy, of course. HBO originals have been synonymous with Sundays, but with HBO Max originals claiming Thursdays, and HBO owning Sundays, customers are being trained to return to the app at least two days a week.
---
The Success Calculus: What's Driving the Conversation?
None of this means HBO Max is guaranteed to give Netflix a run for its money. The economics of streaming are brutal. In 2002, the year that The Shield debuted, there were 182 shows on the air. In 2021, there were 559 scripted series across cable, streaming, and broadcast, according to the annual FX survey—a new high. Netflix's spend on streaming titles has increased more than 600 percent since 2013 (the company spent $2.4 billion in 2013 and is expected to spend around $17 billion in fiscal 2021). It's a terribly expensive bet, one that legacy companies like WarnerMedia (and soon Warner Bros. Discovery) can seemingly only play through a game of out-consolidating the others.
But HBO Max's increased demand for its content, on top of the continued scaling of its subscriber base and higher revenue per subscriber than its competitors, puts it in a good place. More scale and investment opportunities from the Discovery spinoff will help offset some of those costs, too.
One of the biggest concerns that analysts had when HBO Max launched in May 2020 was its price. Now, as we settle into 2022, complete with a U.S. price increase from Netflix, the dominant streaming service suddenly costs more than HBO Max.
Does that matter? We'll see with next quarter's U.S. numbers. But the streaming calculus is the same: What service offers the most appealing content to the widest audience? And who is dominating the conversation week after week? Netflix is still the driver in this race, but after a strong 2021, HBO Max isn't too far behind in the rearview mirror.
Julia Alexander is a senior strategy analyst at Parrot Analytics, a global analytics firm that measures cross platform demand for content, where she analyzes trends and shifts in streaming entertainment. Prior to joining Parrot Analytics, she was a reporter at The Verge, Polygon, and IGN.