Few would have guessed, upon its debut in 1997, that South Park, Trey Parker and Matt Stone's crudely-drawn, foul-mouthed Comedy Central cartoon, would one day become perhaps Paramount's most vital I.P. behind Star Trek. But in an "always on" streaming era, the show has become one of the most dominant animated series—beating out competitors like The Simpsons and Family Guy. With multiple movies produced per year, South Park isn't fighting for attention in an overcrowded market; South Park guarantees an audience year after year.
The prowess on digital platforms is astonishing. More than 53 billion minutes of South Park were streamed in 2021, according to internal data viewed by Puck. These days, most new shows don't make it past three seasons. But a long-running series that has a fortified fan base, the promise of engagement every day, and guaranteed new episodes to keep viewers satiated is perhaps the most valuable asset in media. Very few series fit that description, but South Park regularly accomplishes all three.
The show's value is manifest in the increased license fees that Parker and Stone have nabbed for the rights to South Park alone, going from $110 million at Hulu to more than $500 million at HBO Max and, most recently, $900 million from Paramount for the global exclusive rights to stream South Park on Paramount+ beginning in 2025. Much like Friends or The Office, owning a long-running show with multi-generational fans can help build a streaming business. But, crucially, unlike those shows, South Park is still producing new episodes, still fresh, and still generating new audiences—all of which makes it an utterly unique, and highly enviable, franchise in the new media ecosystem.
---
Where Kyle and Kenny Go, the Audience Follows
When South Park reruns moved from Hulu to HBO Max, in June 2020, demand for the series didn't diminish, despite the fact that HBO Max had only 10 million subscribers at the time, a mere fraction of Hulu's 35.5 million or so. In fact, South Park's audience increased slightly in the first couple of months, according to Parrot Analytics, where I work, skyrocketing in September and October as the show's newest season aired on Comedy Central.
For HBO Max, a new platform that cost a pricey $15 a month and relied more on its catalog than new originals, South Park was a core value proposition for subscribers. After all, it's the definition of snackable TV—the thing you put on when you're bored, when you're trying to fall asleep, or while making dinner. For HBO Max, which was just getting off the ground, South Park became a reason to subscribe, and a reason to stay subscribed, while the service was building up its offerings during a pandemic that shut down production.
It wasn't like South Park was floundering on Hulu or Comedy Central before WarnerMedia paid $538 million for the domestic streaming rights (or about $348,000 per episode for five years). That's just under Friends ($360,000 an episode) and The Big Bang Theory ($357,000 an episode). The series was syndicated in 90 percent of U.S. and Canadian markets as of 2010, earning Viacom (now Paramount Global) about $25 million a year in advertising revenue at the time. The key to South Park's success, however, was an early move to streaming—before anyone was doing it. Back in 2008, South Park Studios started dropping new episodes on the show's website the day after they aired on television. The episodes stayed up for three weeks. If Disney had the Disney Vault for its movies, South Park Studios was creating the South Park Safe.
By 2007, just under 50 percent of U.S. homes were using broadband internet, so for a new generation of fans, instant access to Kyle, Kenny, Stan, and Cartman kept the show fresh. By October 2008, South Park was netting 600,000 to 700,000 hits per day, according to Boing Boing, with 55 million full episodes streamed since the site launched. Not bad. The Simpsons followed the same strategy in years to come before moving to Disney+ exclusively in late 2019, for the same strategic reason that HBO Max wanted South Park.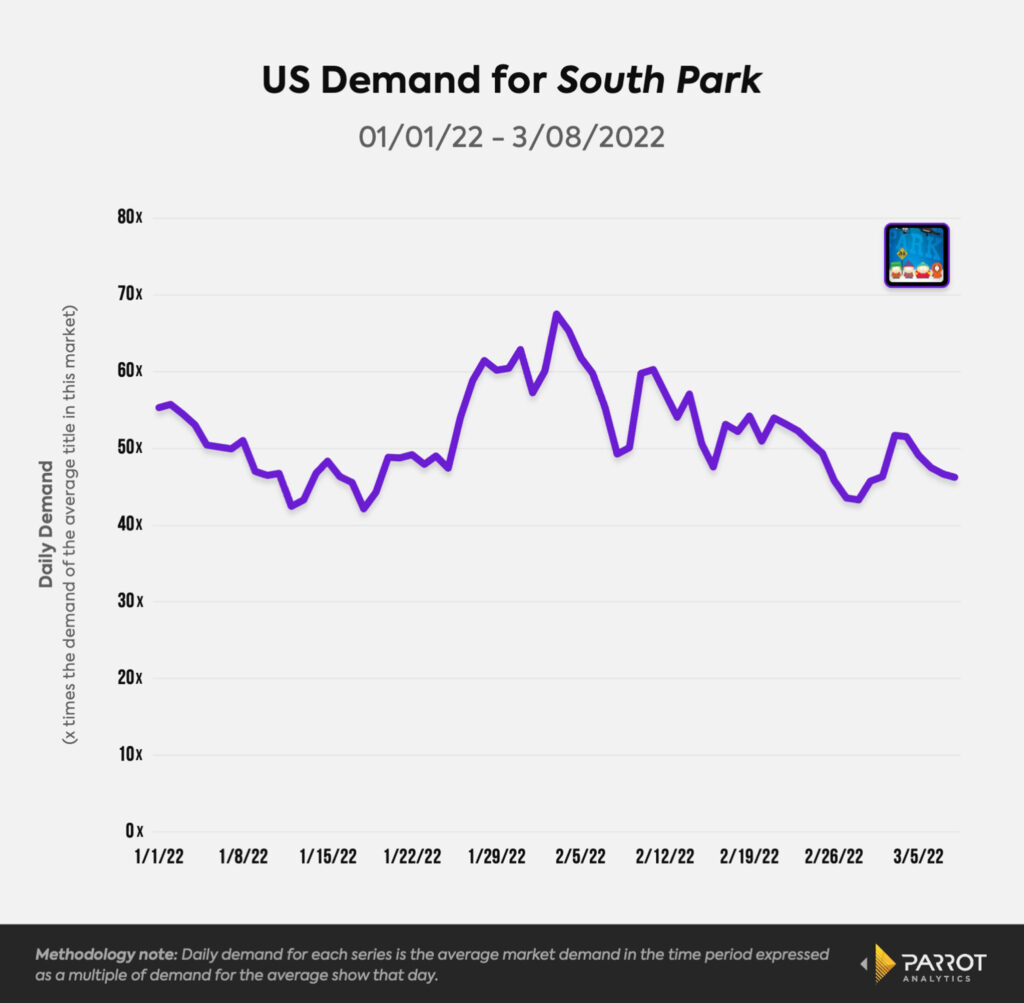 South Park's demand never diminished. In 2021, it was the third most in-demand series on HBO Max with American audiences, behind only Game of Thrones and Rick and Morty—the latter of which was heavily influenced by South Park. That same year, it was also the 27th most in-demand series globally: it airs on Comedy Central in 111 countries linearly, and streams on various services, like Amazon Prime Video and Netflix, scoring 36.9x the average demand of all other series in the world.
Most series' demand is based on the platform on which it airs, meaning that the popularity of Netflix's original series is mostly a function of being available on Netflix to the highest number of subscribers. But demand for South Park remains consistently high no matter where it is. This is crucial to Paramount and Paramount+. While the distribution team can continue syndication on linear television, South Park is the type of show that will bring in customers and keep them hooked on Paramount+ for years to come.
---
South Park is Young, Young, Young
It likely won't surprise anyone that South Park's typical audience is overwhelmingly male, compared to the average for other series, and very young. It's also cheaper to produce than live-action series. And since Parker and Stone have worked on it for 25 seasons, the turnaround speed on episodes is very fast. That keeps South Park topical for an extremely online audience that is hyper-aware of current events. Fans presented with an unprecedented number of news and entertainment options know they can turn to South Park whenever a major event happens, like this week with its Ukraine-themed episode.
If HBO Max's Last Week Tonight with John Oliver is the current event comedy series that dominates older millennial and over-40 households, South Park is the equivalent for a younger generation. And demand for South Park has continued to grow over the last five years. In 2020, a pandemic-themed episode drew the show's highest rating in seven years, more than four million viewers across Paramount's linear networks, not including all those who watched via streaming.
What makes South Park so impressive is that at its base, it's still hovering between 20x and 40x the average demand of all other shows in the U.S., peaking at closer to 70x the average demand—something only 0.2 percent of shows reach. The Simpsons peaked at just under 40x the average demand, while Family Guy peaked at just below 30x.
A big part of the reason that South Park is so valuable to Paramount is because the audience is still actively seeking out and engaging with the show. Older seasons, new episodes, and movie spinoffs—the show is renewed through season 30, which will air in 2027, and the team is also producing 14 "made for TV" movies for Paramount+—could feel forced, but the data indicates that the franchise is healthier than ever.
---
Strength in the Unchanged
A few weeks ago, FX chief John Landgraf acknowledged that Peak TV shows no signs of retreating. In the fight for eyeballs, every major conglomerate has increased its content spend by billions of dollars, leaning on top I.P., paying for the biggest talent, and trying to adapt whatever appears on the New York Times' bestseller list.
And then there's South Park. Even without new episodes, the show ranked within the top 1 percent of all comedy series globally over the last 90 days. South Park is still accessible to anyone; it's not overtly liberal or conservative. Topical events help make it appointment TV, but previous episodes become fan favorites that audiences can return to over and over again.
For Paramount, South Park also presents a unique opportunity. It doesn't share any real overlap with Paramount+ original series, as seen below. This makes South Park a potential high subscriber acquisition title for the service and a high retention title. Fans sign up to watch new episodes or movies, and then stay to throw on older episodes whenever they want.
Through South Park, Paramount+ can build a stronger base and introduce new shows. Customers know what they're getting with a legacy title like South Park—it's a core reason that HBO Max also launched with Friends and The Big Bang Theory. The data also means that if Paramount ever wants to license out South Park again, whether just partial seasons (like the company often does to Netflix) or in its entirety, South Park can net a bigger reward with each new deal.
Paramount+ is just celebrating its first year anniversary. The service has amassed an impressive 32.8 million global subscribers, but it's still lagging behind its biggest competitors: HBO Max has just under 74 million; Disney+ has just under 130 million globally; and Netflix has sailed past 220 million. It's a big gap that's only fixed with exclusive content to bring people in—especially with Paramount+ set to launch in more countries this year, including South Korea, the United Kingdom, Germany, France, and the Caribbean.
Much like Star Trek, South Park is core to Paramount figuring out how to deploy its tentpole franchises in the streaming age. And the show may become even more valuable if and when Shari Redstone decides to flip the whole thing to, one presumes, an even larger media company—including, perhaps, one that has already seen the value of South Park itself, first-hand.