Happy Monday, I'm Eriq Gardner.
Welcome back to The Rainmaker, my private newsletter that's focused on legal maneuvering inside Hollywood, Silicon Valley, Washington, and Wall Street.
The ongoing tech market collapse isn't the only headache for Silicon Valley. In today's email, fresh news and reporting on Apple's N.F.L. subpoena, Sundar Pichai's "incognito mode" problem, Google's legal bills, Amy Klobuchar's antitrust progress, and Facebook's courtroom battle with Israeli spies.
But first…
Depp's Lawyers vs. Fox News
Murdochworld is still basking in the afterglow of the Johnny Depp–Amber Heard trial, which was hyped on Fox News like a culture war title match. Many of the network's personalities embraced Depp as a sort of victim of #MeToo, and celebrated the verdict as vindication for the falsely accused.

But the next act for Depp's legal team, Brown Rudnick partners Benjamin Chew and Camille Vasquez, is sure to generate a lot less love from Fox Nation. In fact, the legal pair are now hoping to bring Fox News itself to trial over what they allege was a "concerted, fraudulent effort to overturn the demonstrable and irrefutable fact that Donald Trump had lost the election" that included "fabricated charges" that aired on Fox News.

The plaintiff in this case is a Venezuelan businessman named Majed Khalil, who was mentioned ever-so-briefly by former Trump lawyer Sidney Powell on the Dec. 10, 2020 edition of Lou Dobbs Tonight. At the time, Powell was exploring the history of voting tech companies Dominion and Smartmatic (both of whom are also suing Fox News). Powell's theory held that the election had been stolen from Trump by vote-flipping machinery created for the benefit of the late Hugo Chavez. On this particular broadcast, Khalil was noted in passing as a name "you need to know," along with three others. For the quick mention of Khalil's name in the Powell interview, plus some social media promotion by Dobbs, Khalil is demanding $250 million in damages.

It's not a lot to work with, but this is a New York courtroom, and if Chew and Vasquez can turn an op-ed that didn't name Depp into an $8.35 million victory, they may also be able to conjure up some magic over what's been said on Fox News. Khalil is truly a minor figure in all the 2020 election conspiracy talk, but he was mentioned. "Rarely has so much been demanded for so little," the network grumbles in a pending motion to dismiss, which argues that the $250 million suit "poses a direct threat to the freedom of the press on which our democracy depends."
It's been a couple of months since my colleague Matt Belloni broke that Apple was in position to score the National Football League's "Sunday Ticket" package of out-of-market games. And while there's been no announcement just yet, a flurry of court filings this past week seem to all but confirm the two sides are close.

As I've mentioned before, the N.F.L. is defending a class action lawsuit that alleges "Sunday Ticket" amounts to an antitrust conspiracy. The plaintiffs—a group of bars, restaurants and other retail establishments—argue that were it not for collusion, the league's 32 teams might compete with each other by streaming their own telecasts of games.

Recently, the plaintiffs in the case served Apple a subpoena to obtain documents concerning the tech giant's discussions with the N.F.L. over media rights, plus reports and analyses of how Apple evaluated a potential agreement to distribute football programming. Apple wants a judge to quash the subpoena.

On Friday, a federal judge in the Central District of California issued a relatively minor order—one that concluded a different judge in the Northern District (Apple's home venue) should rule first. What's more interesting, however, is that within minutes, Apple demanded the judge redact a line from the order revealing what the plaintiffs were seeking from the company. If you read the preceding paragraph and shrugged, know that Apple argued that such information was "commercially sensitive" and that disclosure would be harmful to Apple. I'm betting the company will survive.

OK, now time to dive into my top story…
SPONSORED BY A&E®

When Google C.E.O. Sundar Pichai appeared on Capitol Hill in 2018, as part of a congressional inquisition of tech leaders, it was easy to poke fun at the spectacle. Lawmakers had clearly planned to knock Silicon Valley elites down a few pegs, but they lacked the vocabulary to land the big Perry Mason moment. And so we got comical episodes like when Rep. Ted Poe held up his phone and said, "If I move from here and go over there… does Google know that I moved to the left?" Pichai tried to explain that it depends on settings and apps opened, which caused the frustrated Texas Republican to blurt out, "It's not a trick question!" Other times, Pichai was able to effectively parry the questions with feel-good bromides: "It's really important to us for average consumers to understand [the information collected by Google]. We remind users to do a privacy checkup. And we make it obvious."

Video footage of Pichai's congressional testimony may play differently if ever shown to a jury. That could happen in a case that centers on how Google collects and uses data from those who have turned on the private "Incognito" mode on the company's Chrome web browser. The plaintiffs estimate billions of dollars in damages from the interception of private browsing information that includes sexual interests and political views, and thanks to a judge's recent order sanctioning Google for discovery misconduct, the tech giant may find it more difficult to defeat the suit. In fact, because of this rather extraordinary sanctioning, should the case get to trial, the jury could hear about Google's efforts to hide key witnesses and evidence.

But let's be honest, the good class actions tend to settle. This one in particular has the potential to be very good (Texas even brought a copycat lawsuit last month), so before it maybe goes away quietly, let me share what's been happening—and what could happen next.

When this lawsuit was filed back in 2020, it was no slam dunk, and it's no surprise that most reporters stopped following the case as it slowly plodded along. (Plus, Google convinced the judge to bar the public from attending certain hearings.) Represented by high-powered law firms including Boies Schiller, Susman Godfrey, and Morgan & Morgan, the plaintiffs are trying to glom onto an old federal wiretapping statute that's had a mixed track record in lawsuits over the years in holding tech companies accountable for surreptitious internet tracking.

In response to the suit, Google did what many defendants have done when facing a law that predates the internet age and was really meant to stop covert monitoring of telephone conversations: it pointed to its terms of service ("Do you agree? Click yes.") and argued that Chrome users consented to data collection. Sure, Google might tell those users they can go into private "Incognito" mode, but company lawyers argued this really just means privacy from other people who use the same device. It doesn't mean Google can't scoop up what it wishes.

C'mon, responded plaintiffs' lawyers, arguing this narrow sense of privacy wasn't clear at all from the splash screen that Chrome users see when they turn on Incognito.

In May 2021, U.S. District Court Judge Lucy Koh sided with the plaintiffs and rejected a motion to dismiss. That meant the case headed into discovery, where plaintiffs' lawyers collected all sorts of potentially damaging material to Google. For instance, Google employees have described the Incognito mode internally over the years as "effectively a lie," "misleading," "a confusing mess," "not truly private," and delivering a "false sense of privacy."

Nevertheless, the plaintiff lawyers had some issues to work out. The complaint identifies all sorts of ways that Google collects browsing data—Google Analytics, "fingerprinting" techniques, Ad Manager, etc.—but could the company actually tell when a Chrome user has enabled Incognito mode? Who exactly were the injured Chrome users? If they couldn't be identified, class certification was hopeless. And how to assess damages? What portion of browsing data collected was private browsing data?

The attorneys had theories—search the phrase "X-client-data header" if you're the technically-minded sort—and pursued them, and the defendant was repeatedly told to produce certain information. That itself wasn't unusual, but from the looks of magistrate judge Susan Van Keulen's May 20 sanctioning order (a redacted version recently became available), plaintiffs really had to chase hard for relevant information, even as Google was representing to the court that it was making its best efforts to turn over responsive documents. Van Keulen ultimately concluded that Google had, in fact, violated discovery orders.

Just two weeks before the end of discovery, plaintiffs learned a key part of the story when Google finally turned over explosive information. As it turns out, Google has been logging Incognito traffic as far back as 2017. Three years ago, one employee began to evaluate the economic impact to Google of blocking third-party cookies by default in Incognito mode. In 2020, three other employees worked on a similar project. At one point, one of the project members noted the "[p]otential privacy risk of logging inferred Chrome incognito detection" and sought "feedback from privacy gurus."

Again, this stuff was only turned over very late in the process. Google now is facing a motion for Pichai to sit down for a deposition. (I gave Google's lawyer at Quinn Emanuel an opportunity to explain. He passed along the request to his client, who hasn't followed up with me.)

For Google's negligence (if not bad faith malfeasance), the judge has issued a series of punishments. Perhaps most importantly, Google is precluded from arguing that it never implemented its Incognito detection protocol. (The company will still be allowed to argue about the unreliability of such detection when opposing class action certification.) Google also won't be able to use testimony from the four employees who were working on measuring the economic impact of privacy settings. Whatever explanations or caveats they have, that's now out of bounds. And should the case go to trial, and the discovery misconduct comes up, jury instructions about Google's failure to disclose witnesses and evidence have been deemed appropriate.
Google was also hit with one final punishment that may actually be more consequential for the law firms representing the plaintiffs than for the company itself: Google had to pay attorneys' fees and costs associated with the sanctions motion, revealing precisely what famed attorneys like David Boies are really charging these days.

Law can be weird at times. Kick your opponent's ass hard enough, and you might have to disclose your pay. That's because the law attempts to discourage frivolous motions and any rule-breaking. And so, there are times when fees shift from losers to winners. In these instances, judges demand a breakdown of the charges. Then, they sometimes land in the hands of nosy reporters.

In the privacy case over Google's Incognito mode, we now have a public filing about what various partners and associates make at Boies Schiller, Susman Godfrey, and Morgan & Morgan. The total bill for this one sanctions fight came to $1,078,924.43, which includes 1,167 lawyer hours, $29K worth of experts, and some other small computer and travel expenses.

Boies didn't do a lot of work here, but for those 49 hours, he's now charging $1,950 an hour. He's pretty close to the rarefied class of attorneys charging more than $2,000 for 60 minutes of time, which now includes a Covington partner billing a Ukrainian company $2,500 an hour.

At these plaintiffs' firms, nine partners with fee rates north of $1,000 worked on this case. That includes Morgan & Morgan class action chief John Yanchunis ($1,300 an hour) and Boies Schiller data privacy pro Mark Mao ($1,100 an hour). The only partner who worked more hours than those two was Susman Godfrey's Amanda Bonn, who probably deserves a raise (or a new firm). At $725 an hour, she's making less than some associates on this case even though she was once named a Litigation Trailblazer by the National Law Journal. As for the associate who gets credited with the bulk of the work, his name is Ryan McGee and he clocked 182 hours at Morgan & Morgan.

Of course, logging billable hours isn't always the most honest endeavor, and judges have been known to adjust downwards. I make no judgment about the integrity of these numbers, though I reserve the right to dish out more attorney fee reports in future editions of this column.

Also, if the case does settle, there will certainly be a humongous legal fees motion made. These lawyers, working on contingency, will likely want a good portion (15 percent? 30 percent?) of the settlement pot. The judge will need to approve. Another way to look at this development is that these firms made a million dollar bet that this sanctions chase would eventually pay out. Presumably, they're investing multiples more on the rest of the case. It's evidence of huge expectations for a massive score.
ADVERTISEMENT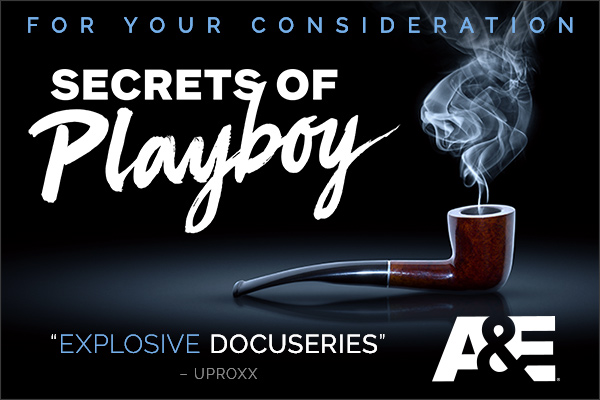 Secrets of Playboy
An A&E Original Documentary
For your Emmy® Consideration
"…it is dark, it is shocking…" – Entertainment Tonight
"…unflinching…" – BuzzFeed.News
"…plenty of disturbing revelations…" – CNN
Over 18 million people watched what UPROXX calls an "explosive docuseries" that features bombshell, never-before-heard interviews revealing the hidden truths behind the Playboy empire. The real story is told by the people who were there… like former Director of Playmate Promotions Miki Garcia and past girlfriends of Hugh Hefner's including Holly Madison and Sondra Theodore. USA Today says the docuseries "depicts Hefner's legacy of trauma as incontrovertible."
A&E presents SECRETS OF PLAYBOY. For your Emmy® consideration.
Who says that judges can't admit errors? Back in August, a judge allowed a Silicon Valley firm to seek a portion of Disney's profits at trial for allegedly using stolen technology to create the realistic computer-generated characters in Deadpool, Guardians of the Galaxy, and Beauty and the Beast. Upon reconsideration, U.S. District Court Judge Jon Tigar now says the plaintiff can't establish a causal nexus between alleged infringement and the profits for Deadpool and Guardians of the Galaxy. Meaning, customers weren't enticed to buy tickets for those films because of the special effects. That just leaves profits to Beauty and the Beast at risk. Here's the ruling.
Roku's stock briefly popped last week after Insider ran a story about rumors inside the company that they could be an acquisition target for Netflix. Analysts quickly stacked up the reason why this hearsay made sense (advertising tech) next to the many, many reasons why it did not, and Roku's share price dropped like a stone.

Before moving on, however, it's worth noting how awkward it would be for Netflix to acquire a device maker that streams its competitors just as a bipartisan antitrust bill that targets "self-preferencing" on platforms gets nearer to a Senate floor vote. Sure, the American Innovation and Choice Online Act is probably best known for how it would impact Amazon's marketplace and Google's search engine, but lead sponsor Amy Klobuchar herself highlighted friction on the Roku platform last October when she pointed to Roku's claim that Google requires them to give priority to YouTube content in Roku's search results.

Then again, Klobuchar's legislation, on which she pushed for a vote last week, only applies to platform companies worth at least $550 billion. Netflix, whose market cap has plummeted from north of $300 billion to $76 billion today, falls well below that threshold.
Biden's Choice: Side With Meta or Israeli Spies?
The Supreme Court has teed up an interesting call for the Biden administration, one that will trigger a great deal of calculation by both the Justice and State Departments.

NSO Group, the controversial Israeli cyber spying outfit, is pushing the high court to weigh in on whether private companies can shield themselves from litigation when working for foreign governments. These Israelis license spyware called Pegasus to private and public entities, including law enforcement (such as the F.B.I.) and intelligence agencies around the world. Pegasus has been used for criminal investigations. It has also allegedly been employed maliciously to target human rights activists, journalists, lawyers, and, according to a U.N. report, Jeff Bezos's personal smartphone. Meta's WhatsApp division has taken NSO Group to court on claims that the Israeli company sent malware through its server system, intercepted encrypted messages, and violated a federal anti-hacking statute. In November, the Ninth Circuit Court of Appeals rejected NSO's bid for "conduct-based foreign sovereign immunity," setting up a potential showdown at the Supreme Court over whether an entity that doesn't qualify as a "foreign state" can nevertheless claim immunity in limited instances under common-law doctrine that stretches back to early 19th century jurisprudence.
ADVERTISEMENT

FOUR STORIES WE'RE TALKING ABOUT
The Jan. 6 Mega Producer
Disaffected donors, Garland's Jan. 6 stoicism, and other rumblings around the Capitol.
TARA PALMERI

Elon vs. The Arbs
The arbitrageurs might be the most vulnerable players in Elon's off-the-rails Twitter takeover.
WILLIAM D. COHAN
You received this message because you signed up to receive emails from Puck

Was this email forwarded to you?

Sign up for Puck here

Interested in exploring our newsletter offerings?

Manage your preferences

Puck is published by Heat Media LLC

64 Bank Street

New York, NY 10014

For support, just reply to this e-mail

For brand partnerships, email ads@puck.news