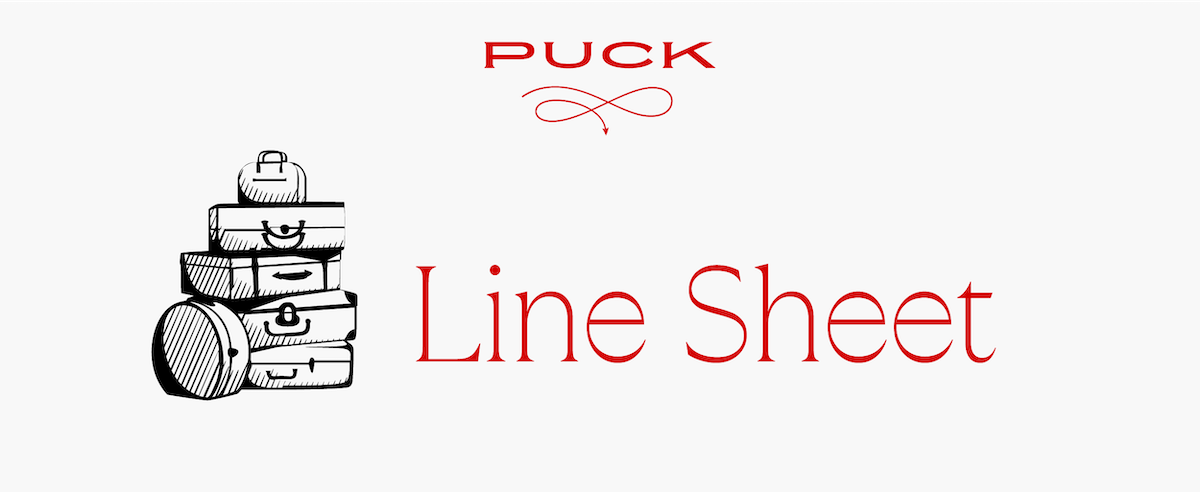 Hi, and welcome back to Line Sheet. I've devoted most of today's dispatch to following up on everything you've been bugging me about (in a good way, mostly), from Supreme to Goop to Farfetch. There's also some fresh intel on what the heck is happening at Condé Nast, where C.E.O. Roger Lynch is juggling plates.
Mentioned in this issue: Ulla Johnson, Goop, Supreme, Roger Lynch, LVMH, Anna Wintour, Farfetch, Dan Constable, Sam Morgan, Johann Rupert, Mohamed Alabbar, the Newhouses, Stüssy, Amanda Silverman, Agnes Chu, Jason Bolden and Thomas Christos Kikis, Stan Duncan, Melitta Baumeister, Craig Robins, Luis de Javier and many more (just because I didn't list your name doesn't mean you're safe)…
How Ulla Johnson won Hollywood: As I've mentioned, this is a busy time of year in Los Angeles for parties and events. (Hey, how was LAFW? Any takers? Still haven't heard from you!) Last Thursday, for instance, there were at least three dinners that I can recall: an under-the-radar fête hosted by jewelry designer Danielle Sherman and beauty brand Ilia on the West Side; the outrageously star-studded Brunello Cucinelli spread at the Chateau (Oprah! J.Lo! Ben Affleck! G.P.!); and Ulla Johnson's celebration of her new Los Angeles store, steps away from the original Bristol Farms on Beverly Blvd. (No, really, you could walk, I swear.)

I'd like to send a note of appreciation, in particular, to Johnson and her team, who managed to wrangle an interesting, brand-appropriate group of celebrities (meaning: people who look like they actually wear the clothes) and Hollywood insiders (including Academy Museum president Jacqueline Stewart, talent manager Julie Darmody, actresses Gabrielle Union, Dakota Fanning and Cynthia Erivo, and celebrity stylists including Jason Bolden and Thomas Christos Kikis) on a competitive night.

These types of events can be pretty excruciating, especially out here in L.A., where you can end up being seated next to the same person three nights in a row because the pool of people-who-attend-fashion-dinners is so small. Not only did they avoid that trap—I was placed between UTA's fashion guy, Dan Constable, and Jimmy Kimmel Live executive producer Molly McNearney, thank god—but they also made the whole experience very nice, with a delicious dinner cooked by The Bear's culinary producer, Courtney Storer, and well-chosen wine. (Pity the attendees on Ozempic.)

So what? Well, the attention paid to this dinner, from the tablescape to the conversation, was a microcosm of the Ulla Johnson brand's success as an independent label for more than 20 years. They are notoriously quiet about the business, but it's a major driver of top-line revenue for multi-brand retailers, and there are many investors and groups that would love to buy it—even if Johnson has no interest in selling. That's all to say: Go check out the store, it's beautiful.
Goop pushes into mass-market beauty: Had a few reader requests for my take on Goop's new affordable skincare line, "good.clean.goop," sold at Target and on Amazon. Very quickly: Seems smart, given that wide distribution can help to briskly increase top-line revenue and potentially profits, too. You can achieve crazy margins on beauty products sold at scale, and it will be in 1,300 Target stores to start—about 66 percent of the retailer's fleet. And in just one day of selling on Amazon, the line blew by initial revenue projections three times over, I'm told. Direct-to-consumer beauty sales on Goop.com rose, too. Also, for the millions of people who don't know what Goop is or who it's run by, the name is great on its own.

I'm not sure if it solves Goop's bigger issue, however, which is that there is too much going on within the business. But it's a step toward making beauty an even larger part of the overall pie, and the ancillary categories—apparel, multi-brand retail, addictive salads made in a ghost kitchen—are brand-building nice-to-haves. Also, there's less of a need to spend so much on marketing because it's using Target as a key distributor. Investors will like that.
Farfetch and YNAP, it's on: On Monday morning, Farfetch and Richemont announced that the European Commission had approved their deal to "advance digitalisation of the luxury industry" (you absolutely cannot make this copy up) by co-owning online luxury group Yoox Net-a-Porter. The big idea, according to Richemont chairman Johann Rupert, has always been to create a neutral selling platform that anyone can and should use. (He really believes this is the answer to the challenges of selling luxury goods online, it's not spin.)

The structure of the current setup: Farfetch is taking a 47.5 percent stake in YNAP in exchange for Farfetch shares; investor Mohamed Alabbar will have a 3.2 percent stake; and Richemont will keep 49.3 percent… for now. (There is a provision that would allow Farfetch to buy the asset outright in the future.)

Richemont shares were up a little on the news (their investors hate YNAP), and Farfetch's jumped quite a bit, up about 10 percent at closing. Farfetch and Richemont were sure to mention that actually, really closing the deal "remains subject to certain other conditions that Richemont and Farfetch are working towards fulfilling," but it does sound like it's going to happen. Other than getting YNAP off of Richemont's books, the initial partnership will include a replatforming of the group's websites, including Net-a-Porter, Mr. Porter, and Yoox—as well as Richemont's single-brand e-commerce sites—with Farfetch technology. Plus, most of Richemont's brands will now have stores on the Farfetch marketplace.

Replatforming—as YNAP, Farfetch, Neiman Marcus Group, Saks, Barneys New York (RIP) all know—is an expensive and lengthy process and often doesn't work. YNAP's history with tech is certainly the worst, though, and Farfetch's is the best. Whether this is going to solve anyone's real problems—i.e., selling fashion online at full price is increasingly difficult past a certain scale; luxury brands don't need these e-commerce sites as much as they used to because they sell so much direct-to-consumer—is another question.

LVMH should buy a "streetwear" brand, but probably not Supreme: I was at a wedding that shall not be named this past weekend where a disproportionately large percentage of the attendees were Line Sheet readers. (Congrats to the happy couple, we love you two.) Other than being freaked out that I was going to publish table conversation—boys, I am not that tacky!—a few also wanted to correct me on a mistake I made last week regarding Supreme's distribution.

Turns out that Supreme—currently owned by apparel group VFCorp., which is being targeted by activist investors—does not sell directly on Urban Outfitters or Pacsun, like I posited last week. These stores sell second-hand Supreme, but they do it in such a way that it's not super-obvious to a laywoman, like myself. Supreme, the company, has managed to keep things supertight, selling only in its own stores and Dover Street Market.

I do think this still says a lot about the state of Supreme. Maybe it's not selling out to Pacsun, but it did sell out to VF in 2020, and it will need to continue to grow in order to make sense in that portfolio. There's a world where Supreme gets a lot bigger, becomes deeply uncool for a little while, and then settles into a sort of Ralph Lauren-style domination.

But there is also a world in which VF sells it off. Would LVMH be the right buyer? Supreme's products aren't expensive, but from a distribution and storytelling approach, it operates very much like a luxury brand. As the definition of luxury continues to change, my prediction is that you're going to see LVMH in particular pursue businesses with different pricing architectures, as long as the margins are still good. (The Arnault family's stake in Birkenstock is tangentially related to this.)

An expert friend from the wedding, who gave me permission to go down this road, thinks Supreme is better as an independent entity, but also that a streetwear brand—or whatever you want to call this kind of fashion—would make sense in the LVMH portfolio. Stüssy, which GQ called the "Chanel of streetwear" just a couple of years ago, is ripe, my friend suggested.

First off, LVMH loves a family-run business. (It's still owned and operated by the family that originally funded it in the 1980s, the Sinatras—no relation to the singer.) It has fashion cred, with good designs and clever collaborators. It also has an iconic logo and a range of workwear essentials that serve as margin drivers. My guess is that it remains too tiny for a strategic group. (Alas, distribution is limited.) But if the family did want to give up a stake, there would be plenty of interest from private equity. (And who knows what has already transpired; Supreme kept its first investor a secret for years.) More likely than not, LVMH is watching.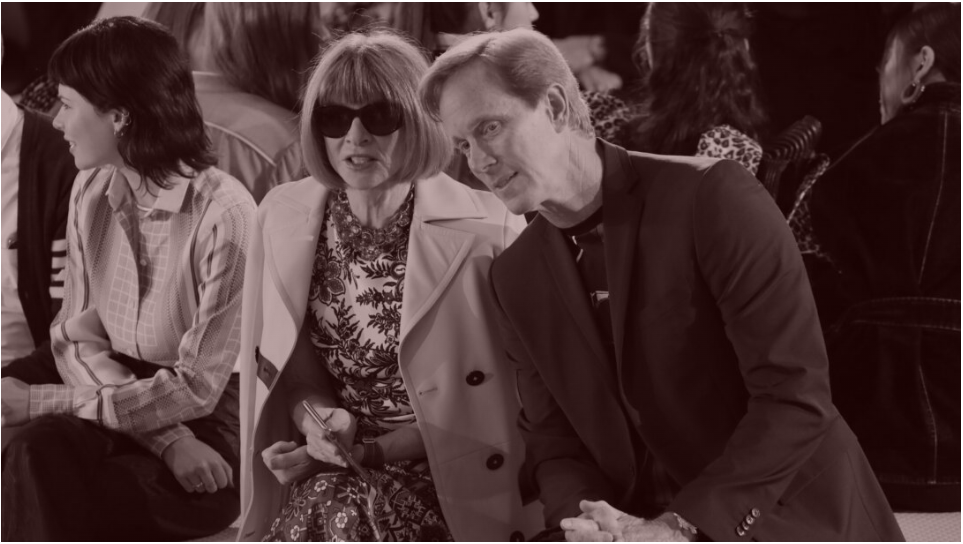 Roger Dodger
Four years into his job as a turnaround artist at Condé Nast, Roger Lynch is under pressure to grow the business after an era of relentless cutting. Now, amid a couple micro scandals, his employees are getting restless. But do they deserve to be mad at him, or simply at a future less glamorous than the past?
Roger Lynch, the global C.E.O. of Condé Nast, likes to go to fashion shows. He doesn't mind taking pictures with celebrities, either. Of course, this shouldn't be uncommon for someone running a multi-billion dollar international fashion-publishing conglomerate. But his notability at the shows speaks to the uncommon nature of his role.

Condé Nast, of course, is owned and controlled by Advance, the Newhouses' family office. It was helmed for generations by Si Newhouse, an enigmatic and reclusive billionaire, who was famously a man of whims: his pastimes included indulging in his annual mitteleuropean wintertime art buying excursions, banishing garlic from the Frank Gehry cafeteria, and lavishing praise on Cicero, his beloved dog. Si's greatest talent as an owner, however, was receding into the background in order to let his editors claim the spotlight—very much like you might expect from an experienced art patron.

As such, Condé Nast C.E.O.s were usually less glamorous, less out there—more uber-hustler publishers or Chamber of Commerce types. Chuck Townsend seemed less enthralled with the fashion world than yachting races in Newport. His successor, Bob Sauerberg, was basically internal-facing. And don't forget, these executives had to keep up with Si and the executive culture he created on the business side, which usually included arriving at the office before 6 a.m. Not exactly fashion hours. (Jonathan Newhouse, who ran the international arm of the business before his family hired Lynch to merge it all into one, in 2019, would often turn up at shows, but that was different—he was a Newhouse.)

Unlike his predecessors, Lynch was an outsider. He'd been the C.E.O. of Sling and Pandora, two roles that suggested the Newhouses had hired him to turn around the P&L and make unsentimental decisions. Regardless, he has become more of an obvious presence on the fashion scene. Maybe it's his glowing strawberry blonde hair, or the fact that his wife and daughter often accompany him. Or the fact that he is often attached at the hip to Anna Wintour, who doesn't do clingy, but nevertheless helped open up relationships. I also notice when he's not around, like this past September, where I didn't clock him at any of the shows in Europe. (According to Getty Images, his photograph was taken at VogueWorld and Erdem in London, and Alexander McQueen in Paris.)

The business case for Lynch sitting front row is low: Brands and designers mostly care about Wintour, who's the one running the show they are watching. For someone like Lynch, who has been tasked with making Condé a profitable commercial entity, it's the meetings in between the shows that matter. Maybe, after four years on the job, he realized this. After all, the pressure is on.
Just a week after he returned from Europe, Lynch announced plans to restructure the business once again, resulting in the exit of well-liked Condé Nast Entertainment head Agnes Chu, who was recruited from Disney in 2020. The gist, at least what many Condé employees gleaned from Lynch's vague memo, was that the ill-fated CNE would be disassembled, and the work of developing videos and other I.P.-driven projects, like television shows and movies, would be absorbed into the brands.

On some level, this was probably all for the best. The division had been concocted as essentially a studio-cum-I.P. merchant bank, but quickly pivoted into a digital video factory when economic realities set in. The whole thing got thorny, quickly. Executives loved the CPMs that video afforded and resented editors for not leaning in further; the editors resented how conveyor belt content cheapened their brands and grew annoyed with publishers for pushing it. Probably best to let the brands sort it out, themselves, now.

Initial word indicated there were no layoffs planned. But just a few weeks later, the feeling is that redundancies, as they say in the U.K., are inevitable. (Look, it's been a challenging year for the advertising business.) Frustration also mounted in response to a note sent by Stan Duncan, the company's head of H.R., regarding the Israel-Hamas war, which many felt was insufficient. The note, as first published in the New York Post, was simple: "As we witness the horrific ongoing violence in Israel and Gaza, we know many of our colleagues are suffering," Duncan's memo said. "Collectively we have family, friends and loved ones in all corners of the world, some directly experiencing crisis in the region. We wanted to make sure that all Condé Nast employees feel supported at this time."

There was even a letter written to Lynch and signed by several employees expressing their disappointment, although it was never actually sent, only individual messages. And, to be fair, many large companies are having a hard time managing the anger spilling over from the Israel-Hamas war. Some employees even reached out to thank Lynch and Duncan for the note.

But this is Condé, where employees have rarely kept their grievances private—where meetings are followed by meetings about the meeting in which everyone talks about who gets it and who doesn't. And, as is often the case, frustrations rise to the top. And Lynch is an easy target for discontent since his tenure has been characterized, fairly or not, by cuts rather than growth.

One current target of dissatisfaction is the February 2023 return of Sam Morgan, Lynch's longtime chief of staff, who has ruffled certain members of senior leadership. Other than a seven-month stint at San Francisco-based software company Grammarly, Morgan has worked for Lynch since he was the C.E.O. of Pandora, and has an outsize influence on his decision making. As one former employee put it, "she is the bludgeon who goes in and does his dirty work." A rep for Condé had no comment. Again, to be fair, C.O.S.'s are supposed to handle unpleasant things. But frustration at Morgan may result from the impression that Lynch both has a growing public profile and yet remains seemingly aloof at times in his own tower.

Lynch has lost the confidence of several top executives, I'm told, who observe a strategy driven solely by cost cutting, not future revenue generation. When he first arrived from Pandora, Lynch was handed a historic company that needed to be modernized in the way it managed and developed its brands. Some of those first moves made common sense, even if they weren't terribly inspiring. Consolidating power around Wintour, for instance—a move afoot under the Sauerberg regime—has not only saved the company money, but also put its most viable asset front and center. There's something lost with that approach, but also something gained, especially if the goal is to eventually sell.

However, I think outsiders overstate the Newhouse's interest in a sale. When you're that rich—family patriarch Donald Newhouse is worth some $14 billion alone, according to Bloomberg—you usually just want the asset to be profitable, sustainably managed, etcetera. Either way, they're never selling The New Yorker or Vogue. (Although many P.E. firms would love to buy them.) From what I know, however, the Newhouses gave Lynch the space to make some big moves, even sell off certain brands and fold others while working to increase the profitability, and desirability, of those that remained. (Ironically, many executives once suggested rolling the smaller brands into the larger ones a decade ago, but were met with firm resistance. Things change…)
There have been some wins in the Lynch era. First and foremost, after losing $120 million as recently as 2017, Lynch did reach profitability last year. (The next C.E.O. of The Washington Post faces almost the exact same challenge.) Anyone who understates that financial orchestration doesn't truly get the enormity of his challenge. Also, Vogue and GQ are managing to become something more than magazines. The New Yorker continues to tell the best stories across formats, and has become the company's most valuable title despite increased competition as more publications put up paywalls, with 1.2 million paying subscribers, according to the Alliance for Audited Media.

Lynch, however, has not reached the ultimate financial goals set for him. When he arrived at the company, he signed a three-year contract, with a payout attached to certain key performance indicators, that included not only making the business consistently profitable, but guidelines on how to reach that profitability. Because Lynch negotiates with Advance, the family office, not Condé, the status of his contract is tightly guarded (One person heard that it may have been extended by another three years to 2025.) Once again, a Condé rep declined to comment.

The pandemic certainly made achieving those goals harder, and the forthcoming reorganization may win him some more time. But in a company built on creativity, many are wondering, what's the big idea? Last week, as I was hearing these murmurs of discontent, outgoing British Vogue editor-in-chief Edward Enninful and his team were all over Instagram, posting image after image of the November issue featuring Vogue House, Condé Nast's iconic London office building on Hanover Square that is being vacated for the The Adelphi building on the River Thames. I'm sure the reasons for the transfer are understandable, and economic, and I'm not a sentimental person, but realizing that Vogue House would no longer house Vogue made me sad. (It's like the LA Times moving to El Segundo.)

One of the reasons young people want to work at places like Condé Nast is for its history, and once that is erased, what's left? Pinned at the top of Enninful's grid is a montage of his British Vogue covers, his legacy. Watching them flicker by, I got the feeling that there will never be magazine images like that again.

Enninful may not be the future of Condé Nast, but who is? Lynch's predecessors were hardly visionaries, but they didn't have to be: Si enabled creativity, he encouraged risk taking, he gave his editors freedom, and collected his editors as he collected his artworks. He's long gone, though, and Condé Nast can no longer be a loss leader for the Newhouse family.
London-based designer Luis de Javier had the most talked-about show of Los Angeles Fashion Week. [Vogue Runway]

Vanessa on Hedi's latest collection. [NYT]

Social selling platform Basic.Space has acquired the design fair Design Miami in an all-stock deal. Craig Robins, the developer behind the Miami Design District and a co-founder of Design Miami, was a seed investor in Basic.Space and will join its board. [Miami Herald]

Melitta Baumeister won the CFDA/Vogue Fashion Fund. The prize is $300,000. The runners up were Diotima and Zankov, a personal favorite. [Hypebeast]

I have no opinion about this person, only I like her approach to "sharing on the internet." [Sari Azout via Leandra]

Amanda Silverman makes New York's list of the most powerful New Yorkers you've never heard of. Of course, we've all heard of her. How jealous is everyone? [NYMag]

"When I asked her what she does to relax, her answer is, 'no.'" —Nick Haramis on Miuccia Prada. [T]

Skims has tapped Oklahoma City Thunder point guard Shai Gilgeous-Alexander, San Francisco 49ers defensive end Nick Bosa, and Brazilian soccer star Neymar to launch mens underwear and t-shirts. (Guys already make up 10 percent of the customer base.) [WSJ]

Ooh, former Tod's creative director Walter Chiapponi is supposedly headed to Bluemarine. We like him! [WWD]

And finally… did you know that What Goes Around Comes Around, the upscale second-hand retailer with stores in New York and Los Angeles that's been around forever, sells at Epcot? Yup, the Walt Disney-owned amusement park is one of the company's wholesale partners. It's a small world after all.
Until Thursday,
Lauren
FOUR STORIES WE'RE TALKING ABOUT

Need help? Review our FAQs
page or contact
us for assistance. For brand partnerships, email ads@puck.news.
You received this email because you signed up to receive emails from Puck, or as part of your Puck account associated with . To stop receiving this newsletter and/or manage all your email preferences, click here.
Puck is published by Heat Media LLC. 227 W 17th St New York, NY 10011.