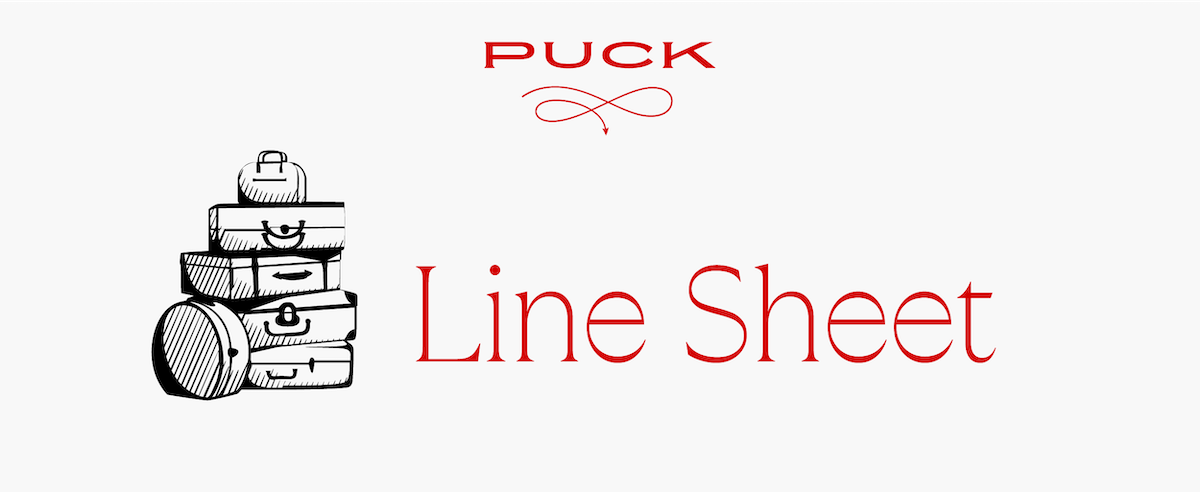 Hello hello, and welcome back to Line Sheet, which a loyal subscriber recently described to me as, "destination reading in the same way I once anticipated weekly episodes of must-see TV or monthly fashion glossies to arrive in my midwestern mailbox." My heart!
I thought things would slow down a bit news-wise during the summer, and maybe they're about to? Until then… I've got some unique intel on what's happening in luxury right now. I've also written another chapter in the often head-scratching story of the Naadam Group—you know, the one-time self-appointed LVMH of D.T.C.
Was this email forwarded to you? (We've added your name to a list and are sending it to the I.R.S.) Have you still not subscribed? (We've added your name to another list—and we're signing you up for Lenny Letter!) It's my birthday this week. Since I'm not taking bribes, the greatest gift you could ever give me would be joining Puck to gain full access to this private email, in addition to the essential work of my incredible colleagues covering the power centers of Washington, Hollywood, Silicon Valley, the media, and Wall Street.
Mentioned in this issue: Marco Bizzarri, Nadège Vanhee-Cybulski, Maureen Chiquet, Bruno Naylor, Francesca Bellettini, more Matt Scanlan bullshit, Brian Linton and Mike Cangi, Bluebell Capital vs Kering, Rachid Mohamed Rachid, Johann Rupert, the Fisher family, Laura Vassar, Arielle Charnas, and many more.
Let's get started…
A Few Notes on Summer Luxury…
That Louis V Diss Track: I would like to draw attention to some Drake lyrics aimed at Pharrell Williams that appear on Travis Scott's newly released song, Meltdown:

Give a fuck about all of that heritage shit/ Since V not around the members done hung up the Louis/ They not even wearing that shit.

"V" refers to Virgil Abloh, the late designer and creative director of Louis Vuitton menswear, whom Williams succeeded. Now, remember that Williams' June runway debut was wildly successful—not only in terms of reach, but also general sentiment and response from both insiders and outsiders. And you don't even know how hilarious it would be for me to try to analyze rap lyrics beyond this single line. However, I cannot underscore how important fans of Abloh—in particular, Black American consumers—became to Louis Vuitton during the pandemic. Williams inarguably has a larger following than Abloh ever did, but this reference highlights the onus on LVMH to ensure that he surpasses his predecessor without supplanting his legacy.
The Miu Miu Advantage: I'm also closely watching Miu Miu, which was up 42 percent in the first quarter of its fiscal year: there's a hit bag, a hit ballerina flat, a hit collaboration with New Balance, and so forth. The Prada Group, which trades on the Hong Kong Stock Exchange but has ambitions to list on the Milan Stock Exchange, is one of few conglomerate competitors with the depth to hold its own, and that has only proven to be true in the past couple of years.

Some observers have wondered if the company's merchandisers have become too dependent on logos as the market retreats from that aesthetic—hard to come by a Prada shoe without a triangle these days!—but I'd counter by noting that this is where having a superior designer comes in handy. Raf Simons and Miuccia Prada (together and alone) are simply better than everyone else. They're able to keep more control over the narrative than other brands, which must bend more readily to the consumer.
Hermès West: Finally, can I tell you about a suburban mall that you absolutely have to visit the next time you're in Los Angeles? (Well, if you're a fashion executive.) It's called Westfield Topanga, minutes away from Calabasas, Bel Air, and other places where very rich people live. Gucci, Louis Vuitton, Cartier, Saint Laurent, and Versace are already open there; Bottega Veneta, Dior, Balenciaga, and Celine are opening soon. (This is what I'm talking about when I'm talking about conglomerate dominance: these are all LVMH and Kering brands, save for two.) The lone stallion: Hermès, which posted 28 percent organic growth in the second quarter of its fiscal year—and a nearly 21 percent jump in the Americas, virtually unheard of right now.

The brand secured the prime corner location at Westfield Topanga, replete with an outside entrance, and threw an opening party for clients on Thursday night. At the party, women (and some men) were carrying Kellys and wearing the ubiquitous Oran sandals (at $700 a pair, they could probably charge double and sell just as many). Many were dressed head-to-toe in the ready-to-wear of womenswear designer Nadège Vanhee-Cybulski. This was all expected. What was perhaps less expected was the card magician, the caricature artist, the hyper realistic cakes made to look like a tie box (covered in orange fondant) or straw bag. But again, not so crazy.

Then I got to talking to tech investor Bruno Naylor, who owns an estate in Bel Air called Mars Canyon, which he's developing into a sort of antithesis to the manicured lawns and giant boxes that surround the property, in an effort to promote simpler living and foster biodiversity. (They call it "rewilding.") Somehow, Hermès found this guy and sent their artists Theo de Gueltzl and Octave Marsal to the magical-sounding Mars Canyon to develop an illustration for a scarf (which, yes, is being sold at the new store and benefits CLAW, the Citizens for Los Angeles Wildlife, a 501c3). The point being: Hermès could do anything, and it did this, even though a partnership with a bigger charity, or artist, or celebrity, would attract more attention. As the Western world endures this phase of luxury fatigue, that sort of ability not to rely on anything but the work itself may prove invaluable.
And now for the latest on the self-appointed LVMH of D.T.C…
Back on my Naadam Group bullshit: Last week, the S.E.C. asked a Florida court to force Brandon Charnas, the husband of famous influencer Arielle Charnas, to comply with a subpoena regarding an investigation into possible insider trading of Office Depot securities. This is pertinent to our tale because Arielle Charnas is the founder of Something Navy, one of the brands under the Naadam Group umbrella, and the Charnases have been attempting to get it back from Naadam Group founder and C.E.O. Matt Scanlan in recent months amid the company's continuing wreckage.

Let's survey the damage: First, there's Thakoon, which is gone. Then, there's Naadam itself, which Scanlan claims generates $150 million in annual sales, but actually makes a fraction of that, according to people who have seen transaction statements. (He comes up with that $150 million by counting all retail revenue, or product shipped, not the money made, I'm told.) Then, of course, there's Something Navy: stores closed and the website down, much to the Charnases' chagrin.

Now, I've learned, there are a couple other brands that have shriveled since coming under Naadam Group rule. A few weeks back, someone messaged me about Philadelphia-based United By Blue, which I had never heard of because I'm a snob. I texted my 31-year-old cousin, who lives in the city's Olde Kensington neighborhood, about it. "Yeah I used to pass the one in Old City a lot but never went in," he told me. "It looked like a coffee shop that also sold Patagonia-type shit—I didn't really understand what it was lol."

Turns out, my cousin is also a snob. This was a $20 million-a-year business, with two stores in Philly, one in Chicago, one in Scottsdale, and a robust wholesale business that included stores like REI. But like many fashion brands, it was also in debt. So when Scanlan proposed that Naadam Group buy a majority stake in the business for a measly $7 million in May 2022, the founders and investors agreed. Scanlan told them that he was raising $250 million to fund his D.T.C. rollup—a "sustainable brand holding company"—with the promise that the group would go public in the next three to five years. They were also promised support for their digital advertising efforts, additional funding, and the structure of a seasoned team of operators. "He made it clear to us that he would have no trouble raising the money," one stakeholder told me.

The deal, though, kept Untitled by Blue C.E.O. Brian Linton on the hook for the money the company owed factoring firm Hilldun as the primary guarantor. (Linton did not respond to my request for comment.) This was similar to the agreement that Naadam tried to set up with the Scott Sternberg-founded brand Entireworld. But instead of signing, Sternberg and his investors just dropped it and closed down instead.

United By Blue, like many of the brands Scanlan has acquired, was mission-based—they pledged to "remove one pound of trash from oceans and waterways" every time they made a sale. The founders, Temple University friends Linton and Mike Cangi, were proud of the company they built, which sold outdoorsy gear, but also had a neat little in-store food and beverage business that performed well. Because of the cash flow issues—again, typical for any apparel brand really, but especially one of this size—they entertained several different exit scenarios when things got tougher in recent years. Scanlan's offer made the most sense: It let Linton stay on, although I'm told Cangi was "uneasy" about Scanlan and decided to exit the business before the deal went through.

But just a few months after he took over, Scanlan ousted Linton as C.E.O. and closed the stores in Chicago and Scottsdale. According to team members, Scanlan also told United By Blue's vendors (like multi-brand retail stores) to pay Naadam, not Hilldun, directly, even though all "receivables"—money paid to United By Blue by vendors—was supposed to go to Hilldun, which was owed close to $3 million. In 2023, Naadam closed the two retail stores in Philly, just in time for Hilldun to put the United By Blue intellectual property which it now controlled, up for auction. In the end, no one bid high enough on the I.P., so Hilldun now owns it, and signed a licensing agreement last week with a company that will now produce, distribute, and sell United By Blue products. (Linton will likely advise the new operation, I hear.)

Meanwhile in June, while this was all up in the air, Scanlan and his team were telling retail partners that United By Blue was being folded into Package Free, another Naadam company that mostly sells housewares, like cleaning products. The United By Blue website is still active, but you can't actually buy anything on it. This despite the fact that Naadam Group still has some of the United By Blue inventory in its warehouses—including yet-to-be-released Spring 2024 styles, which the original team fears Naadam will relabel and sell under another name. Of course, relabeling happens all the time in fashion and could very well be allowed depending on the agreements that have been signed; but who owns that inventory? (Scanlan could not be reached for comment.)

Anyway, the current state of the business is a far cry from what the founders were promised by Scanlan. They were, they believe, deceived. Last I heard, Scanlan was still out there raising. How far he has gotten is another question.

And now, some notes on Kering's activist investor…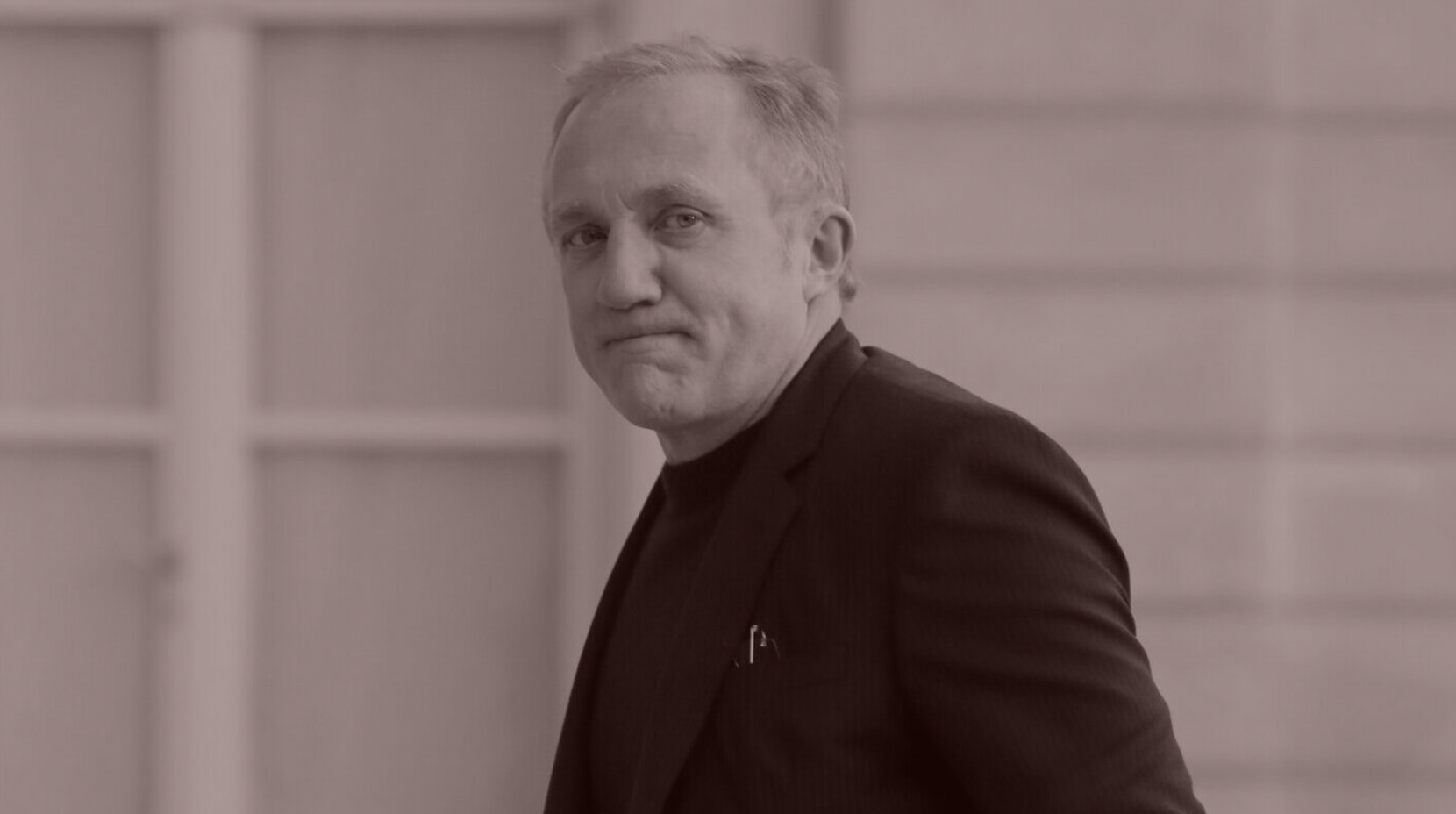 The House of Gucci Gets a Tickle
Activist investor Bluebell Capital is pushing for major moves at Kering, and François-Henri Pinault seems to be listening. Will this financial love tap compel him to make more changes at the group? And is the dream of a Richemont-Kering merger finally closer to reality?
As expected, the big European groups raced to get things done before the summer holidays commenced this week: there were deals, there were earnings reports, there were parties. I was bracing for a Sunday morning designer appointment announcement, but I guess everyone really does need a break.

What to make of it all? The biggest story of the month, of course, has been Kering and its quest to regain momentum after tough years at both Gucci and Balenciaga. Following that wild executive shakeup, which I'm tracking closely, was the surprise news that the group would be acquiring a 30 percent, €1.7 billion stake in Valentino with an option to buy it outright by 2028. (Valentino is currently owned by the Qataris through investment firm Mayhoola.) Big picture, this deal makes sense for all the reasons I outlined last week. Valentino is one of the most well-known luxury brands in the world; with a recapitalization of this magnitude, and the support of Kering's existing infrastructure, it could triple its sales volume over just a couple of years.

What this means for Mayhoola as a long-term entity, I do not know. It was made very clear to me that, while the deal announcement mentioned "other opportunities" for the two groups to work together, this partnership was about Valentino and Valentino only. Balmain, Mayhoola's other notable brand, is not part of the conversation. (I'm sure Mayhoola C.E.O. Rachid Mohamed Rachid spent time this week reassuring the Balmain team that all is well.) Of course, if Kering does end up buying Valentino and Mayhoola becomes a major Kering shareholder, that could change things.

To me, this deal is the biggest indication yet that it is nearly impossible to compete against Kering and LVMH. Especially if you are a big (but not big enough) brand, like Valentino. Some of my smarter industry friends raised an eyebrow at the implied valuation, given that Valentino generated just €1.4 billion last year. Did Kering overpay? Maybe, but presumably they see the opportunity justifying the premium. We'll see how quickly Valentino is able to scale with so much extra cash, access to better real estate, sourcing, etcetera.

But the deal may also be indicative of the anxiety inside Kering. C.E.O. François-Henri Pinault is not traditionally a micromanager, but has become much more involved in day-to-day decision-making at individual brands in recent months, I've been told by multiple people. The fact that he took a meeting in Sun Valley with CAA about potentially acquiring the Hollywood agency from private equity giant TPG, just a week before this all started, adds another layer of intrigue and complexity to the situation. (TPG is an investor in Puck.)

Part of the pressure may be coming from London-based activist investor Bluebell Capital, which took a stake in Kering this summer, just in time for the exit of Gucci C.E.O. Marco Bizzarri to be announced. Bluebell is also pushing for Gucci to add more independent directors to its board with the profile of someone like former Chanel Global C.E.O. Maureen Chiquet. At one point, Bluebell was also reportedly advocating for a deal between Kering and Richemont, the Swiss luxury holdco that owns Cartier, Van Cleef & Arpels, and fashion brands like Chloé. (There have been rumors within the Chloé offices for months that Kering was finally going to swoop in.) However, I'm told that Bluebell's position in Kering specifically concerns the Gucci business: Kering used to trade at a premium, now it trades at a discount, and revving up Gucci could change that fast.
A lockup between Kering and Richemont—long rumored and fantasized about by the market, and most likely with Kering as the acquirer—would be "icing on the cake," at this point, one investor told me. Richemont was an early target of Bluebell, and with good reason: it's been distracted for years by the very messy, ill-conceived, poorly executed acquisition of Yoox Net-a-Porter Group (YNAP), as well as its underperforming fashion division.

But Richemont is almost rid of YNAP now, and the hard luxury business is performing. Company chairman Johann Rupert—a forever micromanager, himself—seems hellbent on holding onto the rest. LVMH C.E.O. Bernard Arnault has said publicly that he is not pursuing Cartier because it is not currently for sale. Rupert has said publicly that he has declined overtures from Pinault. One Richemont exec described it to me like this: Every year or so, Rupert gets a call from Pinault, etc. Every year or so, he says no thank you. How badly does Kering want the deal? The Pinault-led group has made it clear that it is interested in acquisitions that strengthen its position. But whether or not that will ever be Richemont is up to the Rupert family.

In truth, Rupert's children are not the Arnault children, and he will likely have to do some sort of deal at some point. A Richemont-Kering merger makes the most sense because their portfolios are complementary (one is heavy on hard luxury, the other is heavy on soft), and unlike three years ago, when they discussed a combination, they are now on more equal footing. Together, they would pose a real threat to LVMH's dominance. Anyway, if and when this happens is entirely up to Rupert, who only owns 10 percent of Richemont but controls 51 percent of its current voting rights.

For now, Rupert is staving them all off by making more acquisitions in fashion and luxury, including last week's 70 percent stake in shoe label Gianvito Rossi. (Gianvito happens to be the son of shoemaker Sergio Rossi, whose line used to be owned by Kering. This world is too tiny.) The market basically had zero reaction to this news.

As for the current state of Kering: I'm told that Bluebell is happy with the combination of Francesca Bellettini, now deputy C.E.O. of all the brands, and interim Gucci C.E.O. Jean-Francois Palus holding it down at the group's marquee until they find a permanent leader. Gucci also has a lot riding on the commercial reception of creative director Sabato De Sarno's first collection, debuting in September. However it all shakes out, this summer has been one of the biggest tests for Pinault since he took over for his father in 2005. If he can right the ship, Kering will be bigger and better than ever. If he can't, the gap between LVMH and everyone else will just continue to widen.
On the Rockefeller Center glow-up that I briefly mentioned a couple of weeks ago: "Here to co-sign: we're literally shocked at our June sales from our Rock Center store. It's FABULOUS foot traffic." –Nell Diamond, C.E.O. and founder, Hill House Home

On that Skims valuation: A person with a vested interest in Skims, but whose opinion I respect, noted that, in this "frozen"market, the valuation is "25 percent up, which should be viewed as a major win." Fair. You decide!

On Gap's new C.E.O.: "Nice story, Lauren, and the right dose of skepticism. The problem is the board. The Fisher children want to rewrite Gap history as the real estate genius of their parents. Meanwhile, [former Old Navy C.E.O., current PVH C.E.O.] Stefan Larsson is the one that got away…" –A supply chain guy
In the much-discussed Gagosian New Yorker profile, there are a few Bernard Arnault mentions, including a line about last year's rumor that LVMH was going to buy the mega-gallery. (Gagosian denied it.) Given all this talk of CAA and Pinault, though, it's worth a notice. I had heard rumors last year of LVMH extending a line of credit to the gallery, and then just a few weeks later Delphine Arnault joined the board of directors. [New Yorker]

Minty soap, psychedelics, Reagan-era conservatives, and more: The religion of Dr. Brommer's. [GQ]

Gucci, Tom Ford, and Bally are the big designer debuts at Milan Fashion Week [WWD]

Prada makeup and skincare is coming. [WWD]

Tamara Mellon raised at least $87 million to fund her self-named shoe label. She spent a lot of that money on online customer acquisition. Now, she's partnering with a licensing company to essentially take over the business, from e-commerce management to manufacturing (moving from Italy to Spain) and distribution (adding wholesale). [BoF]

Laura Vassar, the former designer of Brock Collection, launched a capsule with Reformation in June. It's really well done, and made me better understand the consumer obsession with Brock. The denim for Reformation just dropped (I wish each pair didn't have a big ol' tag on the back, but otherwise it's fab). It's also an interesting experiment for Reformation—higher price point, narrower point of view. [Reformation via Hillary Kerr and Leandra Medine Cohen]

This Montecito story is the perfect example of everyone talking about something and nobody really capturing it in writing until it's almost too late. So funny. [New York Times]

The Celebrity Stylists Union in the U.K. did a breakdown of what it takes (and costs) to style an actor for an event. [Talent Styling 101]
Until Thursday,
Lauren
FOUR STORIES WE'RE TALKING ABOUT

Need help? Review our FAQs
page or contact
us for assistance. For brand partnerships, email ads@puck.news.
You received this email because you signed up to receive emails from Puck, or as part of your Puck account associated with . To stop receiving this newsletter and/or manage all your email preferences, click here.
Puck is published by Heat Media LLC. 227 W 17th St New York, NY 10011.