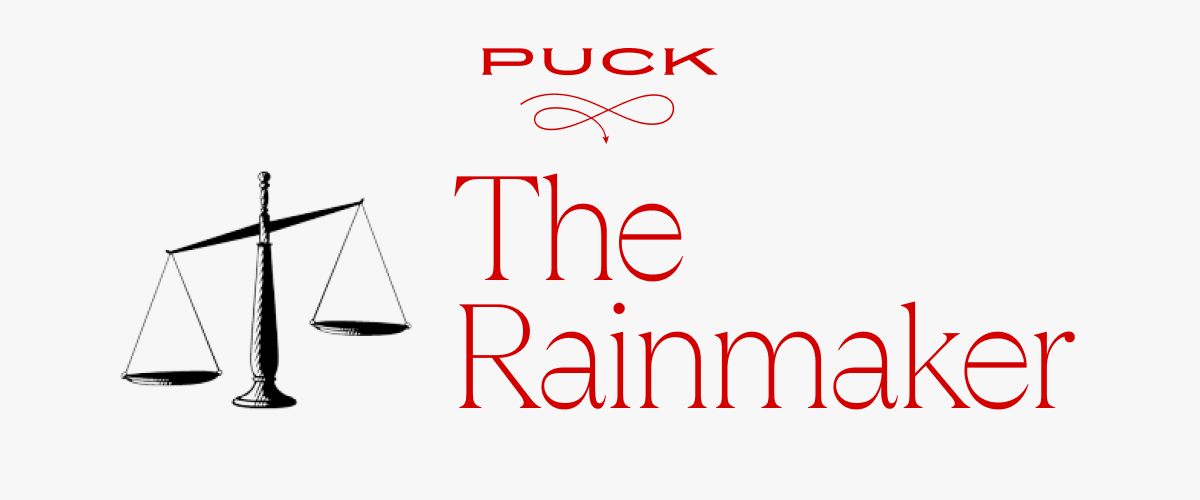 Happy Monday, I'm Eriq Gardner.
Welcome back to The Rainmaker. In this week's edition, a juicy new case involving a heiress to the Sumner Redstone fortune. Plus Barack Obama, Ron DeSantis, Carlos Watson, David Zazlav's South Park lawsuit, Kanye West's new lawyer, and a Supreme Court brief you'll have to see to believe.
(Was this email forwarded to you? Click this link to subscribe.)
But first…
An Obama-Fugees-DiCaprio Legal Riddle for the Ages
These days, Jho Low is a notorious fugitive, wanted by the U.S. for allegedly masterminding the theft of billions from Malaysia's sovereign wealth fund and then attempting to covertly influence American politics. Back in 2012, however, he was right next to Barack Obama at the White House for a holiday party. And there's a (blurry) photo, too!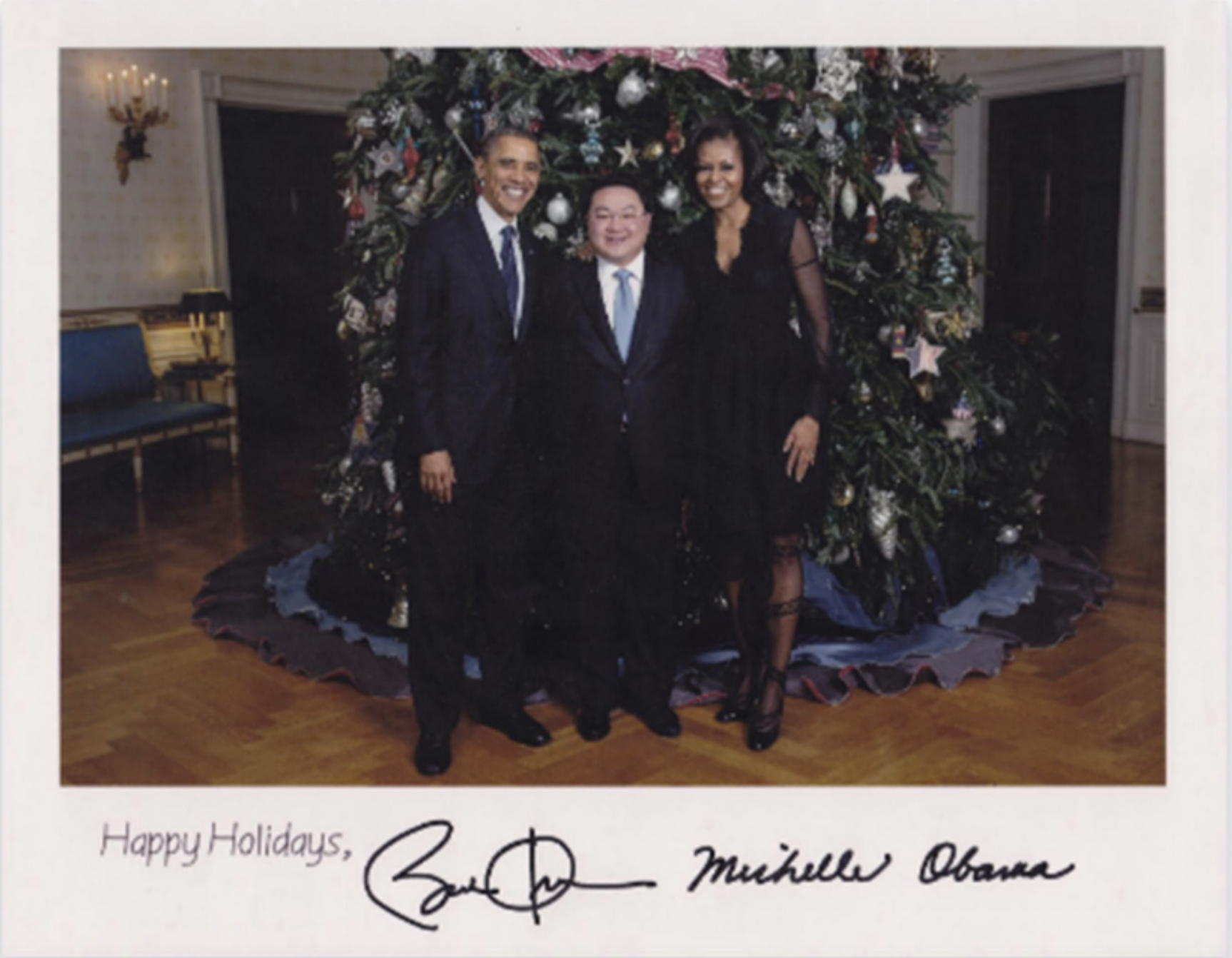 The pic was lodged into the public record for the first time on Friday by Pras Michel, the ex-Fugees rapper who is going to trial next month for allegedly helping Low funnel money to Obama's 2012 re-election campaign through straw donors, and for later attempting to influence Donald Trump to extradite a Chinese dissident. The hip-hop star wants to call both Obama and Trump to the witness stand, and the U.S. government, naturally, is attempting to prevent that from happening.

So who got Low into the White House to pose with a sitting president, and why? That's the question Michel wants Obama to address at trial. According to the defendant's latest brief, a key Obama fundraiser named Frank White "covertly snuck Jho Low into the holiday party" and later convinced Obama to meet in the Oval Office with Leonardo DiCaprio, Martin Scorsese, and Riza Aziz, the stepson of Malaysian Prime Minister Najib Razak, to present a copy of the movie The Wolf of Wall Street, which was funded by money that Low allegedly embezzled. The brief includes a photo of that meeting, too, adding that Obama's "testimony would be wide ranging, but with a focus on Frank White because, generally, the government has missed the mark in indicting Mr. Michel instead of Frank White."

Federal prosecutors counter that Obama has no special information to provide and cite the prejudicial impact of having a former president testify. Michel attorney David Kenner responds that White manipulated Michel's relationship with Low, and later lied to investigators, and that Obama has "first-hand knowledge and unique insight" about these matters. He appears to want to raise a stink about Washington's shady game of campaign finance in general, which could be of interest to newer criminal defendants like Sam Bankman-Fried. On Friday, Michel also filed a supplemental witness list that includes Bill Clinton, Chris Christie, Rudy Giuliani, and others.

Read the full brief here, which also argues for Trump's testimony. According to Kenner, this wouldn't be the first time a president was ordered to testify at someone's criminal trial. He cites Gerald Ford in the case of an attempted assassination back in 1975. Will the judge actually allow Michel to call Obama as a witness? It's still probably a long shot, but we'll find out soon.
Zaz Entertainment! It's extremely rare to see a major Hollywood studio sue another, so it's a big deal that Warner Bros. Discovery is suing Paramount over exclusive rights to stream South Park. And C.E.O. David Zaslav's lawyer here is a pick out of left field. No disrespect to Jim Walden, of New York's Walden Macht & Haran firm, but who? His track record of entertainment cases doesn't appear to be long. It makes me wonder if the usual suspect litigators had too many conflicts to engage in this fight (or maybe that's just what they offered as an excuse). Perhaps they didn't want to work on contingency?

As for the claims, Warners alleges that Paramount and South Park creators Matt Stone and Trey Parker got around HBO Max's exclusive by "grammatical sleight-of-hand, characterizing new content as 'movies,' 'films,' or 'events'… as opposed to 'episodes.'" I bet every star, agent, and lawyer who's ever taken on a studio over "Hollywood Accounting" is smirking at this allegation. Yes, there've been plenty of battles over the years about classification (e.g. "sequels" vs "spin-offs" in the Fast & Furious franchise) but it's usually in the context of profit participation against the likes of Warner Bros. This suit also calls to mind the one between Starz and MGM over exclusivity (now settled), but I agree with Matt Belloni's take: There's something about this latest case that speaks to Warner's leadership and its debt burden. (Read the complaint here.)

Shady media moves: Carlos Watson has finally been arrested and charged with fraud in connection with an alleged scheme to trick potential investors of Ozy Media, the company he founded. The headline allegation repeats what Ben Smith originally reported for The New York Times about a Watson underling impersonating a YouTube executive during a conference call with Goldman Sachs. Prosecutors also detail Watson's alleged use of a forged TV contract to secure a bank loan.

The charges here are incredible, but I'm just as interested in the uncharged obstruction allegations. According to a letter written to the judge advising her on conditions for Watson's release, he withheld incriminating documents after the federal investigation commenced, in the face of a subpoena, and attempted to retaliate against Ozy colleagues cooperating with investigators by cutting off funding for their legal defense. If convicted, Watson faces anywhere between two and 37 years in prison.

JUST IN: Dominion's latest papers in the big Fox News lawsuit have just become public. Read those here. They contain a lot of arguments and a few revelations. For instance, Rupert Murdoch testified during his deposition that he gave Jared Kushner confidential information about Joe Biden's campaign ads. Murdoch also sorta throws under the bus some of his hosts (Lou Dobbs, Maria Bartiromo, and Sean Hannity) for "endorsing" election conspiracies. There's also discussion of the relationship between Murdoch and C.E.O. Suzanne Scott, whether he attends editorial meetings, and other palace intrigue including Fox Corp. board member Paul Ryan's input in the weeks leading up to January 6. Here, for good measure, is Fox News's answer, attacking "cherry-picked" quotes and Dominion's damages theory.
Two years ago, when the billionaire Hollywood mogul Sumner Redstone passed away, his granddaughter Keryn got a text message from an old acquaintance expressing sympathy for her loss. Keryn, 40, who was among the beneficiaries of her grandfather's fortune after an estate battle with two of Sumner's former live-in girlfriends, did not respond right away. But a few months later, Keryn texted back her old buddy, Scott Nathan, and the two began chatting. That's where their stories diverge. The dispute, now in court, represents a strange aftermath to the legal drama featured in James B. Stewart and Rachel Abrams's new book about the Redstone family and their media legacy.

According to Nathan's account, Keryn Redstone offered him a job as her estate manager and personal assistant, which he accepted. After receiving a $50,000 signing bonus, he began to organize her chaotic life. Soon, he moved into her Brentwood residence, lured by the promise of more money. But Nathan claims that Keryn struggled with mental and substance abuse issues and began hurling wild accusations at him. One morning, the police woke him up after Redstone called 9-1-1 claiming Nathan had stolen money and held a gun to her head. A few days later, she repeated those accusations to porn star Danny Mountain, who was at her home to provide "sexual services." Finally, Redstone tweeted a photograph of her cat with the message, "My cat that Scott Nathan stole from my house." That, apparently, was the final straw; Nathan decided to sue.

Naturally, Redstone offered a very different version of events. When they first reconnected, she says, he hit her up for money, and she wired him funds to help him out. But she claims she never actually hired him, and only asked him to stay at her place for a few days while she was settling in. Nathan, she continues, used that opportunity to insinuate himself into her life and exploit her financially. He was the one who exhibited mental instability, she said, evidenced by a strange fixation with her "rare and expensive cat." Redstone found his behavior concerning and asked him to leave. That's when he pulled a gun on her. Being cautious, she waited for him to fall asleep before calling the cops.

All this is now playing out in a defamation suit, the legal remedy du jour for a country that can't seem to agree on anything. From Hollywood A-listers to NFL legends, QAnon conspiracists to YouTubers and even chess grandmasters, everyone is seemingly in court these days over something someone else said. Nobody should be surprised that another Redstone is suddenly enmeshed in a new legal drama, too—or that it might hinge on the sworn testimony of an adult film star. It comes with the territory, right?

As for this case, a few weeks ago, a Los Angeles judge refused Keryn Redstone's bid to shut down Nathan's lawsuit. Redstone had attempted to take advantage of California's anti-SLAPP law—meant to quickly knock down frivolous lawsuits that impinge important speech—arguing, in part, that her statements to the police were privileged. The judge responded that a public tweet and a comment to a porn star had nothing to do with a police investigation. The case is now proceeding to discovery, leaving unresolved, for now, whether you can really win damages for being smeared as a cat-kidnapper.
Springtime for Defamation
Libel discourse is entering a sort of golden age where defamation law is part of our culture wars. Trump is suing CNN for allowing guests to criticize him, and he is being sued for disparaging a woman who accused him of rape. Republicans want to make it easier to sue the media, in particular, with Florida Governor Ron DeSantis promoting a new proposal to reshape libel law in his state by changing who qualifies as a public figure and by treating anonymous speech as presumptively false.

For some perspective on the Florida proposal, I called Alexander Rufus-Isaacs, a Beverly Hills attorney with some fascinating cases, including the aforementioned Redstone suit (he's representing Scott Nathan); a former Vanity Fair photo editor suing Netflix over Inventing Anna; and Ruth Shalit Barrett's peculiar lawsuit against The Atlantic. Rufus-Isaacs, who has represented clients on both sides of defamation claims, said he worries about the DeSantis crusade. "As a plaintiff's lawyer, this would be phenomenal," he told me. "But on a wider level, no, that would be quite bad. It's obvious what they're trying to do."

Rufus-Isaacs believes, and I second, that the true aim in Florida is not only to give officials an anti-media talking point, but also to entice the U.S. Supreme Court into revisiting New York Times v. Sullivan, the right's new legal fixation now that Roe v. Wade has fallen. (That landmark 1964 opinion established that public figures must demonstrate a speaker's actual malice to prevail on a defamation claim.) Justice Clarence Thomas has already called for overturning Sullivan under the premise that libel standards for public figures are not explicitly spelled out in the Constitution, and should therefore be left to states. Florida lawmakers see an opportunity to strike. Otherwise, the proposal would be pretty clearly unconstitutional under existing precedent.

If it becomes easier to sue for libel, that'd cause at least two major changes in the media. First, it would cause journalism to degrade in quality—to become less adventurous as news outlets hold themselves back from publishing newsworthy information about well-resourced individuals. Second, and perhaps more counterintuitively, I think it would cause the reputations of journalists to rise. As I see it, the public's low assessment of the media is partly a function of the power it holds to shape opinion, which causes rivals for power—like politicians—to attack to reclaim the upper hand. Turning down the media's microphone would make journalists less of a target for retaliatory abuse, which, weirdly, could boost their popularity. Of course, democracy doesn't depend on a popular fourth estate, so that trade-off, in my opinion, would most definitely not be worth it.

To imagine a post-Sullivan U.S., just look to England, which is notoriously friendly to libel plaintiffs thanks to its "strict liability" standard for untrue statements. Then again, the British have a pretty vivacious celebrity tabloid culture—if not much of a reputation for investigative reporting about public corruption—which shows the low-brow journalism that might thrive should Sullivan go away. Rufus-Isaacs, a Brit himself, may know this better than most. "You might be onto something," Rufus-Isaacs told me, pointing to what happened to Catherine Belton, who wrote a book, Putin's People, before being bombarded in London with libel suits from Russian oligarchs.

Others disagreed with my theory. Ted Boutrous, a Gibson Dunn partner who has defended media outlets in trailblazing First Amendment cases, believes that hostility toward journalists predates Sullivan and persists in many countries without high bars to libel. "Journalists will never win a popularity contest and politicians will not stop bashing them just because it becomes easier to sue them," he insisted. "In fact, the availability of more lawsuits will only spawn more hostility. And attacking the press is viewed as good politics by some, and always will be."

For more, come hear me speak on March 10 at the University of Missouri for a symposium, "What if New York Times v. Sullivan is Next? The Future of Journalism and Defamation Law." Or send me your thoughts at eriq@puck.news.
Backfiring: Anti-media foes who are thirsty for the Supreme Court to address New York Times v. Sullivan should heed what happened during oral arguments this past week over Section 230 of the Communications Decency Act. Conservatives sent up flares about how they wanted a case to address the tech industry's favorite legal shield, but now it seems a unanimous ruling in favor of Google and Twitter could be in play.
Drawing a picture: Legal heads were buzzing about an amicus brief that the art collective, MSCHF, filed in that Jack Daniel's trademark case to be argued at the high court next term. It's a pretty strange one that invites each of the justices to submit artworks for a planned exhibition. MSCHF even gets them started with some sort of connect-the-dots scheme. As for the case, which I discussed a month ago, the Motion Picture Association on Friday requested that it be given the opportunity to participate during oral arguments. That should highlight the stakes for Disney, Netflix, and the MPA's other members.
This island has a lawyer: Kanye West finally has an attorney by his side again. Portland-based Peter Hawkes, a Harvard-trained commercial litigator, apparently can tolerate the anti-Semitic stuff. Hawkes, who is now appearing for West in a copyright infringement case, didn't respond to a request to explain.
Annals of Endowment: Puck's favorite lawsuit from this past year—the one where Curtis "50 Cent" Jackson sued after a plastic surgery center implied he had penile enhancement surgery—is still ticking. According to court papers, the rapper settled with The Shade Room over its story emanating from an Instagram post, but claims against the owner of the plastic surgery center are moving forward. Mediation is scheduled, with a trial possibly happening in September.
FOUR STORIES WE'RE TALKING ABOUT
Hollywood '23 Mailbag
Costner's 'Yellowstone' salary? Writers' strike conspiracies? Read on for more.
MATTHEW BELLONI

Zazonomics 101
Peter and Jon discuss Zaz's debt journey and some journalism Catch-22s.
PETER HAMBY & JON KELLY

Lemon's Lightning
On the Lemon saga, the Barkley-Gayle question, and 'CNN This Morning.'
DYLAN BYERS

Need help? Review our FAQs
page or contact
us for assistance. For brand partnerships, email ads@puck.news.
Puck is published by Heat Media LLC. 227 W 17th St New York, NY 10011.