Welcome back to What I'm Hearing+, my weekly dispatch focused on the streaming industry and the analytics behind it all. If this email was forwarded to you, click here to subscribe.
Tonight, some thoughts on the logic behind Netflix's resuscitation of Girls5Eva, which was canceled by Peacock but will now return to the Sarandos & Co. streamer with a third season.
But first…
Peacock's Best Move Yet: We're talking quite a bit about Peacock this week, an excellent sign for a platform that wasn't getting much coverage outside of "how long can this last?" The latest example is Peacock's deal to create a Hallmark channel that will simulcast Hallmark's linear channels to the streaming service. This is maybe NBCUniversal's best Peacock decision to date. Its core audience is cord-cutters looking to effectively supplement cable for a cheap price. They're a little older than the Netflix and Disney+ crowd, and they want what's familiar to them. Peacock should be cozy, and there's no cozier network than Hallmark.
Disney+Shopping: If Amazon was one of the first major retail platforms to boost e-commerce with streaming, Disney+ wants to be one of the first major streaming platforms to boost its content with e-commerce. Disney announced today that it intends to run a "limited test" to see if Disney+ subscribers will also shell out for exclusive merch. Well, mission accomplished—within hours, the site had sold out of several items.

This is, of course, a win for both Disney and its customers, who get early access to toys and collectibles that reward hyper-fandom. Disney, for its part, can collect more information about its customers, target specific experiences and ads by demo, and drive more attention and revenue to its products. I'm still wondering why Disney hasn't better integrated Marvel Unlimited into the platform to cross-promote its comics business with its Marvel and Star Wars franchises. Maybe one day.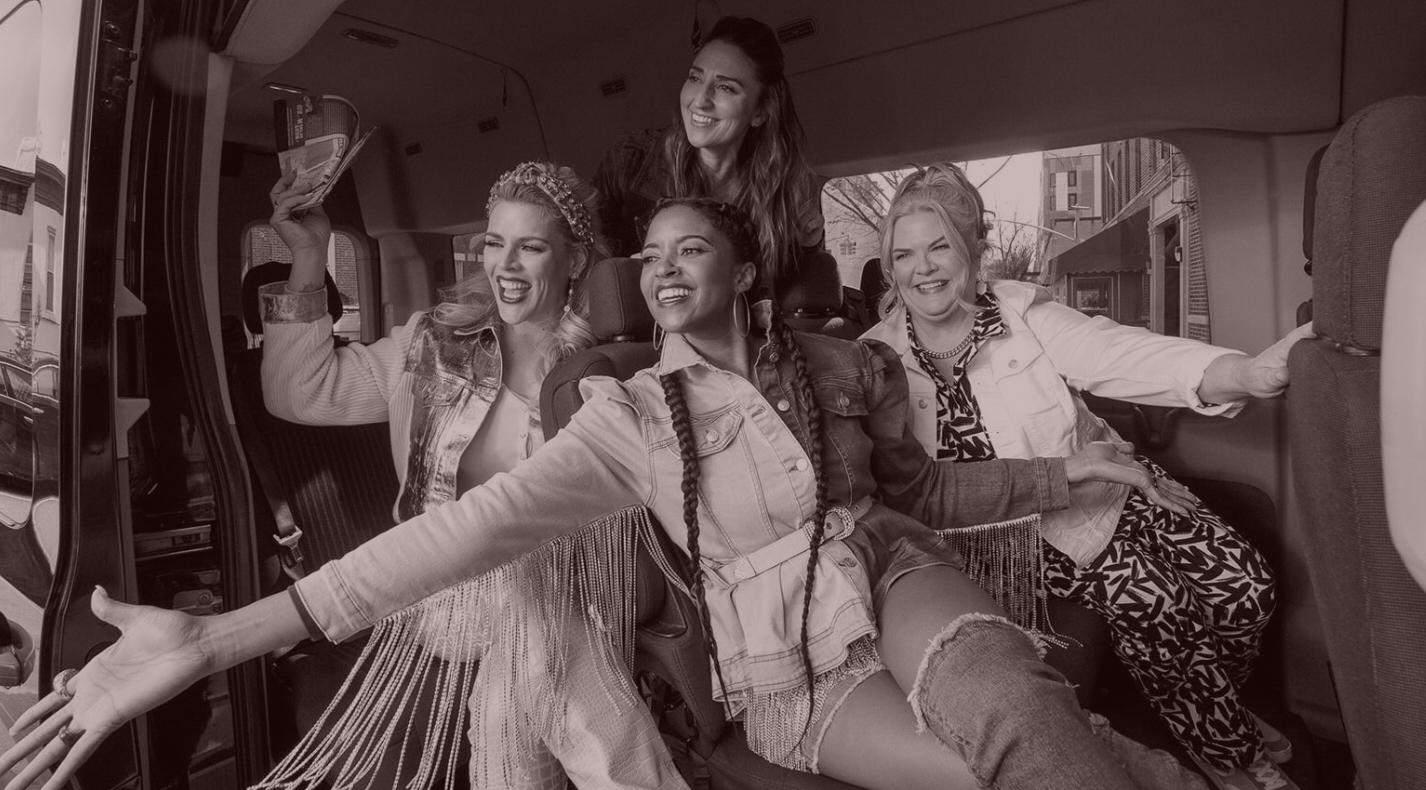 Netflix's Seinfeld Strategy
Girls5Eva, a Tina Fey-produced comedy that struggled to break into the zeitgeist at Peacock, was the perfect target for Netflix as it down-shifts from high-budget originals to ad-friendly comfort food. It's also evidence of a new and sophisticated audience retention tactic to turn network castoffs into global hits.
Sometime last summer, without any reporting at the time, Girls5Eva, the well-reviewed but semi-obscure comedy series from Tina Fey, was quietly canceled by NBCU's Peacock. Despite a Rotten Tomatoes critics' score of 98 percent, the show never quite broke into the wider zeitgeist. But luckily for the cast, and for its smitten critics, the show has been resuscitated for a third season at Netflix.

There is, of course, a sophisticated audience retention strategy behind this particular bit of I.P. shuffling. Because while not many people watched Girls5Eva on Peacock, the show could potentially find a much wider-reaching audience on Netflix. And that's precisely the dynamic that makes Netflix such a powerful force among all the streaming companies, despite its recent and precipitous stock decline (and cautiously optimistic resurgence). Netflix, after all, remains virtually unmatched in its ability to resuscitate a show: to take a title that was otherwise left for dead, prop it up in front of its 223 million paid subscribers, and turn it into a bonafide global hit.

Manifest, which NBC canceled after three seasons, became an international sensation once it was picked up by Netflix, where it stayed in the Top 10 for weeks on end. (Netflix ordered a fourth season shortly thereafter.) You, which moved from Lifetime to Netflix for its third season, racked up 1 billion minutes watched within its first five days, according to Nielsen. You ended up being the 44th most in-demand series on Netflix globally in 2021, according to Parrot Analytics, where I work as director of strategy. And Fox's Lucifer ended 2021 as the most-watched Netflix original series (with new seasons) in the U.S. and the sixth most in-demand series globally.

Those shows all feature must-watch cliffhanger episodes on which Netflix could build momentum. Girls5Eva is a very different show—a quirky comedy that may find an audience on Netflix but certainly wasn't going to find one on Peacock, where the subscriber base is one-fifth the size of Netflix's US audience alone. So NBCUniversal's decision to sell the show makes sense, even if it's a reversion to what Bob Iger once infamously called "selling nuclear weapons technology to a third-world country." After all, Peacock is not Disney+, and a title that isn't growing an audience can sometimes unlock more value on another platform. NBCU presumably modeled the value of the asset over the next x-years as a library title versus its value on another platform, and decided the company would get a better return by selling the rights.

But what's in it for Netflix to acquire a niche comedy that may not work, while also sharing the streaming rights to the first two seasons with Peacock? The answer is the genre.
It's no secret that comedies can be extremely valuable to streaming players. South Park co-creators Matt Stone and Trey Parker signed one of the biggest talent deals in TV history when they re-upped with Paramount for a nearly $1 billion deal in 2021. The Office's domestic rights fetched $500 million when NBC brought it to Peacock exclusively. Friends' domestic rights went for $450 million when WarnerMedia moved it from Netflix to HBO Max. Seinfeld's global rights went for a reported $500 million when Netflix bought it in an exclusive deal.

It only takes a quick glance at consumption metrics to understand why. When comparing two important licensed series for Netflix, Grey's Anatomy and Seinfeld, Parrot discovered that Seinfeld is more than twice as good at attracting new subscribers and 18 percent better at retaining subscribers who are at a high risk of churning—a key customer group for Netflix. Seinfeld, not surprisingly, also became one of the most streamed shows on Netflix in 2021, with 41 percent of the audience demo under the age of 35, according to Nielsen at the time.

These numbers are especially critical for Netflix in its biggest and most lucrative market—UCAN, or the United States and Canada. Over the last fiscal year, Netflix lost nearly 700,000 subscribers in UCAN, and only started gaining net subscribers again in its most recent quarter. Indeed, while Netflix executives once touted the possibility of reaching 100 million paid subscribers in UCAN, it's become increasingly clear that hitting that number will take strategic changes to the business model (cheaper ad-supported tiers, spacing out programming to level out each quarter, experimenting with episode-release models) in addition to a smart programming strategy. The core focus for Netflix in the UCAN region right now is retention.

One proven way to keep subscribers from leaving is to bundle. Disney's bundle greatly reduces churn for its streaming services, according to Antenna. Individual subscribers to Disney+ churned at 4.8 percent in 2021, for example—and more than 6 percent at Hulu and ESPN+—but only churned at 2.8 percent if they were subscribed to all three together. Bundling increases perceived value and makes a product stickier even if usage across one or two services is far lower than the core platform. Another proven method is to partner with telcos, like Disney+ and Verizon.

On the creative side, however, one of the best and most obvious ways to reduce churn is by producing content that people actually want to watch. Shows with low decay rates—meaning those that have sustained viewership and engagement between new seasons, or after a series ends—have much higher retention. And successful comedy series tend to have some of the lowest decay rates of any genre. Even if they're not the hot show of the week, the fact that people can return to them time and time again, alongside a myriad of other shows, is what juices engagement and thus the perceived value of the platform.

And comedies like New Girl, Workin Moms, and Girls5Eva will only become more important for Netflix as it evolves its business model, not only to reduce churn, but also to appeal to advertisers and lessen costs. Sure, Netflix also excels at developing high-budget or high-concept series like The Watcher, Stranger Things, Squid Game, The Queen's Gambit, Dahmer, and so on. But the large investment in those types of shows is more justifiable when customer acquisition is increasing or churn rates are stable—neither of which is the case in Netflix's core market right now. Instead, Netflix needs to find more series that can help retain customers, especially high risk subscribers, for lower costs. Netflix already has a proven track record of success with acquiring sitcoms and procedurals, rather than developing them itself. Not coincidentally, these are also precisely the types of shows that advertisers love.
Girls5Eva is not Seinfeld, of course, or The Office, or even Emily in Paris. Its audience is much smaller, but it is a show like those shows—and that's what Netflix wants more of, according to a report from Insider. Internal documents seen by the outlet specifically pointed to Netflix's desire for fewer Master of Nones—"sad coms" that are really half-hour dramas—and more broadcast-style comfort sitcoms like New Girl.

Hollywood, like Silicon Valley, loves pattern-matching, and Girls5Eva has the pedigree to suggest it could draw a bigger audience than at Peacock. The show hails from 30 Rock duo Fey and Robert Carlock, who both know Bela Bajaria, Netflix's head of global, and Tracey Pakosta, Netflix's VP of comedy, from their days at Universal TV. Fey and Carlock also worked on The Unbreakable Kimmy Schmidt, which became one of Netflix's longest running comedies. Kimmy Schmidt is also where Fey and Carlock worked with Meredith Scardino, who was a writer on the show and then moved on to create Girls5Eva.

So, like anything in Hollywood, there are a lot of traditional relationships at play here. Since Nielsen didn't report viewership data for Girls5Eva and Peacock never released numbers, there's not much public data from which to determine its current value. We can, however, look at the show's affinity to other titles, both on and off Netflix, where there is strong overlap with shows like Schitt's Creek, The Umbrella Academy, The Goldbergs, Only Murders in the Building, and Ted Lasso. Schitt's Creek did exceptionally well for Netflix (it moved to Hulu earlier this year), while the other series are the types of shows Netflix would like more of on its platform. Seeing the overlap with titles like Umbrella Academy also speaks to the younger demographic of the audience—Parrot data shows that GirlsEva skews 60 percent female and 46 percent millennial—that will find value in other Netflix originals outside of comedy.

Girls5Eva could fulfill the needs of a very specific taste cluster and have a sizable impact on retention for high-risk churn subscribers, just like Seinfeld did. Or it could be another Good Girls situation, where Netflix acquired global rights to the NBC series but didn't renew it for a fifth season despite the show's first few seasons performing well domestically on the platform. But there is enough evidence of future success for Netflix to take this bet, especially given the power of its algorithm and its huge reach. Netflix doesn't need every show to be a Stranger Things—as great as that would be for Ted Sarandos & Co.—but it does need more Seinfelds to keep viewers engaged.
FOUR STORIES WE'RE TALKING ABOUT
Mayor Pete's Dilemma
A conversation encircling Buttigieg's political pickle, McCarthy's ambitions, and K Street moves.
TARA PALMERI & ERIQ GARDNER

Need help? Review our FAQs page or contact us for assistance. For brand partnerships, email ads@puck.news.
Puck is published by Heat Media LLC. 227 W 17th St New York, NY 10011.