Happy Thanksgiving! (A day later than usual, due to my turkey coma.) I'm thankful for all the subscribers, supporters, and sources that make What I'm Hearing happen. On that note, a big 👍 to Amy at the production company Wonky Chair, who just became the 40,000th member of the WIH community. This group—and Puck itself—began last summer with a single note from me to 300 friends and industry contacts, so thanks for being part of this journey and helping us build a next-generation media company. If you're not a paid subscriber, or if this email was forwarded to you, just click here to join the club. You'll be thankful you did.
First, let's break some Disney news…
Another Bob Chapek Deputy Gets the Boot
Returning Disney C.E.O.
Bob Iger
wasted no time in dispatching his successor/predecessor
Bob
Chapek
's top lieutenant,
Kareem Daniel
, the day after retaking the throne. Now comes word that
Arthur Bochner
, another member of Chapek's inner circle and a key contributor to the messaging that helped get Chapek fired, is out as well. Disney declined to comment but I'm told Bochner got the call on Tuesday. Happy Thanksgiving.
Bochner, a longtime Chapek speechwriter, is an interesting figure in the Disney drama because he was "chief of staff" in the office of the C.E.O. from March 2020, when Chapek took over, until this August, when he was moved into a new role as vice president of strategic communications under comms chief Kristina Schake. He played a key role alongside Schake's predecessor Geoff Morrell in the botched public response to Florida's "Don't Say Gay" bill and the internal messaging to employees that caused such hellfire.
And, importantly, Bochner's fingerprints were all over Chapek's now-infamous prepared remarks on the recent Disney earnings call, wherein he treated a $1.5 billion quarterly loss in streaming like it was cause for a celebratory Main Street Electrical Parade. Bochner also helped craft Chapek's post-earnings email to staff, the one that created chaos by revealing that layoffs were planned, much to the surprise of top human resources executives.
So… it's not a shock that Bochner has been excised. The real question is how far the post-Chapek purge will go, and how those layoffs that Chapek (and Bochner) announced will play out under Iger.
Thursday Thoughts (Friday edition)…
Notes on a holiday box office bloodbath:
Man, it's brutal out there this weekend, with overall grosses projected to be down
significantly
from 2019 and down even from Covid-y 2021. Some thoughts:
1. Per exhibition sources (Netflix says it won't release numbers), Glass Onion: A Knives Out Mystery is killing it in 650 U.S. theaters, with the highest per-screen average among all offerings (including Wakanda Forever, which will lead the holiday weekend thanks to its high theater count). And it's not even close, I'm told, which begs the obvious question: How much $$ is Netflix leaving on the table with its limited one-week theatrical experiment? And how long can it continue to not care about that money left on the table?
2. Related: Spielberg has long been the big dog director at CAA (though the nature of what commissions he actually pays his film agents has always been a closely-guarded secret). But Steven's got to be annoyed that CAA didn't do more to stop Netflix from releasing Glass Onion—from another big filmmaker client, Rian Johnson—in theaters over Thanksgiving, taking the adult audience away from Spielberg's The Fablemans, which is tanking in a similar 650 theater roll-out. Yes, the original Knives Out was a Thanksgiving smash, so it's hard to argue with the dating. But try arguing that to Spielberg.
3. With Disney Animation's Strange World headed for a dismal $20 million to $25 million opening, on the heels of Pixar's Lightyear failure in June, the whispers have started: Disney officially Has a Problem in animation. But I'm not sure I buy that narrative. Other than Minions, has any animated pic really worked in theaters post-pandemic? This may be a genre problem. WDAS's Encanto didn't even become a phenomenon until it hit Disney+. Still, while Strange World director Don Hall and E.P. Jennifer Lee got points from critics for representation—interracial parents; gay son with a gay romance storyline; diverse female president; even a disabled dog!—that $180 million price tag and "B" Cinemascore equals one more thing for Bob Iger to worry about.
This week in missed opportunities: Paramount just announced via a lame press release that Top Gun: Maverick will finally stream on Dec. 22. But imagine if Tom Cruise had parachuted into (or even just appeared on) CBS's Thanksgiving NFL game to announce that TGM—whose audience, I'm guessing, correlates about 100 percent with football fans—would drop that night on Paramount+? The spike in sign-ups all holiday weekend would've dwarfed the Taylor Sheridan shows.
Now, as a holiday treat, I invited author, former investment banker and my Puck colleague William D. Cohan to go back and forth with me on this week's Disney C.E.O. shocker and the latest financial maneuvers at Warner Bros. Discovery…
Barbarians at the Disney Gates
How will returning C.E.O. Bob Iger defang Dan Loeb, and possibly even Nelson Peltz, the activist behind the coups at GE and DuPont? Plus, Wall Street's Zazlovian doubts. Here's the inside conversation on a big week in big media.
Matthew Belloni:
Happy Thanksgiving, Bill, and congrats on your new book,
Power Failure
, about the rise and fall of General Electric.
Malcolm Gladwell
just published a rave
review
, and he's basically the
Oprah
of business books, so I assume it's selling out on this Black Friday?
Bill Cohan: Thank you, Matt. It's quite a story and would more than fill up a stocking this holiday season. Of course, what would really help the "selling" would be a kind word from Justin Bieber with his nearly 114 million Twitter followers. The book seems right up his alley.
Matt: We'll get to GE and its former ownership of NBC momentarily, but we gotta start with Bob Iger's return as Disney C.E.O. Hollywood people seem positive Iger will start acquiring companies like he did with Marvel, Pixar, Lucasfilm, BAMTech, and Fox. But the Disney of 2022 is pretty different from the Disney of Iger's tenure, 2005 to 2020. For one, interest rates are much higher. And Disney now carries a ton of debt thanks to Iger paying $71.3 billion for most of Fox, so he can't just pull the trigger on more, right?
Bill: I don't see Disney making any big acquisitions under Iger, Round 2, other than perhaps the rest of Hulu from Comcast on an accelerated timetable suggested by Dan Loeb, the activist hedge fund manager with about $1 billion in Disney. There is also an unconfirmed Journal report that Trian Partners, the hedge fund founded by Nelson Peltz, has also bought an $800 million stake in Disney. If true, Peltz will also likely have ideas for what Iger should do, especially since the Journal reported that Peltz opposes Iger's return. Dueling hedge funds is always a fun dynamic. Beyond that, two things will check Iger's acquisitive instincts. One, as you point out, is Disney's existing $50 billion of debt and the fact that the cost of capital is much higher these days. He can't really use Disney's stock for deals either, given it's trading at $98, about half its peak in March 2021—although obviously that could change. Iger will also face a much-changed regulatory environment where the Biden administration clearly is not shy about trying to block deals it views as stifling competition, or that allow the big to get even bigger.
A MESSAGE FROM OUR SPONSOR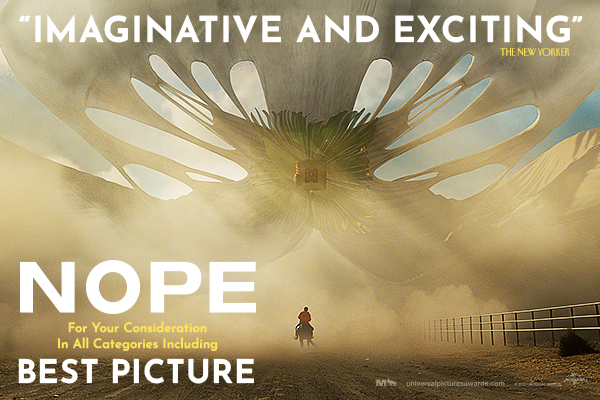 Written and directed by Academy Award winner Jordan Peele, Nope is an expansive pop epic of uncanny science fiction and complex social thriller that unpacks the seeds of violence, risk and opportunism that are inseparable from the romanticized history of the American West … and from show business itself. ABC News calls Nope "a spellbinder that keeps pushing boundaries." The Chicago Sun-Times says it's "masterfully audacious and wickedly funny." And The New Yorker calls Nope "one of the great movies about moviemaking." For your consideration in all categories including Best Picture of the Year. NOPE is now available to stream on Peacock.
Matt:
Yeah, all this talk of Iger selling Disney to Apple seems to neglect that Apple is already on thin antitrust ice over its App Store; the government successfully blocked the Penguin Random House-Simon & Schuster combination, and the F.T.C. is said to want to stop Microsoft's $69 billion play for ActivisionBlizzard. Plus,
Tim Cook
isn't really a big acquisitions guy, anyway.
Bill: Let's face it, Disney is already the 800-pound gorilla in Hollywood, and I don't see what they need to buy, or what they would actually be allowed to buy, these days.
Matt: I think they kinda do need something in a growth category, like interactive or gaming. Iger tried and failed with Club Penguin and other initiatives, but this is where the growth is, and Disney could better deploy its I.P. machine across games if handled properly. (That's a big if; plenty of smart people think Disney would be foolish to try again with games.) Same with consumer products. Maybe even a toy company like Hasbro makes sense; the two companies have done business forever, and it's already selling off its eOne content division, which includes a big film and TV library. And it has great kids properties like Peppa Pig and PJ Masks.
Bill: Iger—if he's smart—would take to heart Loeb's suggestion to spin off ESPN and load it up with a chunk of Disney's debt in the process. He might also consider jettisoning ABC, although I'm not sure who would be interested in buying it.
Matt: Right, I suppose ABC could become a separate public company and Disney shareholders could get equity shares in it. I just don't see Iger cutting bait on linear television entirely, especially since that division still throws off tons of cash. But Iger's biggest challenge (besides succession) will be to reverse the poor narrative on Disney and figure out how to spur growth amid a challenged economy and questions about the future of streaming. He's already starting to undo the moves his successor/predecessor Bob Chapek made, like re-organizing the content operation around distribution. What's it gonna take to make Wall Street believe in Disney again?
Bill: Well, bringing Iger back has already made a difference, as harsh as the whole episode appears to be. He needs to take seriously Loeb's suggestions of buying up the rest of Hulu from Comcast, spinning off ESPN, cutting costs and reducing a big slice of that debt. Loeb and his investors expect a return on their $1 billion investment. They also expect to be listened to seriously and will appreciate getting thrown a few bones. Activist investors do not like being ignored, especially at a company like Disney, which has many different levers to pull to increase value for its shareholders. Winning back the support of Wall Street is always a relatively simple proposition: Increase the stock price, which usually is highly correlated to increasing revenue and profits. Iger knows how to do that at Disney, I presume, even in a tougher economic environment than existed during the previous decade.
Matt: Let's talk about the Disney board, which really doesn't look good here. Susan Arnold, the board chair, was one of Chapek's big public backers, and there's been reporting this week that she had major concerns about Chapek yet renewed him anyway and put out that vote of confidence statement. I keep hearing from Disney investors that they want a real overhaul of the board, especially since there isn't a single person besides Iger with serious entertainment experience on it! How much blame does the board take for this debacle and could we see a shakeup soon?
Bill: The decision to extend Chapek's contract, in June, only to follow it five months later by his unceremonious sacking, is all the evidence you need that the Disney board is in dysfunctional disarray. As we both know, prior to Chapek getting the extension, there was plenty of chatter swirling around Hollywood and Wall Street that he would not last, and that Iger was angling for a return. I know people are blaming the move on the rough fourth-quarter earnings call, but please. The Chapek issues, both inside and outside Disney, have been apparent for years. A well-functioning board would have rectified the situation in June, or earlier, not allow it to fester for months and then issue this highly embarrassing Sunday night press release.
Matt: Yeah, the whole thing makes them seem weak and indecisive, like nobody had enough experience in the media industry to realize how bad the situation was. How can investors trust this board to provide steady oversight and make future decisions?
Bill:
Board ineptitude is more and more common these days. When a board like GE's—the onetime pinnacle of American capitalism—can't function properly and then runs from any accountability, then it's hardly surprising that the Disney board screws up its succession process. Dan Loeb realized the weaknesses and called for a "refresh" in August, noting "there are gaps in talent and experience as a group that must be addressed." Chapek added one of Loeb's two chosen board candidates, but the company didn't act to remake the overall composition. Iger should take a different approach. And if it's true that Peltz has taken a stake in Disney, then Iger has double-trouble. Peltz is responsible for boardroom coups at both GE and at DuPont in recent years; I feel certain he is not above another coup at Disney, if he doesn't get what he wants, which is inevitably a higher stock price.
Matt: There's a sad component to all this: Is there really nobody who is qualified and interested in running the Walt Disney Co., to the point where they have to go back to the 71-year-old guy who used to run it? What does that say about the state of corporate leadership and the allure of Hollywood? I feel like there's an entire generation of talented executives who have simply bypassed media for sexier jobs in tech.
Bill: I think the Iger return is more of a tourniquet situation to try to stanch the existential bleeding, rather than an indication of there being no one who can run Disney for the next 10 or so years. I don't think it's a matter of a dearth of talent in Hollywood. Rather, I suspect it's something more along the lines of not being willing to take a risk on someone who appears to be too young or may not have every skill nailed down but who can grow into the job. We need to get over the syndrome of thinking that someone who doesn't look or act like the reigning C.E.O. will not be up to the job.
Matt: I mentioned the Disney debt, and I want to shift to Warner Bros. Discovery and C.E.O. David Zaslav. I keep hearing this term "good debt." WBD's C.F.O. Gunnar Wiedenfels likes to talk about it at investor conferences, this notion that because the company took on so much debt at favorable interest rates, it's somehow not that bad that the amount of debt—nearly $50 billion, in WBD's case—is so high. What's your take on this claim?
Bill: Matt, there is no such thing as "good" and "bad" debt. There is only more expensive debt and less expensive debt. OK, so WBD has a bunch of fixed-rate debt. Lucky them. But that just speaks to the interest that needs to be paid every year. I know Gunnar is a superstar. But that's only a small part of the equation, Gunnar! The question is: Will WBD be able to pay back its debt, as it becomes due? The answer is dependent on whether WBD can generate enough free cash flow to make its interest payments and then its amortization payments on the debt.
Matt: And those cash flow numbers are getting scary.
Bill: Let's just review WBD's financial situation at the moment. The $48 billion of net debt is still 5.1x WBD's last 12 months "adjusted" EBITDA of $9.3 billion. (I hate the "adjusted" EBITDA metric, as readers know.) While that's not Elon/Twitter leverage—more than 13x EBITDA—that's still a fair amount of leverage for a company struggling to find meaningful growth, hence Gunnar's flair for cutting costs and firing people. Back in April, when the deal closed, Zaz predicted that "adjusted" EBITDA for 2022 would be $1.1 billion higher than it is turning out to be, or $10.4 billion. Alas. Zaz has also already adjusted down WBD's "adjusted" EBITDA expectations for 2023 to $12 billion, from $14 billion. So 2022 will be a miss, and 2023 may also miss the already lowered projection. Hmmm. No matter how you slice it, Zaz and Gunnar are on a knife's edge financially these days.
Matt: How dare you. Didn't you just say Gunnar is a superstar?
Bill: If their prediction for 2023 "adjusted" EBITDA slips below $12 billion—which, no offense, seems likely given that we are heading into rougher economic waters—then that debt will loom larger and larger. If it gets downgraded into junk territory—it's already on the BBB ledge—then a whole new group of aggressive debt investors enters the WBD picture, with the potential to make life even more complicated for Zaz than it already is.
Matt: OK, your new book is 798 pages long, about the history of GE, so of course I want to talk about the tiny part of the timeline where it owned NBC. That was 1986 through 2003, which is arguably the heyday of the network, with Must See TV, Friends, Seinfeld, ER, Frasier, and all the others. Do you ultimately think GE was a good steward of NBC?
Bill: I think GE surprised people with NBC. Most thought the combo of Jack Welch (a plastics guy) and Bob Wright (his lawyer) would not do a good job running a TV network. But surprise, surprise, they did a pretty amazing job, and then, thanks to the aforementioned Zaz and Tom Rogers, one of the unheralded heroes of NBC, they also had the vision to get into the cable business, which Jack & Co. did in a big way through acquisitions including Bravo and Telemundo, and by starting from scratch both CNBC and MSNBC.
Matt: And eventually acquiring USA too, which led to the incredibly successful "blue sky" era of that network. They had a really nice run in cable.
Bill: In his way, Jeff Immelt also did his part to build up NBC under GE's ownership. He added Universal, including its movie studio and theme park business, creating NBCUniversal. Jeff's mistake was selling NBCU too cheaply to Comcast after the 2008 financial crisis, when GE was under tremendous financial stress and was looking to "burn some furniture," as Jeff told me, so the whole company didn't go down the tubes. At one point, pre-pandemic, NBCU was worth around $100 billion. It's probably worth less than that now, but it's still worth more than Comcast paid for it. And there were many people at GE that I talked to who thought Comcast was the better owner of NBCU than GE would ever be. They are probably right.
Matt: And now the question is whether Comcast will unload or merge NBCUniversal as everything realigns for the post-cable ecosystem. Thanks Bill, I look forward to finishing your book this weekend.
See you Sunday,
Matt
Got a question, comment, complaint, or a reason why your S.B.F. limited series will be the best one? Email me at Matt@puck.news or call/text me at 310-804-3198.
FOUR STORIES WE'RE TALKING ABOUT
S.B.F.'s Lost Gospel
New revelations illuminate S.B.F.'s thwarted world-changing ambitions.
THEODORE SCHLEIFER

McCarthy's Red Scare
Considering McCarthy's Speakership vote whipping, M.T.G. in the new Congress, and more.
TARA PALMERI & TINA NGUYEN

Need help? Review our FAQs page or contact us for assistance. For brand partnerships, email ads@puck.news.
Puck is published by Heat Media LLC. 227 W 17th St New York, NY 10011.