Welcome back to What I'm Hearing, and let's begin with a moment of silence for Succession, which creator Jesse Armstrong just said will end after the upcoming 4th season.
Programming note: It's been awhile since I've done a mailbag issue, so email me your questions and I'll answer some on Sunday. No personal grievances or vendettas disguised as questions, please.
And as always, if this email was forwarded to you by, say, your company's head of communications, click here to get your OWN membership to Puck. You'll be glad you did.
Warner's no-growth growth plan: You could almost see Warner Bros. Discovery C.E.O. David Zaslav and C.F.O. Gunnar Wiedenfels throwing their hands in the air during today's earnings call and screaming, Our plan! It's working! Thanks to the relentless layoffs and vanishing of finished shows, the losses in streaming dropped to just $217 million in the fourth quarter, a fraction of what rivals Disney, NBCUniversal and Paramount are losing. Of course, WBD only grew streaming subscribers 6 percent since the company was formed last April, far less than the others. But Zaz and Gunnar clearly value the balance sheet over growth, and they're betting that Wall Street will, too.
Tea leaves, writers strike edition: I wouldn't read too much into the March 20 start date for talks between the Writers Guild and the studios. It's a full six weeks before the May 1 contract expiration date, suggesting ample time for a deal. But once the WGA issues its demands, the major issues won't likely be discussed until right before the deadline.
Tea leaves, Oscars edition: The director race is shaping up as the most interesting to me. Daniels (Everything Everywhere) scored the DGA Award but Spielberg (Fabelmans) has really been working the circuit, accepting a Berlin honor and recruiting his sisters to share personal photos and stories for an L.A. Times piece. I've also heard impassioned endorsements from voters for both Martin McDonagh (Banshees of Inisherin) and Todd Field (the Tár fans really love Tár). Maybe the toughest call in a tough race.
Box office over/under: Finally, Cocaine Bear is upon us. And reviews are… surprisingly decent? (I saw it; don't ask.) Tracking is about $15 million, and thanks to the horror elements and Universal's fun marketing campaign, I'm gonna take the over.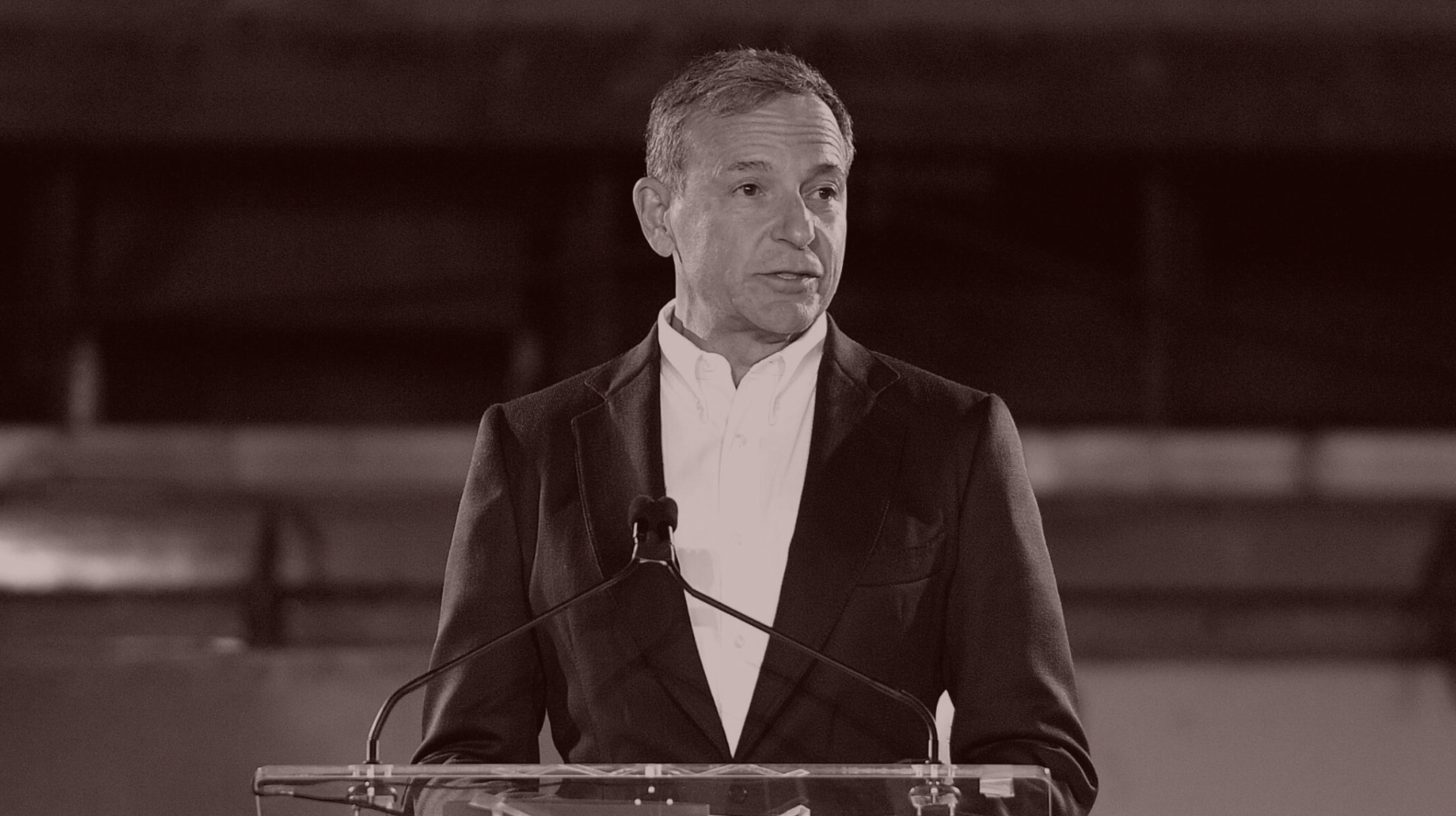 What If Disney's Fox Deal Wasn't So Terrible?
Bob Iger's $71.3 billion play for streaming-age scale has been branded by some as too pricey for the new era of austerity, but the assets and executives could be a secret weapon in the war to become Hollywood's last studio standing—if that's what Iger wants.
It's funny how narratives develop in Hollywood. I was at a dinner this week with a few producers, when the topic turned to Disney, as it often does these days. One of them was quick to note, "The Fox deal—disaster, right?" At the table, it seemed obvious. Of course it was a disaster.

Was it, though? It's true that Disney's pricey acquisition of most of 21st Century Fox was premised on the 2017 streaming video landscape, where infinite content promised infinite growth. In March of 2019, when the deal finally closed, C.E.O. Bob Iger, then ramping up for the launch of Disney+, emailed employees that the Fox assets would help Disney "reach farther and aim higher—especially when it comes to building direct connections with consumers." And it definitely did. Feel free to fight me on this, but I don't think Disney+, a service that debuted with exactly one original show, would have notched 100 million subscribers in just 16 months without all that Fox content. By comparison, Netflix needed 10 years and more than $100 billion to cross 100 million subs.

We seem to have forgotten that. These days, moderation and discipline in spending are the north stars, at least at the for-profit entertainment companies—meaning not Amazon or Apple. These are the tenets that led investor Nelson Peltz, at the height of his recent megaphoning over Disney's costs, to roast Iger's "poor judgment" for "materially overpaying for the Fox assets." Thanks to Comcast C.E.O. Brian Roberts, the initial $52.4 billion all-stock deal that Iger struck with Rupert Murdoch over wine at the latter's Moraga Estate winery was run up to $71.3 billion, plus almost $14 billion in Fox debt. Waaaay too much, Peltz argued. "Fox hurt this company," he barked on CNBC. "Fox took the dividend away. Fox turned what was once a pristine balance sheet into a mess."

Peltz never really explained why the price was too much—especially when considering the long term value of top-tier Fox assets like FX, Avatar, and The Simpsons—and it quickly became clear that his real motive in making noise wasn't to re-litigate a four-year-old transaction but rather to grease the return of that cherished dividend, which eventually came to fruition. But now the Fox narrative seems to have lingered, from Wall Street all the way down to my lunches and dinners. Cowan and Co. analyst Doug Creutz even connected the Fox deal to Disney's recent announcement of $5.5 billion in cuts, 7,000 layoffs, and the demise of the DMED unit, telling the L.A. Times this week, "they'd be in a much better position, financially, without all of this debt sitting on their balance sheet. And they would not have needed as big of a reorganization."
A MESSAGE FROM OUR SPONSOR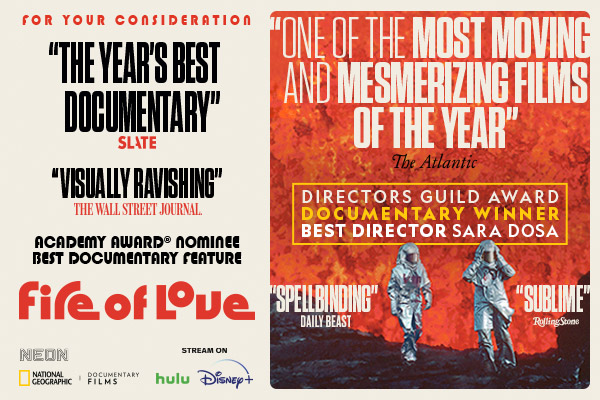 FOR YOUR CONSIDERATION BEST DOCUMENTARY FEATURE
NAMED ONE OF THE BEST FILMS OF THE YEAR BY MORE THAN
TWO DOZEN OUTLETS INCLUDING
Rolling Stone, Entertainment Weekly, The Wall Street Journal, The Film Stage,
Forbes, Vulture, Associated Press, Vogue, Indiewire, Paste Magazine, The Spool, Baltimore Magazine, The Playlist, The Wrap, Variety, Rotten Tomatoes
WATCH A VIRTUAL Q&A WITH DIRECTOR AND PRODUCER SARA DOSA AND

• Bonni Cohen (Director, Producer – Actual Films)
• Lana Wilson (Director)
• Alice Rohrwacher (Director)
• Ruby Yang (Documentary Filmmaker)
• Petra Costa (Documentary Filmmaker)
• Jazz Tangcay (Senior Artisans Editor, Variety)
https://fireoflove.natgeofilmsfyc.com/
PW: FIREOFLOVE
Maybe. There's a lot going on in the entertainment economy that led to Disney's cutbacks. But Iger didn't do his cause any favors by telling David Faber on CNBC recently that he's "concerned about undifferentiated general entertainment." Sure, he might have just been trying to lowball Comcast for the eventual Hulu buyout in 2024. But if Bob is so nervous about the landscape for non-branded and non-family content, the thinking goes, why did he pay through Mickey's nose for a company that specialized in exactly that? A fair point.

Still, it's worth considering the bull case on Fox. First, it wasn't actually a $71.3 billion deal. Disney, thanks to its ownership of ESPN, was forced by the government to immediately flip the Fox regional sports networks to a sucker—sorry, to Sinclair, the local TV station owner, which agreed to pay $10.6 billion for the largest collection of RSNs, an asset of such declining value that Diamond Sports, the company Sinclair created to hold the RSN assets, just missed a debt interest payment and is preparing to go bankrupt. I discussed this alarming situation today with analyst Brandon Ross on my podcast, The Town, and he thinks those RSNs may actually be worth close to nothing eventually, so good for Disney. Plus, Comcast then paid Disney $15 billion for Fox's ownership stake in the European broadcast service Sky. The jury's still out on that deal, but the cash further helped alleviate sticker shock.

Taken together, Disney now places the cost of the Fox deal at $57 billion, for which the company took on about $25 billion in debt. It's never great to lever up like that, and $25 billion is a lot of Disneyland churros, but for a company with a 2019 market cap of more than $250 billion, Disney wasn't really considered overleveraged. Then, of course, the pandemic hit, and then-C.E.O. Bob Chapek was forced to, you know, keep the lights on. As of the most recent quarter, Disney's debt had grown to $45 billion, per company filings. Nearly double the churros, a reality that certainly puts the Fox transaction in a different light. But as my Puck partner Bill Cohan has explained, Disney's debt obligation is not as distressing as the nearly $50 billion owed by Warner Bros. Discovery, a much smaller company with much less free cash flow.

That's the downside. The upside has sort of been underplayed, in my opinion. Before the Fox deal, Disney had a good TV business with ESPN, ABC, Disney Channel, and a few other networks in the U.S. and abroad, plus a studio that largely supplied its own outlets. But Disney had nothing like FX in terms of quality, and the 20th Television studio was far more prolific than, say, ABC's studio, producing different types of shows and selling to multiple buyers. Plus, Disney got A-level TV executives Dana Walden, John Landgraf, Peter Rice (until Chapek stupidly fired him), and others. When Iger acquired Pixar for $7.4 billion in 2006 money, much was made of animation geniuses John Lasseter and Ed Catmull joining Disney and eventually revitalizing its lagging studio. Same with Kevin Feige in the $4 billion Marvel deal. Executives matter, and those Fox people have brought a lot, especially as Disney board chair Mark Parker tries to figure out who the heck might succeed Iger.

I'll admit that the movies are still a bit of an open question. If you remember back in summer 2019, after Fox flops like X-Men: Dark Phoenix were blamed for dragging down earnings, Iger was forced to defend the Fox assets as a "short-term" problem. Four years later, with the exception of Avatar: The Way of Water and Free Guy, 20th Century still hasn't delivered a big, Disney-style hit at the box office, and there have been tons more flops (Amsterdam, The Last Duel, West Side Story). Iger got mostly out of the non-I.P. movie business in the early 2010s for a reason, and that business is even more challenged now. If the appetite for mid-range movies on streaming is more limited post-Great Netflix Correction, where does that leave 20th Century? Though Iger does like winning awards, and the Searchlight film division still consistently does that.

Another thing Iger likes: franchises. Avatar 2 isn't just a $2.2 billion-grossing movie. It will print money for a decade or more: the sequels, a new Disneyland attraction, and, perhaps most important, the full attention of Jim Cameron, the most successful film director of all time. The Simpsons isn't just a great asset, it was the 15th most-streamed of all shows in 2022, according to Nielsen, with 15.9 billion total minutes. Family Guy, Modern Family, Bob's Burgers, all the Nat Geo stuff, Home Alone, the Apes movies, Ice Age, etc. A lot of the stuff that makes Disney+ and Hulu compelling. And even if the strategy shifts from streaming nearly the full library to windowing it for off-platform monetization, those assets are still super valuable, and will be for a long time.

Plus, Feige is only starting to leverage Fox's Marvel characters, like Fantastic Four, Deadpool, and X-Men, a potential treasure trove on its own. Last year's Prey, a reboot of Fox's Predator property, was a hit on Hulu. None of this should be news to Disney-watchers, it's just weird how the analysts and investors often undervalue both the existing hits and the library that hasn't been exploited yet.
It's true that Hulu, which Disney controls thanks to the Fox deal, is an enigma. It's a great service with nearly 50 million subscribers and content that is differentiated from Disney+. But it's U.S. only, expensive to populate, and there's no real reason for it to exist as a stand-alone product when its content could be migrated over to Disney+. That's why Iger has put "everything on the table" for Hulu. But even if it's sold to Comcast or another buyer, that would be a big cash infusion that could be used to pay down that debt—and further justify the cost of all the Fox stuff that isn't being sold.

In the grand scheme, even with all the challenges Disney faces, the issue of what to do with the Fox assets is a good problem to have. "Would Trian have preferred that a competitor own Fox?" Disney asked Peltz and his firm in its response deck. Exactly. Disney is now pretty much the only traditional entertainment company with the ability to actually compete with Netflix, and it can think long-term. That's thanks in part to Fox. The only question now is whether that's what Iger wants.

I hesitate to quote Jason Kilar, the former WarnerMedia C.E.O., whose all-in-on-streaming approach feels as dated these days as a trucker hat, but he succinctly framed the dilemma to the L.A. Times: "Do they want to be a scaled, broad entertainment company or the mother of all niche entertainment companies with family-friendly entertainment." I can't imagine Iger's vision is less than turning Walt's cartoon studio into one of the two or three big, broad and global entertainment companies for the next 30 years. Did he really come back to his old job to dismantle what he built, or to pare it down, Jeff Bewkes-style, and offload it to a phone company or a tech giant? Doing the Fox deal in the first place suggests no, and the power that comes with those assets should help make the decision an easier one now.
See you Sunday,
Matt

Correction: I wrote Monday that Kevin Costner's Open Range was a flop in 2003. It actually grossed $68 million worldwide on a reported $22 million budget. Not a flop.

Got a question, comment, complaint, or good vibes to send to Jean Smart? Email me at Matt@puck.news or call/text me at 310-804-3198.
FOUR STORIES WE'RE TALKING ABOUT
Licht's Lemonade
On the ripple effects of Lemon's inane on-air comments.
DYLAN BYERS

D.C. in Munich
On the after hours conversations at the Munich Security Conference.
JULIA IOFFE

Need help? Review our FAQs
page or contact
us for assistance. For brand partnerships, email ads@puck.news.
Puck is published by Heat Media LLC. 227 W 17th St New York, NY 10011.