Welcome back to What I'm Hearing, and congrats to all the Taylor Swift fans that are discovering Thursday Night Football on Amazon Prime Video to see her album trailer. Reminder: if this email was forwarded to you, just click here to become a Puck member or start a 7-day trial. TSwift would approve…
Ari vs. Kanye: Who's listening? Ari Emanuel gets points for his Financial Times op-ed calling on companies that do business with Kanye West, aka Ye, to drop him amid his recent anti-Semitic rants. Ari specifically asked Spotify and Apple to de-platform West's songs. But even if C.E.O.s Daniel Ek and Tim Cook wanted to do so, their deals with the Big 3 record labels typically don't give them unilateral power. According to multiple sources, the move would need to come from the label itself, and in Kanye's case, that's Universal Music Group. Ye's not currently a UMG artist, and his most recent music is controlled by him, but the early stuff and most of the hits are UMG, which declined to comment. A UMG source argues that it's more complicated: because there's nothing overtly anti-Semitic in Kanye's music, what would his de-platforming mean for the work of Michael Jackson or R. Kelly, the Phil Spector songs, or hundreds of other problematic artists? That slope gets slippery pretty quickly. For the same reason, Netflix tells me it won't take down its Kanye-produced Jeen-Yuhs: A Kanye Trilogy docuseries. Alone with some balls on this issue is Live Nation, which handled Kanye's last tour but, I'm told, has since stopped working with him.
How quickly we forget, Murdoch edition: The coverage of Rupert Murdoch wanting to reunite Fox Corp. and News Corp. is mostly omitting one of the key reasons they split in the first place: The phone-hacking scandal. Remember, Murdoch had been under pressure from analysts for years to split the companies and eliminate the Fox share price's "Murdoch discount," meaning the drag of Rupert's treasured (yet challenged) newspapers on the much higher-margin film and television assets. Then the hacking at News of the World was exposed, the police investigation began, Rupert and James were hauled before Parliament in 2011, and News of the World went bye-bye. Rupert had to remove the stench of the U.K. tabloids, so he finally relented to Chase Carey and the others telling him to split. Now, 10 years later, that stench has worn off, and, ironically, it's the fetid odor of Fox News that will waft over the combined company. And Rupert, in his waning days, can reunite the whole dysfunctional company under Lachlan, just like he always wanted to.
The Lord hath taketh away ratings: Amazon Prime is getting dragged—both internally and externally—for not releasing viewership numbers now that The Rings of Power, the company's pricey Lord of the Rings series, has concluded. The internal Amazon group overseeing Thursday Night Football, which is rated overnight by Nielsen and carries ads, has been forthcoming with numbers. Jen Salke's content group? Not so much. However, I'm told Amazon does plan to disclose some measure of Rings viewership by next week. Until then, we're left with Nielsen's streaming-minutes guide and other third-party trackers, which show Rings getting trounced by HBO Max's House of the Dragon.
Warners' Hamada settlement: DC chief Walter Hamada has left the Warner Bros. lot but he still hasn't signed his exit agreement—though that's a formality at this point. Hamada felt he was mistreated by the new Warner Bros. Discovery regime, which marginalized him, then interviewed his potential successor Dan Lin, and was rejected by that successor, all while Hamada was still in the job. So Hamada hired a litigator, Bryan Freedman, and quietly argued that the new owners are purging people of color. WBD declined to comment on the terms, but the settlement is close to being signed.
Box office over/under: Speaking of DC debacles, Black Adam—"possibly the worst movie ever," declared the San Francisco Chronicle—is turning into a referendum on the allure of both the comics brand and The Rock. Tracking based on previous minor superhero standalone pics is about $65 million, so I'll take the under. This one doesn't smell great.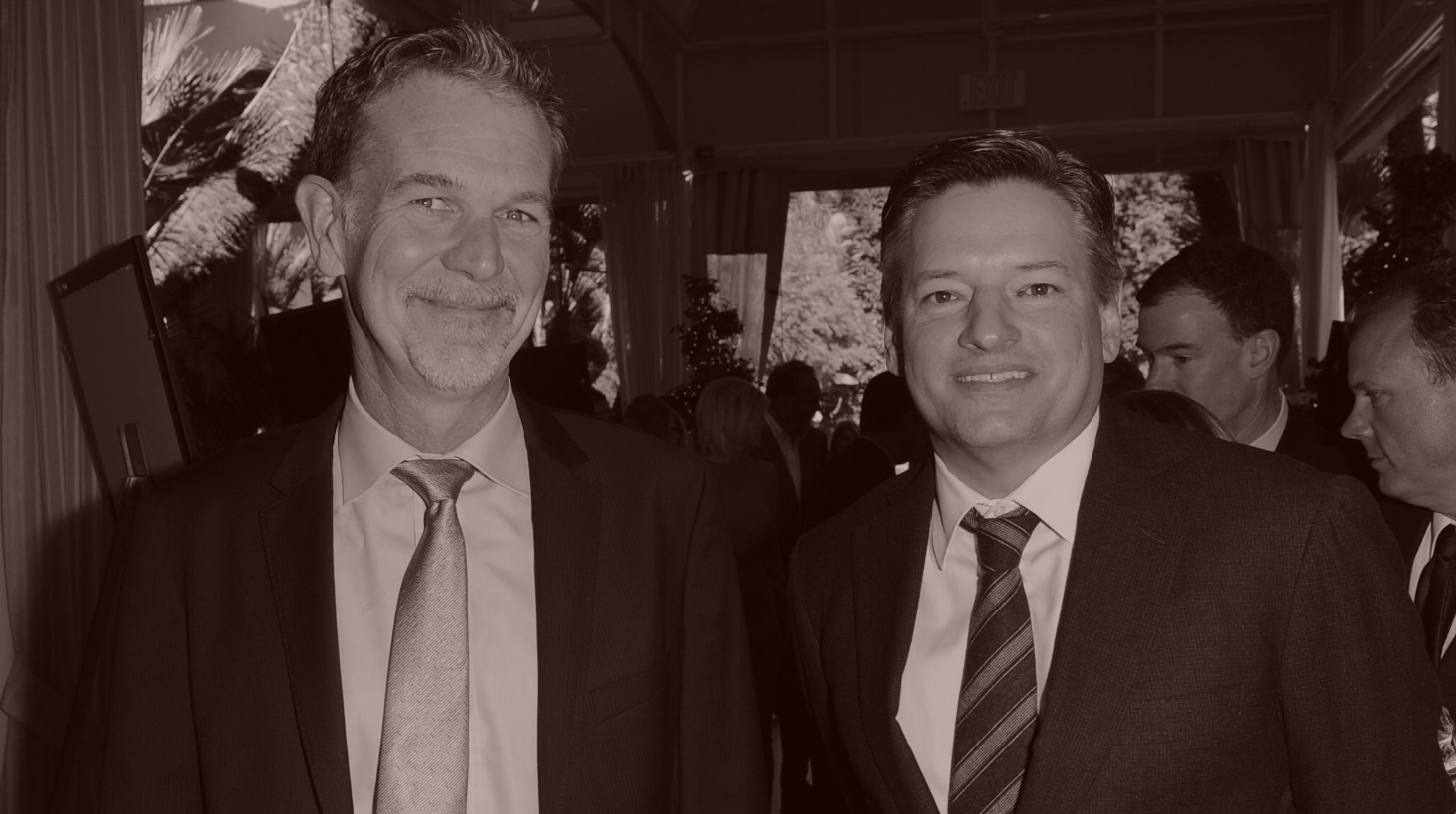 The Netflix Middle-Finger Quarter
After a yearlong humbling on Wall Street, Reed Hastings and Ted Sarandos' victory-lap earnings call was both offensive and defensive—an F-U to the haters who cast doubt on the company's ability to remain disruptive. Some arguments landed more solidly than others.
Did you watch that Netflix earnings call on Tuesday? You'd think co-C.E.O.s Reed Hastings and Ted Sarandos had slayed the villain, won the regatta, kissed the girl—or whatever happens at the end of their Russo brothers movies. (I never finish them.) Ostensibly a sober quarterly financial update, this was a full-on victory lap, complete with overly optimistic declarations—"Well, thank God we're done with shrinking quarters," announced a grinning Hastings, apparently able to see the future—and a shareholder letter filled with attacks on the company's rivals, both implicit and explicit.

Yes, Netflix added 2.4 million subscribers, way above the 1 million forecasted and a return to growth after six months of sub losses. That's 223 million members worldwide, back on top of Disney's 221 million, which includes overlap among Disney+, Hulu and ESPN+. (Disney's coming price hike for ad-free Disney+ will likely challenge those sub numbers while, it hopes, increasing revenue.) And yes, a lot of people are watching the Dahmer gruesomeness, and the bloated Stranger Things episodes that were held for this quarter to juice subs, and even whatever was happening in The Gray Man. (Again, I didn't finish it.)

The forecast for next quarter is 4.5 million adds, a robust number, although nearly half of last year's fourth quarter. And the Netflix share price, which had deflated more than 60 percent this year, immediately shot up, gaining 30 percent in the past week. All great news not just for Netflix but for all studios, whose fortunes have been tied by Wall Street to the streaming leader.

Yet looking beyond the numbers, it's telling how Netflix, which has abandoned its religion on advertising and password-sharing, took the opportunity to both justify these pivots in stark terms—price cuts will generate more revenue! Parents will pay to add their college kids!—and double down on keeping its other controversial practices, some of which were criticized as the stock swooned. Netflix now cares more about the financial bottom line than its subscriber number. But the binge model? That's staying, as is Netflix's aversion to theatrical releases and selling its shows off-platform, both of which could, yes, help pad that same bottom line.

With an ad-supported tier launching Nov. 3, it's a new Netflix, as my colleague Julia Alexander noted on Tuesday. But the company is now back to growth mode, which, to Netflix, also justifies everything that Netflix loves about Netflix. Watching the analyst interview, you almost expected the typically contemplative Hastings to stand on his chair, WWE-style, point at the camera, flex, and scream, This is for all the haters!

I'm certainly not here to poop on Reed's parade—but let's be honest, this was a parade. A parade of corporate attitude and the settling of six months of grievances; with Wall Street, which turned on streaming once the pandemic-juiced growth slowed; with people in the media, like me, who dared question what happens when a business built on the prospect of massive scale faces an immediate future with significantly less scale; and with the larger Hollywood community, which for most of 2022 has watched the layoffs and pivots, soothing itself with toldjas and patronizingly welcoming Netflix into the traditional media club, as if to say, Ads? Movie theaters? Strict anti-piracy measures? Budgets? See, these old school showbiz rules aren't so bad after all.

Given that environment, it's easy to see why Hastings and Sarandos wanted to stand up for themselves, and that's exactly what the investor letter did. There was either a defensiveness or an offensiveness to it all, depending on what you think of Netflix—a declaration that the company might, in some ways, be backsliding, but in others it is steadfastly and unapologetically disruptive. Some arguments landed more solidly than others.
The New Measures of Success
For a decade now, Hastings and Sarandos have preached the gospel of subscribers. Ever more subscribers = ever higher stock price. Now, facing the Great Correction, they'd really like investors to focus on profits, and they will stop forecasting sub numbers after next quarter. That won't prevent analysts and others from creating their own forecasts, of course, but it does send a key message: We're grown up now, and we care about our financials.

Perhaps that's because the Netflix Narrative is about to become much murkier. With the introduction of ads, the subs number is becoming less important than overall monetization. Those 223 million members will likely increase with cheaper options, but will the overall revenue per user go up or down when some of those members trade down to a less expensive option that allows Netflix to show them ads? The password-sharing crackdown will be another key factor if, as Netflix hopes, some of those 100 million people that allegedly watch Netflix for free are convinced to pay.

The reporting shift is mostly self-serving, though, because even with these rosy new numbers, Netflix is still growing much more slowly. Gone are the days when analysts projected the TAM out to 300, 400 or 500 million subscribers. And while Netflix wants us all to value its P&L, it only wants us to look at streaming video, the one business Netflix is really in, rather than the more diversified endeavors of the rest of Hollywood. "Our competitors are investing heavily to drive subscribers and engagement, but building a large, successful streaming business is hard," the shareholder letter reads. "We estimate they are all losing money, with combined 2022 operating losses well over $10 billion, vs. Netflix's $5 to $6 billion annual operating profit." Ouch.
The "Money-Losing" Legacy Peers
Even if that's true, let's briefly discuss what these "money-losing" legacy competitors generate in distributing their content. Let's exclude theme parks and consumer products and other revenue streams, and just look at some traditional film and TV distribution metrics. In the most recent quarter, per their public disclosures:

— DISNEY Linear TV networks: $7.12 billion in revenue, $2.47 billion in operating income

— PARAMOUNT Distribution (excluding direct to consumer): $6.62 billion in revenue, $1.56 billion in operating income

— COMCAST Media unit (excluding Peacock): $1.8 billion of EBITDA

You get my point. Building a streaming service is expensive, and Netflix had a huge head start, but these companies make lots of money elsewhere. That linear cash is declining, of course, and each of these studios could find themselves underwater in the future. But not now, as Hastings implied.

Netflix likes to use operating income as a metric, but the better gauge of profit might be free cash flow, which judges a fuller picture. On that front, Netflix free cash flow amounted to $472 million last quarter, with more than $1 billion expected for the full year. That's not bad, but compare that to the $3 billion in free cash flow generated by Warner Bros. Discovery—mostly from linear television and film distribution—at a company that is considered "troubled" and a "money loser" by Netflix. Again, that linear cash won't last forever, but it's nice to have that treasure chest now.

Indeed, it's diversification that has allowed these studio conglomerates to thrive for decades. Movie profits allowed studios to get into television, which then enabled home video and cable. And now that the cable business is declining, they are using the profits to fund streaming—which someday will bankroll the shift to whatever new format requires investment.

Simple stuff. When Netflix says, "Amidst this formidable, diverse set of competitors, we believe our focus as a pure-play streaming business is an advantage," it may be right about the streaming business, at least as it exists today. But that's not the full picture, and even Netflix knows it should eventually diversify—hence its interest in games, consumer products, experiential, and even theme parks.
As recently as last month, Sarandos was telling people internally that everything at Netflix is on the table, including its adherence to the all-at-once binge model. Now, he and Hastings are doubling down on it, including a Google Trends chart in the investor letter to illustrate a big spike for Dahmer compared to the oscillating lines for HBO Max's House of the Dragon or Amazon's The Rings of Power as they rolled out weekly. "It's hard to imagine, for example, how a Korean title like Squid Game would have become a megahit globally without the momentum that came from people being able to binge it," the company wrote.

Hmmm, is that actually true? "Momentum" is the key word there. I'd argue that shows like Squid Game would generate more momentum by hooking viewers with one or a few initial episodes, and then building buzz—word of mouth, media attention, social chatter—with each installment and cliffhanger. That also carries the added benefit of stringing customers along for multiple months and capturing more of their time and money. Plus, binging only matters as the show is rolling out, so even if we accept Netflix's premise, Squid Game presumably would have found that same audience once it was all available on Netflix—and after the company benefited from members who eagerly remained customers in anticipation of another episode.

With the new ad tier, however, time spent on the platform becomes an even more important metric, because more time = more ads served. "If you're building an ad model, it's all about time spent," the analyst Rich Greenfield told me yesterday. Disney+, by contrast, is at a big disadvantage here because its time spent is so much lower, especially among non-children. But even with the ads, these streamers are primarily subscription businesses, at least for now, and it's just so much more expensive to keep that spigot flowing when customers are blowing through content right away.

Hence Netflix's $17 billion annual spend, and that's without sports. Ad-supported services kinda need sports, and Netflix knows this. It just considered bidding for tennis rights overseas, according to a well-placed source, and ultimately decided against it. But a sports play will happen, sooner rather than later. And then what happens to its annual content spend?
These movie theater chains must feel like Charlie Brown, with Sarandos as Peppermint Patty, constantly teasing theatrical releases and pulling the football. AMC and Regal signed on to a one-week Thanksgiving experiment with Glass Onion: A Knives Out Mystery in 600 theaters total, because Netflix film chief Scott Stuber suggested this was only the beginning.

Turns out it's not! Or at least Ted threw cold water on the whole thing during the earnings call, acknowledging that his executive team debates release strategies but "there is no question internally that we make our movies for our members, and we really want them to watch them on Netflix." So… the Knives Out thing is… what, exactly? "I would look at this as just another way to build anticipation for the film and build buzz and reputation for the film ahead of its Netflix release."

A marketing exercise, and a bone to throw filmmaker Rian Johnson and his CAA agents. By today, the theaters were giving anonymous quotes to THR ripping Netflix, and at least one exhibitor I spoke to said his chain would marginalize Knives Out as much as it could. And that's on a sequel to a blockbuster. The other Netflix movie getting theaters soon, Alejandro G. Inarritu's Bardo, is, uh, not a crowd-pleaser, so I'm betting it will be quickly buried.

Never mind that box office could be a meaningful revenue stream for Netflix. And never mind that it's unclear whether—and, in fact, most of Netflix's rivals believe—that a short theatrical window can actually bring a bigger audience to streaming. Netflix may be pivoting in so many ways, and becoming more like the rest of Hollywood by certain metrics, but on the key things that make Netflix Netflix, they are steadfast, they are stubborn, and they are ready with a middle finger for all the haters.
See you Sunday,
Matt

Got a question, comment, complaint, or suggestions for who else should be banned from Balthazar? Email me at Matt@puck.news or call/text me at 310-804-3198.
FOUR STORIES WE'RE TALKING ABOUT
The Lake Equation
Is Kari Lake the new Mike Pence? Plus, notes on Kanye's Parler flirtation.
TINA NGUYEN

Of Mice and Memes
What did the finance industry glean from the GameStop frenzy?
WILLIAM D. COHAN

Putin's Terror Tools
A meditation on the ironic twist in Russia and Iran's new partnership.
JULIA IOFFE
You received this message because you signed up to receive emails from Puck

Was this email forwarded to you?

Sign up for Puck here

Interested in exploring our newsletter offerings?

Manage your preferences

Puck is published by Heat Media LLC

227 W 17th St

New York, NY 10011

For support, just reply to this e-mail

For brand partnerships, email ads@puck.news