Welcome back to What I'm Hearing, coming at you from my secret Thanksgiving-week bunker where I'd
hoped
to not work all Sunday. Oh well…
Before we get to that: Another big week on The Town podcast: Lucas Shaw and I drafted 5-person filmmaker teams for the next 20 years (I'm winning, for sure); Scott Feinberg and I updated the Oscar race, and Marvel's Nate Moore explained in detail how the hit factory actually operates.
As always, if this email was forwarded to you, join the WIH community by clicking here.
Discussed in this issue: The Bobs, Donna Langley, James Wan, Craig Erwich, Stephen Hill, Norah Weinstein, Jason Blum, Taylor Swift, and the "beauty sandwich" facial.
But first…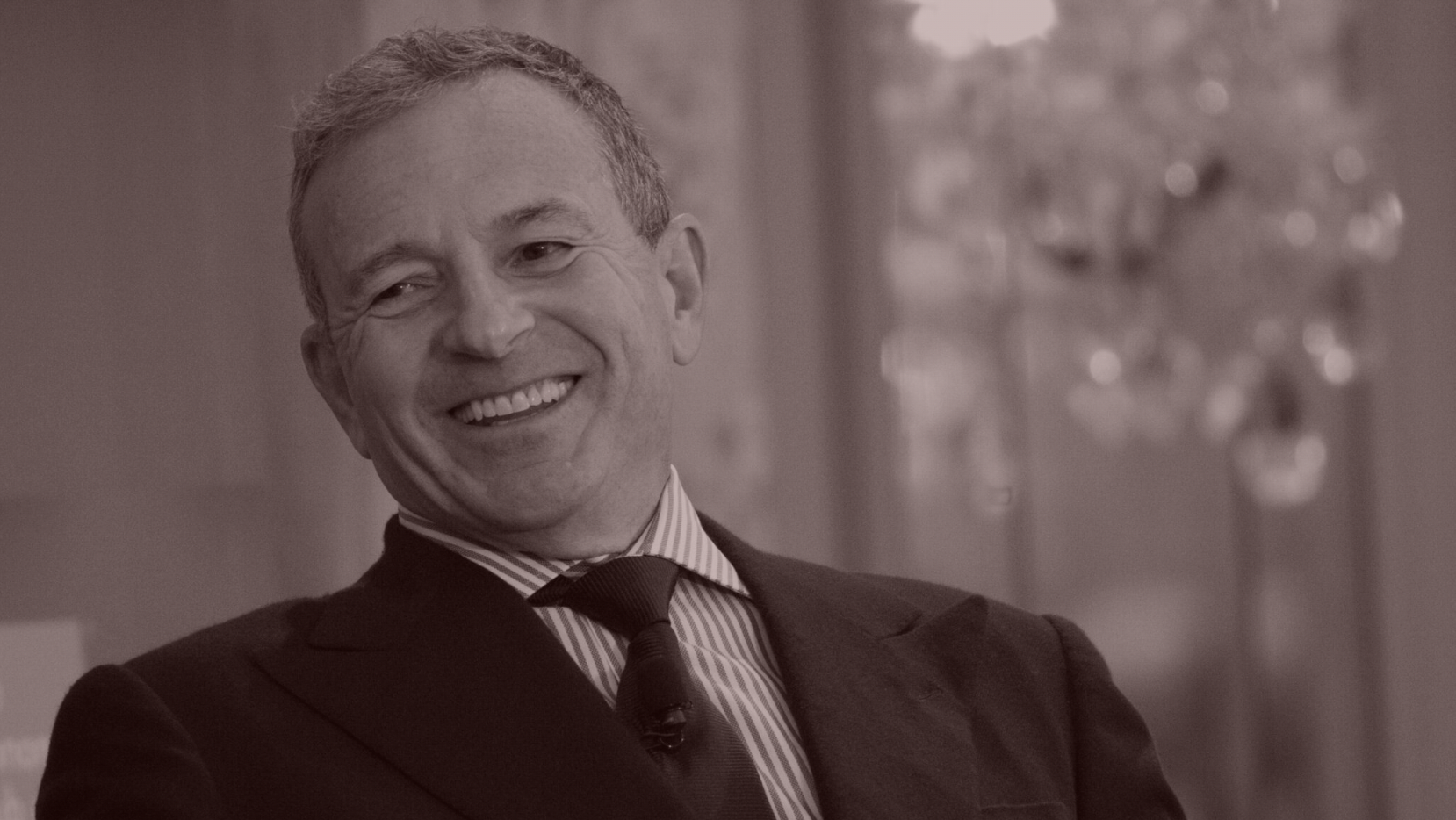 The Iger Shocker
Notes, intrigues, and analysis from across Hollywood on Iger's un-retirement, Chapek's defenestration, and the future of Disney after the corporate shakeup of the decade.
So… was it the beard? By now you've seen the legitimately shocking news that
Bob Chapek
, the embattled and recently hirsute Disney C.E.O., has been replaced by
Bob Iger
, the 71-year-old former weatherman and mostly beloved Disney C.E.O. A Sunday night dagger of a press release thanked Chapek for his service and promised that Iger would lead for two years to "set the strategic direction for renewed growth." That's the C-suite version of death by firing squad. Truly amazing stuff.
First, a number of readers have asked if I knew what was brewing when I wrote on Thursday about Iger's persistent trash-talking of Chapek in private, and how the company's recent stock slide had played into Iger's criticisms. Alas, I did not (and in fact I've been chatting with a few Disney executives this weekend on another topic, and they had no idea what was up; the top people were told just before the press release). But I knew something was off. Think about it: Iger's sentiments kept coming back to me via friends and associates, months after one would think that even he would move on with his new endeavors, so he clearly saw a lane.
Plus, as I revealed Thursday, he was taking meetings with investor groups, something more often reserved for executives whose companies, you know, have investors. I didn't mention it on Thursday, but Iger was also at a conference in Miami this month chatting up shareholders and others. If he didn't already know what was afoot—and one Disney insider told me tonight that the whole plan likely came together in the past 10 days, after the disastrous earnings call on Nov. 8, even though the board had been antsy since investor Dan Loeb started questioning the strategy this summer—he was certainly acting like someone who was coming back to something.
On the Chapek side, as much negative press as the recent poor earnings generated, I kept hearing that it was his handling of the call and its aftermath that was really questioned internally and by the board. Not just the tone-deaf stuff like talking up the Oogie Boogie Bash at Disneyland as analysts were staring mouths agape at the $1.5 billion loss in streaming. It was the management and judgment stuff. Like, if the cost cuts and layoffs that Chapek announced last Friday were warranted by the worsening fundamentals of the business, why didn't he mention them until after the earnings call led to a 13 percent stock drop? It seemed so knee-jerk and defensive. And I'm told that Disney's H.R. group didn't know that Chapek was going to mention layoffs in that memo to division leaders announcing his cost-cutting "task force," a move that predictably sounded alarm bells internally and created chaos for them.
It's early, and Iger already told his new/old staff in an email tonight that more announcements are coming this week, but here are my initial reactions, including the input from people in and around Disney that I've gathered tonight (I've also printed some messages in the "Feedback" section below):
1. It was everything and nothing. Clearly Susan Arnold and the Disney board hit the panic button here. And yes, it does feel a little like Grey's Anatomy bringing back Patrick Dempsey for those weird dream sequences when ratings really started to slide. But I don't think it was one specific thing, as some are speculating.
From the early political misjudgments in Florida to an unpopular and arguably destructive reorganization, from the lack of engagement with the creative community to last week's earnings debacle, Chapek's tenure has been marked by a series of flare ups and leadership issues. It was always going to be tough following Iger, especially when the pandemic upended the company's businesses, but remember that Chapek was Iger's choice, and he was unable to nurture a relationship with his predecessor that might have smoothed the transition.
Once Iger turned on Chapek, it was arguably over. That's not totally Chapek's fault—from the decision to stay on for a year to his persistent griping in "retirement," Iger seemed unable to let go—but it speaks to Chapek's shortcomings as a leader. Jim Cramer, the CNBC carnival barker, went a little overboard on Chapek last week, but he was in many ways reflecting Hollywood's frustrations with Disney. It felt like misstep after misstep for the gold standard media company, which had oddly re-upped Chapek in June (though for two years, not three). Still, he'll get a pretty huge go-away check.
2. It's the economy, stupid: One smart banker source texted me tonight: "Nobody survives this. Chapek is first, but all these guys will be out. Economy turned on Hollywood. Nothing he could do." Perhaps that's true; even an Iger clone would have succumbed to the Great Netflix Correction and the 40 percent stock drop that has ensued this year. Chapek tried to fund streaming with price-gouging at the parks, but it wasn't enough when the market turned.
3. Now what?: "So, Kareem is out, right?" That's from a major agent, speculating that Kareem Daniel, Chapek's deputy, who was put in charge of all content distribution, will very soon… not be that.
I agree there, and frankly, the immediate changes will likely be more significant. It's no secret Iger was not a fan of Chapek's reorganization of the company, which took control away from content executives. That likely means Iger will re-org that re-org in some form. Beyond that, could it mean a return of Iger confidants such as Peter Rice in the TV division or Zenia Mucha, Iger's longtime communications deputy? The creative community and the major agencies are already cheering the news. (I picture CAA's Bryan Lourd cracking a tiny smile and texting a smiley-face emoji to Scarlett Johansson.) But who knows whether Iger will be more forthcoming with his checkbook than Chapek—to the extent he ever was—or approach the company differently now that it is so challenged. Those are the questions that will likely drive the news this week.
4. The risk factor: Whose second chapter is better than the first? Remember, Iger told Kara Swisher last year that suggestions of him returning to Disney were "ridiculous" and "you can't go home again. I'm gone." This is a huge risk for Iger personally. He's the rare C.E.O. who enjoyed tremendous success, transformed his company and his industry, and got to leave on his own terms with a legacy intact. The company he's returning to is fundamentally strong but on its heels, in part because of decisions Iger himself made—spending a fortune on streaming, taking on a lot of debt to buy the Fox assets, holding on to ESPN. So, why would he come back, even in this sort of rescue situation?
My guess is there were two reasons: First, he just can't let go. Chapek is a guy he picked, and it seemed clear to Iger almost from the moment he made the choice that he believed it was the wrong one. That must have stung. And Iger does care deeply about the company. Second, this move brings Iger the opportunity to fix the one aspect of his legacy that was always problematic: succession. This is the guy that un-retired three times; the guy who groomed Tom Staggs to take over only to kneecap him, who basically told Kevin Mayer that the job was likely his, only to pass him over. And so on. If Iger can indeed use these two years to steady the ship and find a legitimate successor (a big if), he will have patched over the one aspect of his leadership resume that still feels blemished.
5. The big picture: Why, exactly, is Iger doing this? As one longtime Disney observer texted me, he doesn't put his legacy at risk just for a job. What's up his sleeve? Perhaps there's one big deal yet to be made, a doozy that would truly reshape Disney for the digital age in a way that Marvel, Pixar, Fox, and even BAMTech did not. This person suggested it should be Netflix, which would indeed be massive. But let's not get ahead of ourselves…
"Everyone has a Taylor Swift ticket under their seat and I'm done"
–
Michael Rapino
, the Live Nation C.E.O., opening his talk at the Liberty Media investor day with a referencing to the company's Ticketmaster fiasco.
Runner up: "This is going to sound ridiculous—I canceled my cable, I canceled my Hulu, I use my daughter's HBO, I use my other daughter's Netflix."
–Paul Haggis, the Oscar-winning filmmaker, explaining that he'll have trouble paying the $10 million in damages a jury awarded a former film publicist in her rape case against him. He's appealing.
Second runner up: "We don't have to have the NBA." —David Zaslav, the Warner Bros. Discovery C.E.O., adding that his Turner Sports division has plenty of sports offerings without it.
A little more on Zaslav's public posturing…
Who is Zaz kidding?
Of course
he needs the NBA for Turner, or at least he
really
wants it to maintain those sweet, sweet carriage fees. So, this comment was:
A) A bit of cool-down messaging amid all the NBA-fueled articles noting the next rights deal could hit $8 billion per year between Turner and ESPN, up from the current $2.6 billion, and an unsubtle reminder that WBD won't settle for a linear-only re-up; Zaz wants a streaming package, too.
B) Priming the market for when Amazon, Apple or another company not saddled with $50 billion in debt swoops in with a bid WBD can't match. Sure, maybe I'd date that gorgeous movie star, he's saying, but I don't really NEED to, you know?
Now for the big deal of the week…
The Logic Behind a Horror Movie Megamerger
A question floating among showbiz dealmakers this week: How much is Blumhouse Productions worth now? That's a fascinating exercise after the
Times
revealed
the horror production house, purveyor of everything from
Get Out
to
The Purge
to the
Halloween
and
Exorcist
reboots to this year's
The Black Phone
and January's
Me3an
, is closing a deal to acquire filmmaker
James Wan
's Atomic Monster, producer of
The Conjuring
movies, as well as
Insidious
and many more. It will create a behemoth in a booming space with arguably the two most successful horror producers of all time, both with first-look deals at Universal Pictures. What would be the price, a billion? $2 billion? More?
Jason Blum wants very much for it to be "more." It's no secret the producer has long coveted a massive sale of the company he founded as a microbudget factory in 2000. Blum is ultra-competitive—he goes nuts every time a rival launches a new franchise, like Wan has done with Saw and Conjuring—and he's a student of Hollywood history. He wants nothing more than a Pixar or Norman Lear or David Geffen-style transaction to separate him from the regular producers and add his name to the tiny list of those who came to Hollywood, thoroughly kicked its ass, and cashed out as a billionaire.
That's the real rationale behind the Wan deal. Blum knows he shouldn't sell now, when the financial markets are so challenged. But in two or three years? Maybe after his Universal deal comes up for renewal in June 2024? He's got some time, and horror is one of the few genres that still works in theaters, so he benefits by trying to both bulk up and maintain his high hit ratio.
So, how can he do that? Currently, Blumhouse releases about three or so movies a year in theaters (plus some straight-to-streaming projects, docs and a smaller television operation). He could have just hired more executives like Couper Samuelson, who runs the film group, to make five or six a year, maybe expand his streaming operation, bring in private equity to supercharge the company or make investments elsewhere.
But as Netflix and many other film upstarts have learned the hard way, it's relatively easy to scale, but it's really hard to scale and keep the quality up. That's why most traditional studios employ the silo model, or multiple creative engines (Marvel, Fox, Searchlight, etc. at Disney; or the pod system in TV) contributing to an overall assembly line of higher-quality content. It's curious; the tech companies don't really subscribe to that model. Netflix has its different groupings of movies, run by different executives, but they're not as siloed creatively. Same with Apple and Amazon (though who knows what's going on with its new asset, MGM). And while Netflix and the other streamers have always overvalued actors and certain writers, they consistently under-value producers, to the point where Netflix attempts to cut out non-writing producers whenever it can.
That's the pitfall Blum likely wants to avoid as he grows, and in Wan, he gets a producer who can also write, direct and serve as a creative engine. At Warner Bros.' New Line label, the 45-year old Australian was known to join the edit room on films and lift the test scores significantly after only a few tinkers. He just knows the right timing of scares and how to play comedic moments to lift tension—an invaluable commodity in horror. Blumhouse and Atomic Monster will stay as separate divisions in separate buildings, all feeding one assembly line.
For Wan, this deal is a no-brainer. His previous arrangement at Warner Bros. expired in April and, while I'm told his reps at CAA and attorney David Fox (they brought in the Venable firm for the deal) had some cordial conversations about renewal, Warners kinda dropped the thread. I suppose it's understandable, given the upheaval at the studio under new owner Warner Bros. Discovery. But it wasn't just that; the studio had slowed its buying of projects for him, and development seemed to lag. This is one that got away.
Also, and this is key, the Atomic Monster acquisition doesn't include Wan's services as a director. He's got Aquaman 2 in the can and is now free to take other big gigs, even as he grows his horror enterprise with Blum. The challenge there is just operating within the Blumhouse infrastructure, and with Blum as a partner. They'll need to work out when to date their movies so both divisions can succeed, for instance. But the upside of being hitched to the Blumhouse wagon now is pretty significant.
Same for Universal. It owns a stake in Blumhouse, which it was required to dilute to make this deal happen. (Blum also diluted his share, though he's still got a majority stake in the company.) And remember, Universal controls the movies they make. With the exception of some TV projects, Blumhouse doesn't actually own its content—beyond the infrastructure, its participation stakes, its people, its expertise, and the brand.
And how much is that brand worth? When I wrote about A24's recent $2.5 billion valuation, I was skeptical about the value of any movie company brand beyond Pixar and Disney. But in the horror space, Blumhouse is one of the few companies with a consumer brand association. People know it. Maybe not as much as Marvel, or Stephen King in the horror space, but certainly more than A24. It's a populist association, helped by an experiential business (like the Purge traveling experience at Halloween and merch).
That stuff is all fine, but in the end, Blumhouse will be sold for a price determined by how successful its movies are. Jason snagged a big partner, but now he has a couple years to grow the whole thing to really get what he wants.
Here's the
James B. Stewart
piece on AT&T's ownership of Time Warner that, until tonight, seemed like pretty big news this weekend. "The level of malpractice is something I would never have believed possible," he said of AT&T's stewardship. "The value destruction has been monumental. [
NYT
]
Lucas Shaw attempts to apportion blame for the Taylor Swift tour ticket debacle, noting that now's the time for Swift to take action on Ticketmaster if she actually cares. [Bloomberg]
What Live Nation C.E.O. Michael Rapino really needs to worry about: "We're organizing to break up Ticketmaster. NOW is our best chance to make a difference through collective action!" tweeted Stephanie Aly, who runs the Swift fan site the Swiftiest." [Slate]
Programming note: Lucas and I will debate the TSwift fiasco on The Town this week. And in The Rainmaker private email tomorrow, my Puck colleague Eriq Gardner will break down the Ticketmaster antitrust issues. Get on his list here.
More on Zaslav's efforts to reduce expectations. [CNBC]
It's anxiety time in Spielberg-world. These Fablemans per-screen averages in just four theaters aren't great ahead of its expansion into 600 venues, and Glass Onion is gonna take a chunk of the adult audience over the holiday. [Twitter]
Another unhappy Hollywood interloper: Hasbro wants to unload eOne and its library just three years after buying it. [Bloomberg]
Now for a case study in live television management…
How the AMAs Shut Down Chris Brown
How hard is it to manage televised events these days? Nothing on stage at the
American Music Awards
tonight compared to the behind-the-scenes drama all week over a planned
Chris Brown
performance that was abruptly blocked by Disney/ABC. Here's what happened, according to multiple sources on all sides of the standoff:
Jesse Collins and Stephen Hill, who are executive producing the ABC show for Dick Clark Productions, were working with Brown and his team on a medley of Michael Jackson hits with Ciara and others in tribute to the 40th anniversary of Thriller. Brown is nominated for an AMA and has appeared at several awards shows since pleading guilty to physically assaulting then-girlfriend Rihanna in 2009, among other legal skirmishes. But this would have been the first time in the #MeToo era, since the BET Awards in 2017, that a televised show had invited him to perform. And Brown complained in August that he's basically been shadow-banned for his past behavior.
Collins and especially Hill, a former programming chief at BET who has a good relationship with Brown, felt strongly about giving Brown an opportunity to return to TV. But the prospect of a convicted domestic abuser feting an alleged child molester on a Disney network (yes, "Beat It" was in the planned medley) never made it to the ABC higher-ups until, weirdly, I called and asked about the plans last weekend. ABC Entertainment president Craig Erwich was then alerted, and Rob Mills, the network's head of alternative and specials, went back to the producers to nix the plan.
Collins and Hill were furious, and in a call with Mills, they walked through the likely blowback of shutting down an opinionated performer with such a big fan following. Erwich, Mills, the Disney/ABC PR team, and Felicia Joseph, head of ABC talent, then debated the issue (Disney TV chief Dana Walden was even briefed). The upshot: Disney wasn't opposed to Brown performing, it was just the pairing of this artist with this material that would be potentially radioactive and thus a nonstarter.
How can we do this in a way that is more thoughtful? Disney asked the producers, suggesting they come back with new options. But Brown, who had already rehearsed the Jackson medley, wasn't interested in that—something the producers figured would be the case. So Brown bailed and posted some rehearsal footage on Instagram with the comment, "WOULDVE been the ama performance but they cancelled me for reasons unknown."
At ABC and D.C.P., the reasons were definitely known, but the producers likely would have figured out a non-Jackson workaround if Brown was game. (Ciara, for instance, is now presenting on the show.) D.C.P. president Adam Stotsky apologized to the Disney folks for any miscommunications, and the show went on tonight, without Brown. "Live shows change all the time, it's the nature of this business," a D.C.P. rep tells me in a statement. "Unfortunately, this element of the AMAs didn't come together as we couldn't align on the performance, to no fault of Chris Brown." ABC declined to comment.
My emails, texts and DMs are already lighting up with the Iger news, and I got tons of responses to my Thursday analysis of the Disney Bobs that foreshadowed the move. Here are examples (noting when I got them):
"Everyone is celebrating and texting each other. It's like Christmas." –A Disney executive
"It feels like congratulations are in order. Reason and justice prevailed." –Another executive
"WHAT A FUCKING MESS. Iger and the board created this mess in the first place. It was Iger who bet the company on streaming. Iger who assassinated all possible successors and left future Disney leadership in shambles. Chapek was a disaster but they let him run for nearly 3 years (including several high profile embarrassments), before making a change. Now, 71 year old Bob Iger is the CEO of the future? Puh-lease." –An executive
"How bad is Disney financially for the board to get rid of Chapek like this? That is a huge question for me, what prompted the board to make this decision now? Chapek has had so many mistakes, why now?" —A Disney investor
"Remember when people said there was no elder statesman to break the ice on a last minute breakthrough WGA deal next spring? And that there needed to be an Iger-like figure to go to? Well now he'll be in the room." –A producer
I got this email on Friday, foreshadowing a debate that seems more revelant now…
"This is my perspective as a long-term shareholder in Disney:
– What has happened in the parks post-pandemic is a no-win situation for Chapek: What would happen if Chapek simply kept prices low as the world re-opened from Covid? Parks would've been at full capacity at 8 a.m. every day and Disney would've had many disappointed guests. Reservations would've been impossible across the board (they are difficult as it is with high prices). Prices are a function of demand, and Chapek will be forced to decrease prices if the economy and demand cools.
– On the pay TV business: Iger wouldn't have been able to magically stop cord-cutting and limit the profit headwinds in front of the linear business today. Iger (like Chapek) was always reluctant to spin-off ESPN as well.
– On the content side, Lucasfilm (as you've reported) has had the same issues with and without Iger. Marvel's Eternals wouldn't have done better with Iger as C.E.O… and so on. Kareem Daniel is not telling [Kevin] Feige where to distribute content because it's pretty obvious now where the output needs to go… same for all divisions (unless all Pixar movies go straight to Disney+ forever… which I doubt). The output decisions are more 'difficult' under Dana Walden, but it's clear that an ABC or FX [show] will go to streaming anyways.
All of this is to say that I believe the economic performance of Disney (and the stock price) wouldn't have been dramatically different with Iger. It's also important to note that Disney's debt load is still high (largely because of Iger's 21 Century Fox deal and the pandemic)." –A Disney shareholder
Big congrats to my pal
Norah Weinstein
and her Baby2Baby partner
Kelly Sawyer Patricof
for raising more than $10 million for impoverished families at their annual gala, which drew a starry crowd on par with Oscar night (and no slaps). The
Times
has a great
report
on the festivities, including my first introduction to honoree
Kim Kardashian
's "beauty sandwich" facial treatment…
Karen Bass
's inauguration as L.A. mayor is Dec. 12, and it won't just be
Jeffrey Katzenberg
celebrating her win: Attorney
Matt Johnson
,
J.J. Abrams
and wife
Katie McGrath
, and more… Netflix's
Ted Sarandos
is the guest at CAA's town hall tomorrow (it's pre-recorded)… Happy to see Apple's
Zack Van Amburg
and
Jamie Erlicht
enjoying Roberta's near the company's Culver City HQ as much as I do… It's funny that
Chris Nolan
is again a regular presence at the Warner Bros. commissary; he's post-ing
Oppenheimer
there despite his public break from Warners over the 2021 day-and-date experiment and calling HBO Max "the worst streaming service."
Have a great week,
Matt
Got a question, comment, complaint, or a 10,000 word essay on why cranberry sauce is gross? Email me at Matt@puck.news or call/text me at 310-804-3198.
FOUR STORIES WE'RE TALKING ABOUT
The Welch Chronicles
An excerpt from 'Power Failure: The Rise of an American Icon.'
WILLIAM D. COHAN

The S.B.F. Mystique
Assessing the past and future of S.B.F.'s fallen crypto-political-philanthropic machine.
TEDDY SCHLEIFER

Ryan's Re-Election
Questions about Fred Ryan's leadership have reportedly become widespread at the Post.
DYLAN BYERS

Need help? Review our FAQs page or contact us for assistance. For brand partnerships, email ads@puck.news.
Puck is published by Heat Media LLC. 227 W 17th St New York, NY 10011.