Greetings from Brooklyn and welcome back to What I'm Hearing+, a private email companion to Matt Belloni's flagship enterprise. Tonight (a day earlier than usual!), why ESPN's live sports hub concept is arguably overdue if it wants to truly become the worldwide leader in sports.
But first…
Each Tuesday afternoon, when Netflix releases its fresh batch of Top 10 data, is like Christmas morning for streaming data obsessives. This week, we'll be looking at whether Netflix's live Chris Rock special makes the most-viewed cut—especially when Nielsen numbers are several weeks behind.

I get the excitement, but don't expect to see Rock's Selective Outrage among the Top 10. Since the special is only 60 minutes long and was available for just one day within Netflix's measuring period, it likely won't generate the hours streamed to compete with, say, Ginny & Georgia or Outer Banks. Nevertheless, the special is currently...
Can't see the full story? You're receiving the free version of What I'm Hearing+ at . For full access to Puck, and to each of my colleagues, you can subscribe here.
Live sports, perhaps the final frontier in streaming, remains in many ways the industry's most significant challenge. In the past few years, it's become clear that sports is the glue holding subscribers to the cable bundle, and a critical asset for streamers looking to grow. At the same time, though, sports rights are increasingly expensive, and packages are both fragmented and locked in long-term deals. Technical issues, like live video lag, are frustrating. And some platforms must manage the transition of sports to streaming without cannibalizing their linear businesses, which depend increasingly on these same sports rights.

So, perhaps not surprisingly, no single platform has been able to offer the full slate of games and leagues that could conceivably replace the traditional cable experience. Apple, despite its size, seems to be in experiment mode, nibbling with rights to Major League Soccer and Friday night MLB games. Peacock has seen success with the WWE and is airing Sunday morning MLB (and it's the streaming home of...
FOUR STORIES WE'RE TALKING ABOUT
Shari in Showtime
Why did Shari and Bob reject a $3B offer for Showtime—and is the deal really dead?
MATTHEW BELLONI

The Goldman Thread
Notes on Solomon's consumer play, Salesforce's activist appeasement, and the Tesla bull case.
WILLIAM D. COHAN

Murdoch Shrugged
A close reading of the Fox-Dominion $1.6 billion lawsuit revelations.
DYLAN BYERS & ERIQ GARDNER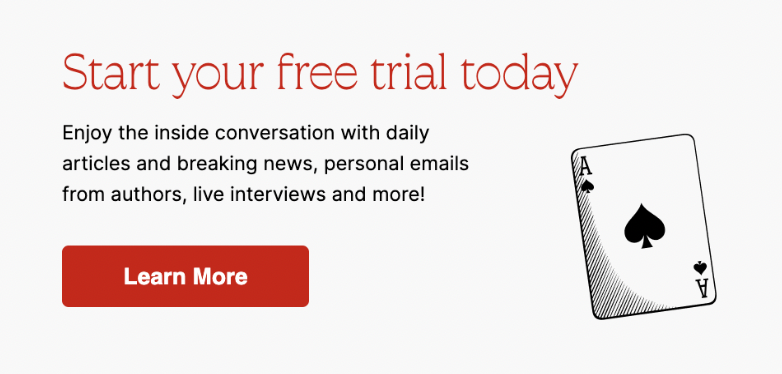 Need help? Review our FAQs
page or contact
us for assistance. For brand partnerships, email ads@puck.news.
Puck is published by Heat Media LLC. 227 W 17th St New York, NY 10011.