Welcome back to What I'm Hearing+, my weekly dispatch on the streaming industry and the analytics behind it all. If this email was forwarded to you, click here to subscribe.
Tonight, a look back at the four biggest, most important, conventional wisdom-defying lessons that the streaming industry should take from 2022. Next week I'll offer my six top predictions for the industry in '23. Look for it in a special post-Christmas edition of Matt Belloni's What I'm Hearing… scheduled for December 26. WIH+ will be off next week. Happy holidays.
But first…
Only 9 percent of new customers who signed up for Netflix in November took advantage of the recently launched ad-supported tier, according to Antenna research, as reported by the Journal. Of that 9 percent, just under half were existing subscribers that switched over from the ad-free plan. Some analysts predicted that Netflix's ad tier could drive an additional 6.5 million customers in 2023; this data seems to throw a wrench in that estimate. Naturally, it has prompted new doom and gloom prophecies for Netflix—the stock is down about 10 percent this week—a poetic way to end a year marked by a persistent black cloud hanging over executives' heads.

I'm not aiming to be controversial here, but Netflix not bringing in a substantial number of new subscribers to its ad tier off the bat isn't all that surprising to me. Netflix's challenge in the U.S. (the region Antenna covers) isn't just pricing; it's decaying demand for content across originals and catalog titles, alongside increased competition. After all, Netflix is concluding one of its most robust quarters in recent memory for original content—there's a bigger problem at hand if Dahmer and Wednesday aren't luring more new customers. But consider that Netflix has a slate of big titles coming up, including a new Witcher series, and we're still seeing the effects of Wednesday going viral. This may have a larger impact on December and January numbers, where I suspect we'll see a larger percentage of subscribers return to Netflix or sign up by way of the ad-supported tier, especially with the holidays.

The ad tier may be off to an underwhelming start for Netflix, but it's certainly not yet a loser for the company. Especially if we're only looking at the U.S. Indeed, the overall goal of the ad tier is to appeal to customers who don't want to spend as much per month on Netflix, and that's going to be a much bigger issue in global markets.
Well, 2022 was a humbling year: Netflix's valuation dropped by as much as 70 percent, dragging most of Hollywood down with it; Amazon bought MGM out of a post-bankruptcy reorg; The CW was sold to a broadcast chop shop; David Zaslav pulled the cost-cutting ripcord at Warner Bros. Discovery; Bob Chapek was canceled mid-season and Bob Iger was rebooted, and everyone had a Damascene conversion on advertising.

For executives from Los Gatos to Burbank and New York, the end of 2022 marks a time to reflect on the jarring new realities facing the once up-and-to-the-right streaming businesses—and preparing for a similarly challenging 2023. The ad market is softening, streaming revenue isn't increasing fast enough to offset the death of traditional TV, and, oh yeah, the entire industry is weighted down by tens of billions of dollars in debt.

It's not all doom and gloom, of course. Broadband penetration rates are still rising internationally, more viewers are watching global content than ever before, streaming usage surpassed broadcast viewing in the U.S. in December, according to Nielsen, and fragmenting audience interest means there's more subgenres and subcultures than ever (and just as many ways to monetize them). As Iger told employees when he returned to Burbank last month, quoting Hamilton, "There is no more status quo … But the sun comes up and the world still spins."

So, with the benefit of hindsight, let's take one last look back at 2022 in order to make some predictions about what's yet to come. Here are the four biggest, most under-appreciated lessons from Hollywood's streaming annus horribilis.
The biggest TV series of the year, Stranger Things 4, debuted in late May on Netflix, with a two-part finale airing over the July 4 weekend—a time typically reserved for blockbuster movie debuts. Indeed, Stranger Things was just one of many big shows—including Obi-Wan, Ms. Marvel, Only Murders in the Building, and Star Trek: Strange New Worlds—that defied the traditional fall premiere schedule, itself an antiquated function of what used to be known as pilot season.

In fact, entertainment has undergone a stunning transformation over the past several years, not just in how audiences consume content, but when. While streaming's share of video demand once rose and fell monthly, data from Parrot Analytics, covering demand for all original series between 2017 and 2022 in the U.S., reveals those peaks and valleys have started to modulate over time. Whereas the networks used to push new films and shows in particular quarters, today's audiences expect a steady diet of new material every month—and Hollywood is increasingly using the entire calendar year to maintain attention.

On the streaming side, in particular, programming teams must think less about traditional windowing that worked for television audiences yesterday, and spread out potential hits across a variety of genres from month to month to ensure customers don't lose interest and decide to cancel. Instead of one particularly action-packed period (typically September through April), it's a more gentle hum that never ceases. It requires rethinking conventional wisdom regarding when a title is released, how a title is released, who a title is designed to engage, and what else should be released throughout its season. This year saw an industry wide understanding that scheduling for peaks and valleys instead of consistency 52 weeks a year won't help in battling increased churn rates.
A MESSAGE FROM OUR SPONSOR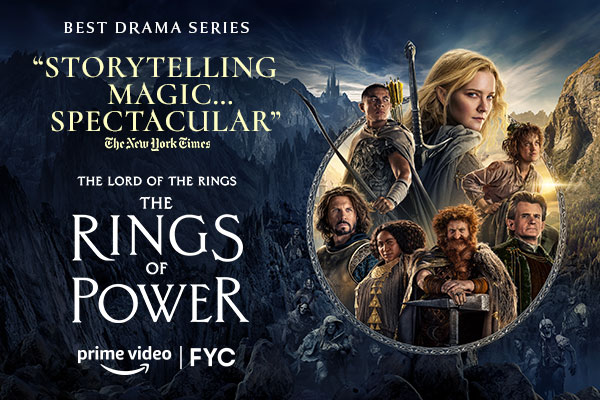 Showrunners J.D. Payne and Patrick McKay, members of the show's crafts team, and the stars of series discuss the creative choices that went into making the beloved hit series. "Tolkien is able to very earnestly deal with a battle of good and evil and what it does to people's souls." J.D. Payne reflects. "There are fates worse than death in Tolkien. People choosing to let themselves go under the control of the shadow is true tragedy. There are such things as good deaths in Tolkien — where characters die fighting impossible battles, but the point wasn't to win, the point was to fight. The fact that they fought, they chose the good." THE LORD OF THE RINGS: THE RINGS OF POWER is streaming now on Prime Video.

EXPLORE THE BEHIND THE SCENES FEATURETTES & PODCAST SERIES
There has been a lot of big, expensive M&A in the past few years: Disney absorbed most of 21st Century Fox, in 2019, for $71.3 billion; Amazon bought MGM this year for $8.5 billion; Microsoft is trying to close its acquisition of Activision for $69 billion; and, most notably for loyal Puck readers, Discovery bought WarnerMedia from AT&T, in 2021, in a spin-off worth $43 billion. The latter deal, of course, also larded up the new David Zaslav-led entity, Warner Bros. Discovery, with about $50 billion in debt. When a company has that amount of net debt—and a declining EBITDA outlook—servicing those obligations begins to take precedence over everything. That includes new investments or innovation that would otherwise increase long-term shareholder value. Add in uncertainties not apparent at the time of purchase—say, an overtly cautious ad market, worsening cord-cutting, and increased streaming competition—and that hanging debt feels much heavier.

Look, when there is strong cash flow and the debt can be leveraged, it's a great asset. When inbound cash flow is choked, and the level of money required to relieve those primary payments starts to build, you get into WBD's situation. Content investment may suffer, and revenue-generating (albeit short-term) moves like offloading catalog titles could threaten key talent relationships. There's no question where Zaz has to focus here, but his unpleasant to-do list should be a lesson for any company looking to make a major debt-saddling move in 2023 and 2024.
III. Forget Subscribers, Revenue Is King
Perhaps the biggest lesson of 2022 is also the most obvious: scaling subscribers is only a key metric if the revenue, cash flow, and eventual profit match. Disney added about 46 million subscribers in fiscal 2022, but the average revenue per subscriber globally by Q4 was $3.91—the lowest being HotStar, at less than 60 cents, and the highest being Disney+ domestically, at $6.10.

Ever since it entered the streaming wars, Disney has been hunting for topline subscriber growth, often very aggressively. The company increased its content budget across all divisions by $8 billion in 2022, to $33 billion. And while part of that allocation was required to keep up with increasingly expensive sports rights, a large portion was earmarked for streaming—a division where Disney lost $1.5 billion in Q4. So despite a strong year at Disney+ (and Hulu/ESPN+ domestically), the company was losing lots of money on its big initiative. And Disney+'s relatively low ARPU became harder to ignore amid lower theatrical returns and a cooling economy. The hunt for millions of new subscribers seemed to ignore the diminishing returns if they churned out quickly.

Netflix, of course, has already attended this rodeo. For years, the company spent luxuriously in pursuit of a new-subs-at-all-costs strategy. During a wild trajectory between 2015 and 2020, Netflix went from negative free cash flow of $2 billion to positive free cash flow of $1.4 billion, only to drop back down to a negative free cash flow of $569 million. In its most recent quarter, however, Netflix reported a cash flow positive position of just under $500 million. Even more important, Netflix says it's on track for a substantially higher and sustainable rate in 2023, and will likely end the year with around $1 billion, partially helped by advertising. Meanwhile, Netflix said it would stop providing guidance on subscriber growth because revenue was more integral to the company's outlook. This might be a way of shielding plateauing sub growth, but it also represents a new era for the industry.

Indeed, streaming has matured to the point where the present is more valuable than the future. As such, revenue is king. And Wall Street will care less and less about the top-line subs number and more about ARPU and all the ways that media companies monetize those subs: advertising, partnerships, licensing, etc. How does a service minimize the cost of acquiring customers to optimize the lifetime value of a user? Success here will likely define who survives the next wave of consolidation.
IV. The Future Is International
More than 60 percent of Netflix subscribers globally watched content from South Korea in 2022. That's a wildly impressive stat. It reminds me of when Netflix boasted in 2019 that more than 60 percent of its base had watched children's or family content monthly, which presaged Netflix becoming a major competitor to Disney and YouTube in the space.

As growth in the U.S. and Canada stalls, Netflix's future is increasingly staked on its international footprint. Netflix has not been able to replicate the phenomenal success of 2021's Squid Game, but it has seen several Colombian telenovelas surface on its Top 10 Non-English speaking titles list, with two series maintaining the record for the longest number of weeks within the Top 10, beating out the likes of Stranger Things and Bridgerton. In fact, as of September, the total demand in the U.S. for non-English series was 2.5x what it had been 3 years ago, according to Parrot Analytics, where I work as director of strategy.

At the same time, international content is not traveling as well as Netflix may have hoped. The company still believes in a hyper-local approach to international content, meaning that a show like La Casa de Papel has to perform well in Spain to be considered a success. Considering the investment Netflix will put into global content, especially when operating in countries where there's a 30-40 percent quota of local series and films, the goal is to have more of those series make splashes in several countries. There is a reason Netflix touts the number of regions a show reaches No.1. The problem is that not many of those series are emerging stateside.

Stranger Things 4, Wednesday, and Dahmer mark three of the biggest debuts in Netflix history, but the first cost $30 million an episode to make, the second belongs to established I.P. that Netflix doesn't own (yet), and the latter is the result of a $300 million deal with Ryan Murphy that included other titles Netflix likely lost money on. As the number of series ordered decreases, and competition for the best shows increases across fractured buyers, the cost for series produced in the States or from notable I.P. will continue growing. At the same time, saturation in those targeted markets will increase, while global regions—like APAC—show strong growth potential. Understanding that many international series cost a fraction of the price tag U.S. projects carry—and knowing that more global audiences are tuning into international titles—how can Netflix generate consistent enough international hits to better utilize a full year's content spend? Especially as the number of titles ordered stateside declines, making the most competitive projects more expensive? That's the Netflix problem now; it'll be everyone's problem soon enough.
FOUR STORIES WE'RE TALKING ABOUT
Elon's Legal Quagmire
Digging through the explosion of litigation stemming from Musk's Twitter takeover.
ERIQ GARDNER

The Cable Fable
Sizing up the latest pockmarks from the linear Big Bang.
JON KELLY & DYLAN BYERS

Need help? Review our FAQs page or contact us for assistance. For brand partnerships, email ads@puck.news.
Puck is published by Heat Media LLC. 227 W 17th St New York, NY 10011.