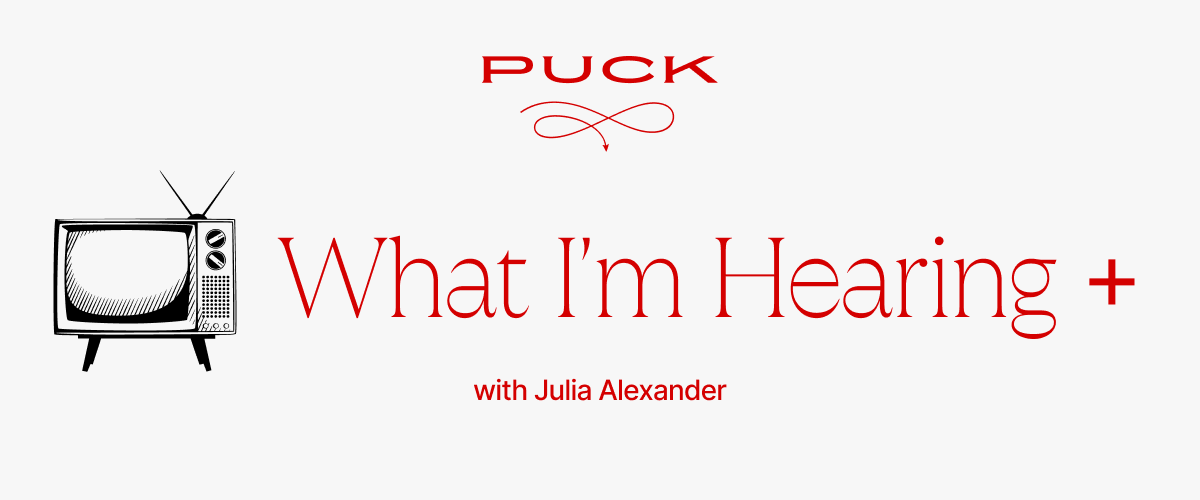 Good evening from Manhattan, where I'm interviewing Erin Casper and Jocelyne Chaput, the two lead editors on Nat Geo's Oscar-nominated documentary, Fire of Love. It's an exclusive event for Puck members, and if you'd like to join get-togethers like this, be sure to subscribe if you haven't.
Today's What I'm Hearing+ is an obituary for the ghost of Netflix past, but first a few quick predictions about Paramount earnings…
The 'Yellowstone' Gold Rush
Paramount is set to announce Q4 earnings on Thursday, presenting the final major tranche of quarterly streaming data for the season. There'll be big questions for C.E.O. Bob Bakish about the decision to wind down Showtime and interweave it directly into Paramount+—including making the MTV Entertainment heads (the team behind Yellowstone) the new overseers of Showtime. The decision to do so is clear; Yellowstone is the biggest premium hit that Paramount has seen in years, and the Taylor Sheridan Universe is working for Paramount+.

But what's working for Paramount+ isn't necessarily going to be what works for "Paramount+ with Showtime," as it will be called. Bakish and Paramount exec Chris McCarthy will have to make shareholders feel secure that doubling down on years-old franchises like Billions and Dexter will capture stronger attention share and increase customer acquisition at a time when everyone else is questioning their approach to and investment in general entertainment, including at the premium level. One top consultant I talked to noted that FX, which found success in 2022 with shows like The Bear, still hasn't proved it's had a meaningful impact on Hulu. Will Millions or Trillions actually turn Paramount+ into a true HBO Max or Netflix competitor, or does the Taylor Sheridan franchise approach not work outside of the heartland bubble? It should be a top question on analysts' minds.
In early 2013, Netflix took its first major step into original programming by greenlighting House of Cards, Orange Is the New Black, and a reboot of the delightfully arch comedy, Arrested Development. Cards and Orange became cultural phenomenons and awards magnets, but in many ways, Arrested proved to be the prototype for the content strategy that would define Netflix for years. It was an obsessively beloved but low-rated sitcom that offered more retention value and brand appeal on a nascent streamer than on Fox, where it had been canceled after three seasons. It was, as Ted Sarandos spoke about in a 2019 interview with the Television Academy Foundation, the perfect show for the then-nouveau binge release model, and it's credited as a key title in convincing Netflix to pursue original TV programming instead of just hoarding library content.

The show also demonstrated Netflix's ability to unlock the value of an asset that wasn't a good fit for linear TV. Creator Mitch Hurwitz's multi-layered jokes went over the heads of traditional broadcast audiences, but the data pointed to an opportunity with fans who were binging the series or watching it on DVD. Sarandos quickly ordered a new season.

Now, almost 10 years later, Netflix is saying goodbye to Arrested Development. All three 20th Television-owned seasons, as well as Netflix's two additional co-produced seasons, will disappear from the service on March 16. On one level, this speaks to the diminished value of the series; if Arrested was still delivering audience acquisition or retention, Netflix likely would have extended its licensing deal. Disney, now 20th TV's parent, has yet to announce any interest in putting the Netflix seasons on Hulu, either. In an era where "capital efficiency" reigns, cutbacks are everywhere, and content valuation is the most precious metric, those decisions speak volumes.

The new Netflix, after all, is playing defense for the first time in a decade: being smarter about how it leverages licensed content, ending password sharing, offering ad-supported pricing, improving discovery, and making tough calls about its own library to simultaneously trim costs without losing subscribers. Arrested, which launched Netflix's decade-long growth-at-all-costs era, is also the perfect title to examine how that chapter is coming to an end.
The arrival of Arrested Development on Netflix coincided with efforts by Sarandos and Reed Hastings to balance its supply with the insatiable audience demand for new content. Months earlier, at a conference in 2012, Sarandos famously acknowledged that Netflix couldn't rely on the studios and networks to keep up the volume required to fuel its growth. At the time, Netflix needed impressive content to accelerate cord cutting, appeal to a wider customer base, and increase time spent on the platform. Between Q2 2013 and Q2 2014, after all, Netflix added just over 7 million domestic subscribers.

Part of the strategy was to make industry-rattling statements with big titles. The other part lay in identifying series with genomes that matched what customers were already watching. Arrested had built a cult following among college kids and comedy nerds—exactly the type of customer around which Netflix wanted to build its new brand.

In retrospect, perhaps there was too much overlap between Arrested viewers and Netflix customers: A report from BTIG Research in 2013, as published by the New York Times, found that 87 percent of the show's die-hard fans were already subscribers. In Netflix's second quarterly earnings that year, executives pointed out that Arrested generated a "small but noticeable bump in membership," helping the company land 640,000 new subscribers—more than the 250,000 at the low end of the company's guidance, but not quite the 700,000 that Wall Street was expecting. On that call, Sarandos also argued that even "the most iconic TV shows like The Sopranos took years before they became brands." Arrested, in other words, was an early bet that Netflix could create its own TV brand that viewers not only knew, but loved.

"Love" is not a word often used when talking about strategy. It's hard to quantify monetarily, and it's essential in branding. Television fanatics love HBO. Cinephiles love A24. Netflix also wanted to be adored, and it was searching for a way to convince American audiences to spend less time with traditional TV and more time streaming. By the end of 2013, Pay TV customers were hovering around 100 million, according to SNL Kagan. That was also the first year that Pay TV saw a full year decline in customers; cord-cutting accelerated and many began spending more time with free digital platforms like YouTube. Entering this pivotal moment, Netflix wanted to become the premium streaming brand consumers loved, and for Sarandos, Arrested was a way to join the zeitgeist, thereby proving that Netflix got a joke that Fox didn't.

Even though Arrested didn't perform the way that Wall Street hoped from a subscriber growth perspective, Sarandos was willing to wait, renewing the show for a second (fifth) season. As he pointed out in 2012, "People need a longer relationship with a show than one or two or three weeks. What we do is provide a longer time for shows to come to life for the audience." Back then, it was more important for Netflix to have original programming that audiences associated with the platform than to ax content that underperformed.
By the time that Arrested's fateful, two-part fifth season rolled out, in 2018 and 2019, Netflix was in a totally different place—one where Arrested was no longer as notable, important, or key to the company's sprawling business. Between 2013 and 2018, Netflix had virtually doubled, growing from 31.7 million subscribers domestically to just under 60 million. Most importantly, Netflix launched in an additional 130 countries in 2016. Some of Netflix's biggest shows, including La Casa de Papel and Elite, were hailing from overseas. Knowing that major competition was coming from Disney and others, Netflix also committed to boost its library share of original content to 50 percent—a milestone it finally achieved in 2022 (just in time to start cutting back). This meant large increases in content investment, jumping from $2.4 billion in 2013 to $12 billion in 2018, and less reliance on licensed fare. Arrested was a semi-original, as Netflix's own marketing in 2013 pointed out, and it wasn't doing gangbuster numbers in 2013 let alone 2018.

More importantly, between 2013 and 2018, Netflix started doing something that was inevitable but took customers by surprise: canceling shows. High-budget productions with low returns—including The Get Down, Marco Polo, and Sense 8—were all cut to invest in new potential hits. As Sarandos made clear, Netflix's brand was no longer Arrested, it was Stranger Things.

By then, the company didn't need to prove itself. Netflix's market cap in June 2018 was $170 billion; Disney, one of the largest entertainment companies in the world, was sitting at around $155 billion that same month. Actors like Sandra Bullock were starring in original films like Bird Box, bypassing theaters. Globally, Netflix had a stronger direct-to-consumer relationship than nearly any other entertainment company, placing it among the likes of Amazon, Sony (PlayStation), and Microsoft (Xbox).

Netflix was entering an era of extravagance—and bloat. It was around this time that FX chief John Landgraf told the Television Critics Association that there was more mediocre television than ever before, and that made it difficult for the average audience to find good programming. I always argued it was the opposite; because there was so much crap, it was easy for audiences to seek out what was actually good and ignore the rest. The issue for Netflix, however, was discovery: with more than 240 new original titles in 2018, up from a handful in 2013, customers were overwhelmed by options. By 2019, it took the average consumer more than seven minutes to find something to watch, according to Nielsen.

If a show didn't stand out on Netflix, it was ignored—and it didn't matter if that was a show like Arrested with a built-in, decade-old fan base. It didn't help matters that the fifth season of Arrested debuted to mostly negative reviews and, from my understanding, low viewership. With so many shows (and an excess of reboots) on streaming, it was harder than ever for Netflix to justify additional seasons when weighed against the opportunity of greenlighting new shows.

But why remove a still-beloved series like Arrested, depriving fans like me of the ability to rewatch it when the mood strikes? As Lucille Bluth might say, "It's one show, Michael. What could it cost, $10?" The answer, naturally, is a lot more than ten bucks.
The great content purge of 2022-2023 has come as a shock to cord-cutters. After all, as one industry insider pointed out to me this week, consumers were promised libraries, not curated collections. The disappearance of Arrested is precisely the scenario that fans, completionists, and evangelists for physical media have long feared.

This isn't a new concept for Netflix, nor is it new for the industry. David Zaslav made the same choice at Warner Bros. Discovery last year, disappearing some 36 shows from HBO Max in an effort to save money on residuals or monetize them elsewhere. Bob Iger told analysts in last week's earnings call that Disney was looking to do the same within its "general entertainment" division, presumably referring to Hulu. Peacock sold Girls5Eva to Netflix, and Paramount is constantly looking for non-exclusive partners for its content. That's the new reality for streaming, as I wrote last week. Original series helped lure subscribers, but what the industry cares about now is "capital efficiency": Can a film or series justify its production and ongoing residual costs in the ruthless calculus of net subs and customer retention?

Five years ago, I observed that Netflix was finally acting like a serious network by canceling series. In the old broadcast model, the goal of getting to five seasons wasn't to hoard a show, but to syndicate it, constantly finding new audiences and revenue streams. The Netflix model of forever exclusivity worked for a time because there was limited competition in streaming; later entrants also were focused on growing subscribers, so everyone followed suit. But the economics of television are swinging back to the status quo: finding secondary windows to generate stronger revenue, especially if those series have limited impact on customer acquisition or retention.

Arrested Development is leaving Netflix because it's the more economical move. One Netflix insider I spoke to said it wasn't a big deal. Upon reflection, I don't think it is either. It's just one sitcom in a sea of shows. But when you consider that Arrested was one of a handful of series that led Sarandos and Hastings to pull the trigger on creating originals, effectively shaping the entertainment we all know today, well, Arrested isn't just another series. The fact that its departure from Netflix is seen as just another sign of the times is actually the most telling sign of how transitional this moment in streaming has become.
FOUR STORIES WE'RE TALKING ABOUT
NCAA Apocalypse
Notes on the legal challenges set to transform the competitive landscape.
ERIQ GARDNER

Loeb's New Quest
On Benioff's five-headed activist hydra, Shari fanfic, Iger's detente and more.
WILLIAM D. COHAN

Need help? Review our FAQs
page or contact
us for assistance. For brand partnerships, email ads@puck.news.
Puck is published by Heat Media LLC. 227 W 17th St New York, NY 10011.