Happy Juneteenth, I'm Eriq Gardner.
Welcome back to The Rainmaker, a private email about money, power, fame, and most of all, the law. In this week's edition, exclusive news about a remarkable Robert De Niro trial—a highly atypical case, featuring De Niro's former top assistant and his current girlfriend, that may cause you to look at airline frequent flyer miles a little differently.
Also in this issue: Elon Musk, Dan Abrams, Lina Khan, Dr. Luke, and Sam Bankman-Fried. Plus: On a day when we celebrate emancipation and the nation's racial awakening, a few notes on an audacious legal move to redress police brutality against a Black man involving facial recognition technology. (Was this email forwarded to you? Click this link to subscribe.)
Elon Musk's Twitter faces no shortage of problems these days, but one predicament that has flown under the radar are allegations being made by...
Can't see the full story?

You're receiving the free version of The Rainmaker at . For full access to Puck, and to each of my colleagues, you can
subscribe here.
In the annals of quirky stories, Robert De Niro's $6 million lawsuit against his former assistant, Graham Chase Robinson, for binge-watching Friends on the job, left many amused, if puzzled. But even back in 2019, when De Niro and his company sued, it was evident that there was more to the tale—especially when Robinson quickly filed her own lawsuit, claiming a toxic workplace culture for women, followed by the revelation that the legendary 79-year-old actor had...
FOUR STORIES WE'RE TALKING ABOUT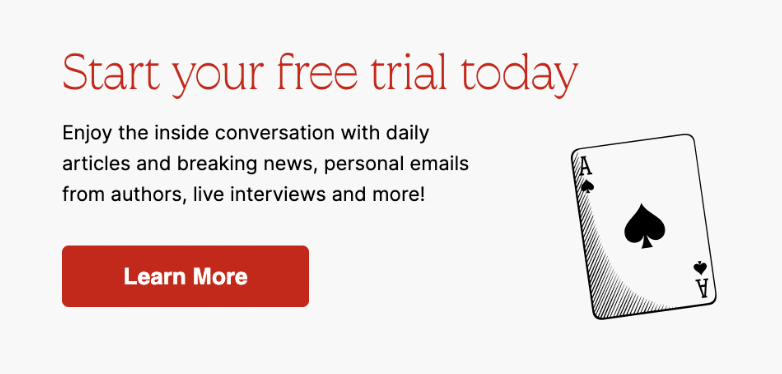 Need help? Review our FAQs
page or contact
us for assistance. For brand partnerships, email ads@puck.news.
You received this email because you signed up to receive emails from Puck, or as part of your Puck account associated with . To stop receiving this newsletter and/or manage all your email preferences, click here.
Puck is published by Heat Media LLC. 227 W 17th St New York, NY 10011.