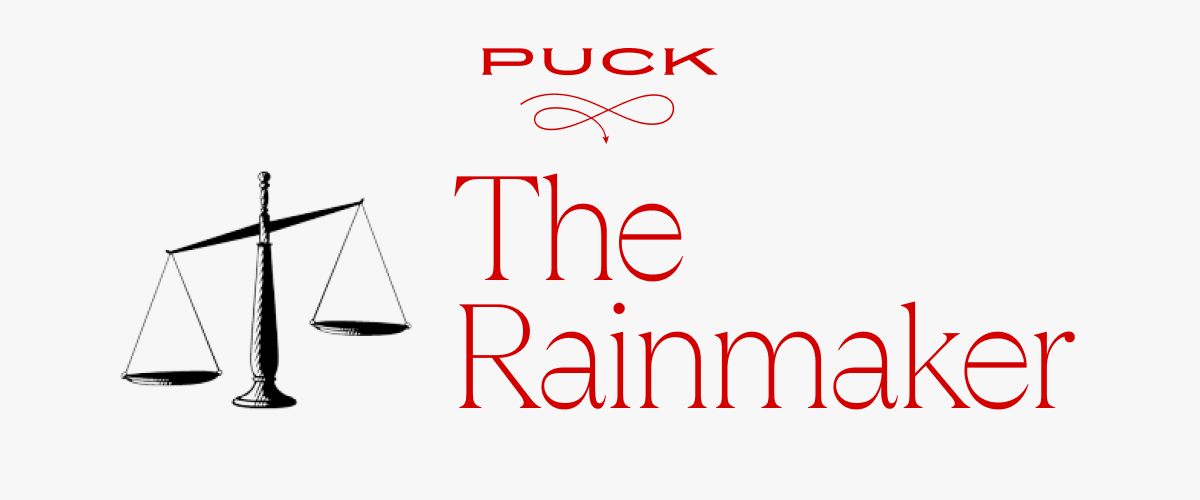 Happy Monday, I'm Eriq Gardner.
Welcome back to The Rainmaker. I hope you enjoyed the Oscars. No slap this year, so no need for me to break down the legal dimensions of last night's show, which I found surprisingly entertaining and extremely well produced. And that's from someone who typically hate-watches awards shows. (Was this email forwarded to you? Click this link to subscribe.)
In this week's edition, I look at the financial calculus that is driving Dominion v. Fox News to a jury trial. Plus, The New York Times, Scientology, and Netflix. But let's start with SVB…
Get ready for a mountain of legal activity tied to the collapse of Silicon Valley Bank. Firms like Edelson and Girard Sharp have already put up the bat signal for clients interested in pursuing security fraud lawsuits. The Rosen Law Group, on Monday, filed one on behalf of SVB shareholders alleging the bank's financial reports were misleading. (See complaint.) The Biden administration is stepping in swiftly, but only time will tell if the government can head off bankruptcies and wage suits. In the meantime, lots of law firms are issuing client alerts to help navigate the difficulties. (See here and here.) One more thing: Don't shrug off the closure of Signature Bank, which is a top financial services player in the legal community. More to come. In the meantime, check out Bill Cohan's must-read on the SVB failure.
A quick update on last week's story about plaintiff law firms fighting each other regarding how to take on Warner Bros. Discovery over a merger that allegedly gave investors short shift. On Thursday, the judge crowned the Bricklayers as lead plaintiff, a favorable development for John Malone and David Zazlav and not-so-good one for the Newhouse family. Go back and read my story if none of that makes sense.
The New York Times is being dragged into a fight between Lina Khan and Mark Zuckerberg. As part of the F.T.C.'s ongoing antitrust lawsuit challenging Meta's acquisitions of Instagram and WhatsApp, the social media giant is asking a judge to order the Times to comply with a subpoena for documents. Meta appears to be hunting for evidence that shows that the Times competes for consumer attention and advertising dollars. The newspaper is scheduled to reply this week ahead of a March 23 hearing.
Are famous Scientologists ready to play judge when defectors bring lawsuits alleging abuse? Well, at least one is. Valerie Haney is suing the church on claims she was falsely imprisoned and kidnapped as an employee and then stalked after she became a critic. After Scientology successfully pushed her into internal arbitration, the two sides needed to pick a panel of three judges. Haney got cute and nominated Tom Cruise as a potential arbitrator. Later, she nominated 15 slightly less prominent but still notable Scientologists including Jenna Elfman, Catherine Bell, and Giovanni Ribisi. One actually accepted, according to a legal filing this past week. It's not clear who yet.
Netflix didn't win the best picture Oscar last night, but it did score a huge victory on Friday by ending a defamation lawsuit brought by a retired Wisconsin cop over Making a Murderer. U.S. District Court Judge Brett Lutwig, a very conservative Trump appointee, made the streamer run through hoops during the discovery phase after rejecting its motion to dismiss. But now, Lutwig gives producers a summary judgment win. He slams the cop's efforts to show libel. "Most of his gripes read more like media criticism better suited to the op-ed section," writes Lutwig, adding later about Andrew Colborn, the plaintiff, "Even if Netflix intended to imply that Colborn planted evidence, Colborn has no evidence that Netflix knew that statement to be false." Here's the full ruling.
Perhaps the greatest legal mystery in Dominion's $1.6 billion lawsuit is why Fox News hasn't yet settled to make this P.R. nightmare go away. Tucker Carlson's texts and Rupert Murdoch's deposition, in particular, have been an unprecedented embarrassment for the network, evidencing not only the cynicism behind Fox's decision to air 2020 election nonsense, but also the contempt of its hosts for their own audiences. But as I wrote last month, this case is not quite as straightforward as most think. It's not just about whether Fox News defamed Dominion, or about the sanctity of the First Amendment. If liability was the sole issue, I bet this dispute would have settled by now.

Instead, lawyers on both sides are currently gaming out what they can achieve at trial and on appeal. After all, Fox isn't seriously contesting that lies were told on its shows in the aftermath of Trump's loss. Sure, it's challenging how many lies there were, and who should be faulted for what the ex-president's lawyers were saying, but Fox's attorneys know they'll be defending culpability in front of a jury in Delaware, which is only slightly better than arguing before a panel of CNN talking heads. And Fox is perfectly capable of throwing money (or its insurers' money) to make a legal problem over a big lie go away, as it did with Seth Rich.

As for Dominion, I've heard the chatter that the company is eager for a trial showdown to publicly shame Fox for lying through its teeth. I don't think that's a perfect read on the situation, though. Dominion has already achieved that, especially now that the evidence has been showcased in the media. The punditocracy has rendered its verdict, and the only ones left to convince are Trump supporters, whose likelihood of ever being persuaded here seems roughly equivalent to all four No. 1 seeds in the NCAA Tournament losing in the opening round.

So what's the real hold up to a negotiated resolution? A dollar figure, of course. Naturally, everyone involved is looking at Dominion's unusually large damages target with very different expectations for what a trial and subsequent appeal would deliver. Right now, either Dominion or Fox is misjudging the financial situation, and it's not obvious to me which side is making the error. Maybe the judge's summary judgment rulings, after a hearing next week, will provide more clarity by narrowing the scope of the battle. But if no deal arrives to avert a trial scheduled to last six weeks, I'd expect both sides to continually assess whether rejecting the best offer remains the wisest course. A start doesn't necessarily mean a finish. There's even precedent for a large settlement coming suddenly in the middle of a big libel trial against a media company.
The number that keeps getting mindlessly repeated ad nauseam is $1.6 billion, although nobody seems to want to accept that this headline figure is a bit of a tease. Sure, it was in the complaint, but the true value of Dominion v. Fox is whatever a jury says. Maybe it's $1.6 billion. Perhaps it's $1.6 trillion. Or maybe it's $15.9 million, which represents the value of canceled contracts from Dominion's customers frightened by Trump supporters, according to the company's own damages expert.

Dominion better hope the verdict is more than $15.9 million: Based on the $12.5 million that Dominion reports it spent on legal fees through October, plus the cash it's currently burning on lawyers (roughly half a million dollars per month), the expense of this case has almost certainly surpassed $15.9 million already, with the price of a six-week trial still to come. Maybe a jury adds these out-of-pocket costs to Fox's tab. Maybe.

The real Murdoch wallet busters—and the reason why Dominion is willing to invest in what very well could become the most expensive defamation lawsuit in American history—comes down to two calculations. The first is what Dominion claims to be its "diminution of enterprise value." That, allegedly, is $921 million, a figure that Fox ridicules in its court papers as resting on the "implausible assumption that Dominion, a thriving enterprise that has gained, not lost, customers since the 2020 election, will somehow lose all its customers and go out of business by 2031." Fox argues that Dominion can't substantiate this astronomical sum and wants a judge to rule on summary judgment that it's out of bounds. Dominion, which also counts $72 million in "lost opportunities," responds that the attack on its damages theory "goes to the quantum of harm, not its existence" and thus this factual issue should go to a jury. Although receiving scant attention in the press, a judge's direction on this billion-dollar point could very well shake up the calculus for each side on the upside and risk of going to trial.

Second, there's the beckoning controversy over punitive damages. That would be the form of punishment that's meant to send a message that deters the defendant from behaving inappropriately again. Interestingly enough, for all the attention that everyone (especially legal pundits) pay to the need for a public figure plaintiff like Dominion to prove "actual malice" (knowledge of falsity or reckless disregard of the truth), Fox argues that punitive damages are only available if Dominion demonstrates "common law malice," meaning that the network basically intended to cause it harm. Dominion disagrees, and the judge will soon clarify.

In Delaware, there's no explicit cap on how much punitive damages a jury may assess, but as I explained a few weeks ago, the Supreme Court has previously instructed that there should not be a big difference between a plaintiff's actual harm and the size of the punitive award. At most, the Constitution implicitly tolerates a single digit multiplier, justices once suggested, which is another reason why that question over the diminished value of Dominion's business is so consequential. It may also factor in the assessment of punitive damages.

This all leads to one ironic but entirely plausible scenario that I can't get out of my head. It's that Dominion successfully convinces the judge and jury that Fox News knowingly spread falsehoods about its role in the 2020 election, but Dominion is only able to score damages closely tied to lost contracts. A legal victory thus becomes a financial loss for the plaintiff, leading Fox News executives and pundits to spin anyone who will listen that it actually won at trial. That fate would certainly be a teachable denouement.

And speaking of deceptive advertising, in Hollywood or otherwise…
Universal, Ana de Armas, & #Winning
What individual in his or her right mind is going to pay several hundred dollars in lawsuit filing fees to recover a $3.99 charge to rent a movie on Amazon Prime? The answer is nobody, but that's where class action lawyers come in. When Ana de Armas was cut from Universal's 2019 movie Yesterday, for instance, Matthew Pequignot at Pequignot + Myers sensed an opportunity. De Armas had appeared in the trailer, after all—a clear case, he argued, of deceptive advertising. Just before Christmas, thousands of news outlets picked up word that a federal judge had allowed de Armas fans to sue. But while those stories were technically accurate, they missed the larger picture of who really won.

In fact, U.S. District Judge Stephen Wilson threw out most of the claims in this lawsuit. He also rejected a bid for corrective advertising and an order forever shelving the supposedly misleading trailer. Universal quickly sought to recover its $200,000 in legal fees under California's anti-SLAPP statute, which makes losing plaintiffs reimburse defendants for frivolous, speech-chilling litigation. (Universal is represented by Kelly Klaus at Munger, Tolles & Olson, who charges $1,158 an hour.) As a result, Pequignot sought to convince the judge that Universal didn't really prevail because it didn't knock out all the claims. That said, he then asked the judge to reconsider his decision to toss most of the case.

But on March 9, Judge Wilson denied any reconsideration, even bench-slapping Pequignot for having "missed the point of the case." (Read here.) As for Universal's legal fees, the judge deferred a decision there given that the complaint could be amended with a renewed bid for injunctive relief. Still, Pequignot, very likely working on contingency, is staring at the prospect of taking a bath on something advertised by headline writers everywhere as a "win." Remember that the next time someone suggests some crazy lawsuit over a Hollywood casting decision. Headlines about court rulings, like movie trailers, can occasionally be misleading.

Thoughts, feedback? Email me at eriq@puck.news.
FOUR STORIES WE'RE TALKING ABOUT
Dafna Punk
On the quasi-mysterious departure of Politico's executive editor.
DYLAN BYERS

D.C. Media Chatter
Chewing over a new D.C. startup and Puck's First Amendment party.
PETER HAMBY & JON KELLY

Need help? Review our FAQs
page or contact
us for assistance. For brand partnerships, email ads@puck.news.
Puck is published by Heat Media LLC. 227 W 17th St New York, NY 10011.