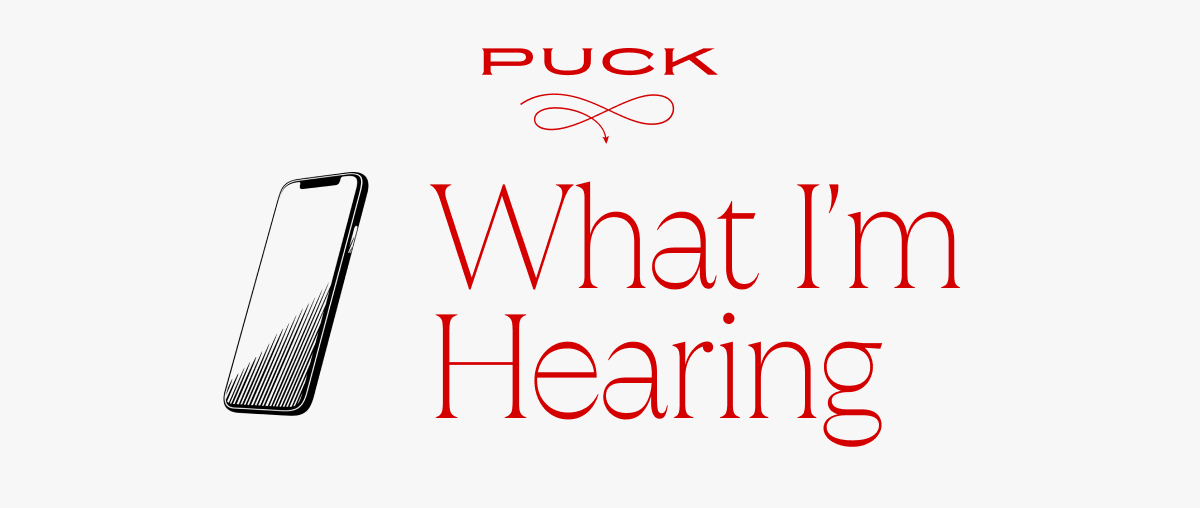 It's a jam-packed What I'm Hearing tonight, a little early because I'm taking off for Sundance.
Today I'm releasing results of our first streaming brand study, a deep dive into what consumers think of Netflix, Disney+, Peacock and the others. This is original research, not a summary of an analyst report. We're revealing part today, more Sunday, and then I'll make the whole thing available to Inner Circle members next week (if you want to upgrade, just click here). I'll also do a private conference call next week to discuss the findings in more detail. And if this is valuable to the WIH community, we'll do more…
But first…
The new Netflix power dynamic: Reed Hastings may have Bezos-ed himself from founder and co-C.E.O. to executive chairman today, letting heir apparent Greg Peters become Ted Sarandos's non-Hollywood partner. But the move that most interests me is the elevation of TV head Bela Bajaria to chief content officer. (Scott Stuber also got a bump to chairman of film; Netflix doesn't reveal who reports to whom.) TV executives have long dominated the C-suites in entertainment, with everyone from Bob Iger at Disney to Jeff Shell at NBC Universal to Tony Vinciquerra at Sony and David Zaslav at Warner Bros. Discovery having come up in television. But now the major streamers also all have TV people as the top content execs, with Mike Hopkins and Jen Salke at Amazon, Zack Van Amburg and Jamie Erlicht overseeing film at Apple, and now Bajaria getting the C.C.O. title. It makes sense; these companies spend more and make more on TV, but there really isn't a film-first person calling the ultimate shots anywhere in Hollywood these days, is there?
Morrell vs. Ovitz: Who bilked Disney better?: The sound of a collective spit take must have been loud in Burbank yesterday when it was revealed that Geoff Morrell, Bob Chapek's top spokesperson for not even four months, was paid about $8.4 million. That's $176,746 a day, the Journal helpfully calculated, if the $4 million still owed to Morrell in go-away money is included, not to mention $1 million in "relocation costs." Truly amazing for a guy who managed a string of P.R. meltdowns that helped get his boss fired. And it got me thinking, didn't Michael Ovitz make more for doing less during his 15 month tenure as Michael Eisner's No. 2 at Disney in the '90s? Turns out it's not even close. Disney paid Ovitz about $138 million for what New York called "454 days as president." Taking out weekends and holidays, that's about $445,000 a day in 1996 money, or around $830,000 a day today. Morrell's a relatively young guy, maybe he can get there some day.

Bonus: Disney also bought the $4.5 million Pasadena house Morell never really lived in. Per multiple sources, this is that house.

The mystery of Oscar season solved: After I raised questions about that viral Andrea Riseborough Oscar campaign on Sunday, a couple well-connected people reached out with the answer: Mary McCormack. It seems the actress and wife of Riseborough's To Leslie director Michael Morris took it upon herself to contact every famous person she knows, for weeks on end, asking them to see the low-budget drama and post something nice. (Her manager, Jason Weinberg, also reps Riseborough.) Howard Stern, McCormack's Private Parts co-star, started talking up the film, and she really hit paydirt over the holidays, with dozens of star endorsements and screenings. We'll see on Tuesday if it worked on the Academy. I asked to talk to McCormack about her handiwork (she could start an awards publicity firm!) but alas, Weinberg, flack Jerry Rojas and McCormack's PR rep Stephen Huvane all went silent when I mentioned her.
Zaslav's birthday party power summit: It's amazing how many new friends David Zaslav has made since taking over Warner Bros. Discovery last April. Check out who braved the rain on a holiday weekend for the 63rd birthday party that Zaz's wife Pam threw for him Saturday at Mr. Chow: Talent like Baz Luhrmann, Robert Downey, Jr., Todd Phillips, Greg Berlanti, Jason Bateman, Larry David, Sam Levinson, Chuck Lorre, Bill Lawrence, and Kevin Costner; producers Toby Emmerich, Jason Blum, Stacey Snider, and Judd Apatow; executives like Disney's Dana Walden, Universal's Donna Langley, Endeavor's Ari Emanuel, manager Aleen Keshishian, and Legendary's Mary Parent. That's in addition to direct reports who were in town, like HBO's Casey Bloys, WBTV's Channing Dungey, WB film's Pam Abdy, streaming chief JB Perrette, and DC's Peter Safran; as well as longtime Zaz buddies like Steven Spielberg, Lorne Michaels, Bob Pittman, Peter Chernin, Allen Grubman, Shelli Azoff, Frank and Nina Cooper, Nick Pileggi, Irwin Winkler, Jim Dolan, Lucian Grainge, Susie Essman, and Angelica Huston. It was pretty low key, per sources; no birthday cake, no singing. And yes, J.J. Abrams showed up, despite the scrapping of his pricey Demimonde show having become a poster child for all the Zaz cost-slashing
Now here's part one of that brand survey…
You don't need me to tell you that Netflix is the leader in subscription streaming video. It has the most global subscribers (231 million worldwide, as of today), it was the first major mover in the space, and, as revealed in the new data below, it enjoys the strongest brand equity of any of the streamers. No surprise there. But the pecking order after Netflix is a much more open and interesting question.

That's what Puck wanted to determine in our first original research study: Beyond subscriber numbers and churn rates and ARPU, how do consumers actually feel about the various services that consume so much of their time? Do they like Netflix or HBO Max more? Do they think Paramount+ is a good value and can trust its programming? When they watch a show they enjoy, do they even remember which streamer they watched it on?

Those are all questions that contribute to something that doesn't get talked about enough on earnings calls or at analyst conferences: brand attachment. We're leaving the TV era and entering the Streaming era, and the streaming brands that earn and sustain customer affinity will likely be the ones that thrive long-term. That's even more important because of how easy it is for someone to cancel a service these days. To make the transition more difficult, some of these legacy companies that were used to wholesaling their TV brands to be sold by MVPDs—Paramount Global, NBCUniversal, for instance—have been forced to build new brands for streaming and sell them directly to the consumers. That's tough.

So, to determine what we're calling Puck's Official Streaming Service Hierarchy, we engaged The Quorum, an L.A.-based research firm, which contracted with independent pollsters to survey 2,453 people in late December and early January on what they like, dislike, remember and don't remember about the streamers they actually subscribe to and those they're just "very familiar" with. The categories of inquiry were Quality, Trust, Admiration, Churn (how likely to cancel), Recall (match the show to the service), and finally a "Net Promoter Score" (we'll get into what that means in a moment), which gives us our rankings. Respondents were roughly half men and women, half over and under 35, and those who rarely or don't watch TV were excluded.

Some macro takeaways: Many of the streamers score on the low side, with none reaching a Net Promoter Score of 50, which is often considered a benchmark for success. The streamers that have been around the longest—Netflix, Amazon Prime Video, Hulu—also have strong brands, good evidence that it takes time to grow customer affinity. But with the exception of Netflix and Disney+, it's hard even for subscribers to a service to recall where to find this stuff. "The second wave of streamers only arrived in 2019, so there hasn't been a significant amount of time to distinguish themselves as much as they need to," David Herrin, the study's author, explained to me today. "Given the amount of competition and the low barrier of exit for consumers, building brand attachment is critical." Outside of Netflix, which is the clear leader, it's kinda up for grabs among the others.

So let's dive in here…
As I mentioned, the Net Promoter Score is a tool, invented decades ago by Bain & Co., the consulting firm, to discern the health of a brand. Do people have positive feelings toward the brand and, importantly, would they share their feelings with others? You basically ask people to rank their impression from 1 to 10. Responses from 0-6 are "detractors," 7-8 are "passives," and 9-10 are "promoters." You discard the "passives" and subtract the percentage of detractors from the percentage of promoters, and you get a "Net Promoter Score," or how likely people are to evangelize about your brand.

Scores above 20 are considered favorable; above 50 is excellent; and brands with an N.P.S. above 80 are considered world class. Starbucks and CostCo are brands that do pretty well in these kinds of studies.

To determine a more accurate N.P.S. for the streamers, we asked both those who are "very familiar" with the various services and those who are actually subscribers. It's interesting that among both survey groups, no brand scored above 50, meaning not a single subscription streaming video brand should be considered excellent or world class. Netflix, of course, was No. 1, and by a wide margin among the "very familiar" group. That makes sense; as the first real mover with the most subscribers, a lot of people still think Netflix is synonymous with streaming. Here are the full N.P.S. rankings:

Among Very Familiar:

1. Netflix (46)
2. Disney+ (35)
3. HBO Max (34)
4. Amazon Prime Video (34)
5. Hulu (33)
6. Peacock (23)
7. Paramount+ (19)
8. Discovery+ (15)
9. AppleTV+ (11)

Among Subscribers:

1. Netflix (49)
2. HBO Max (41)
3. Disney+ (37)
4. Hulu (37)
5. Amazon Prime Video (33)
6. Paramount+ (27)
7. Peacock (26)
8. Discovery+ (24)
9. AppleTV+ (17)
A few notable things here: First, congrats to Netflix, still the clear brand leader, despite all that competition. Second, Amazon Prime Video is actually thought of less favorably by its own subscribers than by those merely familiar with it, which likely has something to do with the fact that people are signing up for Prime not for The Rings of Power or John Krasinski's abs in Jack Ryan but for free shipping on Pampers.

Second, HBO Max had a seven-point gain among subscribers vs. the "very familiar" public. That makes sense to me; people who subscribe to HBO really feel a connection to Game of Thrones or The White Lotus, and a lot of people who don't subscribe to HBO are the opposite; they know what HBO stands for and they don't think swords-and-incest or scheming Italian escorts are for them. That could change when HBO Max is merged this spring with Discovery+ into a service that will likely drop HBO from its name. Discovery+ has a much lower N.P.S. among the "very familiar" (15) but jumps an industry-best 9 points among subscribers. So both these services seem to satisfy those who subscribe to them, boding well for the combined offering.
Netflix, HBO Max and Disney+ all score high on the perception of quality content. I was a bit surprised Hulu didn't rank higher here given its recent investment into prestige shows like The Dropout and Only Murders in the Building, plus all the FX series. Another takeaway: Prime Video has a lower Quality perception among subscribers than among the "very familiar" group, which isn't great news for Amazon. Here are the breakdowns:
The Trust metric stacks up similarly. In addition to Netflix, the services that leveraged existing, strong entertainment brands—Disney+ and HBO Max—fared well in Trust. Though it's interesting that AppleTV+ doesn't seem to benefit from the strong Apple brand. Maybe that's because Apple wasn't previously considered an entertainment brand, though Apple Music is huge. The "Admiration" data follows a similar result so I won't include the chart here.
Brand Takeaways for Each Service
So let's look at each streamer and what this study says about its brand…

1. Netflix (launched Jan. 2007) — Still the gold standard, as evidenced by 93 percent of respondents being familiar with the service. Netflix ranks No. 1 in every attachment metric, but that N.P.S. score of 49 among subscribers is a potential concern. It's the highest in this study… but, as noted above, elite brands score well above 50. Translation: Netflix ain't Starbucks just yet. Netflix also over-indexes among lower-income respondents who love all those "gourmet cheeseburgers," as Netflix says.

2. Disney+ (Nov. 2019) — Disney+ ranks at the high end of the newer streamers in nearly every metric, likely thanks to that great Disney library and I.P. Familiarity is high, Quality and Trust scores are near the top, and unlike Apple, it has successfully distinguished the streaming brand from the main Disney brand. Subs skew younger, obviously.

3. HBO Max (May 2020) — The service scores really high in Quality, Trust and Admiration, thanks in large part to the HBO legacy. Among subscribers, it scores second behind Netflix in N.P.S. But its subscriber numbers are well behind Netflix and Disney, meaning the HBO brand, as valuable as it is, also is a limitation.

4. Amazon Prime Video (Feb. 2006) — Despite technically beating Netflix into the streaming game, Amazon is basically a middle-of-the-road brand. We see this in its N.P.S. score (33 among subscribers). And while it's on the higher end across all metrics, it never rises to the No. 1 or No. 2 spot among subscribers. Its viewership is relatively evenly distributed across demos and income levels.

5. Hulu (Oct. 2007) — Hulu is the surprise for me. Despite launching in the first wave of streamers and scoring right behind Netflix in Familiarity, it's in the middle of the pack for all the attachment metrics. Its scores are actually very similar to those for Prime Video, and I think the Hulu programming is generally more appealing than what's on Amazon. So it might have a bit of a branding problem.

6. Peacock (Jan. 2020)— I guess NBCU C.E.O. Jeff Shell should be happy that Peacock doesn't rank last or near the bottom in Familiarity. But it does score towards the low end of all the key attachment metrics, including N.P.S., despite being the streaming home of Yellowstone. Peacock is especially strong with women over 35, and lower-income subscribers over-indexed by 55. Maybe that's because NFL football, Hallmark movies, and the WWE tend to skew more lower-income than, say, the premium dramas on HBO?

7. Paramount+ (Sept. 2020 rebrand) — Par+ scored last in Admiration among subscribers, meaning people don't feel like they have a personal connection to the newish brand. Nor has it built up much trust. But this may be a platform to watch because 1923 has such high "Recall" (we'll get into that on Sunday), with half of the respondents knowing it streams on Paramount+. The audience skews female.

8. Discovery+ — It's near or at the bottom in Quality and other attachment metrics, and right alongside AppleTV+, which has a very different content mix and target customer. Still, it enjoyed the lowest churn rate, again right with AppleTV+, which might be because they both have smaller, dedicated fan bases and the lowest ad-free SVOD price.

9. Apple TV+ (Nov. 2019) — Apple's service ranks among the lowest in Familiarity and the attachment metrics, even though Apple is one of the world's most known and beloved brands. A smaller content offering without a pre-existing library probably doesn't help; audience attachment grows through repeated use, which is hard when there is less to watch. The service over-indexes among affluent people (above $75,000 a year), which aligns with the Apple brand and its bespoke, HBO-style offering. It also skews more male.

Anything surprise you there? Keep in mind, we can't really say yet whether a Net Promoter Score of 49 is good or bad in the streaming business, or whether any service is up or down, because this is the first survey we've done. It will be fascinating to check back in six months or so to see which direction these brands are going.

Coming Sunday: We'll dive into the "Recall" portion of the survey and how many hit shows a service needs for customers to start remembering where they watched them.
See you Sunday,
Matt

Got a question, comment, complaint, or good Sundance hand and toe warmers? Email me at Matt@puck.news or call/text me at 310-804-3198.
FOUR STORIES WE'RE TALKING ABOUT
Licht After Dark
Can Licht revive CNN's primetime lineup with a late-night shebang?
DYLAN BYERS

Rep. George's Madness
News and notes on several astounding storylines emerging from the right.
TINA NGUYEN

Secrets of Stanford
How the hell are the Bankman-Frieds paying their astronomical legal bills?
WILLIAM D. COHAN

Need help? Review our FAQs
page or contact
us for assistance. For brand partnerships, email ads@puck.news.
Puck is published by Heat Media LLC. 227 W 17th St New York, NY 10011.