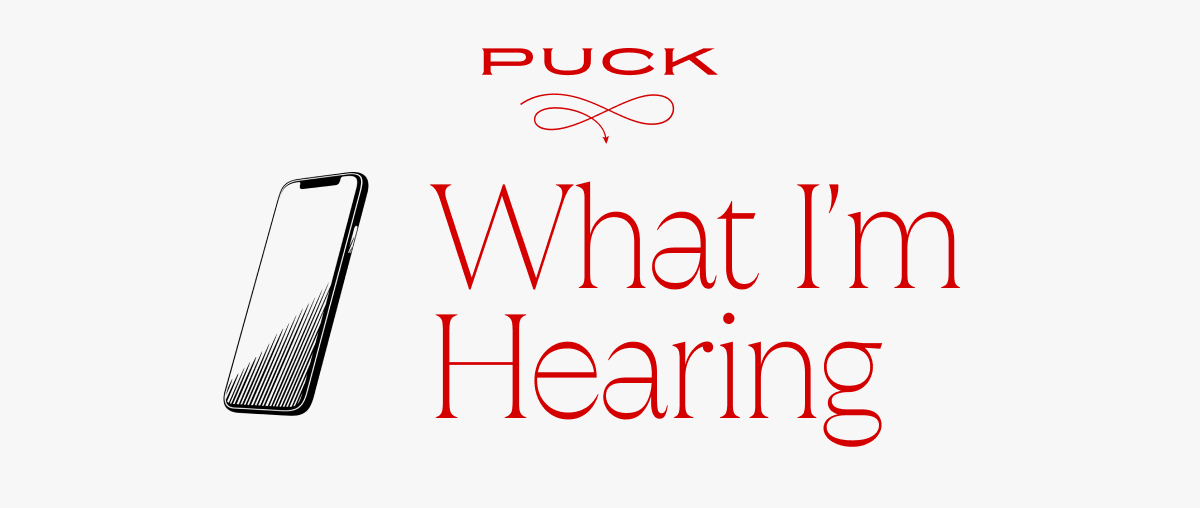 Happy Sunday from Park City, where I co-hosted a fun Puck private dinner last night with dealmaker John Sloss and leaders from Amazon, Focus, CNN, NatGeo, Fifth Season, Participant, Anonymous Content, WME, Madison Wells, Black Bear, Killer Films, Glickmania, Hunting Lane, and the Sundance board. A big thanks to Spotify for sponsoring this off-the-record evening at the St. Regis, and to Alex Bigler, VP Brand and Partnerships at Puck, for coordinating. We'll do another soon.
Are you caught up on The Town? This week I debated with Lucas Shaw whether Disney's Nelson Peltz drama helped get Bob Chapek fired, revealed VFX executive Matt Panousis's new A.I. tool to cost-effectively de-age actors, and asked The New Yorker's Rachel Syme what she learned traveling the world with Netflix's Bela Bajaria. Listen and subscribe here.
Discussed in this issue: Bela Bajaria, Alec Baldwin, Eddy Cue, Timothée Chalamet, Bill Weinstein, Ted Sarandos, Ike Perlmutter, Chris Silbermann, and a breastfeeding Alexander Skarsgard…
But first…
Who Won the Week: It's a Tie
Greg Peters, the newly promoted Netflix co-C.E.O., clearly won the week. But honestly, is there a bigger flex than what James Cameron accomplished? The guy publicly announces that Avatar: The Way of Water needs to make $2 billion to break even—a number only five movies have ever achieved—and then he does it!

Runner up: Kelly Campbell, the Peacock president, for breaking into Nielsen's monthly Gauge rankings, with 1 percent of total TV viewing in December for the perennial punching bag.

Second runner up: Susan Rovner, the NBCUniversal executive who oversees NBC, for those initial Night Court reboot numbers, the network's biggest comedy debut since Will & Grace came back in 2017.

Now here's part 2 of our original streaming brand study…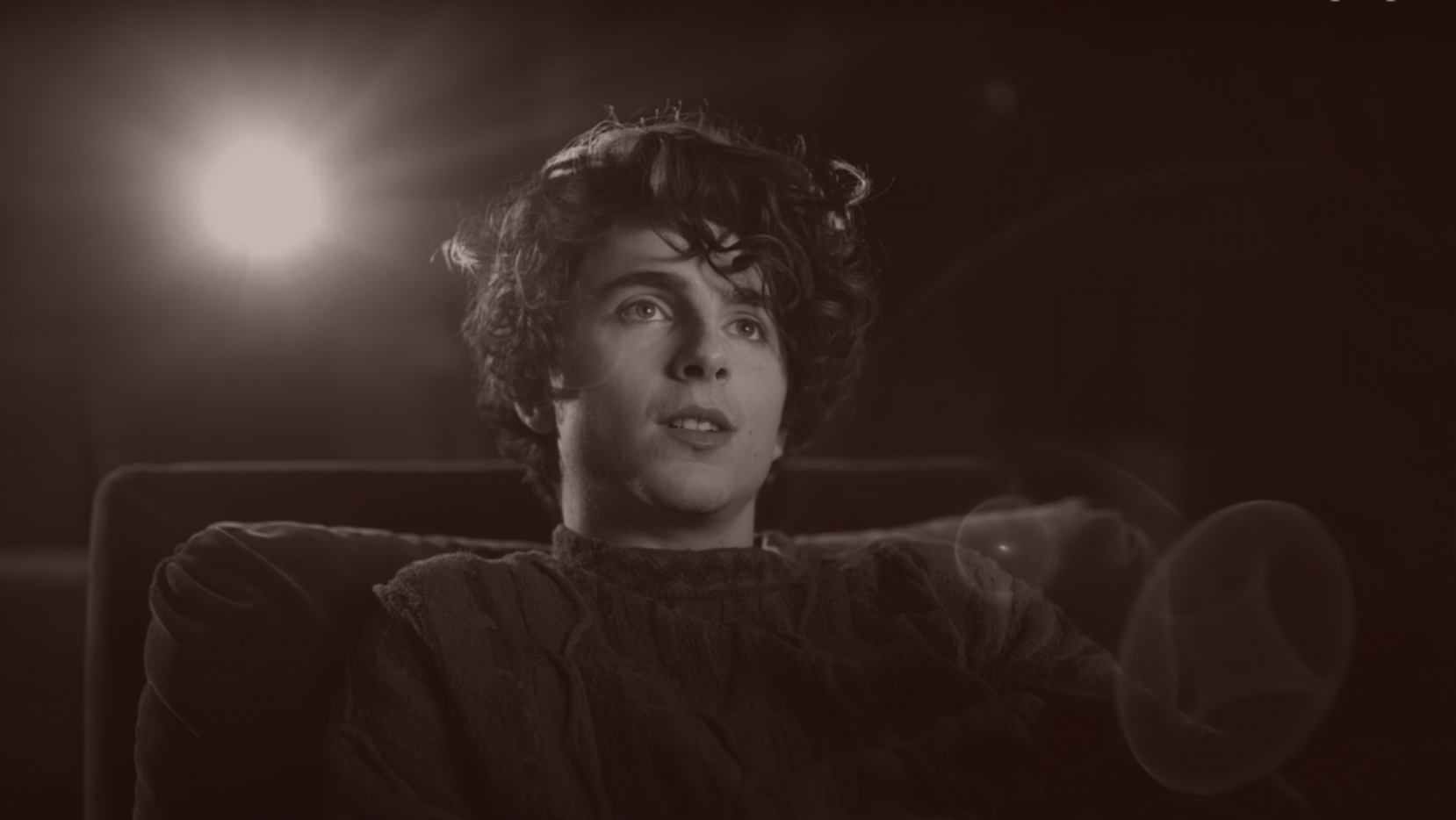 Streaming Services Have a 'Recall' Problem
The second installment of Puck's original study reveals how few consumers can remember whether the shows they like are on Apple TV+, Peacock, Netflix, or somewhere else, and why that matters to the future of digital platforms.
Have you seen that new Apple TV+ ad with Timothée Chalamet? The young star is bummed that he's not part of its A-list programming, reminding everyone that Ted Lasso, projects from Selena Gomez, Jennifer Lawrence, Martin Scorsese and Leonardo DiCaprio, Jason Momoa, and last year's best picture winner, CODA, can or will soon be found on Apple TV+. Yes, Timmy keeps telling us, on Apple.

It's a classic branding ad—you can almost hear Apple's services guru Eddy Cue screaming like he's courtside at a Warriors game: We're Apple, dammit! Check out who we're working with! Big f-ing stars, OK?! Not like those regular streaming services. And there's data behind the specific messaging. As the second part of Puck's streaming brand study reveals, consumers have a really tough time remembering where particular shows and movies are available, even if they have watched those shows and movies. It's called "recall," meaning how well people connect specific content to a specific platform, and it's a big problem for these services as they try to distinguish themselves in a crowded market.

Apple TV+, for instance, has some of the lowest brand affinity scores and recall rates among the streamers, despite being super-premium and connected to one of the most recognizable and admired brands on Earth, with the largest market cap. According to our survey, only 20 percent of respondents know Ted Lasso is on Apple TV+. That's compared to, say, 50 percent who know that 1923 is on Paramount+, a very strong recall rate for a small-ish service. Keep in mind, Ted Lasso is the biggest hit show on Apple TV+, according to Nielsen, yet its recall rate is still low. That's why Apple paid Chalamet more than it has ever paid a celebrity endorser (including athletes), according to a well-placed source: To help consumers make that specific connection.
Overall, aside from Netflix and Disney+ programs, people in the Puck survey, which we conducted with research firm The Quorum and independent pollsters, generally exhibited low recall. We picked two hits from each platform, based on Nielsen ratings. Respondents were asked to identify the streamers where they could find each show from a list of eight services. In addition, respondents could say they "weren't sure" or "weren't familiar with the program."

Netflix's Stranger Things and Squid Game enjoy the highest recall rates (68 percent and 64 percent, respectively), which makes sense given Netflix is the largest service, those shows are massive, and Netflix marketed them heavily. And Disney, of course, benefits from its well-known I.P. like Star Wars and Marvel, so recall on The Mandalorian and WandaVision is particularly high.

But recall on the HBO Max programs The White Lotus and The Flight Attendant is low, according to our data, which surprised me a bit, given how much White Lotus was marketed and covered in the media. And on Amazon Prime Video, even Lord of the Rings: The Rings of Power, its pricey I.P. play, has mediocre recall, with twice as many people believing the show is on a different streamer. Hulu is better, with more respondents able to identify The Handmaid's Tale and Only Murders in the Building as being Hulu shows than the two Amazon originals. Still, recall is much lower than the Netflix programs.

Interestingly, the scores only rose a few points when we isolated for just subscribers to each service. For example, recall for Apple TV+'s Severance is 16 percent among all respondents, but it only rises to 24 percent among Apple TV+ subs. That's right, only a quarter of people who subscribe to Apple TV+ know that Severance is sitting right there for them. That could mean there are lots of passive subscriptions. So in that way, Chalamet is talking to existing Apple TV+ subscribers in that ad, as well as people who might like to subscribe.
Keep in mind, we only asked about two shows per service. Some platforms might enjoy greater recall rates for more of their shows, which is important when creating brand affinity among subscribers. Still, for a show that's not a huge hit, the recall problem is obviously even worse. We looked at Girls5Eva, the Tina Fey-produced comedy that launched on Peacock and was picked up by Netflix for its upcoming third season. The same slice of people (12 percent) correctly identified Peacock as the home as they did Netflix, with three quarters of respondents saying they either don't know Girls5Eva or where to find it. Not great.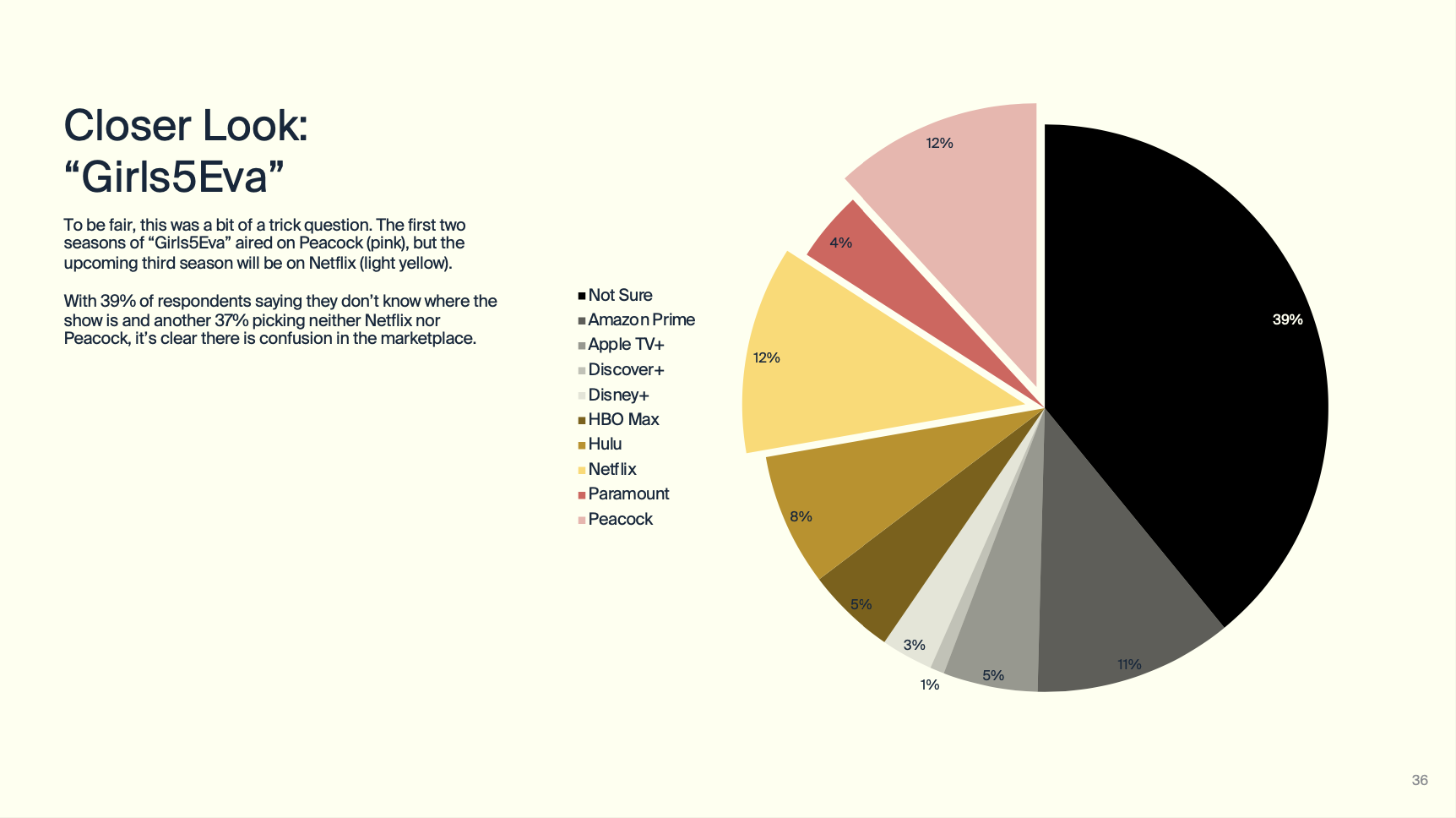 The numbers show that the challenge of succeeding in streaming isn't just creating great shows and movies. It's also, just like in the linear TV age, about effectively branding a service, making a lasting connection between shows and their platforms, and communicating that value proposition. "We often refer to subscribers as the most definitive success metric for a streamer, but it's important to note that attachment and recall—knowing where to find content—are the building blocks for subscriber growth and controlling churn," David Herrin, the author of the study, told me today. "Educating people on where to find content is the first step in getting people to sign up." And if that means paying Timothée Chalamet whatever his shill fee is, so be it.
"We have never canceled a successful show."
–Ted Sarandos, the Netflix co-C.E.O., arguing to Bloomberg, I suppose, that he wouldn't axe the vast majority of Netflix shows after three or fewer seasons if only they were more popular and cost-effective. It certainly couldn't be that Netflix generates more R.O.I. from new shows than from continuing existing series, even the successful ones.

A little more on Thursday's Netflix leadership transition and how it's being positioned:
Sarandos kinda admitted in that Bloomberg interview what many in his inner circle have believed for years: He expected to succeed Reed Hastings as sole C.E.O. "I probably wouldn't have thought about this a couple years ago," Ted said, referring to having Greg Peters as a co-leader. But now he's apparently on board, so let's see how that dynamic plays out, especially with Hastings still involved as executive chairman.
On that note, Sarandos and Peters came to the interview armed with data that purports to show companies with co-C.E.O.s outperform solo C.E.O.s, as if succession was the same thought process as canceling 1899. Very tech company.
People should probably calm down about film chair Scott Stuber now reporting to Bela Bajaria, who was upped from TV head to chief content officer. Practically, it doesn't seem like things will change; Stuber still has full greenlight power and a budget in the $3 billion to $4 billion a year range. (It was already much less than Bajaria's $13 billion to $14 billion TV budget.) But… if Bajaria or, more likely, the data, is no longer positive on the film group's performance, or if Netflix pivots again and decides that $200 million Russo brothers movies aren't a great use of resources, that reporting structure could matter a lot.
If the Netflix share price doesn't recover, or the ad tier doesn't accelerate growth, Peters may regret this line: "A lot of our traditional media competitors are working through a tough situation… We're in a very stable position and our job is to basically sprint ahead, run as fast as we can."
Hastings has been living his best life around Park City this weekend; spotted cruising Main Street, taking in Aum, the documentary about the cult Tokyo subway attack.
Now a chat with Verve's new C.E.O. Bill Weinstein about competing with the Big 3 agencies and what the Writers Guild should be demanding in negotiations…
Rise of the Anti-CAA Talent Agency
In the talent agency wars, is it possible to be small without being second class? That was the question posed by Verve, which Endeavor's Bill Weinstein, Adam Levine and Bryan Besser launched 13 years ago as a "boutique" for writers and directors like Michael Arndt (Little Miss Sunshine, Star Wars) and Victoria Strouse (Finding Dory). Now Verve has grown to more than 50 agents, with divisions for talent, non-scripted, publishing, theater, film finance, and audio, and clients like Rings of Power showrunners J.D. Payne and Patrick McKay, and WandaVision creator Jac Schaeffer. It's tiny compared to the Big 3 in CAA, WME, and UTA, but the Verve partners now hate that B-word, preferring "bespoke." And this week, they elected Weinstein as the company's first C.E.O. With the agency landscape in upheaval—CAA buying ICM Partners, Verve's writer clients ending the lucrative packaging business and now threatening to strike—it seemed like a good time to check in with Bill on how he plans to compete, and grow, but not grow too much. I edited this interview for length and clarity.

Matt Belloni: Why'd you guys decide to have a C.E.O.?

Bill Weinstein: Just acknowledging the growth that has taken place. It was very organic.

What is Verve's place in the agency landscape now, where big players are consolidating, raising V.C. money or trying to go public? There are a lot of smaller players, but it feels like the Big 3 are pulling away.

I have a lot of respect for the legacy agencies, but the narrative has gotten so one-note on them. It's about capital infusion, the assets that they are acquiring, and the plans to get returns on those assets. We're in a different lane. We are in the advocacy business and the business of partnering with clients. The legacy companies make acquisitions that are good for a small number of clients and are very good for the agency, which then allows them to sign more clients, but only a small number of [existing] clients benefit. We want to expand our ability to serve all our clients.

So part of your mandate is to find companies to merge with or acquire.

We've done one acquisition. A agency called New Deal MFG that Paul Smith started with a specialty in TV directors. We're open. But that's not the mission. And we're not for sale.

You've never taken on money, right?

Never. We took on City National Bank, a loan and a line of credit. (Laughs.)

How has the end of TV packaging impacted your business?

Being in the 10 percent business has been a growth center for Verve in its entire history and will continue to be…

Yeah, but the legacy agencies are built on those power packages. And part of the reason you guys were looked at as a smart move in the beginning—other than the talent you had—was because packaging was so lucrative. But now it's a percentage business.

It's a percentage business we've been in and will continue to grow at a healthy rate.

Writers demanded Verve and the other agencies end packaging, and you guys were one of the first shops to go along with their request. Yet now many writers I've talked to aren't exactly loving having to pay commissions. How much do you fight back the temptation to say, "Well, you asked for this"?

No temptation whatsoever. We just keep marching forward.

Diplomatic. There was that year and a half period where Verve had settled with the WGA but the big agencies were still fighting over packaging and their writer clients had fired them. Did that period help you compete for business and grow?

We grew responsibly and sustainably. We never said we would represent a single person for a single deal. We want to build longstanding partnerships. During that period, when the other agencies were not online, we said let's get to know each other, come up with the proper strategy. And what we found is that the people who we partnered with, the John Augusts and Adele Lims of the world, are still part of our organization and are doing well.

You're close to these things. What's the latest thinking among writers on whether a strike will happen?

I heard you predicted on your podcast that you thought it would happen.

Yes, I believe it will happen. They are so far apart, and I get the feeling from writers that if not now, when? Don't you get that sense?

I agree there are very clear issues on the table. I agree that the culture in general—politics, media, social media—there's not a lot of measured conversation. People take hard positions. I've learned not to make a prediction. I'd like the conversation to begin as soon as possible.

The guild can do things that you can't as an agent, like limiting mini-rooms and such. What would you like to see the WGA accomplish in the coming negotiation?

More information and transparency from the streamers as to how they make money using the content that WGA members create. You've written about the Hollywood ecosystem that got hooked on the "heroin" of upfront buyouts. Most of the creative people we look after are both entrepreneurial and willing to bet on themselves. They're not looking to be paid more than they're worth, but they definitely don't want to be paid less. If the content they are creating is valuable to the studios/streamers, let's develop a common language around how that value is determined so we can be true partners in success.

Where do you want to see Verve in five years? Doubling in size?

Well, we are moving into new offices in Hollywood. (Laughs.) We don't put numbers on it.

Chris Silbermann at ICM got pretty rich selling to CAA. You gotta think about that at some point, right?

(Laughs.) Hollywood agencies have not done succession right. I think we are building a hundred-year company.
Lots of headlines, not much actual news yet here in Park City. I'll summarize:
Yes, the festival is back. Everything is too crowded, traffic is terrible, and it's impossible to get a dinner reservation or an Uber.
Some good movies, some really bad movies (I skipped the Alexander Skarsgård "naked and breastfeeding" opus), the documentaries are much better than the features. So like usual.
The deal market is active. We'll see who ends up buying what—Chloe Domont's relationship-hell thriller Fair Play, with Phoebe Dynevor and Alden Ehrenreich, will almost certainly nab eight figures—but the in-person festival seems to be juicing at least initial interest. [IndieWire]
The bankrupt Cineworld chain has started closing Regal theaters, including Union Square in NYC and Sherman Oaks Galleria in L.A. Sad, but capacity needs to be reduced. Will this be enough? [Insider]
Now that Rust star Alec Baldwin has been charged with involuntary manslaughter, do actors have a duty to secure their prop guns? The New Mexico D.A.'s office thinks so, but I'm with SAG-AFTRA. Actors aren't trained for that, and other people on set are. Maybe the guild should demand that actors have a right to refuse that responsibility without being fired. [LAT]
Conan O'Brien breaks down "Marge vs. The Monorail," one of the greatest sitcom episodes of all time, on its 30th anniversary. [Ringer]
Glass Onion producer Ram Bergman explains how Lionsgate and MRC lost the Knives Out sequel. [The Business]
It's a hodgepodge today of reactions to everything from Nelson Peltz vs. Disney to Geoff Morrell's payout to our streamer brand study to David Zaslav's birthday party…
"Why are you making light of Morrell's payout? This is a corporate heist, and the Disney board are a bunch of accomplices. Fire them all." –A lawyer
"I'm now convinced Peltz picked Disney entirely because of Ike [Perlmutter]. Look no further than AT&T: a real fucking hot mess of a company with shitty, overpaid leadership, where a prior activist came and went, management made historically bad (overpayment) M&A choices, it's wildly underperformed its peer group, and the architect of the whole thing [John Stankey] got promoted to C.E.O. in the process. Telecom services is also way closer to Trian's wheelhouse than global entertainment, AND AT&T shareholders would probably side with Peltz over Stankey. Instead, he's picked a fight with Disney that, at best, will result in his having to go away having lost the battle and at worst will be value-destructive for Disney shareholders while fucking up the entire industry." –An executive
"I appreciated your streaming research, but have a recommendation for your next survey. Ask about linear networks. I know you're focusing on streaming, but it's hard to know what to make of Netflix's numbers. How do streamers' N.P.S., Trust, and Quality numbers compare to NBC's, FOX's, HBO's, and ESPN? Sure, those legacy brands are on a completely different trajectory. That said, I don't know if Netflix is strong—or just stronger than its streaming peers? I think bringing the legacy brands into the conversation also reminds your reader to put streaming into context. Linear is dying but not dead. " –An analyst
"One thing jumps out about that Zaz guest list immediately…" –A (person of color) executive
Here comes Scream VI on the weekly movie tracking chart, which suggests (shocker!) audiences are not sick of horror…
Have a great week,
Matt

Got a question, comment, complaint, or a nice warm hat? Email me at Matt@puck.news or call/text me at 310-804-3198.
FOUR STORIES WE'RE TALKING ABOUT
Bezos's Field Trip
What, exactly, was behind Bezos's visit to the Washington Post offices?
DYLAN BYERS

Licht After Dark
Can Licht revive CNN's primetime lineup with a late-night shebang?
DYLAN BYERS

Rep. George's Madness
News and notes on several astounding storylines emerging from the right.
TINA NGUYEN

Need help? Review our FAQs
page or contact
us for assistance. For brand partnerships, email ads@puck.news.
Puck is published by Heat Media LLC. 227 W 17th St New York, NY 10011.