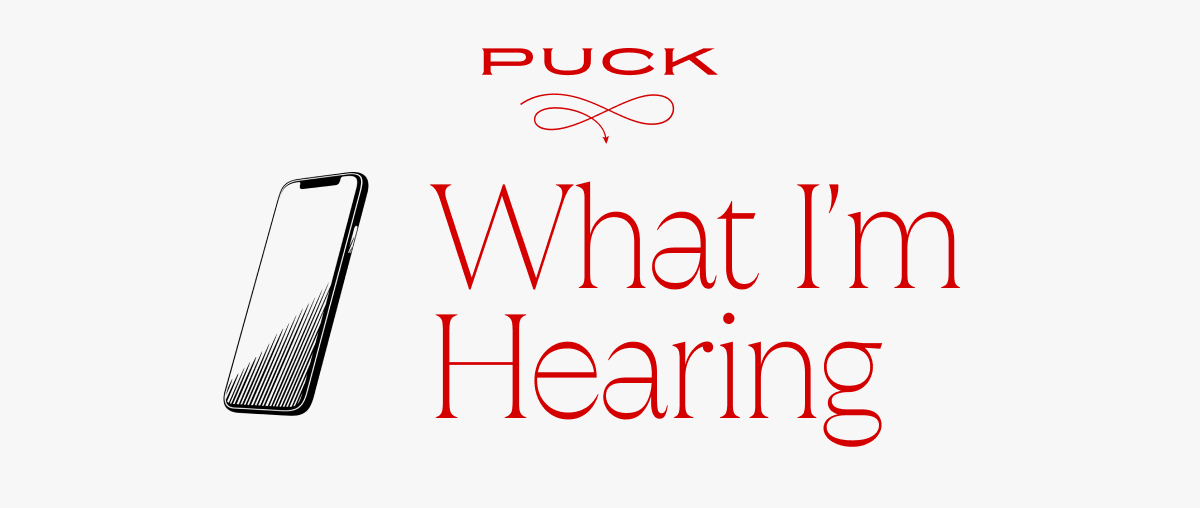 Welcome back to What I'm Hearing. I'm finally home in L.A. for the rest of the summer, thanks again to Julia Alexander and Jonathan Handel for driving the party bus this past week.
Programming note: I'm on CNBC at 6:50 a.m. eastern tomorrow discussing the scoops in this email. I joined Kara Swisher, Franklin Leonard and Brooke Hammerling on Kara's On podcast to debate Barbenheimer lessons (listen here). Plus, this week on The Town: Lucas Shaw and I looked at Sound of Freedom and its "pay it forward" strategy, and Warner Bros. marketer Josh Goldstine revealed the Barbie materials that were most debated internally. Subscribe here and here.
And if you're still not a Puck member, click here.
Discussed in this issue: Mike Hopkins, Fran Drescher, Tom Staggs, Jimmy Pitaro, Kevin Mayer, Bob Iger, Reese Witherspoon, Oprah Winfrey, Peter Chernin, Mel Gibson, Sarah Silverman, Guillermo del Toro, Duncan Crabtree-Ireland, Jen Salke, Greta Gerwig, Javier Grillo-Marxuach... and Obama's shady playlists.
But first…
Who Won the Week: Rich Gelfond
The IMAX C.E.O. bet big on Oppenheimer, taking all his screens and...
Can't see the full story?

You're receiving the free version of What I'm Hearing at . For full access to Puck, and to each of my colleagues, you can
subscribe here.
On Friday, the Hollywood C.E.O.s and key labor executives of the AMPTP got together on a call to figure out their next steps in the labor impasse that has shut down most of the entertainment industry. According to multiple sources familiar with the tone and substance of the meeting, representatives for the studios and streamers expressed a desire to return to the bargaining table. Meanwhile, several participants pressed for...
FOUR STORIES WE'RE TALKING ABOUT

Need help? Review our FAQs
page or contact
us for assistance. For brand partnerships, email ads@puck.news.
You received this email because you signed up to receive emails from Puck, or as part of your Puck account associated with . To stop receiving this newsletter and/or manage all your email preferences, click here.
Puck is published by Heat Media LLC. 227 W 17th St New York, NY 10011.