Welcome back to What I'm Hearing, a little earlier tonight because of the time change. I gotta say I agree with Rep. Jonah Ryan, who famously said, "Daylight Saving Time has never saved us from anything." And as always, if this email was forwarded to you, join the WIH community by clicking here.
🚨🚨Another WIH contest! Reply to this email with your best guess of the Black Panther: Wakanda Forever opening weekend domestic box office (the actual number on Monday, not the Sunday estimate), and the closest without going over will win a status-defining Puck hat. Good luck, deadline is noon Thursday.
Discussed in this issue: Bob Chapek, Brad Schwartz, Jennifer Lawrence, Taylor Swift, Greg Berlanti, Josh Schwartz, Nicole Clemens, Mike Simpson, Mark Pedowitz, Amy Pascal, and Mrs. Ari.
A few smaller items today. But first…
Who Won the Week: Michael Rapino
Amid a stark earnings season, the Live Nation C.E.O. reported a 63 percent increase in revenue compared to Q3 2019, thanks to "greater market pricing" (read: higher ticket prices!). And unlike ad-driven media, he sees no softening in touring sponsorship revenue heading into 2023.

Speaking of live music, Taylor Swift is about to set a bunch of records for ticket sales. She'll also get destroyed online for her high prices, as she did in 2018, but as this Billboard piece explains, she's been an innovator here and she's mostly taking money from secondary sellers, which is fine by me.
First Casualty of the Paramount TV Squeeze
In the month since the exit of David Nevins, who oversaw the Paramount Television studio in addition to Showtime and a chunk of Paramount+, the remaining TV leaders George Cheeks, Chris McCarthy and Nicole Clemens have been plotting with C.E.O. Bob Bakish on how to best synergize Paramount TV, CBS Studios, MTV Entertainment Studios, and the development team at Par+. They're also figuring out which projects to cut. That conversation is ongoing, but one of the first casualties, I'm told, is Love Story, the big series remake of the 1970 film with Ali MacGraw and Ryan O'Neal, from producers Josh Schwartz and Stephanie Savage. That's been killed at Par+, despite a script-to-series commitment. Producers are free to shop it elsewhere, and this is likely only the beginning of the project reshuffling on the TV side at Paramount.
"I had let myself be hijacked." –Jennifer Lawrence, explaining to the Times why she fired CAA in 2018.

Runner up: "Actually, she was suspended for impersonating a comedian." —Elon Musk, tweeting after comic Kathy Griffin's account was suspended when she pretended to be Musk.

Second runner up: "I think we're going to try having breakthrough content that brings in large audiences, and we're just going to have to figure out a way of doing it efficiently." –Brad Schwartz, the incoming CW president.

A little more on the CW transition…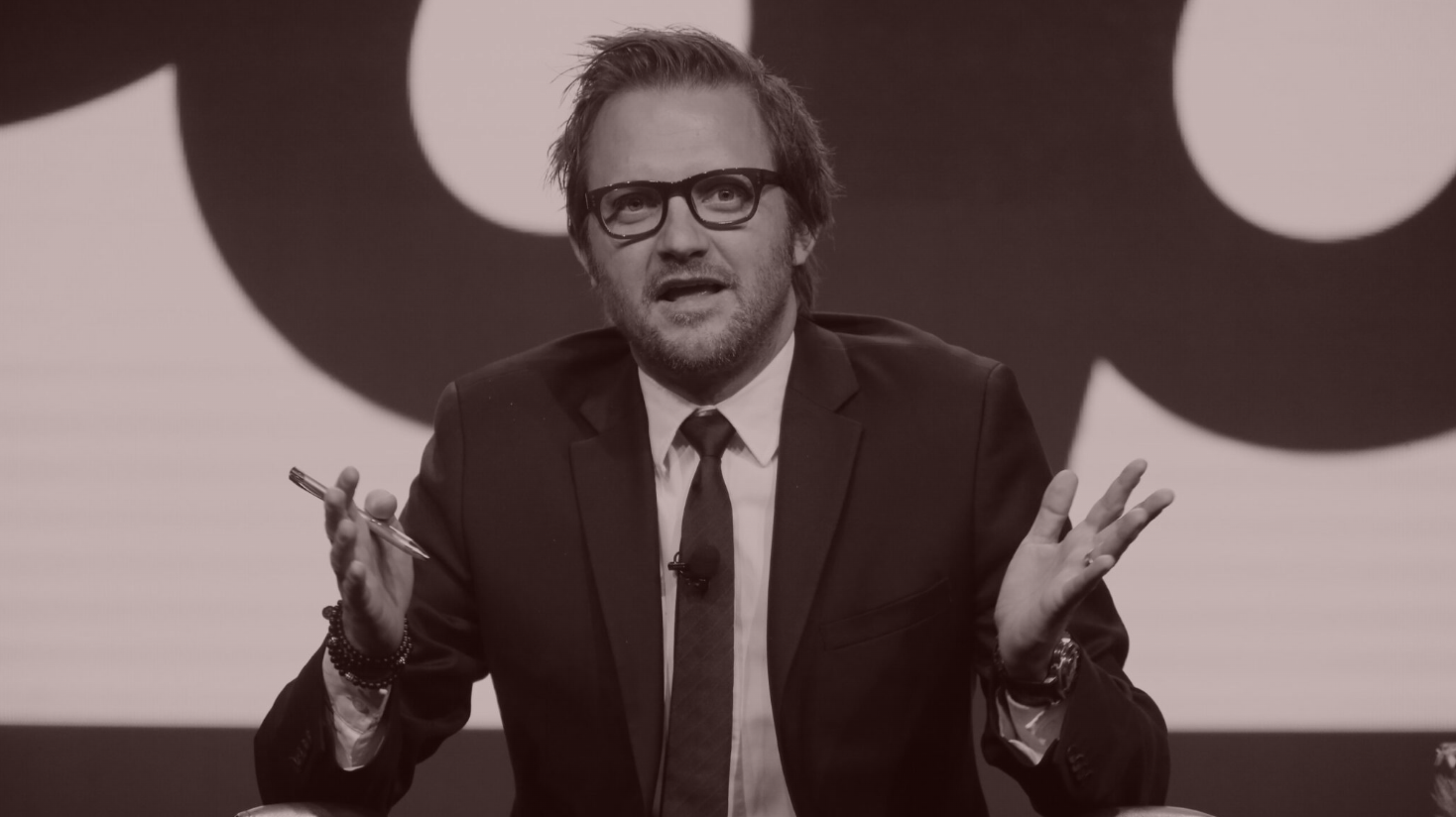 The CW Chooses Its Undertaker
Brad Schwartz is taking over the last-place broadcast network that has become little more than a linear money pit, and the numbers are only getting worse. Those Greg Berlanti-produced Y.A. shows and DC Comics adaptations are likely coming to an end under new owner Nexstar, and ultimately, the economics of the entire network probably aren't sustainable.
You'll be forgiven for cringing a bit as new CW Entertainment president Brad Schwartz made the rounds in trade interviews this week. It's always tough when the guy hired to gut the place tries to explain his strategy in the fluffiest and most optimistic terms. But with apologies to station group owner Nexstar, which just acquired 75 percent of the CW, the economics of "bringing in large audiences" to a last-place linear broadcast network don't really make sense.

They haven't made sense for years, actually. The CW, which programs for the 18-34 year old demo yet has an audience with a median age of 58, continued to exist only because its owners, Warner Bros. and CBS, could seed their younger-skewing shows there, build small but devoted audiences, and then make the real money selling rights to Netflix and foreign outlets. Without that ownership element and a rich aftermarket, the CW is a little-watched linear money pit, and the numbers are getting worse. Its top show this season, All American, is averaging about 440,000 viewers, down more than 20 percent from last season, per Nielsen. That's its top show. Coroner, a Canadian drama you've definitely never heard of (don't lie!) that is remarkably in its fourth season, is averaging about 380,000 viewers and a .04 rating in the 18-49 demo. There are local newspapers with that kind of audience.

And get ready for more Coroners. It's no coincidence Nexstar's CW overseer Dennis Miller went with Schwartz, a low-budget guy known for cheap foreign acquisitions. That and third-tier reality shows are pretty much the only genres of originals that make sense at those audience levels, and that's the sandbox in which Schwartz tends to play. He's been dining out on Emmy winner Schitt's Creek for years because, when he was running the PopTV cable network, he picked up U.S. rights from Canada when no one else would. That's not nothing, of course, and TV executives have definitely built bigger reputations on doing less. But let's not pretend Schwartz had anything to do with the production or even the popularity of Schitt's, which caught on when it began airing on Netflix, not Pop. Back in 2014, it was just another cheap license that Schwartz picked up when many others passed.

And those days of finding Dan Levy-sized diamonds in the rough are kinda over—maybe not over; let's just say it's a lot more challenging. Prices have soared, thanks to streamers padding their libraries and the willingness of U.S. audiences to sample foreign series. And given the overall linear apocalypse, everyone is looking for less expensive options, thus running up the cost of the cheaper stuff. The CW's previous president Mark Pedowitz knew this because he was already in the foreign-licensing game. On shows like Coroner, for instance.

So no, the new CW will soon not be airing all those Greg Berlanti-produced Y.A. shows or DC Comics adaptations, which can now run $4 million to $5 million an episode. In fact, many insiders expect the CW to be in need of its own coroner, killing off most if not all of the pricer stuff after this season. It already fired its entire casting department this week, among many others. Maybe Schwartz can replace the programming with $1 million an episode dramas or comedies, as has been floated. And maybe there's an audience for that, and an ad business to be built on that audience.

But being in only the ad and affiliate fee game is gonna be really tough, and more likely than not, the CW as it has existed is gone. The new CW will likely retreat to C-level unscripted, whatever cheap pickups Schwartz can fill time with, and, if I had to predict, some news programming from Nexstar. Which is what Schwartz probably should have told the town this week in the first place. And even then, without sports or a network-defining franchise, or anything that might cause viewers to complain if it just went away, that still probably won't be enough to save it.
How badly do theaters need Wakanda Forever? Black Adam is fizzling and likely won't be profitable for Warner Bros., and the specialty market still isn't showing signs of life. [Boxoffice]

Related: Because James Gray's Armageddon Time is flopping and I'm a masochist, I looked at the domestic box office for Focus Features releases this year:

The Outfit (March) $3 million
You Won't Be Alone (April) $264,000
The Northman (April) $34 million
Downton Abbey: A New Era (May) $43.9 million
Mrs. Harris Goes to Paris (July) $10 million
Tár (October) $3.7 million*
Armageddon Time (November) $902,000*
*Still in theaters (but fading)

My Puck partners are all over the Warner Bros. Discovery situation: William Cohan dissects the latest financials and the status of that crushing debt. It's only $48 billion now! [Puck] And Dylan Byers reveals a bunch of details about the coming $100 million in cuts at CNN. But hey, Don Lemon wears a turtleneck now. [Puck]

Who in the world is gonna watch all these new sports talk shows on Amazon? I don't think Amazon executives know, they just want to dip their toes and see if anything works. [NY Post]

Shonda Rhimes and Mike Flanagan are among the Netflix showrunners pissed that the sanctity of their storytelling is being disrupted by ads. This definitely has nothing to do with the fact that Netflix isn't paying them extra for the ads. [CNBC]

Related: After Shonda bailed on Twitter when Elon Musk took over, a few people sent me her funny post about how much joy Elon's Tesla brings her. (Her rep didn't respond when I asked if she still has one.) [Instagram]

Disney struck another video game deal with EA, this time for Marvel titles. At what point will Bob Chapek realize Disney needs to take gaming seriously and buy a game studio? [Bloomberg]

Speaking of Chapek, he'll likely be watching the election returns closely on Tuesday because, as Joe Nocera notes, a Republican-led House is likely to haul him to D.C. to testify about his Florida politics, or his corporate "wokeness," or whatever. [Dealbook]

The Times account of Les Moonves's campaign to keep a police report secret, with Cory Palka, the LAPD captain who betrayed the accuser, includes this note from Palka to CBS executive Ian Metrose once Moonves was exposed: "I'm so sorry to hear this news Ian. Sickens me. We worked so hard to try to avoid this day. I am so completely sad." [NYT]

Its stock price might be down 80 percent (!) this year, but Roku is at least making some interesting stuff, including the very fun Weird Al movie. [Vulture]

Sarah Staudinger (the new Mrs. Ari Emanuel) gets the Styles treatment, with fun tidbits: Her godmother is Cher, their home displays a "plaster sculpture by Karon Davis of Ms. Staudinger and Mr. Emanuel embracing," and Ari now has an 11-year-old half-brother in law. [NYT]
When HBO Considered Buying Netflix
I had Felix Gillette and John Koblin on my podcast this week for their new book about HBO (order it here), and we discussed the time in 2006 when a business development team at Time Warner created a 35-page deck with a prescient recommendation: Buy Netflix. It didn't happen, of course. And the three of us agreed that HBO, still nursing shrapnel from the AOL/Time Warner implosion and suspicious of the Internet, probably would have killed or seriously maimed Netflix if that deal to create the "world's leading subscription entertainment company," as the deck promised, had actually happened.

But still, it's fun to look at these bullet points from page 15 of that "Project Sneaker Net" deck, which I obtained. HBO's team was still thinking about Netflix as a purveyor of DVDs, not streaming video, but the coming disruption of the cable bundle was clearly on their minds. The deck lists how the deal could help both companies "overcome strategic threats and deliver unique benefits," such as Netflix providing "an immediate best-in-class, direct-to-consumer online entertainment business." And for Netflix, HBO would "deliver an original programming and library acquisition engine to further differentiate product."

Sixteen years later, the two companies are still pursuing these respective goals. So maybe a merger would've made a lot of sense.
Thursday's email on the streaming market's Catch-22 correction and Ari Emanuel's banning of producer Amy Pascal generated some thoughtful responses. Some examples:

"The slowdown isn't just in scripted; it's affecting unscripted also. Ask any unscripted producer if any network has spent $1 on anything that doesn't have a celebrity in it in 2022. Feels like we're pitching to people that are just waiting to get their severance package.
This is the market in unscripted right now:
1. Renewals. Because if the networks don't bring the shows back, that audience WILL vanish. But with every renewal request comes the 'we need to cut the budget' conversation. Super fun.
2. Tentpole docs that can market themselves, or celebrity anything…
3. Low-cost/high volume co-productions. Why pay $300,000 an hour to get a .35 [rating] when a $150,000 an hour acquisition can get a .30? It's all about R.O.I.—especially at Discovery, where the C.F.O. is calling the shots on programming." –A producer
"The Catch 22 really leads to a run up in U.S. sports rights because they are the only things (outside of big time known I.P. or premium HBO-style shows) that can reliably deliver an audience." –An executive
"Wonder what Tom Holland thinks about Ari's 'ban' of Amy, who is producing the next Spider-Man and Fred Astaire movie." –An agent
Editor's note: I'm told the existing Holland projects were not included in Ari's fatwa against Amy. Also, a couple people asked what WME agent Mike Simpson did to anger director client Luca Guadagnino. According to multiple sources, there was an email from Simpson to Guadagnino that Luca found insulting. WME declined to comment. (Disclosure: WME reps Puck.)
Every other Sunday I empty my Notes app of short, lighter items, events or sightings that I haven't seen reported elsewhere. Send quick tips/ideas to matt@puck.news
or 310-804-3198.
Big Hollywood stakes in Tuesday's L.A. election: Netflix's Ted Sarandos is among those campaigning hard for Rick Caruso, penning this open letter that's making the rounds. And all in, Jeffrey Katzenberg has personally dropped $1.86 million into the Karen Bass campaign, per disclosures… Lawyer Matt Johnson, another big Bass supporter, recently hosted a dinner for the International Rescue Committee with a group including firm clients Daniel Kaluuya and Julie Bowen, following partner P.J. Shapiro's dinner with the Reproductive Rights Coalition with clients like Mindy Kaling, Dakota Johnson and Elizabeth Banks… Ryan Turell, the 6'7" son of APA communications chief Brad Turell and the first Orthodox Jew selected in the NBA G League draft, began his pro basketball career this weekend in Cleveland (yes, he still observes the Sabbath)… h.wood group principals and They Call Me Magic producers Brian Toll and John Terzian just opened a new outpost of The Nice Guy in Dubai… Congrats to TBD Marketing, which trounced Endeavor 33-3 on Saturday to take the coveted Entertainment Softball League championship.
Have a great week,
Matt
Got a question, comment, complaint, or a good Elon joke for me to tweet? Email me at Matt@puck.news or call/text me at 310-804-3198.
FOUR STORIES WE'RE TALKING ABOUT
Schmidt vs. Gates
A first look at Eric Schmidt's new high-dollar charitable network.
TEDDY SCHLEIFER

The Greene Party
A bracing conversation with Robert Draper, author of "Weapons of Mass Delusion."
JULIA IOFFE

Need help? Review our FAQs page or contact us for assistance. For brand partnerships, email ads@puck.news.
Puck is published by Heat Media LLC. 227 W 17th St New York, NY 10011.