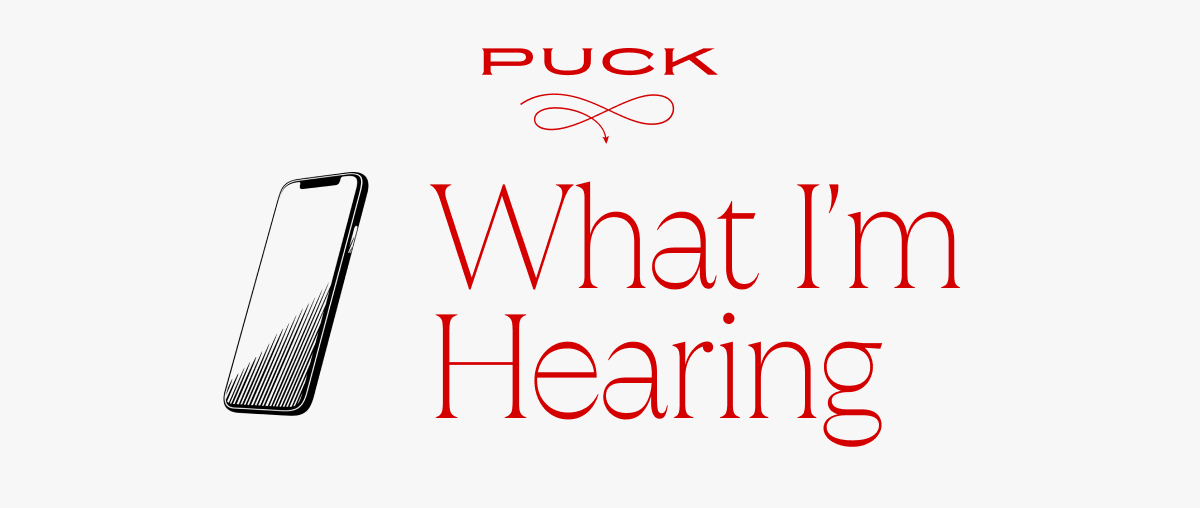 Welcome back to an abbreviated post-Oscars edition of What I'm Hearing. Congrats to Everything Everywhere All at Once, which is now, thanks to its historic near-sweep of the Big 6 categories, one of the greatest movies of all time (?), and to A24, which did sweep the Big 6 and is officially 1990s Miramax, without the criminal behavior but with the condescension.

Contest update: Fast national viewership for the show came in at 18.7 million, but several readers guessed in that ballpark, so I'm gonna wait until the final numbers come in to award the coveted Puck hat on Thursday.

Programming note: Today on The Town, Justin Kroll and I looked at how the Oscar nominees have leveraged their buzz, and who actually won the season. (It's not anyone who took home a trophy last night.) Listen here.

First, let's get a couple non-Oscars items out of the way…
At Least Amazon Isn't Canceling Bubble Shows
Seems like the default mode for TV outlets these days is to pull the plug on shows with niche audiences. But Amazon just greenlit a second season of A League of Their Own, the series created by Will Graham and Abbi Jacobson based on the 1992 Penny Marshall film. It'll be no more than five episodes, I'm told, and the per-episode budget will come down. But once those goals were met, Amazon head of TV Vernon Sanders pulled the trigger on the renewal, which will please those few but very active fans on social media who have been irate over the delay. (Amazon declined to comment.)
Anonymous Update: Olmstead Lawyers Up
Dawn Olmstead, who resigned as C.E.O. of Anonymous Content last week amid a dispute with her board over a proposed legal settlement with fired manager-producer Keith Redmon, now has her own litigator in Bryan Freedman. I don't get the sense that Olmstead is looking to sue, but she and C.O.O. Heather McCauley (I wrongly called her C.F.O. on Thursday) left in the middle of deals, and they probably don't want to be sued over their exits. (Freedman declined to comment.)

Meanwhile, Anonymous partners just received this email on the Redmon matter:
As an update to Partners, we wanted to follow up with you all directly, because speculation is not productive, and because we cannot comment on litigation or personnel or contractual obligations.
As we've discussed with you previously, the Keith Redmon matter was handled by the company when he was terminated for cause in June 2021 for a pattern of verbally abusive behavior. Following the termination, the company conducted an investigation of additional allegations.
The company and Board do not condone harassment of any type, including physical, verbal, or sexual. We are handling any past allegations in a principled manner that is intended to provide stability to the company and team. We support all our employees and colleagues fully and have always sought to create an inclusive, safe, empowering environment for all. Any implication, whether in the press or otherwise, contrary to those facts is false. The Board has acted and is acting in the best interests of the company.
We look forward to speaking with you all tomorrow.
To my eyes, "principled manner that is intended to provide stability to the company" looks like an explanation for why the company is settling the Redmon case rather than litigating. Anonymous declined to elaborate.
OK now on to a few Oscars items (and some awards I'm bestowing)…
"It's the Joe Biden of Oscars." –Donna Gigliotti, the Shakespeare in Love producer who handled the 2019 telecast, on this year's bland show.

Runner up: "Well, I'm in it for about three seconds." –Hugh Grant, in that fantastic red carpet interview with Ashley Graham, when asked what it was like to film Glass Onion.

Second runner up: "The two guys who insisted we go to the theater didn't come to the theater." –Host Jimmy Kimmel, on Tom Cruise and James Cameron.

A little more on that (warning: rant coming)…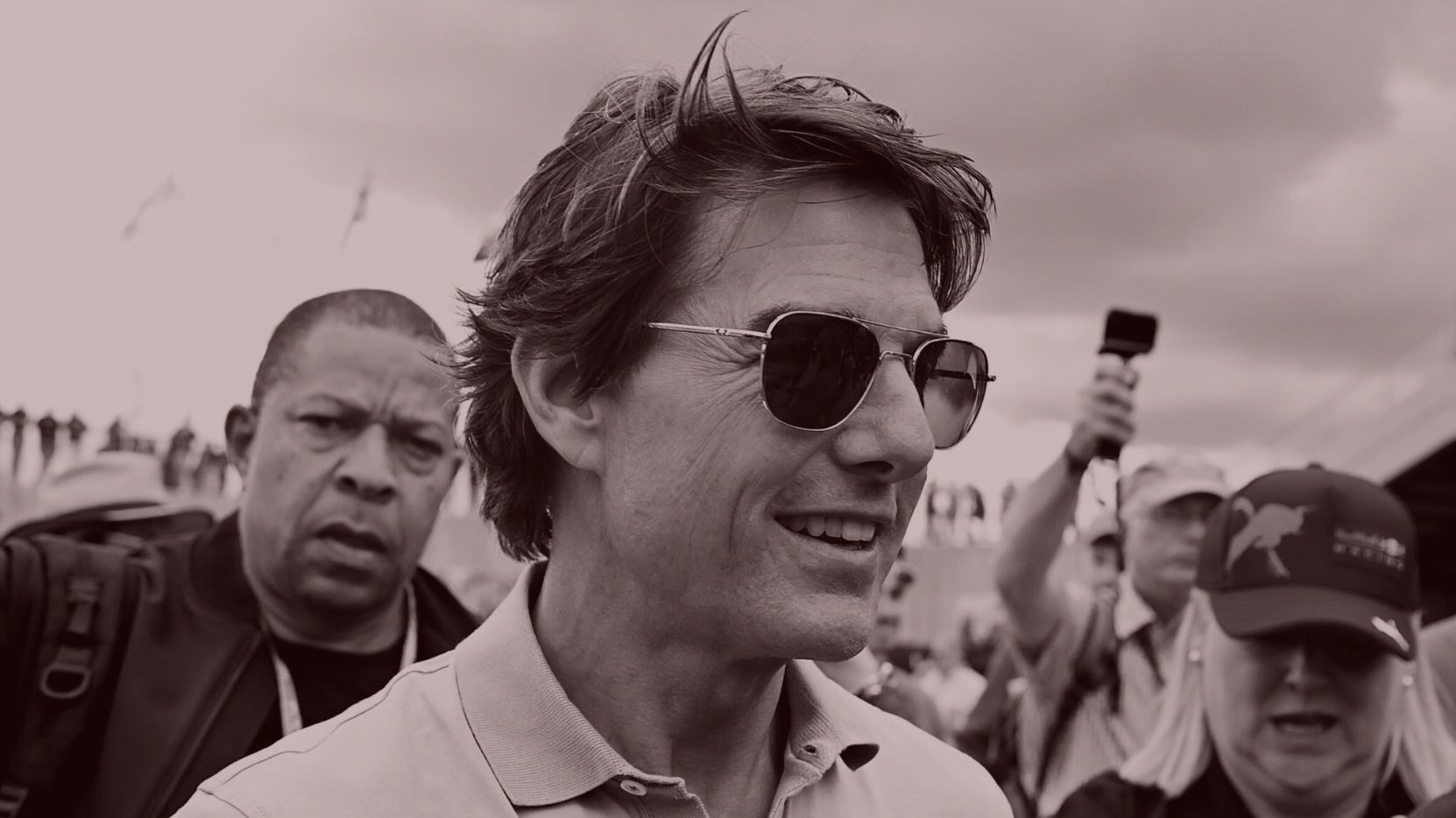 The Tom Cruise Oscar Failure
The 'Top Gun' star's absence is part of a larger problem for the Oscars—namely, nobody except Fan Bingbing wants to attend these days unless they're actively flacking a project. But isn't Cruise supposed to be the industry's global ambassador?
It's probably not a great thing for the Academy that the hottest topic at the Governors Ball last night was who wasn't there. Maybe it's because the Oscars show, despite a great Jimmy Kimmel monologue, was a relatively low-key and paint-by-numbers affair. But Tom Cruise and, to a lesser extent, Jim Cameron, kept coming up in my chats. And the overwhelming reaction to their conspicuous no-shows was basically a giant, Really?

If there's something personal or serious that caused these guys to bail, then I apologize for this rant. But if not—and at least with Cruise, it appears not—this was a pretty massive middle finger to the Academy and to their Oscar-nominated collaborators. These guys spent most of the year talking about the importance of the movie business—the theatrical movie business—and getting fans back to seeing movies. But the moment they were "snubbed" for best actor and best director, respectively, and their movies likely weren't winning best picture, and they were faced with a public environment where they might be the subject of some jokes, they can't be bothered to appear at the single biggest promotional event for those movies? (Including, in Cruise's case, the movie he was nominated for producing?) Pretty unbelievable. You think Mike Trout or Mookie Betts love playing in the lame World Baseball Classic tournament in the weeks before a 162 game MLB season? Probably not, but those guys know they're huge stars, and fans expect to see them, so they show up to support their game. Cruise? He's busy "working."

I know the Oscars is a slog, and the red carpet (or whatever beige color that was this year; I'm sure it will never appear nor be spoken of by the Academy again) can be toxic and draining. Camera phones and social media long ago ruined awards shows, at least for those who attend. But this is work, and Cruise is used to putting up with big crowds in pursuit of self-promotion and ego-stroking. The Oscars are nothing if not that.

Plus, Kimmel was never going to really attack Cruise. Besides not being that guy, Kimmel has a late-night talk show that he'd presumably like Cruise to visit as a guest in the future, as Cruise did a couple weeks ago while campaigning for Top Gun: Maverick literally across the street from the Dolby Theater. That "L. Ron Hubba Hubba" joke was funny and pretty benign; I'm told it wasn't even part of rehearsal, and Cruise had bailed before then anyway, so it wasn't that line that specifically spooked Cruise. But the prospect of being the subject of Scientology jokes, as he was in absentia at the Golden Globes and the DGA Awards, that's perhaps another matter.

This is part of a larger problem for the Oscars, of course. Namely, nobody except Fan Bingbing wants to attend unless they're nominated or actively flacking a project. But Cruise was nominated, and he is supposed to be the industry's global ambassador, right? Or at least he styles himself that way. He filmed a freaking video of himself, as himself, welcoming us all to theaters before Top Gun. The shots of him in the front row of the Oscars would have been great marketing for Hollywood at an event with remarkably low star wattage. And at the very least, his colleagues—the guys who spent years on the Maverick sound that won them Oscars—would have loved to see their star producer cheering for them. That's the respectful move, and when I talk to producers, that's what most upset them; the lack of respect.

According to sources, Paramount executives, the Academy leadership and Oscars producers believed until last week that Cruise would attend. (They all declined to comment; Paramount, which is afraid of Cruise's shadow, referred me to his publicist Amanda Lundberg, which is like asking me to shout into the Grand Canyon.) Few believe the excuse that he just had to get back to Mission Impossible: Dead Reckoning Part 2, especially since his right-hand producer, Chris McQuarrie, flew to L.A. just for the show, per his Twitter.

The move would have been to incorporate Cruise into the show, having him perform a wild stunt or some other segment that made him feel special and reminded audiences why they love him and his movies. Cruise meticulously avoids situations he doesn't control. He managed to eschew a single Scientology question during the entire global Top Gun: Maverick roll out, and even his awards season campaigning was limited to moments like Kimmel and his Producers Guild speech accepting the Selznick award.

If sitting in the unprotected front row of the Oscars for three and a half hours, subject to commercial break conversation and near his ex-wife Nicole Kidman, made him nervous, just work out another arrangement. Again, if there's a serious reason I don't know about, then disregard all of this. But if not, and many, many people around town suspect not, then the whole thing felt bush league: Hollywood failing to capitalize on its best asset, a real movie star, and the star wasting his fame and goodwill because of his own ego and insecurities. Nobody looks good here.

Best gift bag item: AMC Perfectly Popcorn, in the Night Before gift bag, which, I'm sorry to tell AMC C.E.O. Adam Aron, tastes like regular microwave popcorn.
The Russo Bros. Missed Their Oscar Moment
Conspicuously not mentioned during any of the Everything Everywhere speeches last night were the Russo brothers, who, I probably have to remind you, are credited producers on Everything Everywhere All at Once. I'm told Joe, Anthony, and Mike LaRocca, their head of production, all arbitrated with the Producers Guild for the P.G.A. mark and lost (they weren't really on-set producers and helped more in getting the project going, one EEAAO creative told me at the Governors Ball). That meant the trio were highly unlikely to be deemed eligible by the Academy to join lead producer Jonathan Wang on stage to accept best picture, and they've been absent from the media coverage during awards season.

With big film projects like the upcoming Electric State for Netflix and next month's Citadel series for Amazon, the Russos and their company, AGBO, hardly need the Oscar love. But perhaps because they're known for Marvel stewardship (Avengers) and popcorn fare (The Gray Man), the Oscar halo probably could have done a lot for the company—and who doesn't want an Oscar, especially one for a movie you actually produced? Fun fact: Scott Rudin was also a listed producer of Everything Everywhere when A24 first announced the film. He was quickly disappeared—losing his own shot at an eventual Oscar—when he came under fire for bullying.

Best Polo Lounge Pair: David Zaslav, lunching with Diane Keaton, on Friday of Oscar weekend.
ABC Charged Big Money for Those SponCon Trailers
I've been a big proponent of incorporating exclusive movie footage into the Oscars telecast. I even proposed doing a lottery among the studios for slots on the show to debut new materials. When I asked Academy C.E.O. Bill Kramer about this idea last week, he told me to be on the lookout during Sunday's show. What he didn't say is that ABC had actually taken that concept and turned it into a money-milking opportunity. The network's "Entertainment Brand Solutions" team pitched all the movie studios on a paid integration where studio-selected talent would "present" and toss to the trailer. The price? Between $7 million to $10 million for the full commercial buy and integration, according to a network source. Remember, it's only recently that movie ads were even allowed during the commercial breaks, for fear of "cheapening" the show.

Alas, all the studios passed except Disney, which essentially paid itself to stage that Little Mermaid stunt with Halle Bailey and Melissa McCarthy, and Warner Bros., which used the time not to plug a movie but to debut a corporate propaganda video about its 100th anniversary. (I watched the video on YouTube today—they didn't show it to us in the theater because it was a commercial—and I kept wondering how many layoffs could have been prevented by just not creating it.)

Disney was dragged online for using the Oscars to plug its summer movie, but this is actually the third year of this initiative (Hulu's Summer of Soul and Warner Bros.' In the Heights got integrations back in 2021). And trailers during the Oscars are still a good idea. But like most things in Hollywood, a fun idea has been corrupted and exploited for money, kinda destroying the fun of the idea in the first place.
Nicest way to tell red carpet publicists to dress better in a stern email from the Academy: "MANDATORY DRESS CODE Formal Evening Attire. This year, the pre-show has a creative aesthetic that requires anyone working on camera to follow strict guidelines, which are solid black or dark navy dress, tuxedo, or pantsuit. All dresses MUST be floor length. Tuxedo button-down shirts and ties should follow the same color palette."
My Reading List (Oscars edition)…
Justin Chang says what many are thinking: Everything Everywhere, "for all its undeniable representational significance, the more traditional a best picture winner it seems. Beneath its veneer of impish, form-busting radicalism, it's as epically self-important, broadly sentimental and thematically unambiguous a movie as any the academy has so honored." [LA Times]

Hilariously, the A24 victory lap story in the Times doesn't actually feature quotes from A24 executives. Side note: Someday, A24 will stop being cool, and all these journalists who've been getting jerked around for years will remember how difficult these guys have been. [NY Times]

Michael Schulman reflects on a show "full of feel-good moments but lacking the special brand of chaos that we've come to expect at the Oscars." [New Yorker]

Anthony Lane snarking the show is a lot better than random bloggers snarking the show. [New Yorker]

If you missed James Cameron last night as much as I did, the choice comments in this oral history of the Titanic Oscars should hold you over until the next Avatar. [THR]

Finally, the harrowing, true-life story of what happened when L.A.'s rainy winter caused a few homes on Stone Canyon in Bel Air to lose power. [Air Mail]

Best Weekend Ever: Travis Kelce, the Super Bowl champion and SNL host, was seemingly everywhere, from holding court at the WME event to hanging with the stars (and all those Procter & Gamble middle managers) at the Vanity Fair party.
Paramount's Dungeons & Dragons movie has an interest problem, according to the latest Quorum film tracking chart, but the strong SXSW reviews should help get the word out…
Have a great week,
Matt

Got a question, comment, complaint, or a good late-night Oscars story? Email me at Matt@puck.news or call/text me at 310-804-3198.
FOUR STORIES WE'RE TALKING ABOUT
Dafna Punk
On the quasi-mysterious departure of Politico's executive editor.
DYLAN BYERS

D.C. Media Chatter
Chewing over a new D.C. startup and Puck's First Amendment party.
PETER HAMBY & JON KELLY

Need help? Review our FAQs
page or contact
us for assistance. For brand partnerships, email ads@puck.news.
Puck is published by Heat Media LLC. 227 W 17th St New York, NY 10011.