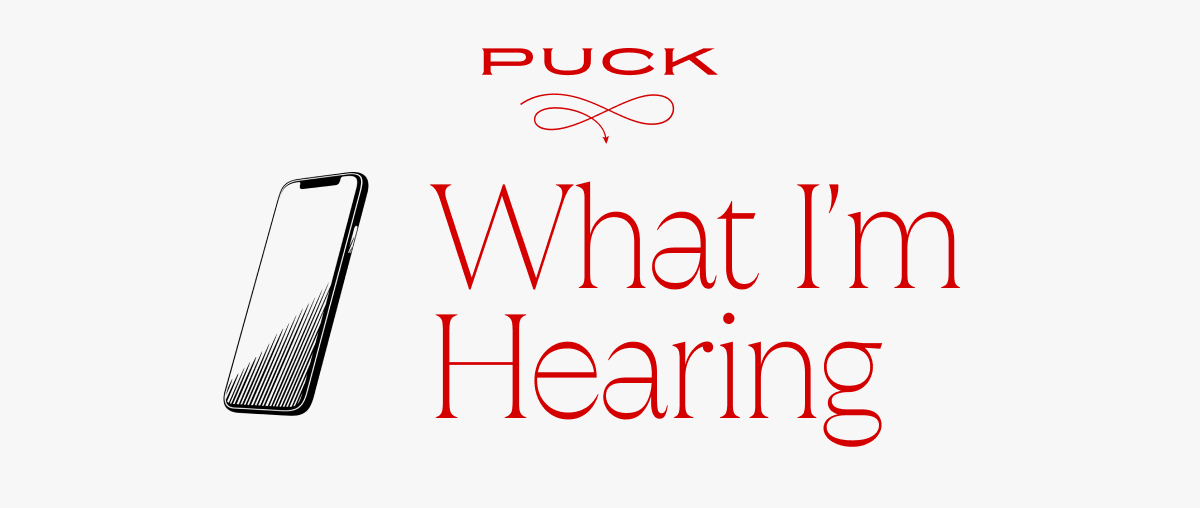 Good evening from L.A., I've just returned from Puck's very fun D.C. event last night at the French Ambassador's residence. It was great to see so many non-Hollywood What I'm Hearing readers and D.C. insiders, and to support our political team. If you're not getting The Best & The Brightest email, sign up here. It's like What I'm Hearing, but about people who are actually important.

Programming note: Due to the Oscars, no WIH on Sunday. I may send something on Monday, but only if needed, and I'm doing a call for Inner Circle members that day at 11:30 a.m. PT breaking down the Oscars. Upgrade your membership here (or email fritz@puck.news) to join.

🚨Oscar ratings contest! Respond to this email by Sunday at 5 pm with your best guess of the Live+Same Day total viewers of the show, per Nielsen. Remember, last year's number was 16.6 million. Closest without going over, and a tiebreaker question (if you choose to answer): Who will present Best Actress? As always, the winner gets a status-defining Puck hat or tote bag.

And if you've been forwarded this email, join the WIH community by clicking here.

Before we start, an update on the Keith Redmon/Anonymous Content situation…

A bunch of people have asked me what really led to the abrupt resignations today of Anonymous C.E.O. Dawn Olmstead and C.O.O. Heather McCauley, since the whole lawsuit from its former manager-producer Keith Redmon was sparked by a comment Anonymous gave to me in 2021, saying the company had "uncovered multiple incidents of sexual misconduct by Redmon, some physical in nature." Redmon, now at Teddy Schwarzman's Black Bear Pictures, denied the claim and sued, and the litigation is still pending. But it seems pretty simple what happened. According to two sources, the board of Anonymous, which has a hefty investment from Laurene Powell Jobs' Emerson Collective, wants to pay Redmon to settle. Olmstead very much did not want that to happen. So she and her handpicked C.O.O. bailed. Reps for Anonymous and Olmstead, and Redmon's lawyer Michael Plonsker, all declined to comment. The question now is will these noisy exits impact that potential settlement?
Thursday Thoughts (Oscars Edition)…
A24's cost of being everything everywhere: Looks like we're headed for an Everything Everywhere All at Once coronation on Sunday. (I just don't think the late movement for All Quiet on the Western Front or the populist push for Top Gun: Maverick will be enough.) If so, we'll get the same flood of post-Moonlight media stories about the little studio that wins without spending big. That's still true, but A24 shelled out more on the EEAAO campaign than it ever has, re-introducing a spring movie to awards voters, buying billboards around L.A., and all that travel for the cast. Three rivals pegged the outlay at about $10 million, probably a shade higher—a lot, but not as much as many studios and streamers spend. (A24, as always, declined to comment.)
Jason Weinberg's going to the Oscars: In case you're wondering whether there will be any punishment for the architects of the controversial Andrea Riseborough campaign, her manager Jason Weinberg tells me he'll be there on Sunday. Good for Weinberg, I guess. He pulled off a coup for his client, pretty clearly broke (or at least stretched) some Academy campaign rules, and, unlike past culprits like Nicolas Chartier and Bruce Broughton, he gets to celebrate at the Oscars. I grilled Academy C.E.O. Bill Kramer about the campaign issue today on my podcast, and he said they're gonna look at the rules "in a much more rigorous way" after Sunday. "The clarity needed in these regulations is so apparent to us," he said, "and it will be much clearer what's OK and what's not OK." We'll see…
Here's my full interview with Kramer, and if you need some last-minute Oscar betting tips, I broke down the odds with manager-producer Michael Lasker.
Night Before is back to full party: Speaking of Oscar weekend narratives, I caught up with Bob Beitcher, head of the Motion Picture & Television Fund, which hosts the Night Before fundraiser on Saturday. Bob says the event is back to the pre-pandemic 1,200 attendees (up from roughly 900 last year), and about $4.5 million raised (down from $5 million in the heyday, but up from last year). Obviously the Great Netflix Correction and the looming writers strike have made companies more thrifty, and Beitcher even questioned the MPTF's long-term existence last year due to pandemic shortfalls. But he now reports cautious optimism, all things considered, thanks to strong end-of-year giving.
Pellicano returns… because why?: After watching both hours of FX/Hulu's new Anthony Pellicano documentary, Sin Eater (out tomorrow), my biggest thought was, Why are these people still talking about this? I get why the New York Times is interested; the wiretapping scandal is a fascinating portrait of greed and power run amok in '90s Hollywood, and the new audiotapes are brutal. But Antia Busch is clearly still traumatized, Ron Meyer's loyalty to this guy ("One of the most stand-up people that I've ever known in my life") just seems more and more problematic, and Pellicano himself seems desperate to perpetuate the tough-guy Mafioso character. It's a well-done doc, but let's relegate this scandal to the history books.
Worshipping HBO's false Idol: HBO and Rolling Stone were still fighting days after the mag published that expose on The Idol, the upcoming "twisted torture porn" drama from Sam Levinson starring The Weeknd and Lily-Rose Depp. Finally, HBO got the mag to "update" the story with blind quotes from "a source close to the production," including, "It couldn't have been a better crew from my standpoint," and "there just was an overall caring from both the cast and the crew." To me, all this drama seems like great P.R. for the show.
It's weird nobody is noting that Beetlejuice 2, which will likely star Jenna Ortega and the returning cast, is being written by Alfred Gough and Miles Millar, her Wednesday showrunners. Yes, the same Wednesday showrunners that Ortega kinda crapped all over on Dax Shepard's podcast this week, saying the scripts "made no sense" and she had to change her lines. Awkward!
Now, because it's Oscar weekend, on to something a little more fun…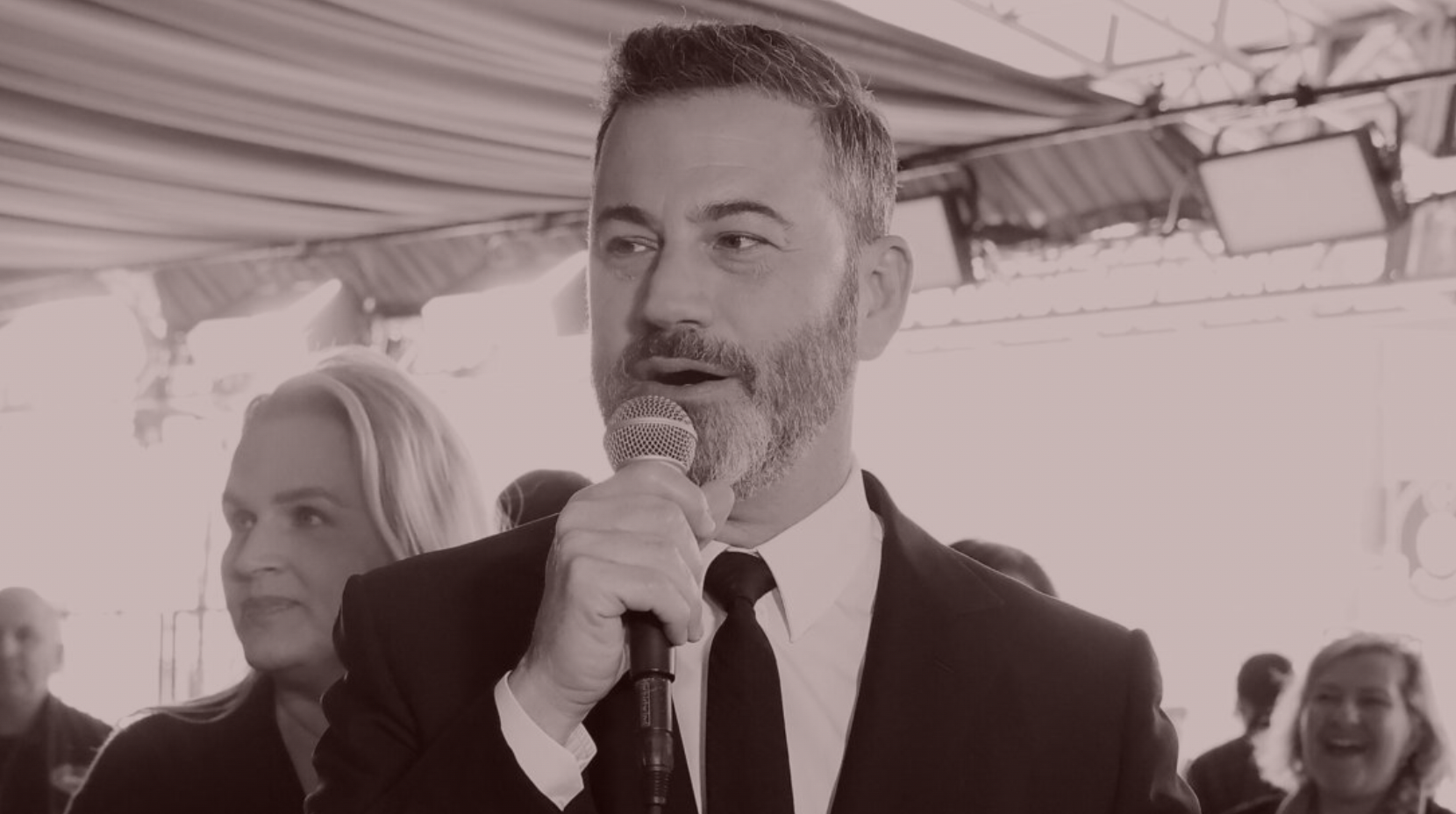 Behold, the 2023 Awards Season Awards!
Puck's second annual, totally subjective and partially grievance-based salute to the oddities and embarrassments of Hollywood's interminable Oscar season.
If it seems like the Oscar race has lasted a year, it kinda has. We've been talking about this year's show pretty much since The Slap and its chaotic aftermath last March, making this season truly feel like a year-long slog. Last year I revived a tradition that I had at Hollywood Reporter of bestowing "awards season awards" honoring the highs and (mostly) lows of the death march to the Oscars.

I got good feedback, so here again is my wrap-up of the whole ridiculous spectacle, acknowledging the cynical marketing campaigns, the awkward moments, the campy on-stage raps, and the doting awards media scrum that covers it all like this stuff actually matters. So enjoy these 23 categories, and feel free to tell me which ones should be booted to a pre-show next year.
The Lady MacBeth Award for Overzealous Spouse in a Supporting Role
Mary McCormack, wife of To Leslie filmmaker Michael Morris, who is said to have masterminded the Andrea Riseborough best actress campaign by harassing—sorry, contacting repeatedly—the high-profile stars that plugged Riseborough on social media and helped get her that nom.

Best Forced Pivot
Netflix, which entered the season with guns blazing for Noah Baumbach's White Noise and Alejandro G. Iñárritu's Bardo, only to find that critics and voters rejected those films and instead liked a German adaptation of All Quiet on the Western Front from Edward Berger, a filmmaker that was barely on the awards team's radar.

Worst Punt (aka the Missing Spine Award)
The Academy, which declined to punish anyone involved in the Riseborough campaign, or the others that pretty clearly broke rules, instead promising to "revisit" regulations after this season.

Worst Campaign Move for a Film Not Really in Contention
Joey McFarland, the Emancipation producer, for proudly showing off the graphic 1863 slave photo known as "The Scourged Back"—part of his collection (!) of photos of enslaved people—on the red carpet of the premiere. He later apologized.

Fun fact: I'm told McFarland had already held up production until he was included as one of the three main producers, which ended up pushing director Antoine Fuqua to E.P. He was reportedly asked to leave the set due to bad behavior.

Worst Campaign Move for a Film Definitely in Contention
Michelle Yeoh, who, on the final day of voting, posted a photo on Instagram of a Vogue article that suggested Cate Blanchett doesn't need a third Oscar, a big Academy no-no. She deleted it when called out.

Missing Persons Award
Mark Gustafson, the other director of Guillermo Del Toro's Pinocchio, who was minimized to the point of banishment as G.D.T. traveled the world on Netflix's all-stops-pulled campaign.

Savviest Title
Calling the movie Guillermo Del Toro's Pinocchio, Netflix ensured that a beloved Oscar winner's name would be on the animated feature ballot (also distinguishing it from the Robert Zemeckis bust).

Dreariest Assessment of Awards Season By a Publicist With a Client Actively Campaigning
Amanda Lundberg, rep for Tom Cruise, who shared these gems with the New York Times:

"Winning awards has become the guiding principle of our industry, and it's what's destroying it."

"It's like we're award fetchers. Like you can just order that with me as if I'm 1-800-Oscar."

"People are desperate to win awards. And we've guided it here because we've rewarded it with money and prestige. So what happens when people want something that's limited? Do the math. It causes all sorts of behavior, and people lose where the line is."

"This is not the Nobel Peace Prize."

Heaviest Reaction to an Oscar Snub
"We live in a world and work in industries that are so aggressively committed to upholding whiteness and perpetuating an unabashed misogyny towards Black women." –Till director Chinonye Chukwu

Huge in France Award
Babylon ended up grossing almost as much in French theaters ($13 million) as it did in the U.S. ($15 million).

Cringiest Performance in a Leading Role
Ariana DeBose, channeling 1992 Billy Crystal in rap form by name-checking the best actresses in an instantly-memed BAFTAs routine. DeBose deactivated her Twitter account soon after.

Best Evisceration of a Trade in a Monologue Covered By That Same Trade
Hasan Minhaj, Spirit Awards host: "I can't wait to hear about all these jokes on Deadline.com. There's nothing I love more than dogshit clickbait journalism… They literally ran a story about how Steven Spielberg doesn't have an idea right now. You think I'm kidding? Breaking news out of Berlin!"

Most Batshit Conspiracy Theory About Austin Butler's Voice
An email I actually received about the Elvis star: "Lay off Austin, he burned his vocal chords during production and his voice is actually stuck that way."

Most Frustrated Voice of God
The BAFTAs announcer, who repeatedly admonished a group of post-show lurkers, including Netflix co-C.E.O. Ted Sarandos, to exit the stage area for the winners photo. "If you do not have a BAFTA in your hand, please get off the stage," one attendee reports him saying. (Sarandos ended up in the photo.)

Biggest Flex
Beyonce, showing up an hour late to the Grammys in which she broke the record for most-awarded artist. Heroic.

Most Effective Top Gun: Maverick Whisper Campaign
It's a tie!
– "You know, Jerry Bruckheimer is a hard-core Trump supporter."
– "You know, the movie was backed by the Russians."
– "You know, Scientology is fundraising off this movie."

Worst Way to Get Covid
The Critics Choice Awards

Best Low-Key Shady Move
A24, which posted a cherry-picked quote from a trade roundtable about Everything Everywhere star Michelle Yeoh meant to look like an endorsement from her rival Cate Blanchett: "There's something about her presence. She just has this aura."

Thanks for Playing Award (a.k.a. Best Self-Delusion by a Pedigreed Filmmaker)
Alejandro G. Inaritu, for continuing to campaign well into December and January despite his Bardo being rejected by critics.

Runner up: David O. Russell, for a late November campaign press piece in The Envelope, two months after Amsterdam was panned and flopped.

Least Subliminal Messaging in a Phase 2 Campaign Slogan
Top Gun: Maverick
The slogan: Believe in Movies Again
What the studio means: You like your job, right? Vote for putting butts in seats.

Runner up:
Everything Everywhere All at Once
The slogan: Everything Has Led to This.
What the studio means: Michelle Yeoh is due, for Christ's sake.

Second runner up:
Women Talking
The tagline: Imagine Another Future.
What the studio means: Yeah, we noticed the all-male directing nominees too.

Third runner up:
Banshees of Inisherin
The tagline: Let's Just Be Honest
What the studio means: …Actually, I'm not really sure…

Diciest Move by a Well-Meaning Cast That Probably Should Have Known How It Would Look
Team Everything Everywhere, which went ahead with a dinner in Monterey Park days after the mass shooting (and on the eve of Oscar noms), then made themselves available for an L.A. Times interview to talk about it.

Most Tantalizing Longshot Possibility
If Searchlight's Banshees is shut out, Everything Everywhere manages to top Avatar for Visual Effects, and Angela Bassett and her costumes come up short for Wakanda Forever, there's a very slim chance that Disney's only Oscar win could be for the animated short called My Year of Dicks.

Who Won the Season
The PCR test. (A two-time winner!)
Enjoy the Oscars,
Matt

Got a question, comment, complaint, or a fun party invite? Email me at Matt@puck.news or call/text me at 310-804-3198.
FOUR STORIES WE'RE TALKING ABOUT
Tucker's Troubles
Tensions inside Fox News are starting to reflect the same schisms as the party it covers.
DYLAN BYERS

CPACalypse Now
Notes on the MAGAficiation of the preeminent conservative political summit.
TINA NGUYEN

Surviving Putin
Discussing Alexey Navalny with Bellingcat's lead Russia investigator.
JULIA IOFFE

Need help? Review our FAQs
page or contact
us for assistance. For brand partnerships, email ads@puck.news.
Puck is published by Heat Media LLC. 227 W 17th St New York, NY 10011.